[Click on the picture to see all the samples]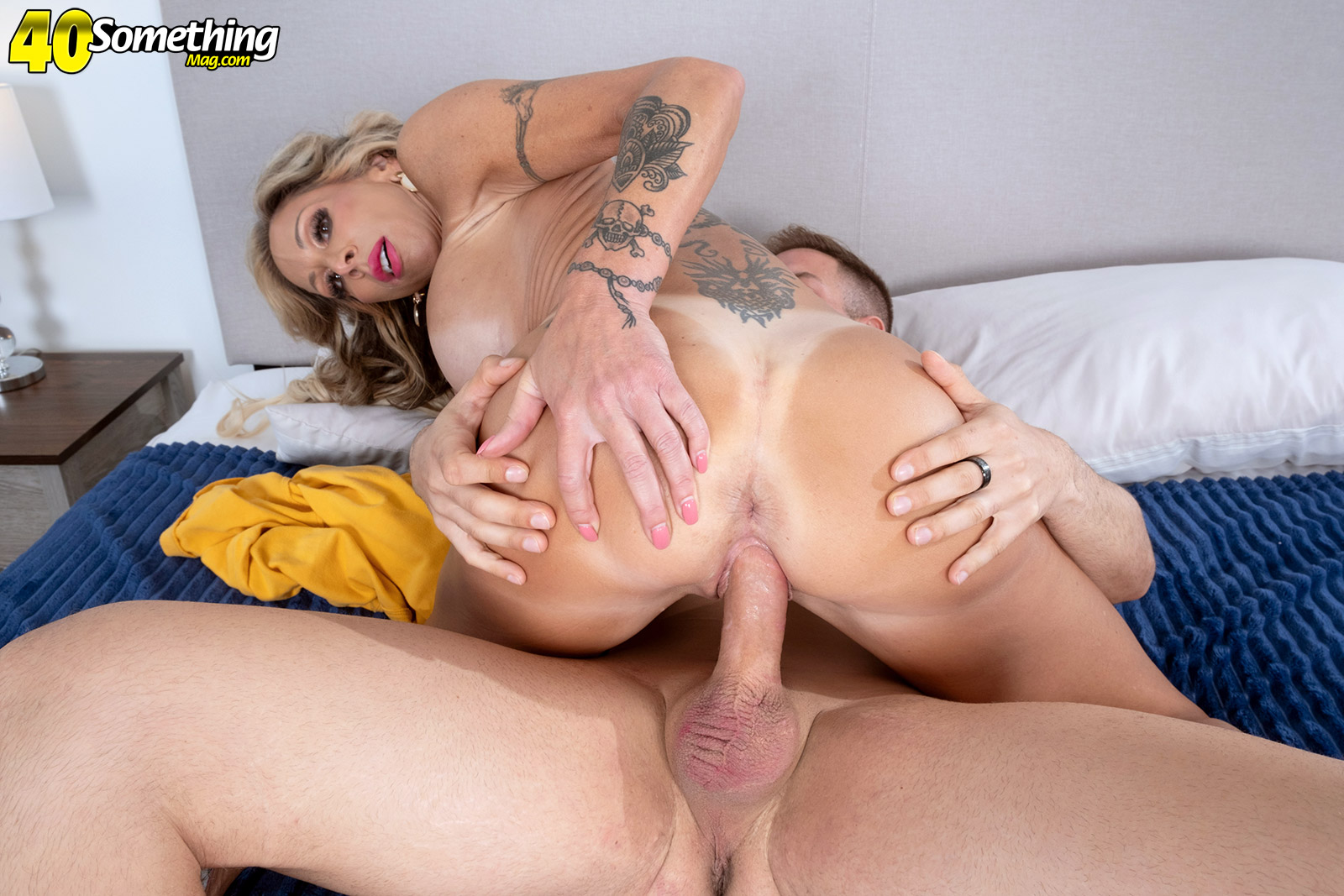 MILF Morgan Ray is a Barbie doll who fucks: Morgan Ray,Nicky Rebel - When 49-year-old Morgan Ray asks her guy what he thinks of her tight, pink dress, he says, You look like a doll. A Barbie doll? Maybe. That's all the rage these days, so consider this the adults-only version of the Barbie movie in which this divorcee and mom sucks her Ken's cock, and he eats and fucks her pussy. Is there a cum shot at the end of the Barbie movie? If not, there should be. Guaranteed, though, that Barbie has a shaved pussy. Actually, a bald pussy. Morgan Ray has a shaved one. She's a mature woman, after all. Like Barbie, who, let's face it, dresses slutty, Morgan Ray wears the least amount of clothes possible. She lives in Florida, so she can get away with that. She's played soccer and track, she's an outdoorsy girl who enjoys indoor activities, she's a nudist and a swinger who once had an orgy on a beach and she has a very specific type of cock she likes. Ones with a large head and a prominent rim. Last time we checked (have we checked?), Ken doesn't have a cock. But this guy does, and Morgan Ray knows what to do with it.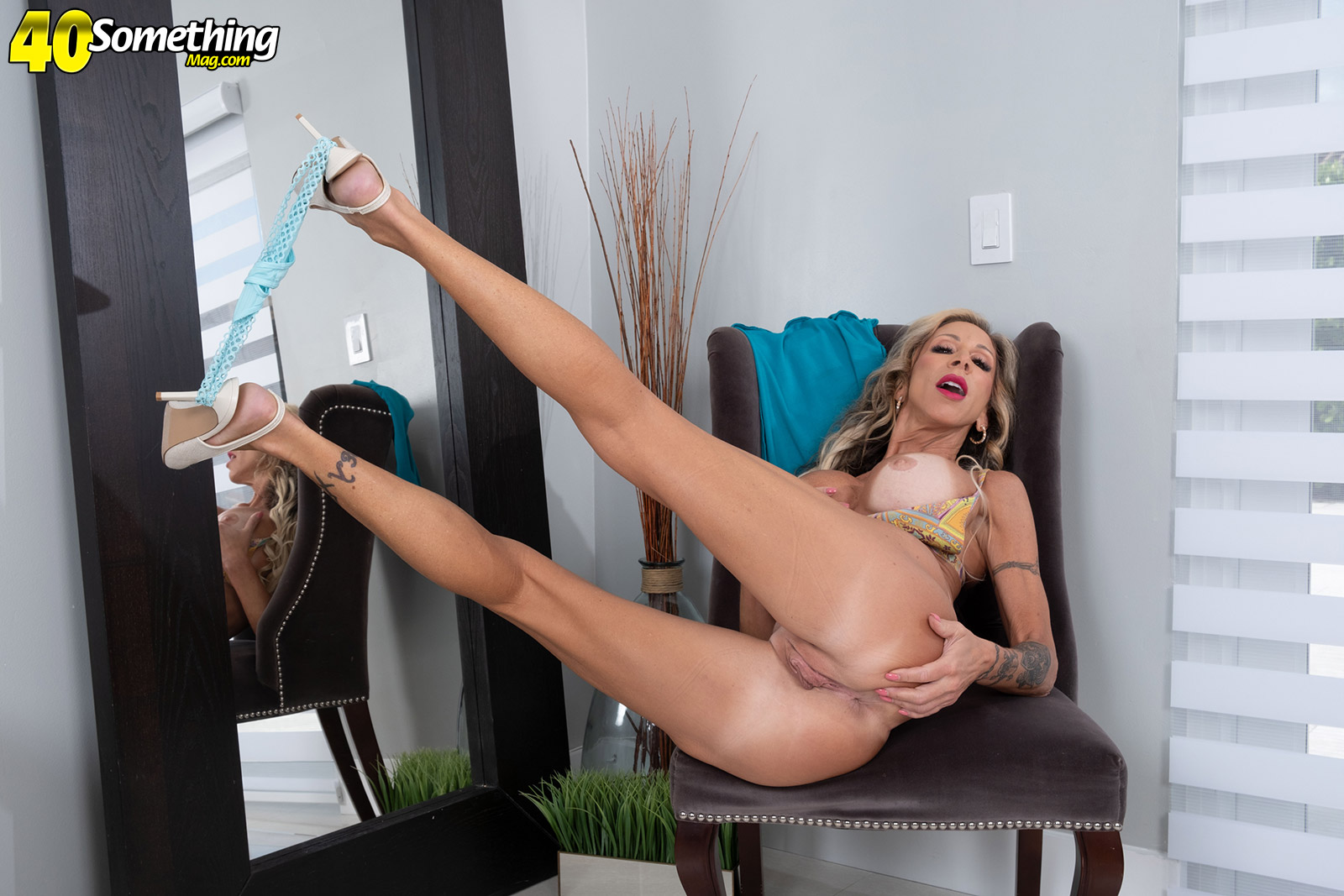 The mother you'd like to fuck fucks herself: Morgan Ray - I am a MILF, said Morgan Ray in what might be the understatement of the year. This 49-year-old, tight-bodied babe is the very definition of MILF with her blond hair, tan lines, big tits and overall aura of horniness and sexuality. I wear the least amount of clothes possible. I live in Florida, said Morgan, who was born in Jacksonville and now lives on the Gulf Coast. She has a sense of humor too. When we asked her if she's into anal, she said, Yes, but only when drinking pina coladas by the pool. Now that sounds like a scene! Woman on her hands and knees, ass up, face down, sipping a cocktail while she gets her ass pounded. FYI, Morgan didn't do anal for us, but we're working on it. Morgan is a swinger. I have been since my 20s. I had an orgy on the beach. While sipping pina coladas? Who knows? But we suggest that you relax with your beverage of choice, get comfortable and enjoy Morgan.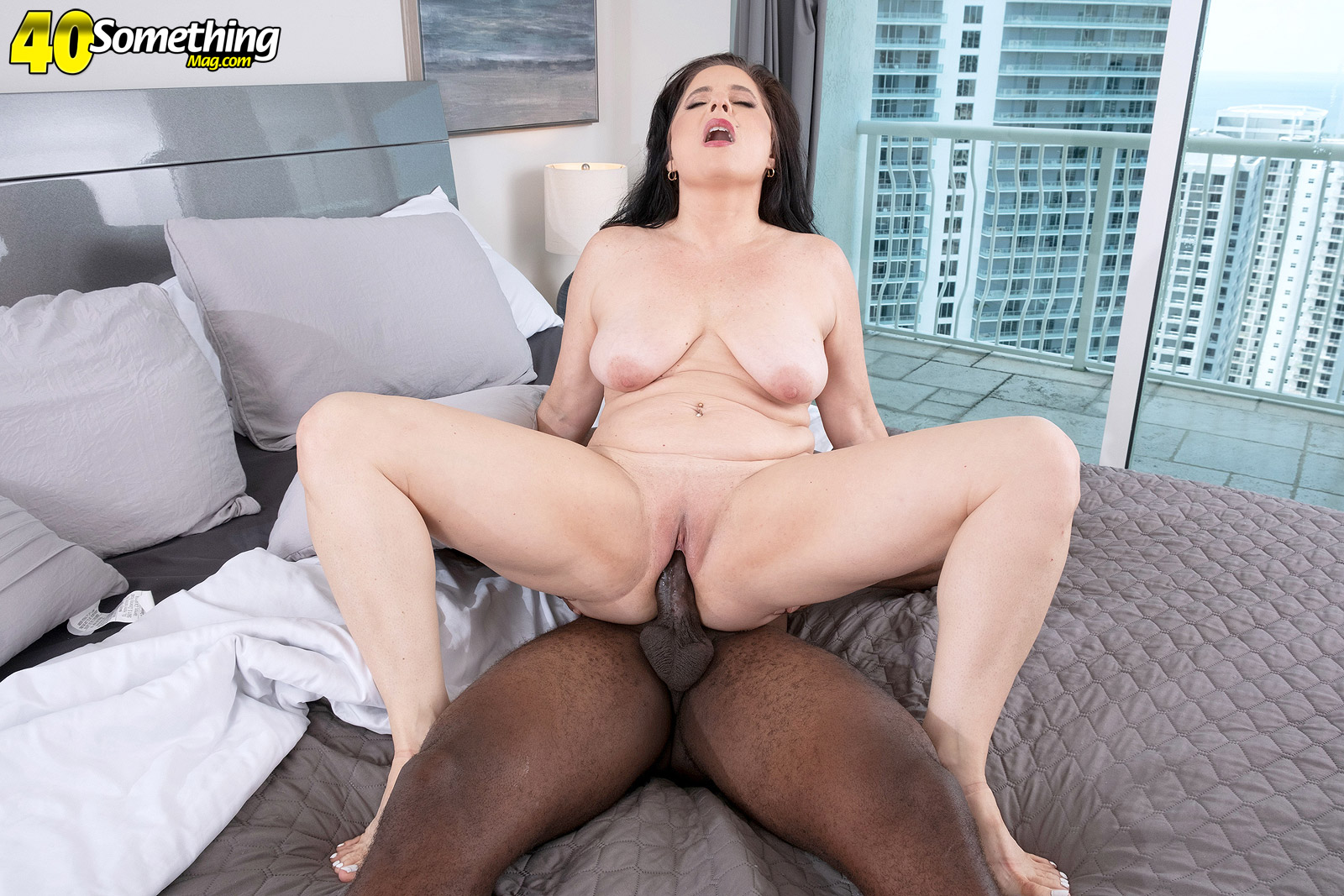 A huge cock for mom Dawn Layla's XXX debut: Dawn Layla,Ace Bigs - I'm so excited, says 47-year-old divorcee and mom Dawn Layla. And why is she so excited? Because she's going to suck cock, have her pussy eaten and fuck on-camera for the first time. She's also going to eat cum. The guy, who's young enough to be her son, is excited, too. Dawn is a beautiful brunette who's wearing a sheer, yellow number that shows off her nipples and ample cleavage. She gets the hard fucking she deserves and cums several times. Dawn used to be a librarian. That's great, and it's exciting to think that a woman who used to have such a conservative job is now doing porn. We think she was made for this. Dawn is only 5'2 tall and is from Florida. She found us on Twitter, enjoys going to the movies, the beach and the gym. She likes rugged, outdoorsy men who can wine and dine her then last all night. She's a swinger and a nudist. She masturbates every night, presumably after her kids have gone to bed. What she wants to try that she's never done: Write a book. She can write the book on fucking.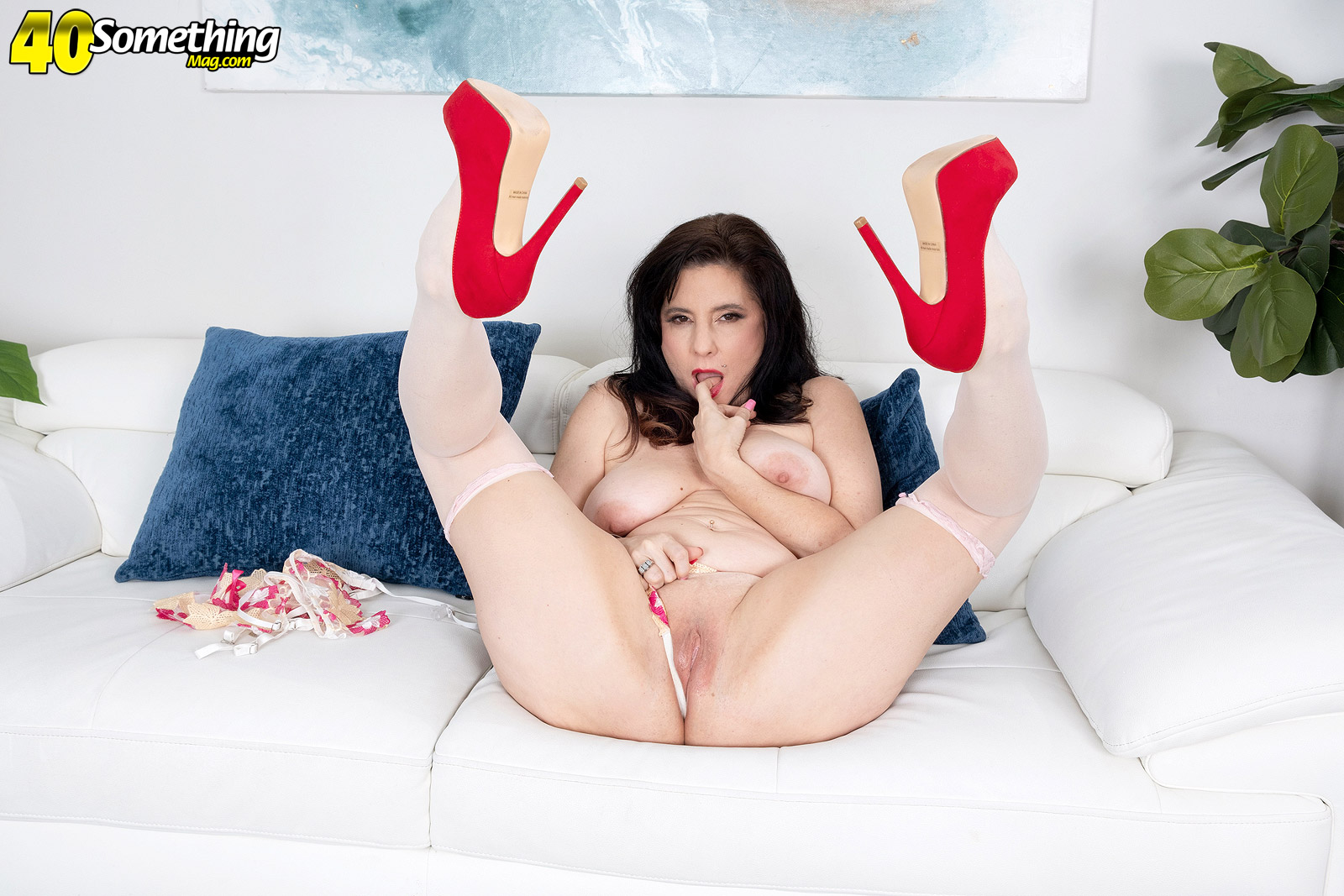 Dawn Layla is a sexy little mom who wants to make you happy. She uses her pussy to do that: Dawn Layla - The most-fun job I've ever had? Porn! said Dawn Layla, a 47-year-old divorcee and mom from Florida. Well, as we like to say here at 40SomethingMag.com, getting off for all the world to see and sucking and fucking porn cock (as Dawn will do on Thursday) isn't a job for our MILFs. It's an adventure. Dawn found us through Twitter. She says the people she knows might be surprised to see her here. And get this: She used to be a librarian! Aren't librarians supposed to be conservative and shy? I am shy! Dawn said. Coulda fooled us, but okay. Dawn is into anal sex. She masturbates every night. What gets her off? Turning others on. Making others happy. Mission accomplished.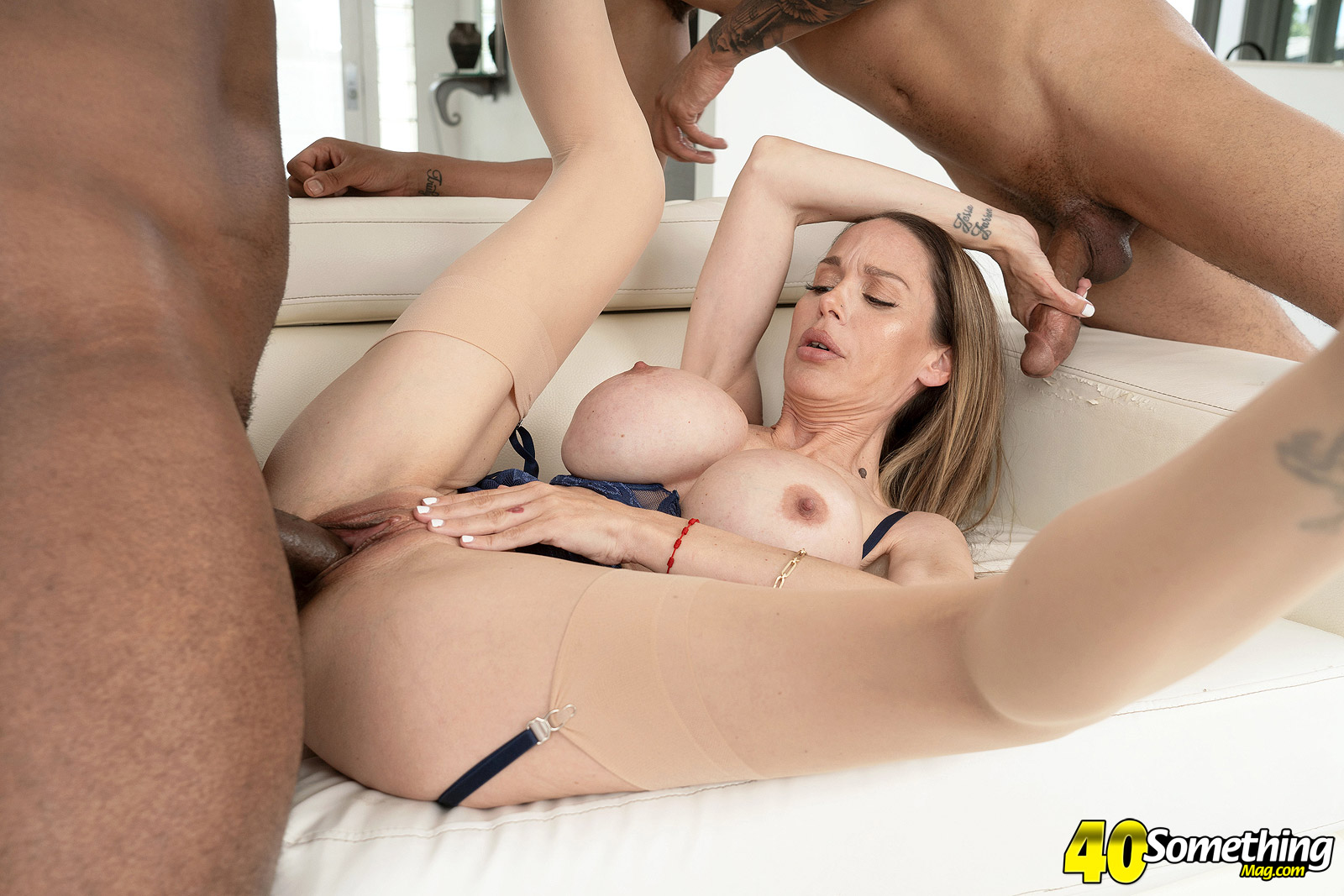 McKenzie Lee has big, fake tits, a cock in her mouth and another one in her pussy: McKenzie Lee,Jack Blaque - McKenzie Lee, a 44-year-old divorcee and mom, is enjoying a quiet afternoon at home, sitting on her couch and reading, when she hears a knock on the door. She'd rather not be bothered, but when she opens the door, she sees two men standing there and invites them in. We're here to do some community service, one of them says, and we were wondering if you needed our assistance. You know what? she says. I think there's something you guys can help me with. She leads them to the couch and asks them to help her with her stress. Are you guys down? she asks. No need to ask that question. They're down and their dicks are up for this slim 'n' sexy brunette with big, fake tits. She's going to perform community service on their cocks and they're going to perform community service on her pussy. For the rest of the afternoon, there's almost always one cock in McKenzie's cunt and another in her mouth, and if it's not in her mouth, it's in her hands. The dudes complete their community service by shooting their loads on her rack, and we bet the next house they go to isn't going to be nearly as much fun. After all, not many women look like McKenzie...or fuck like her.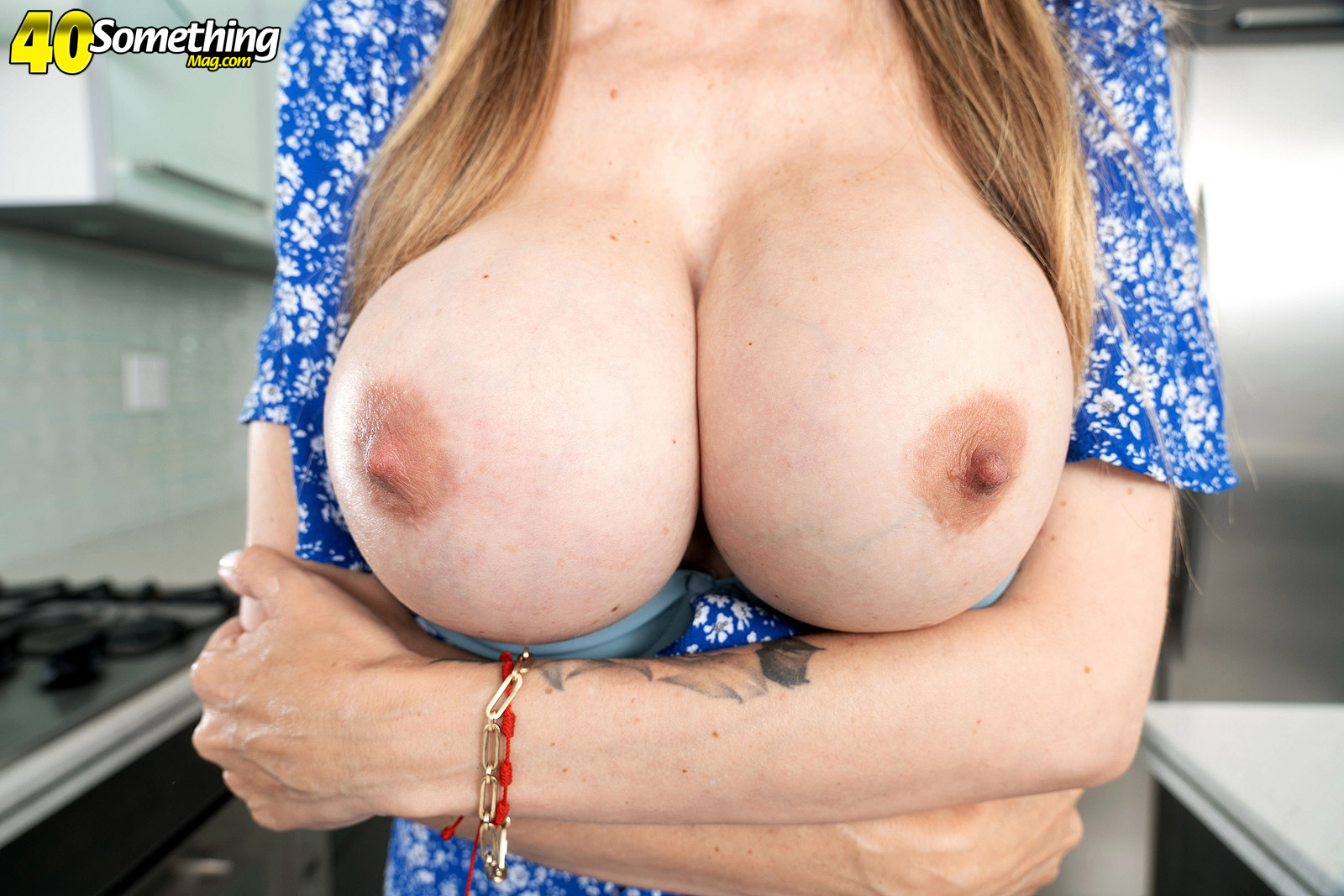 Kitchen magician: Watch busty MILF McKenzie's fingers disappear in her pussy: McKenzie Lee - I'm that cool mom! I wear cool stuff! said McKenzie Lee, a 44-year-old divorcee and mom from England who now lives in California. By cool stuff, she means tight, low-cut tops that show off her big, fake tits. Here, this stunning woman is wearing a little dress with a plunging neckline. So, if by cool, McKenzie means jackable, we definitely agree. She has two daughters. They should take after Mom. Here, Mom is in the kitchen. She's not cooking anything but she's hot, especially when she takes off that dress and plays with her pussy. McKenzie is a little woman who weighs only 100 pounds, and a good part of that is boobs. Hobbies: Taking care of my teenagers. Kinds of guys she likes: Ones with a pulse. And funny. Two guys with a pulse are going to fuck her mouth and pussy this Thursday. That's going to be very hot.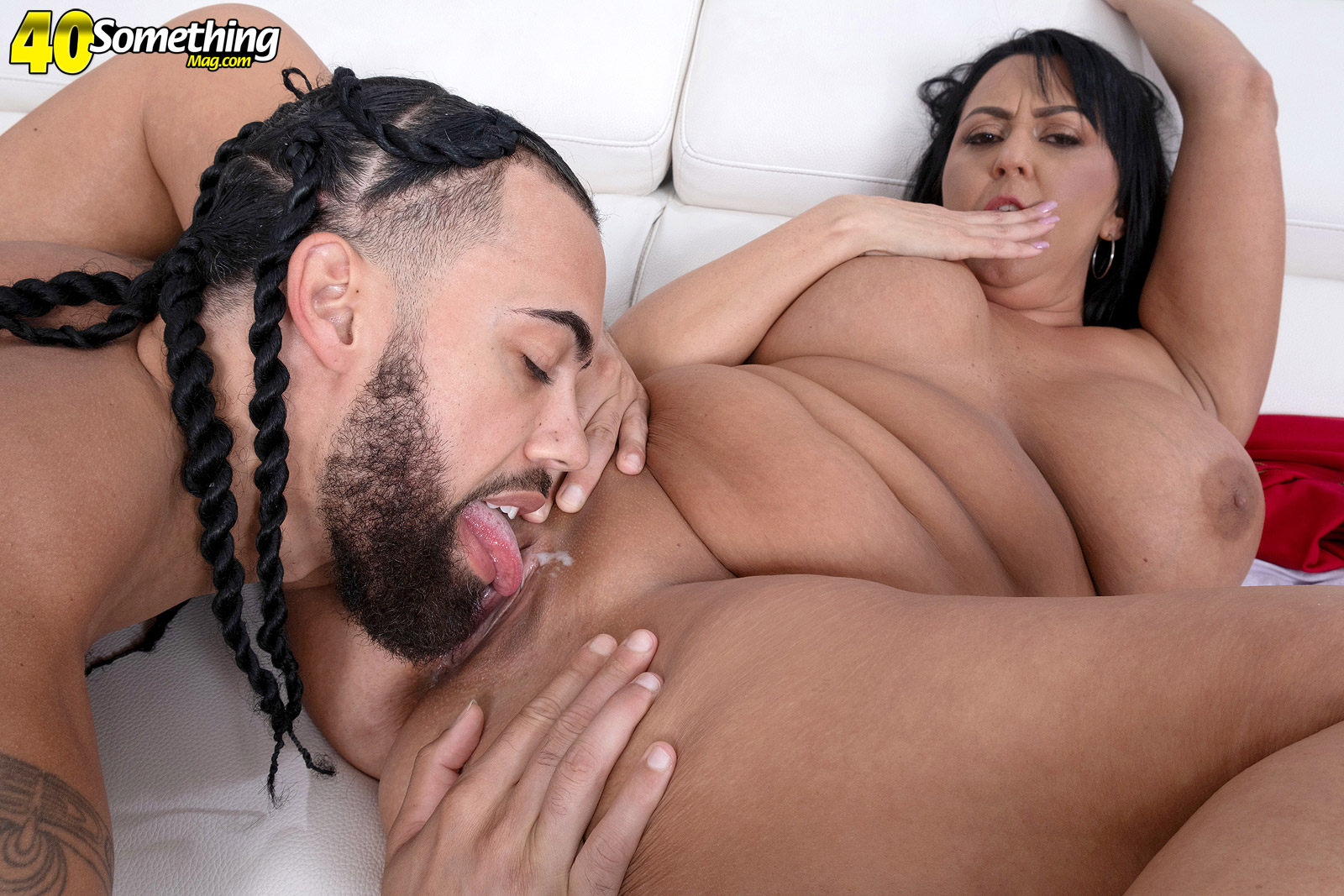 Kristee Lixx licks, sucks and fucks her son's friend's cock: Kristee Lixx,James Angel - Kristee, a big-titted wife and mom from Oklahoma, is 47 years old. James, the guy sitting on her couch, is a lot younger than her. A lot. He's been a friend of the family for a long time. And, Kristee's noticed he's always checking her out. Now he's going to get what he wants. She's going to get what she wants, too. I don't think we should be doing this, Mrs. Lixx, he says to her. Doing what? Well, what they're about to do. James is going to suck Mrs. Lixx's tits and eat her pussy. Mrs. Lixx is going to suck his cock. And then they're going to fuck. Kristee told us, I kind of have a thing for nerdy guys. Hot and somewhat toned but nerdy. She also said, This is something I've wanted to try. I'd also like to try parasailing, skydiving, and I'd love to attend a Super Bowl game. In our opinion, this is much more exciting. I enjoy younger guys, Kristee said. I had my daughter when I was 15, therefore, her friends all thought I was a MILF. Later on, when they were adults, over 21, I've had sex with two of her guy friends. She doesn't know. It'll be our secret.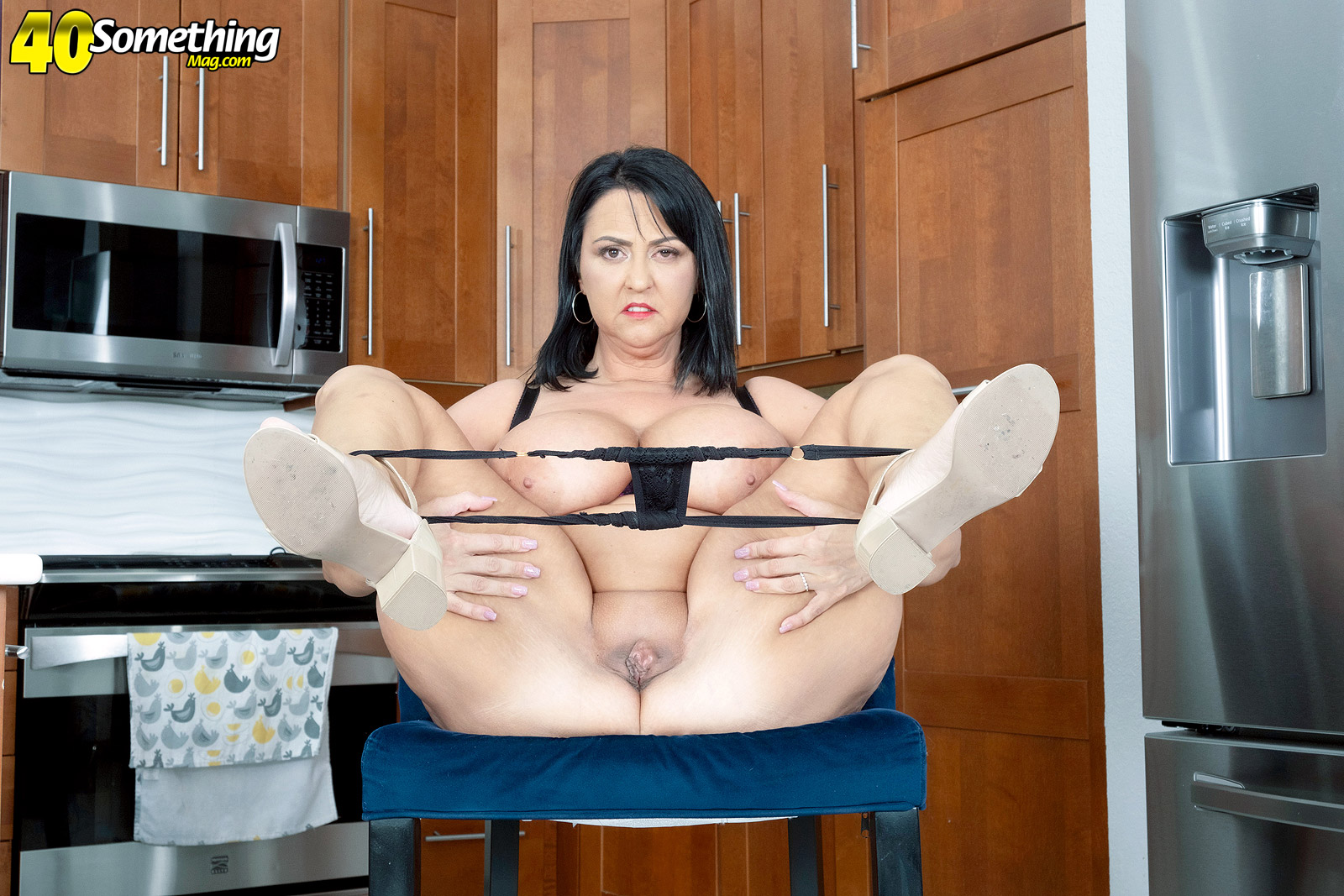 Kristee's in the kitchen. Big tits and pussy are on the menu: Kristee Lixx - I'm no stranger to being watched, and there's nothing hotter than having intense sex with one guy and looking up to see four more standing there jacking their cocks while they watch me, said Kristee Lix, a 47-year-old cougar from Arkansas who's now living in Oklahoma with her husband and kids. My family would be surprised to see me here, she said, but my LS family would cheer me on. That's LS as in lifestyle, as in Kristee and her husband are swingers and have been for 11 years. We asked Kristee about her wildest swinging experience, and she said, Probably the 40- to 50-person DTF orgies that we attend regularly. So much fun. DTF...down to fuck. Kristee is down to fuck, but today, she's going to introduce herself to us by showing off her big tits and voluptuous body and getting off in the kitchen. There's no cooking going on, but Kristee is hot. Hobbies: Karaoke, float trips, making T-shirts and lifestyle parties. Perfect day or evening: A float trip on the river with a cold beverage and about 20 or more of my lifestyle friends. How she dresses in public: Sexy but somewhat age appropriate. Shorts with a sexy tank top or a cute summer dress. We're sure all eyes are on those tits.
A fantasy cums true: a lucky, young dude gets to fuck Brittany Andrews: Brittany Andrews,Nick Strokes - In this scene, 49-year-old Brittany Andrews sucks and fucks her best friend's son, who's in college, who wasn't even born when she started modeling for SCORE magazine and sailed on the first Boob Cruise in 1995. Time flies, but some things never change, such as Miss Brittany being a red-hot, sexy, big-titted blonde who sucks sloppily and deeply and fucks hard. He cums on her chest, like any good, boob-loving guy should. I feel my sexiest when I am dressed in a sexy outfit, my hair and makeup are done flawlessly, and I have a man by my side who genuinely appreciates both my physical appearance and who I am as a person, Brittany said. Well, this dude definitely appreciates Brittany's physical appearance. The combination of looking and feeling my best, along with the presence of a partner who recognizes and values my unique qualities, boosts my confidence and ignites a sense of allure and sexiness within me. It's the combination of external presentation and genuine admiration that truly makes me feel irresistibly sexy. While I haven't been in a committed relationship in over a decade, I still believe in making a potential partner feel special both inside and outside the bedroom. She makes this guy feel special. How do we know? By the size of the load of cum he drops onto her chest. That's how.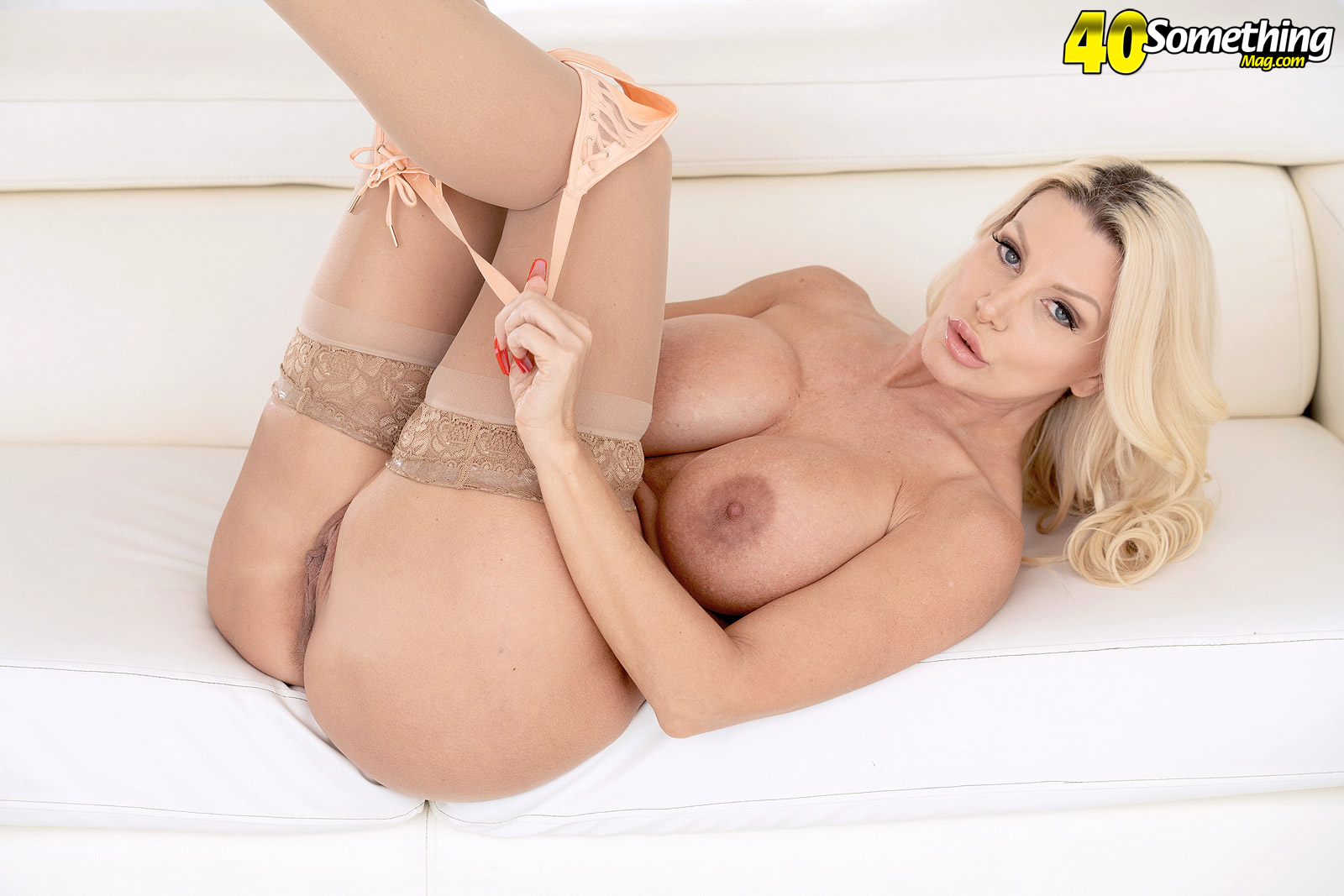 Miss Brittany Andrews returns to show you her tits and very fuckable snatch: Brittany Andrews - Looking as spectacular as ever, 49-year-old big-tit legend Brittany Andrews is back for a second go-round at 40SomethingMag.com with solo photos and a video today and a hardcore fuck on Thursday. She's going to show you all of her body, including her self-opening pussy and fine ass, so let's get to know a little bit more about her. Sex on a first date? When I was younger, absolutely yes. But I've never really been somebody who's gone on dates. I think at this age, though, I'm much more difficult to get sexually entangled with. But I'm always hoping somebody is going to light my fire. Her best physical features? I would say my biggest assets are my expressive eyes and my voluptuous figure, including my curvaceous chest. My eyes have the ability to convey emotions and captivate attention, reflecting my personality and adding an alluring touch to my overall presence. Along with that, my curvaceous figure, including my generous bust, adds to my feminine appeal and embraces my self-confidence. Brittany's story started with exotic dancing in Milwaukee, Wisconsin. That led her to magazine layouts during an era when magazines, not websites, were king. She met porn star Jenna Jameson in 1995, and that encounter led to Brittany appearing in XXX videos. Jenna advised her to move to Los Angeles, the center of porn, and also became a mentor. The rest is history. Although not as busty as the mega-buster SCORE Girls, Brittany sailed on three Boob Cruises and was a favorite with passengers. It's easy to see why.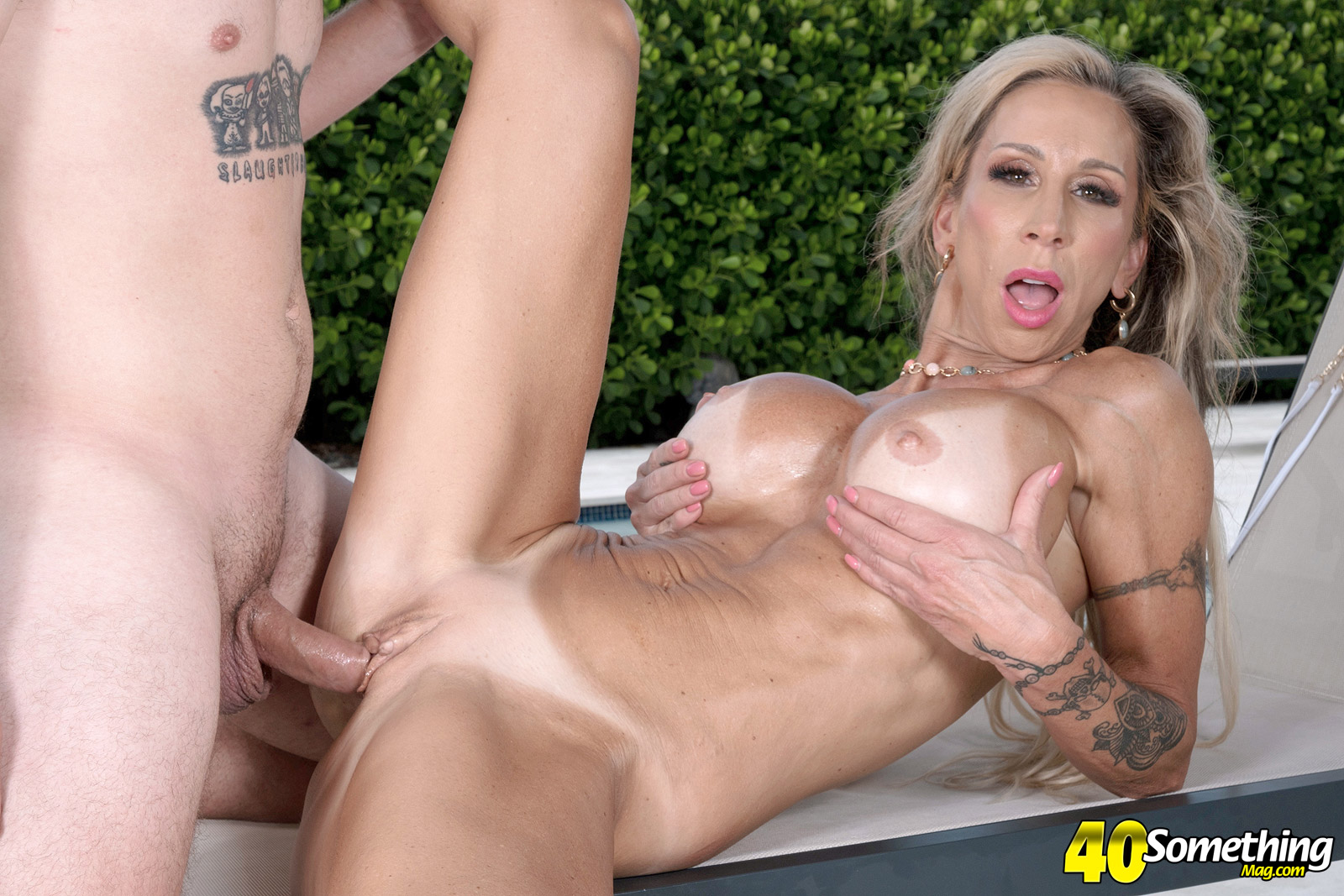 Stripper/step-mom fucks step-son...whom she once gave a lapdance in the strip club!: Morgan Ray,Berry McCockiner - Now here's a heckuva situation...a dude is on the phone with his friend and reminds him about the time recently when they were at a strip club. Well, the dude got a lapdance from a hot stripper...and what the heck? That hot stripper just married his dad! She's now his step-mom! And then, the stripper/step-mom overhears him talking on the phone and comes over wearing a skimpy, one-piece swimsuit that shows off her hot body, big tits and tan lines. I don't know nothing about strippers, he tells her. Are you lying to your step-mom? she asks. Well, yes, he is. Lying through his zipper. She decides to show him what happens at a strip club. You're my step-mom, he protests. We're not related, she points out. Well, no, not technically. But really, they kinda are. She gives him a lot more than a lapdance. She sucks and fucks his cock. Here, the stripper/step-mom is 49-year-old Morgan Ray. The dude is 22 years old. Morgan has big, fake tits, long hair and a tight body. Oh, we forgot to mention: Morgan and her step-son fuck outside, where the neighbors could see and hear them. Maybe one of them got a lapdance from Morgan, too. Maybe one of them is next.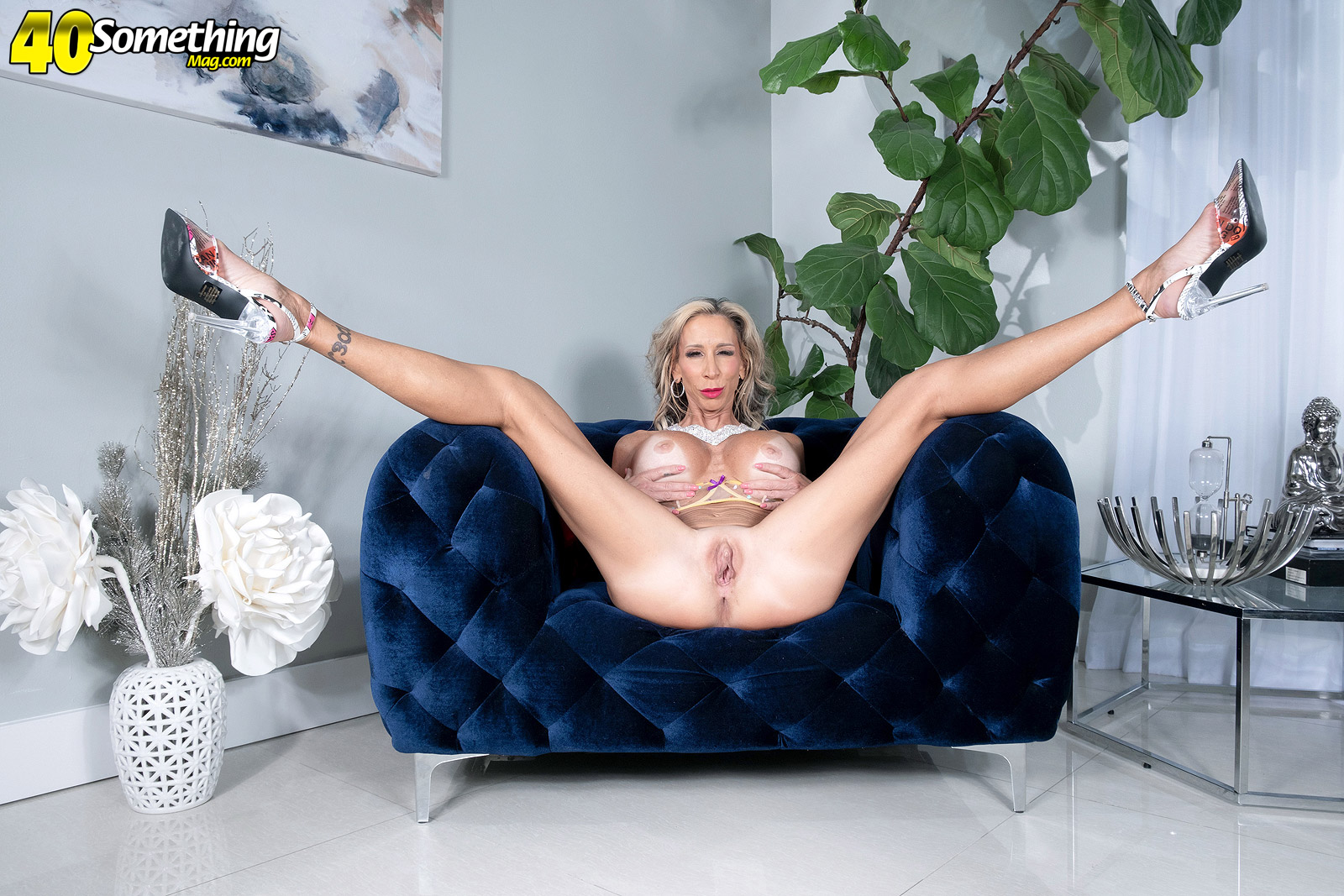 New MILF Morgan Ray is tight and right: Morgan Ray - Newcomer Morgan Ray is 49 years old and has a tight body that 18-year-old girls would envy. She obviously keeps herself in tip-top shape, and she's here to share herself with the world. I wear the least amount of clothes as possible, Morgan said. I live in Florida! The Gulf Coast of Florida, to be exact. She was born in Jacksonville, is divorced and has kids, but you'd never know it from looking at her body: 5'9, 124 pounds, DD-cup tits and a 24-inch waist. Very impressive. 40Something: Would the people you know be surprised to see you here? Morgan: No, not at all. 40Something: What have you done for a living? Morgan: I owned my own bar and restaurant. 40Something: Do you masturbate often? Morgan: Yes. Multiple times a week. 40Something: What's your sexual fantasy? Morgan: An orgy with a lot of men. Three-hundred of them. Whoa!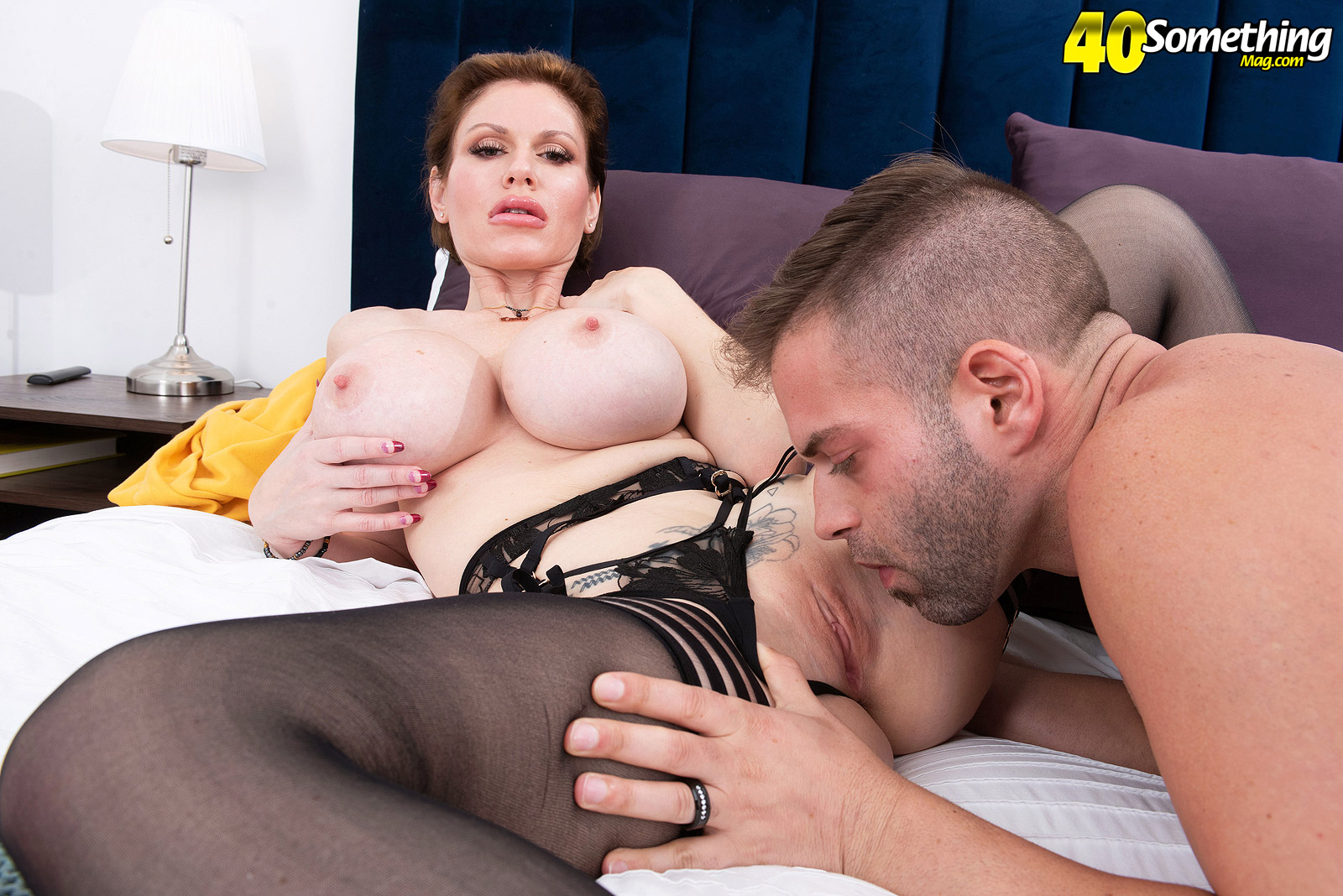 Nothing can stop Casca from getting fucked: Casca Akashova,Nicky Rebel - Production assistant Nicky delivers bottled water and towels to the bedroom where 40-year-old, big-titted cougar Casca Akashova is waiting for the porn stud to arrive for their shoot. He's late and Casca's getting restless. She wants to shoot. She wants cock. When Nicky bends over to put away his deliveries, Casca playfully slaps his ass. Since her partner hasn't shown, she wants to make productive use of her time, and Nicky will do just fine at keeping her busy. When Casca wants to get dicked down, no power on Earth can stop her. She gives Nicky the green light to make it with her. What kind of man would be late for a guaranteed fuck with Casca? An idiot, that's what kind. Casca told us how a man gets her attention. A man should be straightforward and confident, she said. Never cocky and rude. Eye contact, respect and smiling are very important. A guy should always be genuine in his compliments. What satisfies me is someone who listens to me and my body. Someone who pays attention. Someone who shows up. That always helps.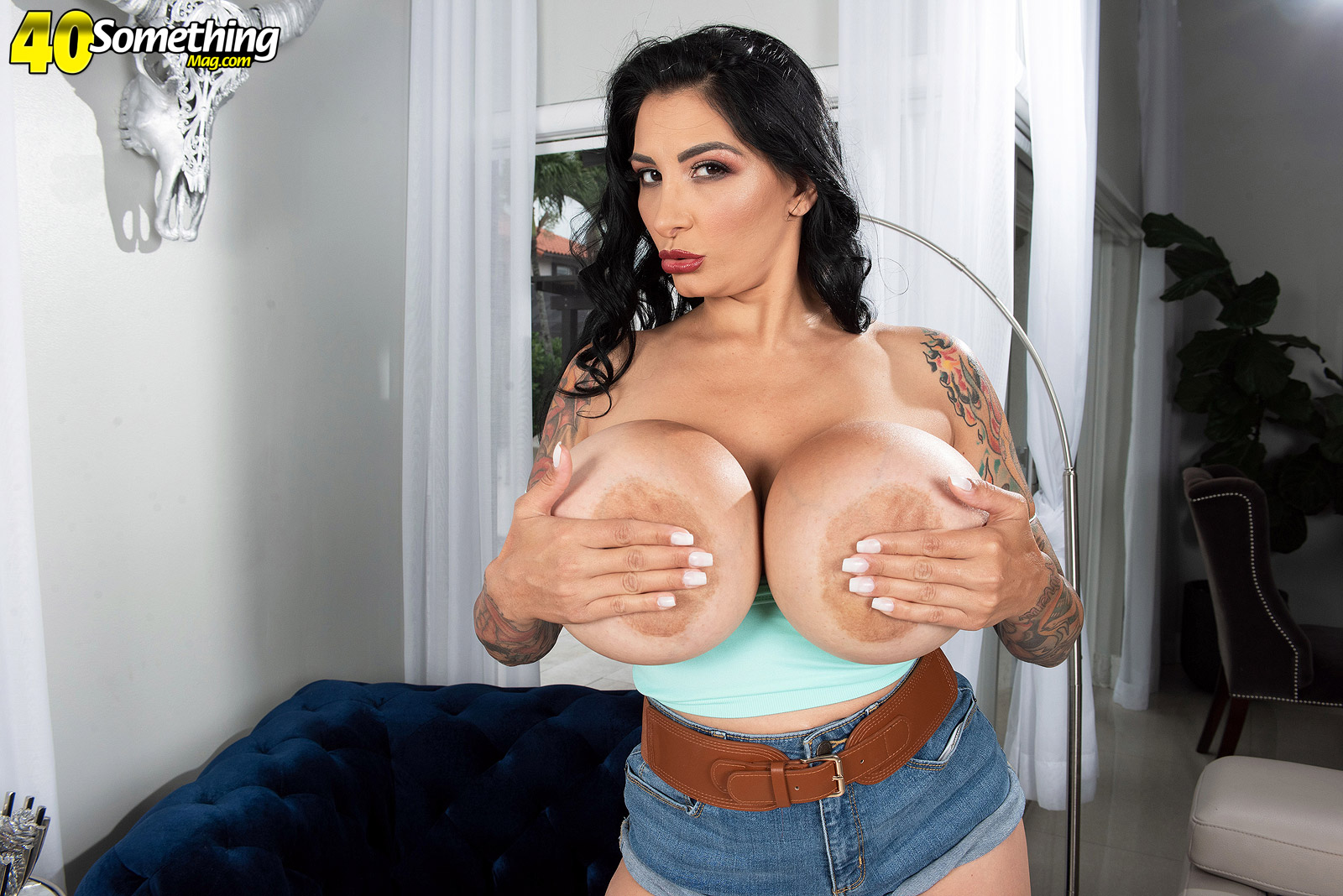 A cougar with giant tits and a hairy pussy: Ricki Raxxx - My fetish is size,?said Ricki Raxxx, who made growth spurt history when she went from an F-cup in her SCORE magazine debut in 2002 to an M-cup right here. Her areolae got bigger, too, and are among the largest ever seen. As for the rest of her body...wow! Ricki says she super-sized her tits for your viewing pleasure, but the show doesn't stop there. She also has long, shapely legs, a pussy with a nice helping of hair on top and pink fuck holes she loves to spread as wide as possible. The advantages of large boobs is that they are great eye candy and fun to play with, Ricki said. The disadvantage is that everyone's wife hates me. Maybe so, but we love her. When Ricki first shot for us, she was a 21-year-old dancer who had been giving club goers woodies for three years as a couch dancer at The Filly Corral in Smithton, Pennsylvania. Ricki played a stripper in the TV show Banshee and the movie Zack and Miri Make A Porno. I live naked 24/7 when I'm home, she said. Sexually I am passive, although I may not look it. I often initiate sex because I get impatient. I very rarely masturbate. I think I have fulfilled all my fantasies. 40Something: Do you play any sports? Ricki: No sports. Have you seen my tits? They would hinder me. 40Something: Any hobbies? Ricki: Antique shopping and yard work. 40Something: Do you usually wear panties? Ricki: Yes, G-strings or booty. 40Something: What is sexy to you? Ricki: Sexy to me is someone being okay with who they are, someone with a great personality, a sense of humor and being a hard worker.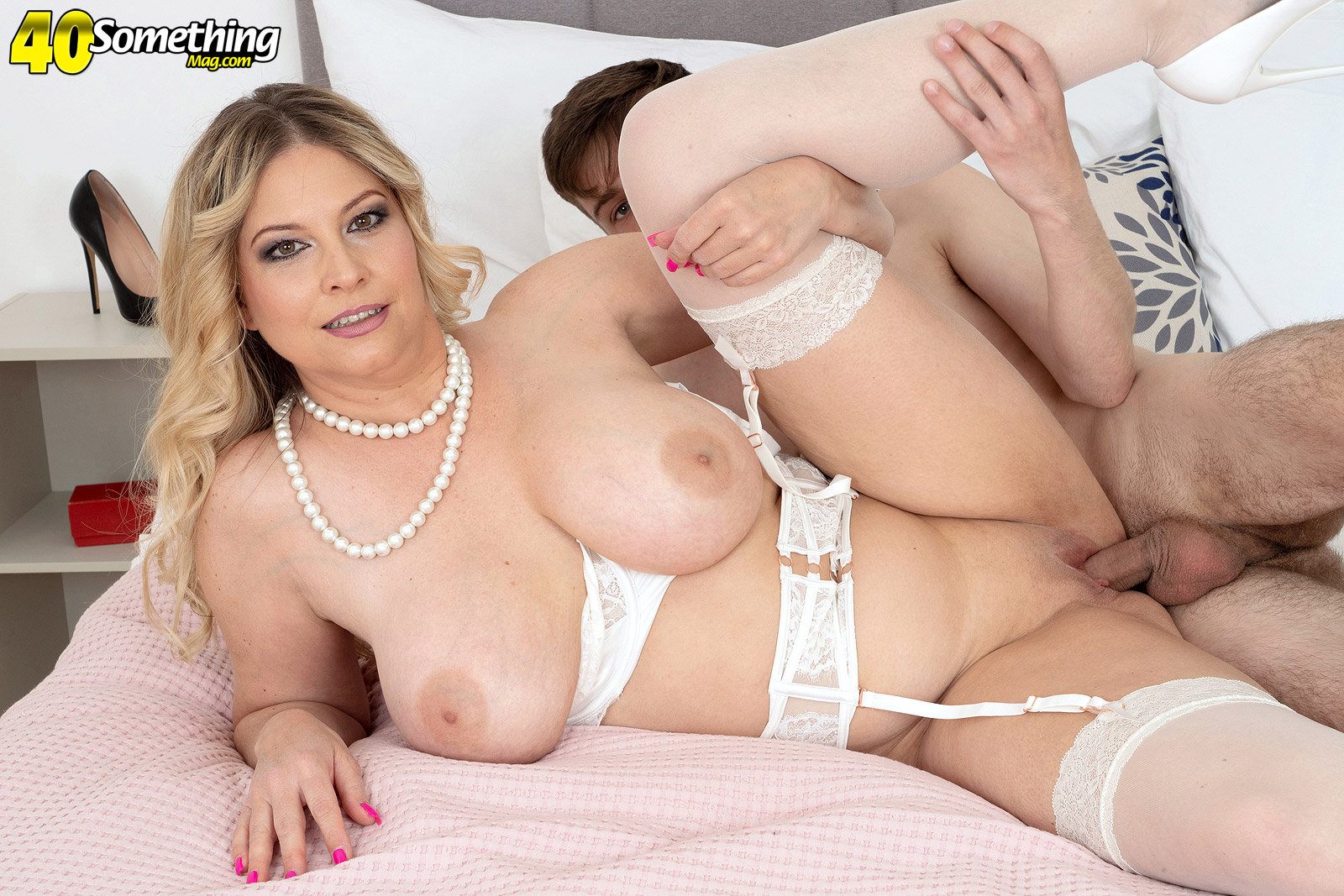 41-year-old Cheyenne spreads her ass for cock and cum: Cheyenne Duvallon,Alion Court - Cheyenne Duvallon, who's 41 years old, is in bed and dressed for sex. She's wearing a sexy matching bra and panties with stockings, a garter belt and high heels, so clearly, she's ready for something special. And what is that something special? Well, she's going to suck and fuck a guy who's young enough to be her son, and not only that, she's going to take his cock up her experienced ass, and not only that, she's going to spread her butt cheeks wide so he can squirt his seed right into her gaping asshole. Is that enough for ya? Check out the video, in which she also does ATM. That's ass-to-mouth (not automatic teller machine). Cheyenne says her ass is made for anal, and we have to agree. Yes, she has big, fake tits, but that ass...it's soft, round and cushiony, and our stud told us it hugged his dick. Cheyenne has had sex with a younger man before this. He was 20 years younger than me and a good performer. This guy is 19 years younger than her, but who's counting? Cheyenne told us she loved the feeling of his cock in my ass. Sucking my ass off his cock was so hot. Cheyenne is one of the hottest women we've ever seen. Enjoy.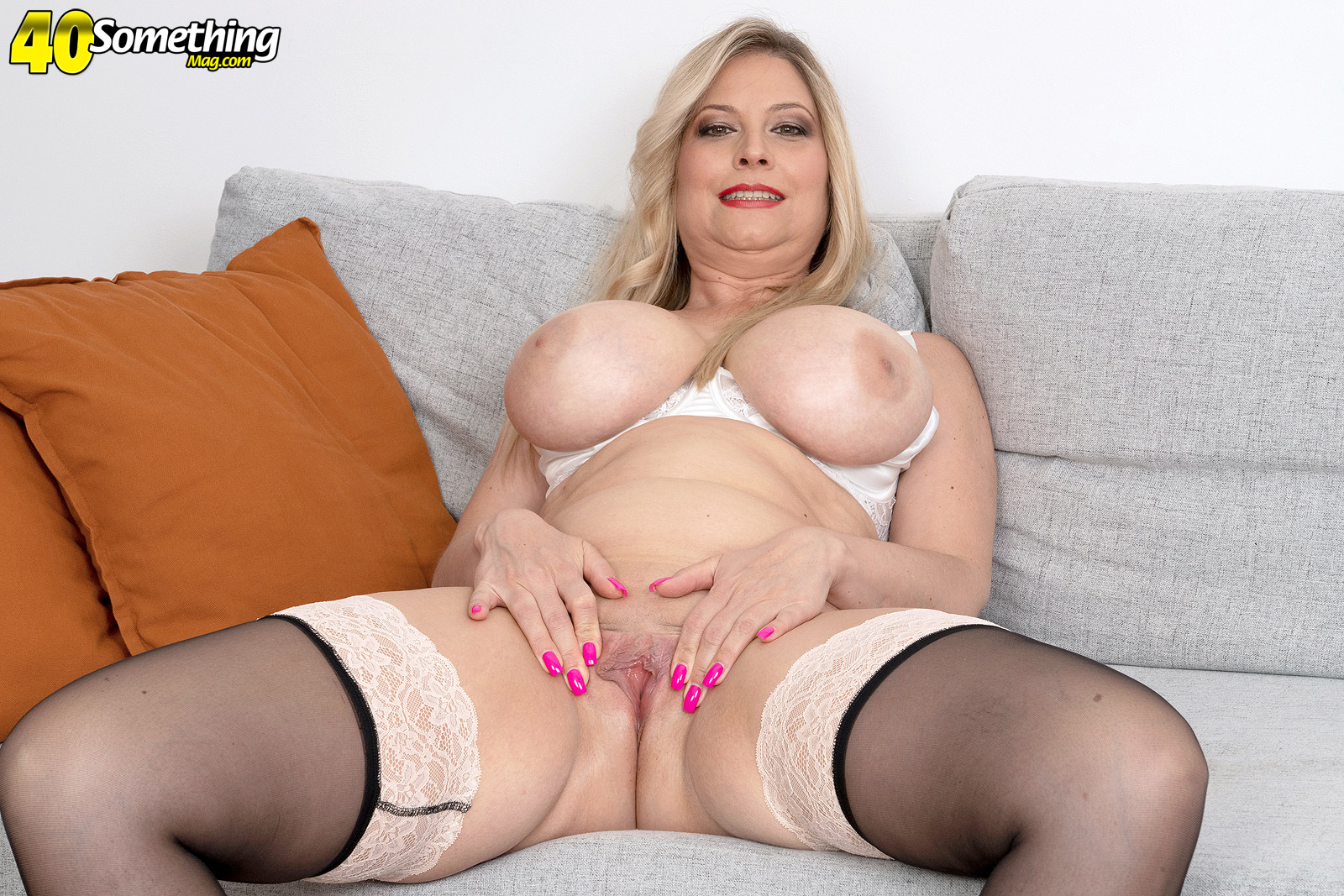 Cheyenne says she's shy. These photos prove otherwise: Cheyenne Duvallon - In her return to 40SomethingMag.com, Cheyenne Duvallon, a 41-year-old cougar from Switzerland, is horny. We kinda expected that. This beautiful blonde wastes very little time before she shows off her big tits, then she fingers her pussy and takes out one of her favorite toys. She uses it on her pussy and cums a lot. But the next time you see her, Ms. Duvallon will have a cock in her mouth, pussy and butthole. My ass is made for anal, she said. Anal orgasms are so delicious. Cheyenne is delicious, and believe it or not, she's shy. Yeah, she told us so. I prefer a man to make the first move to be sure he really wants me. We doubt she ever has to really wonder about that. And Cheyenne told us she has sex several times a week, so, obviously, a lot of guys want her. I like being seduced and let go, she said in her sexy accent. I once had sex with a man in his office and in his car. And in her ass? Cheyenne's smile when we asked that question told us the answer.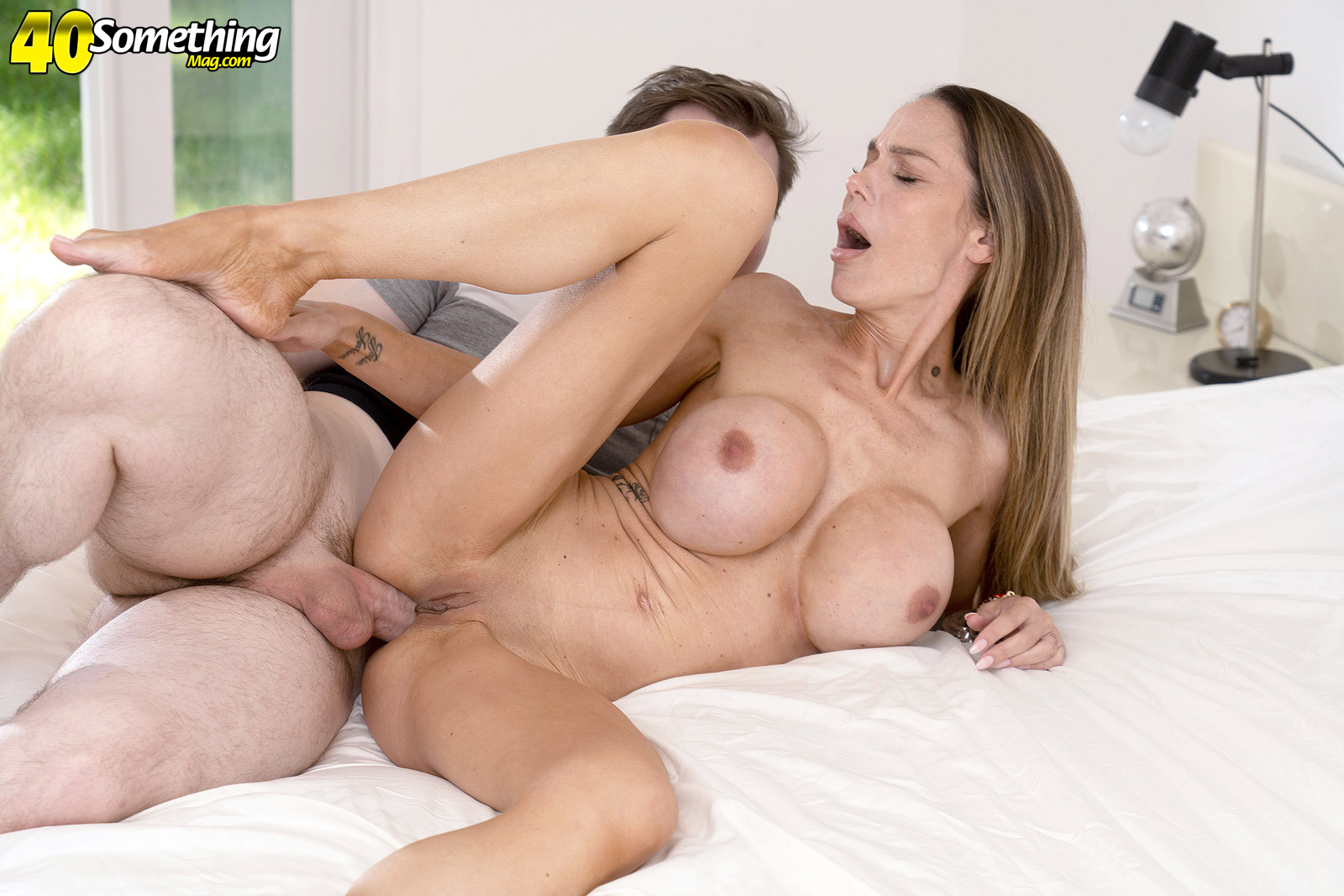 44-year-old, big-titted McKenzie gets ass-fucked and does ATM: McKenzie Lee,Anthony Pierre - Hey, what's going on here? The guy in this scene never fucks 44-year-old McKenzie's pussy. His cock goes down her throat and in her ass but never in her pussy. Well, we can't say we blame him. McKenzie's asshole was so inviting and so tight, he couldn't bear to leave it...except, of course, when they changed positions and McKenzie decided to suck her ass off his dick. Nice. McKenzie is a divorcee from England who's now living in California. This dude, who's young enough to be her son, is from who knows where and spends a good amount of time in this scene living in her butt. He also pays special attention to McKenzie's big, fake tits. Just about everything about McKenzie is small except her tits. She's a fuck toy in the mold of Danielle Derek, who many of you may have heard of. If not, check her out at SCORELAND.com. We asked McKenzie if she's into anal sex. Yes! she said. Stupid question. But we like to ask so we can hear the woman's answer. Notice how she never says to the guy, Fuck my pussy now. She loves it in the ass. Kinkiest sexual encounter: I've been around the world and done it all. Well, now she has.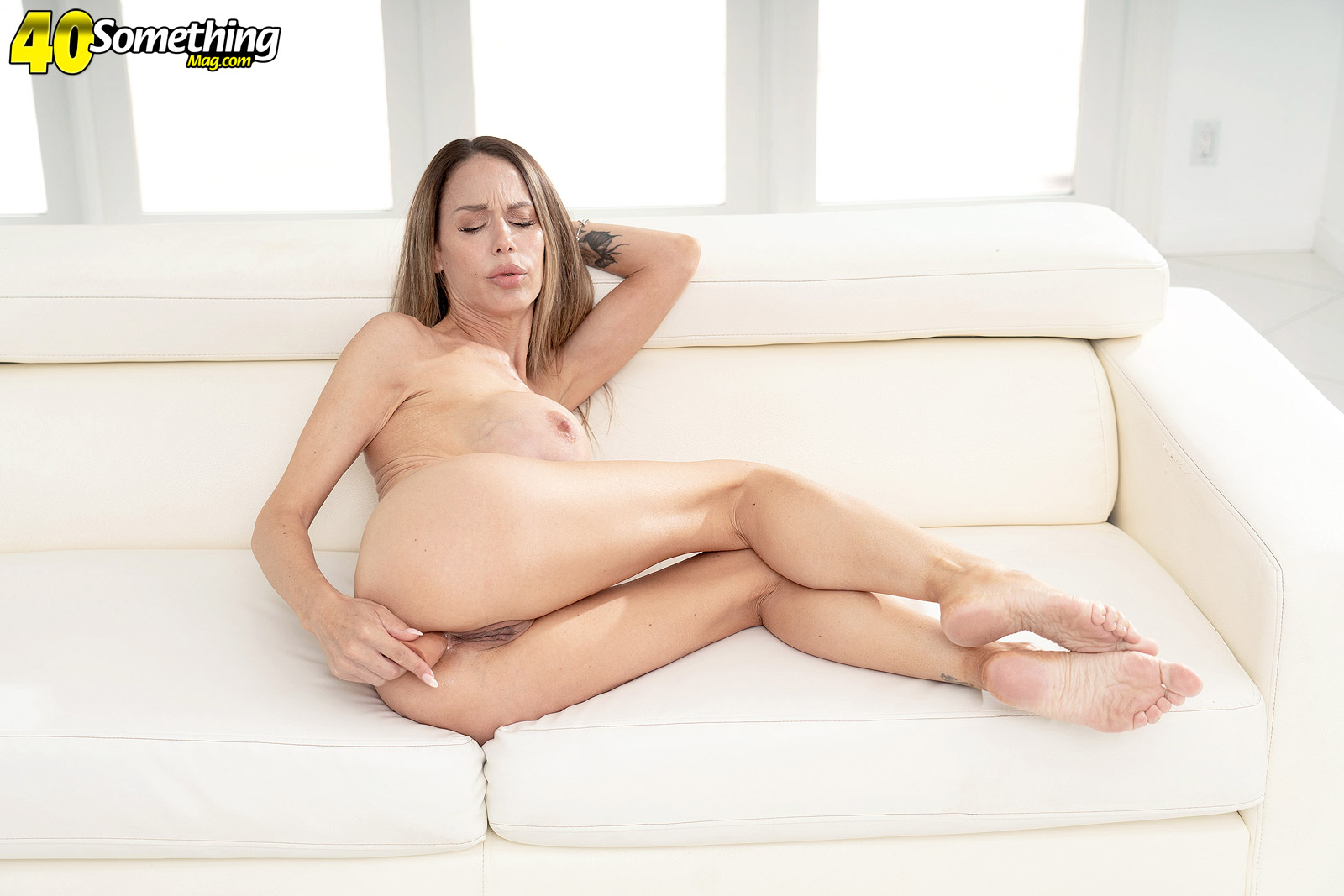 Meet McKenzie Lee. She has big, fake tits and a fuckable ass: McKenzie Lee - Why does McKenzie Lee have a toy in her ass in this scene? Because she's getting it ready for a real cock. Yep, the next time you see this 44-year-old divorcee from England (now living in California) she'll be sucking and fucking cock and taking it up her ass. And that's a wonderful introduction to this super-sexy, super-slim babe with big, fake tits. McKenzie is a mother of two. She told us the people who know her would absolutely not be surprised to see her here, doing this. She says her favorite guys are ones with a pulse. And funny! And, we're assuming, hard cocks. How a man attracts her attention: By being nice and respectful. She has two daughters. She has been a caregiver. She isn't currently a swinger, but she used to be one. Are you a nudist, McKenzie? Yes. Every day when I shower. That makes us nudists when we have our cocks out and are jacking it to this total piece of ass.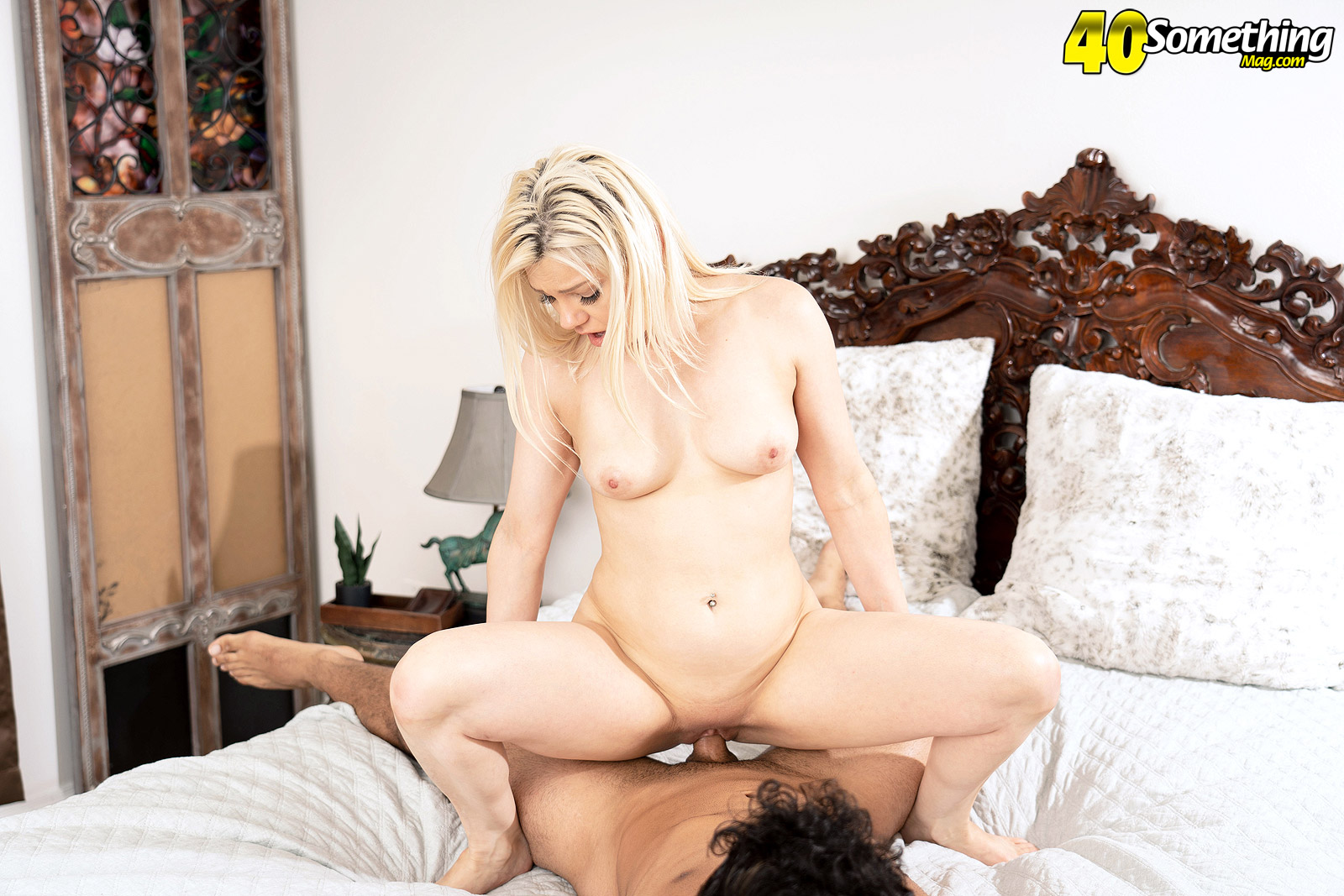 40-year-old Skylar Rei is just loving that cock!: Skylar Rei,Zane Walker - In an intimate scene in which the man and woman are very much into each other, Skylar Rei, a 40-year-old cougar from Detroit, Michigan, has her way with a big-dicked stud and cums multiple times. He cums once, all over her pretty C-cup tits. Skylar is our kind of woman. When we asked her if she plays any sports, she listed foxy boxing, pole dancing and pole dance competitions. She was a stripper for 11 years. She's also into gymnastics and parkour (look it up). Her perfect day or evening: Sleeping with my phone on do not disturb. What she wants to try that she hasn't done: Anal, pegging dirty bad boys and sex outdoors. Pegging: ass-fucking a guy with a strap-on. Any volunteers to be the peggee? Favorite kinds of dates: Any kind that involves food and getting fucked at the end or just sitting around playing video games. Hey, we have an idea: dinner, fucking, video games, more fucking, video games, more fucking. Sexual fantasy: I want to be in a gangbang. We'd rather be involved in that than the pegging scenario.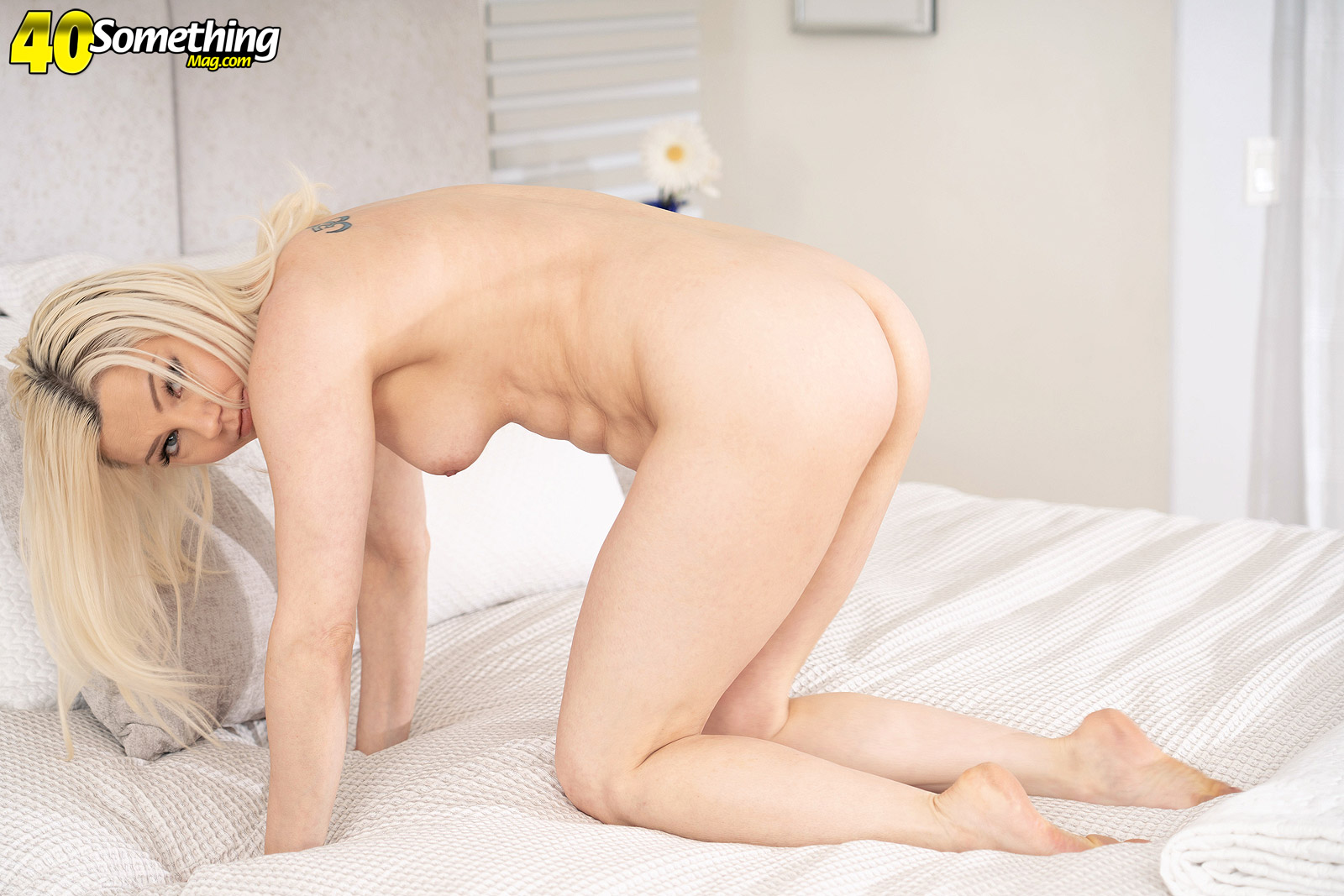 Skylar Rei is a little fuck toy who's doing her pussy with a fuck toy: Skylar Rei - I let girls eat me out and finger me. I like making out with women, said Skylar Rei, a 40-year-old cougar from Detroit, Michigan, who's making her debut at 40SomethingMag.com by showing off her tight, sexy body and fucking her pussy with a toy. The real thing is next. Skylar is only five-feet tall and weighs 106 pounds, so she's the kind of woman you can pick up and bounce up and down on your dick. She'd like that, although she does have her preferences in men. I like nerds and gamers, she said. I like big, girth-dicked dudes. We asked Skylar if the people she knows would be surprised to see her here. They already know, she said. Glad she got that out of the way. Skylar has no kids but two cats. She has three college degrees, has worked in tech support and stripped for 11 years. I hate wearing clothes, she said. Fortunately, she has a body that looks great without them.
Want some more? Check the site.
| | | |
| --- | --- | --- |
| | Older | Newer | |