[Click on the picture to see all the samples]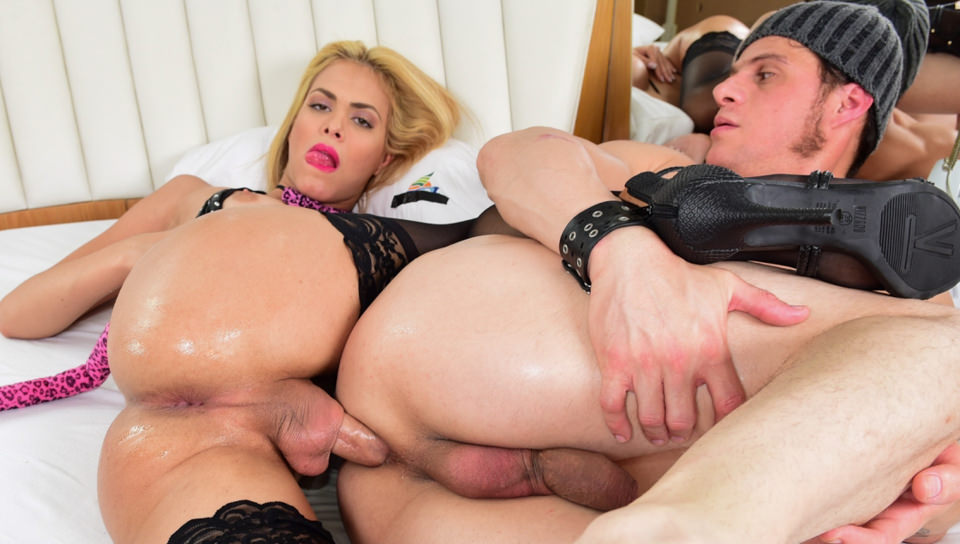 Dating A Gorgeous Blonde Latina TS: Alex Victor, Barbara Perez - When Latin stud Alex Victor finds glamorous blonde Latina Barbara Perez on a street corner, he publicly exposes the TS beauty's big, tan-lined breasts. Indoors, she works a stripper pole in bikini lingerie, a bulge forming in her lacy black panties. Barbara nibbles Alex's dick head and sucks cock lovingly. Her she-rod grows in Alex's mouth. They share French kisses and he pounds her pretty, greased butt doggie-style. Barbara fucks Alex as she jacks him, and he blows her ass-to-mouth. As he porks her, her French manicured fingers stroke out syrupy jism. She squeezes his nut sac as he jerks thick cream onto her dick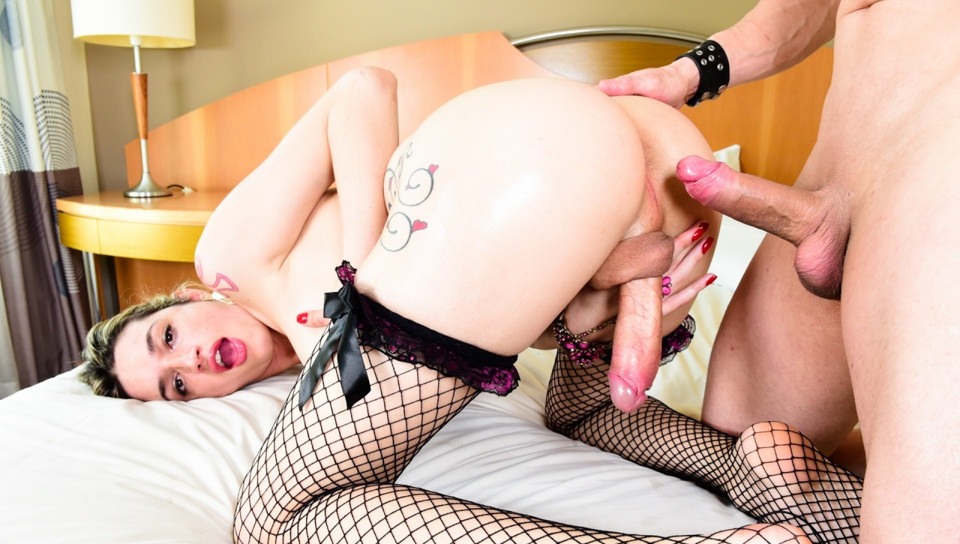 Lactating T-Girl Fucks Her Boy-Toy: Alex Victor, Nanda Molinari - Wearing fishnet stockings and fashionable, lacy lingerie, sultry Brazilian T-girl Nanda Molinari enjoys letting male companion Alex Victor suck on her giant, uncut she-cock. The gorgeous ladyboy rims his butthole and then buries her thick shaft in Alex's tight ass, fucking him senseless. Next, Nanda takes a butt fuck from her horny date. He wanks her fat boner until it erupts. To top it off, Nanda lactates from her ripe nipples while Alex jacks off on her perky tits!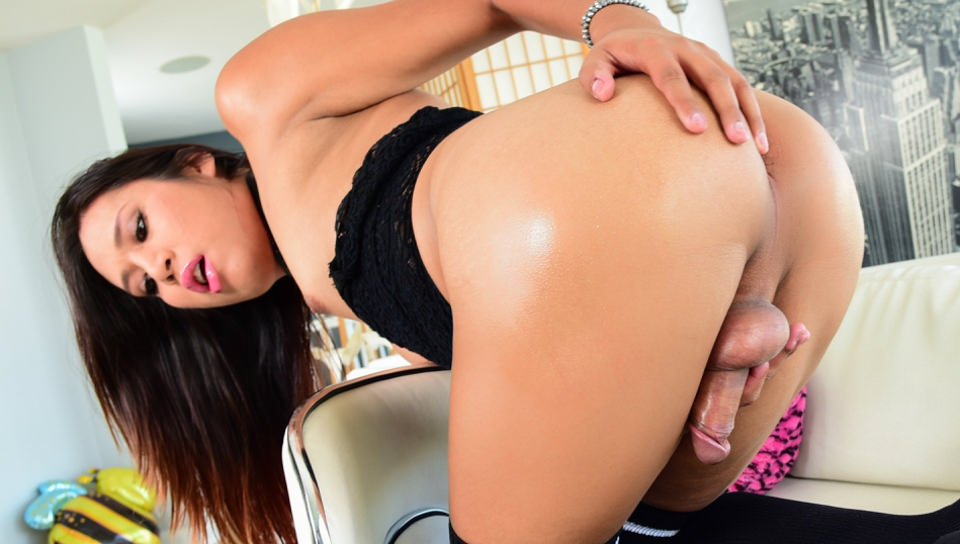 TS Temptress Reveals Her Secrets: Roxxie Monroe - Stylish Native-American TS Roxxie Monroe is cute in tight cut-offs and a 'SLAVE' collar. The 23-year-old West Hollywood girl is all femme, including her voice. Director Joey Silvera oils her ass, and Roxxie strokes the uncut she-boner peeking through her sheer panties. She stimulates her sensitive nipples. She says she went to school as a girl since 15 and 'drove some of the boys crazy ... maybe even some of the teachers.' Now she's 'strictly dickly.' The tan temptress vibes her greased butthole and jacks off, whimpering, sweating, breathing hard. She shoots semen, squeezing the last drops from her foreskin. Roxxie tells us she was fantasizing of 'more than three guys ... the bigger, the better.'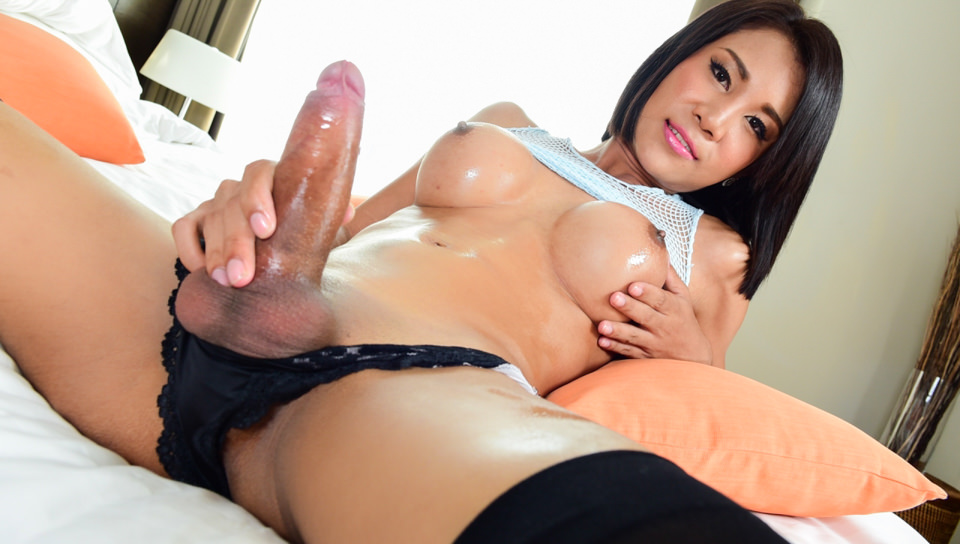 Petite, Femme Thai TS Goes Solo: Cartoon Candy - Pretty, petite Cartoon Candy is a Thai TS whose glamorous lingerie shows off her tiny waist, flat tummy and the visibly throbbing bulge in her panties! She plays with her boobs, releases her boner from its confinement and spreads her pink butthole. Cartoon happily masturbates her uncut prick and makes it spring back toward her body. Her thumb tweaks her hard nipple. When she's not fingering her anus, the trim beauty grips her balls in one hand, she-dick in the other. And she strokes out creamy pearls of jism.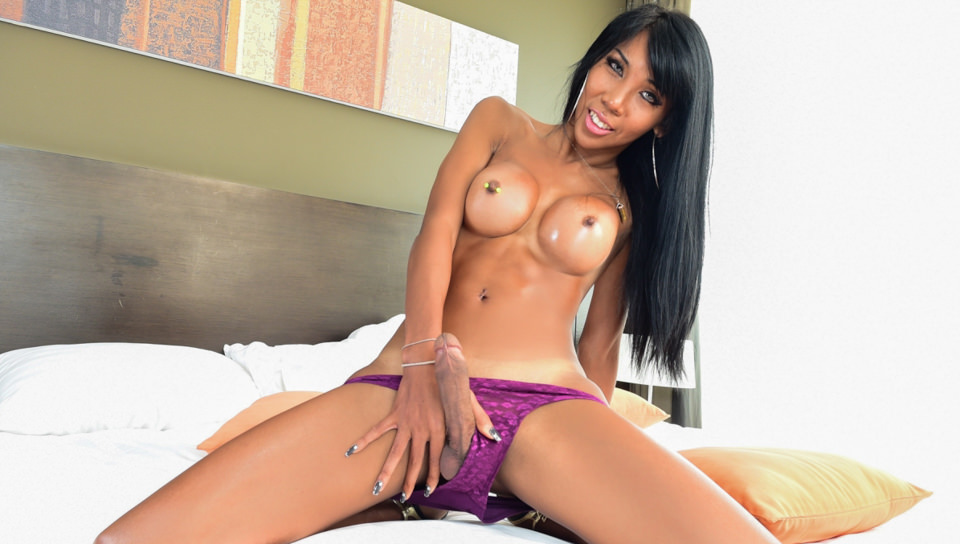 Stunningly Femme TS Beauty: Shasha - Shasha is a gorgeous Brazilian TS with fantastic, long hair, smooth, mocha skin, a tiny waist, shapely breasts and long legs, all presented in pretty lingerie. A prominent bulge grows in her bikini bottoms. She shows off her pierced nipple, and her big, bouncy boner escapes its confinement. She fingers/spreads her smooth butt and strips down, saying she jacks off thinking of 'normal' sex with a nice guy, or maybe two. Shasha sensually strokes her uncut brown boner with manicured fingers. Thick dollops of creamy jism contrast with her dark sin.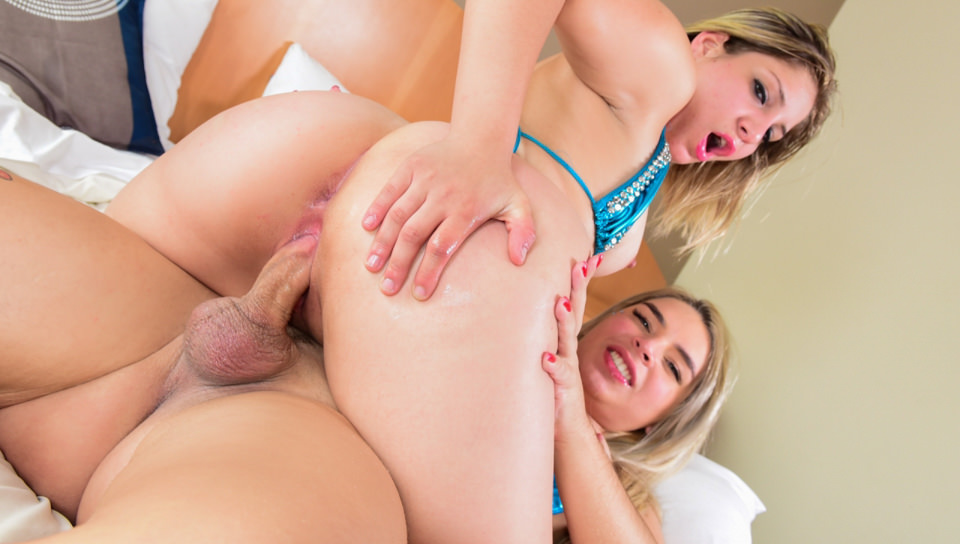 Matching Bikinis, But One Has A Bulge: Nina Luna, Carol Penelope - Nina Luna and Carol Penelope are Brazilian blondes in matching blue bikinis, with one big difference: Carol's crotch sports a most intriguing bulge! Racy, tan-lined Carol spreads, feels up and rims big-assed Nina. Nina strokes Carol's hard meat as they French kiss; next, Nina sucks nipples and hard dick. Green-eyed Carol eats pussy and fucks pale Nina on her back. Nina rides cock and soon gets her face fucked pussy-to-mouth. Carol nails greased Nina doggie-style. Finally, Carol jacks streams of cum into Nina's mouth, and the girls share a cum kiss.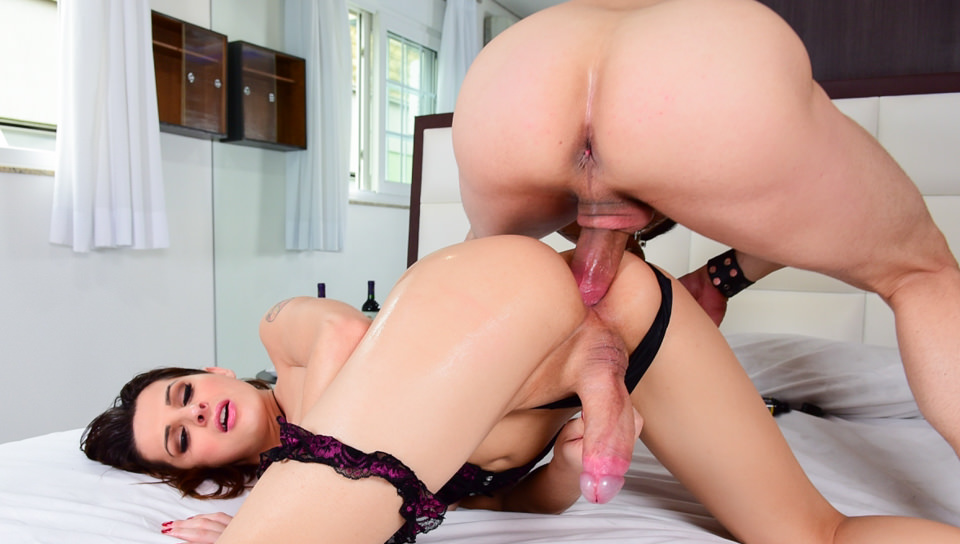 TS Beauty Seduces Muscular Stud: Alex Victor, Danny Bendochy - Busty Brazilian TS beauty Danny Bendochy's thick pink erection points from her pretty lingerie. She and muscular Latin stud Alex Victor trade strokes, blow jobs and nipple sucking. Alex stuffs four fingers up her smooth, greased ass and rims her. Her back arches prettily as he fucks the masturbating girl on her back. Danny rides Alex's pole, jacking her own junk. He buries his meat deeply in her shapely rear. Danny masturbates, producing pearly strands of semen. Alex jacks his uncut prick, cumming on Danny's belly with a roar. He sucks her clean and they play in the jism.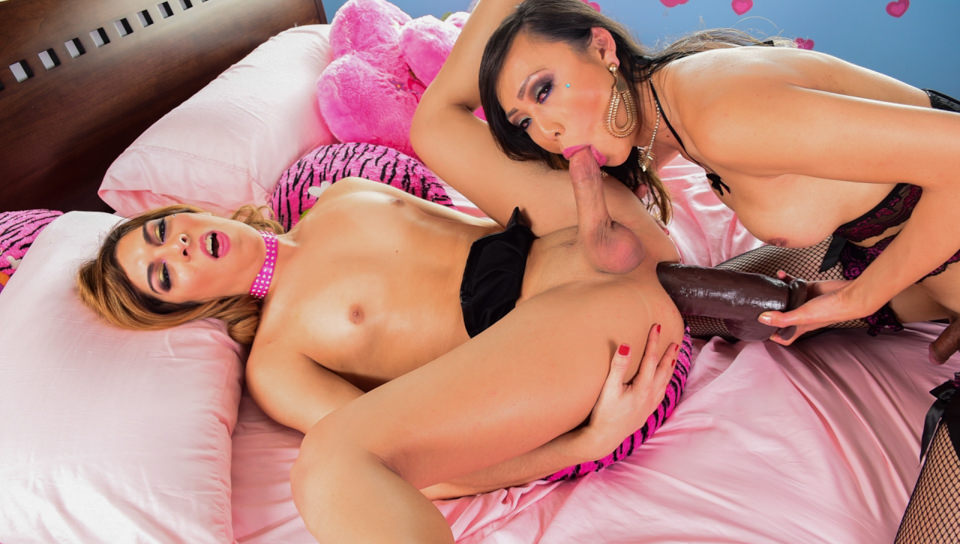 TS Beauties Share 'Trans-Lesbianism': Venus Lux, Kendra Sinclaire - Hot Asian Venus Lux dominates sexy redhead Kendra Sinclaire in a TS-on-TS tryst. Kendra's huge erection and big balls poke from her leather skirt; Venus' boner points from purple lingerie. Venus calls the date 'trans-lesbianism,' and both girls are dirty talkers. Venus grips Kendra by the hair for a face fuck, and they stroke dick-on-prick. Venus sensually rims Kendra's smooth butt and deeply pounds it, making Kendra squeal. Kendra sucks cock ass-to-mouth; she chokes as Venus sodomizes her with a gigantic dildo. With Venus' prick up Kendra's ass, Kendra spurts spunk. Venus straddles her face and masks it with streams of sperm.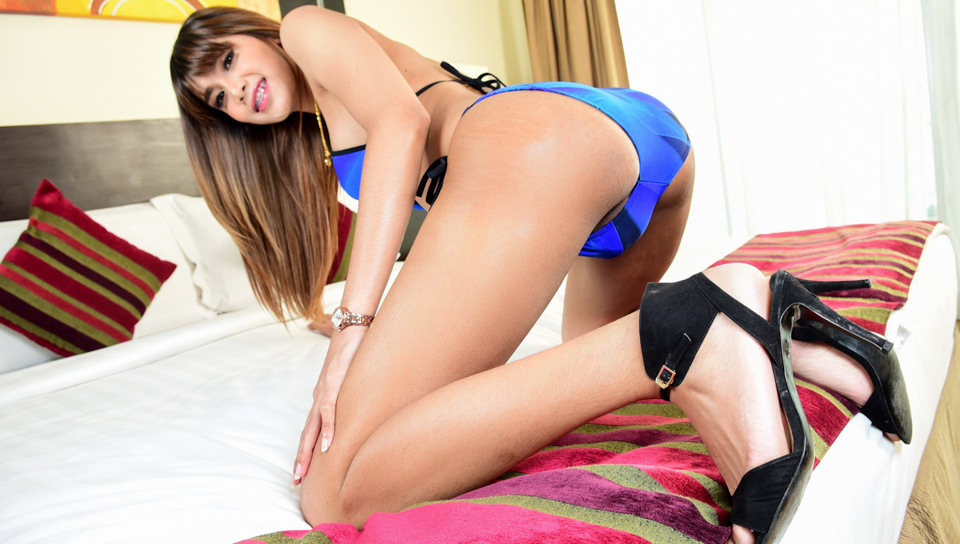 TS Beauty: Femme Form, Functional Dick: May A - In a gorgeous blue bikini and black high heels, athletic, ultra-femme T-girl May sensually teases us before a lewd masturbation demonstration. The sultry, slender vixen shows off her shapely ass and supple breasts, gorgeously staring into the camera as she fondles her bulging boner. Next, May strips out of her clothes and spreads her sweet asshole for the camera. She pumps her erect shaft to an intense orgasm, and she blows you a kiss.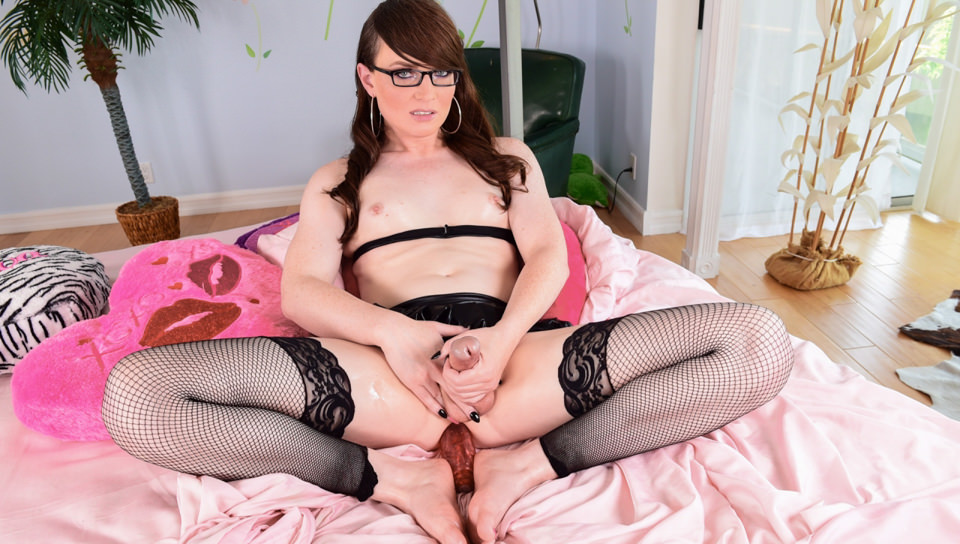 Bespectacled T-Girl's Jack Session: Natalie Mars - Feminine, ultra-sexy trans-girl Natalie Mars looks incredible in a micro-mini skirt and tiny tube top. She sprawls on the bed wearing glasses to emphasize her slutty yet sophisticated style, showing off sexy feet and greasing herself for a masturbatory show. The tasty she-vixen aims her erect boner into the camera as she strokes, then plunges her sweet sphincter with a sex toy. There's spit-soaked, ass-to-mouth dildo sucking, and Natalie's dick leaks syrupy goo as she pounds herself to an intense orgasm.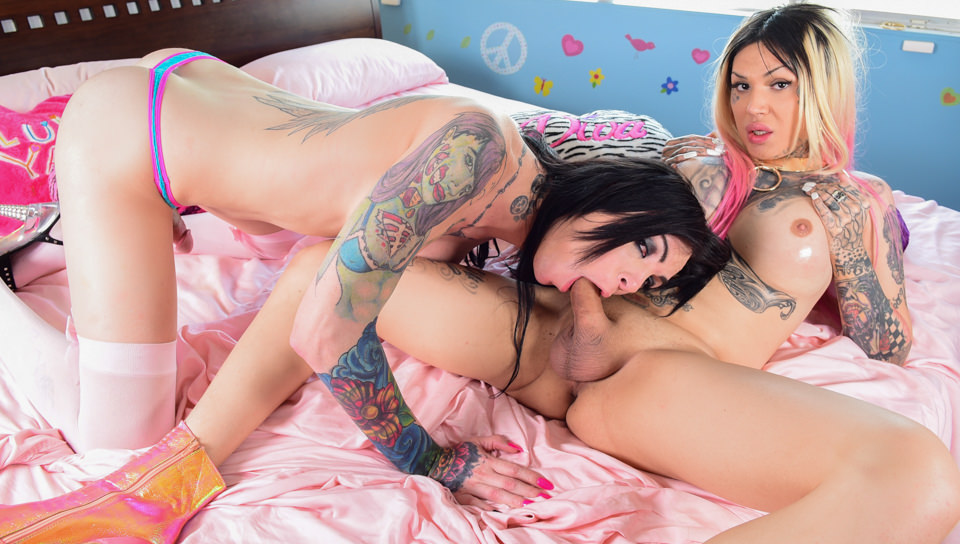 Tasty TS-On-TS Butt Fuck Date: Chelsea Marie, Britney Boykins - Britney Boykins is a stylish T-girl with big tits, plump lips; her gorgeous body is festooned in skin art. Wearing a skin-tight body-skirt, she talks to the camera before engaging in a lewd ass-fuck with trans-girl Chelsea Marie. Chelsea's tight bikini perfectly accentuates her mountainous tits; the breathtaking ladyboys sloppily suck each other, heating up for a blistering butt fuck. Britney fondles herself as Chelsea fucks her. There's ass-to-mouth cocksucking. Chelsea slurps up Britney's cream and slathers Britney's face in cum.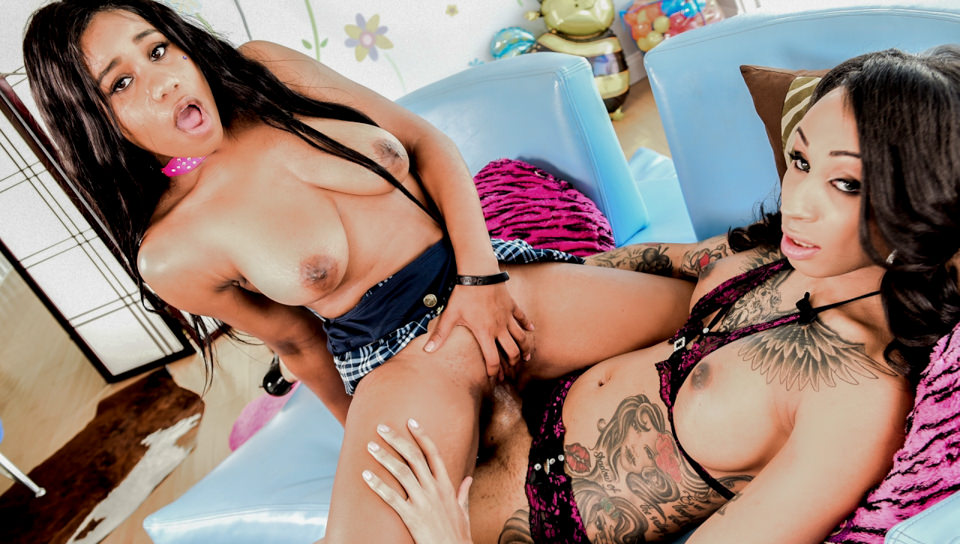 TS And Bio Girl Share Power-Fuck : Jenna Foxx, Honey Foxxx B - Honey Foxxx is a gorgeous, Amazonian T-girl that loves fucking genetic females. Adorable, 19-year-old Jenna Foxx satisfies the sexy TS temptress' devious desires; Jenna dances on a stripper pole, coquettishly teasing the big-dicked vixen. A passionate kiss between the mocha-skinned beauties sets things in motion. Jenna chokes on Honey's bulging boner in a filthy, slobber-soaked blow job. The stylish trans-girl buzzes a vibrator over Jenna's sweet pussy, then lubes her up for a nasty, gender-warped power-fuck. Jenna rides dick and wanks Honey's huge cock to a facial climax.
Cute Ladyboy Flirts And Masturbates: Pan Bangkok - The feminine Thai ladyboy known simply as 'Pan' is a sassy, playful cutie that loves showing off for the camera. Dressed in tiny, low-rise jean shorts and a tight bikini top, she blows kisses, winks at viewers and flirtatiously wriggles her cute body. The tight-bodied T-girl gives a lewd masturbation show, jerking her she-cock and fucking her tender butthole with a vibrating dildo. For the climax, Pan sucks her buzzing toy ass-to-mouth and her swollen penis dribbles cum.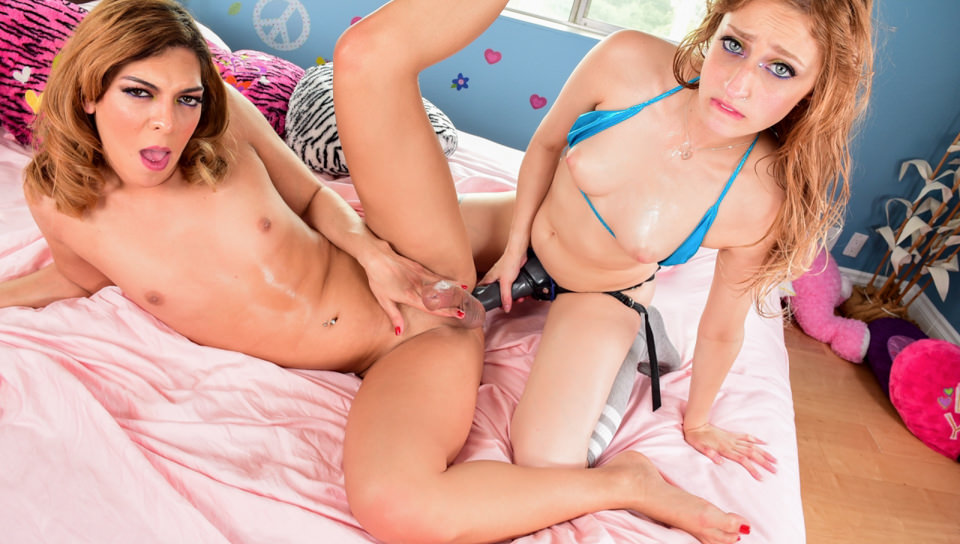 TS & Bio Girl Trade Cock And Strap-On: Rococo Royalle, Kendra Sinclaire - Stunning genetic female Rococo Royalle flaunts her perfect booty while athletic T-girl Kendra Sinclaire jerks off. Kendra dominates sexy Rococo; the feminine, tanned TS crams her enormous she-cock into Rococo's mouth for a sloppy, face-fucking blow job, then dominantly drives her bulky boner into Rococo's tight cunt. Next, the strawberry blonde vixen plows Kendra's sweet sphincter with a gigantic strap-on; Rococo thrusts her hips seductively while plunging the exotic trans-girl's ass. Finally, Kendra straddles Rococo to blast cum over her face and tits.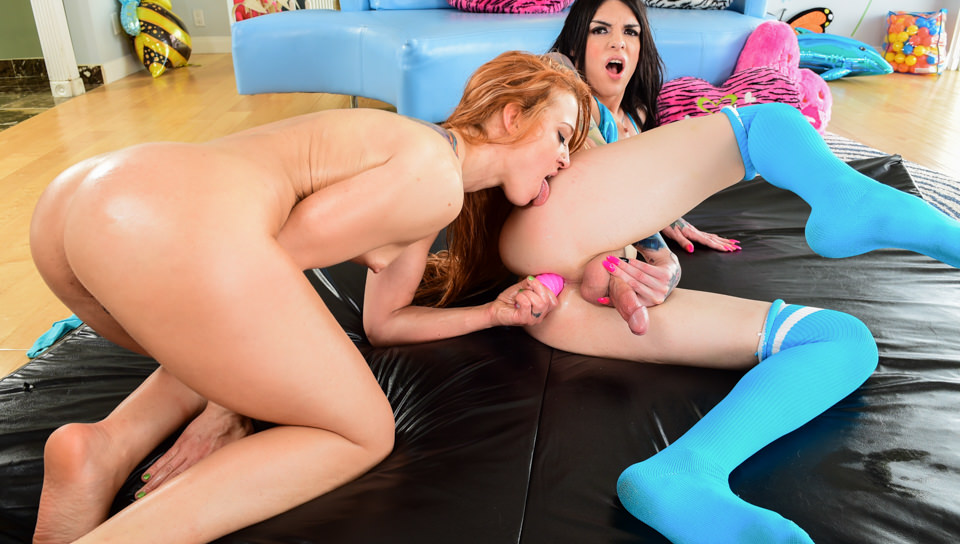 T-Girl/Bio Girl Power Exchange: Cheyenne Jewel, Chelsea Marie - Tattooed trans-babe Chelsea Marie learns an extreme lesson in self-defense from athletic bio-girl Cheyenne Jewel. Chelsea's titanic tits burst from her blue bikini top; beaming Cheyenne flexes her bulging physique for the camera. A lewd 69 leads to a blistering butt fuck from the exotic T-girl, and ass-to-mouth cocksucking generates sloppy drool. After Chelsea cums, Cheyenne dominates. She snakes her tongue in the sexy she-male's butthole, then crams her fingers in. Finally, Cheyenne gags Chelsea with a dildo while the stunning T-girl intensely pumps out her second load of cum.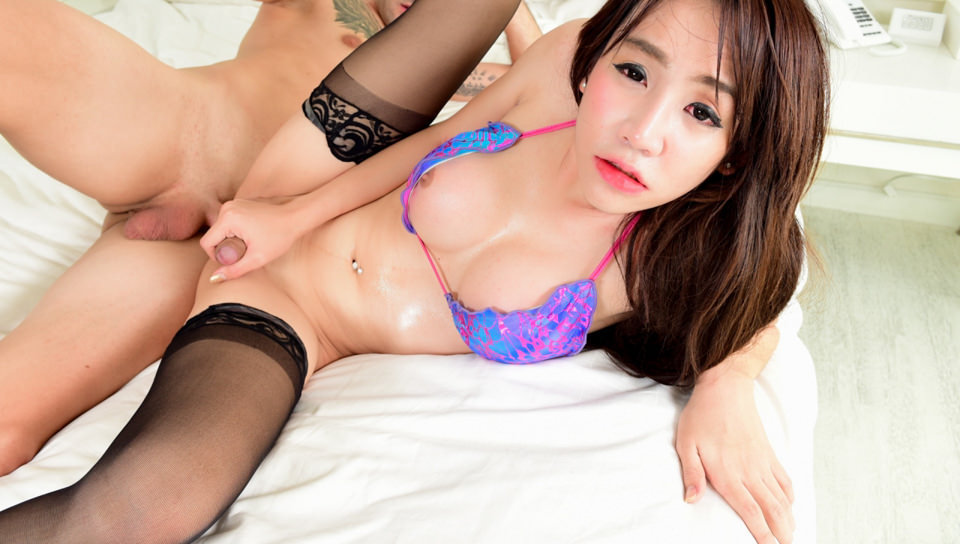 Thai T-Girl vs. Brit Bad Boy: Johnny UK, Grace - Trim Thai T-girl Grace's boobs and balls bulge from her bikini. She flirts, caressing herself and unleashing her stiff dick. Enter British stud Johnny UK; they bump boners in a penile sword fight. He deep-throats Grace and she sucks his cock as she strokes herself. Johnny blows her from behind and when Grace pulls open her pretty ass cheeks, he tongues the gaping sphincter. With Grace on all fours and then on her back, Johnny butt-fucks her to squealing and whimpering. In a window with a view of Bangkok, she jacks her cum into her hand. Johnny shoots his semen on Grace's face and tits. They leave creamy cum everywhere!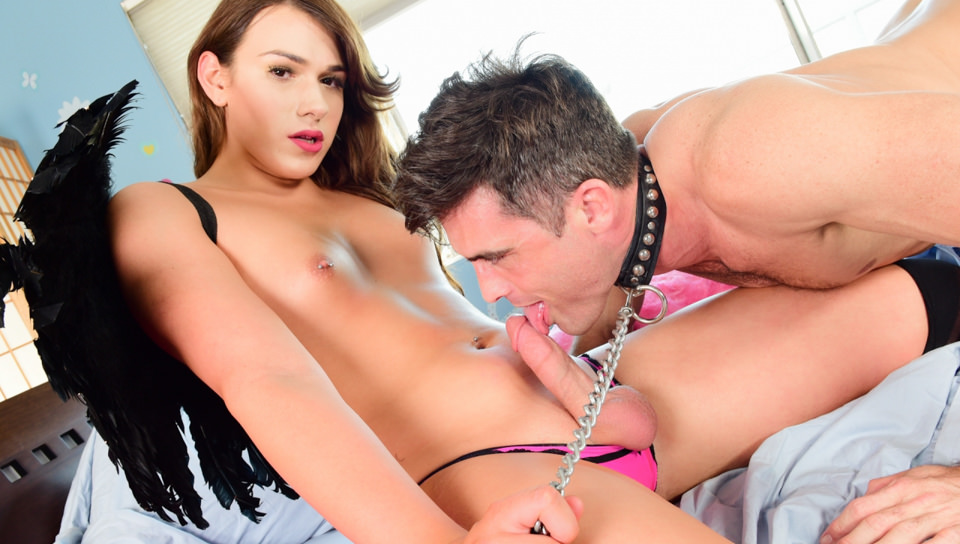 18-Year-Old TS Knockout Porks Bitch-Boy's Ass: Lance Hart, Aspen Brooks - Super-femme TS Aspen Brooks, just 18, rocks ruby-red lips, pierced nipples, tattoos and a wicked spirit. The precocious dominant summons muscular, collared bitch-boy Lance Hart, whose prick bulges from his boxers. She tugs on his leash as she fucks his face, and they share a tasty French kiss. Aspen rims him and deep-throats. When he eases his meat up her ass, she declares, 'Your ass is so tight!' and he drips pre-cum on her flat tummy. With his leg up on her shoulder, she porks his ass; Lance sucks dick ass-to-mouth and tongues her bunghole. Aspen gasps ecstatically as she's sodomized, and she too tastes ass- flavored cock. Lance jacks her big load onto his face and Aspen strokes his juice into her mouth. But she wants to suck more asshole!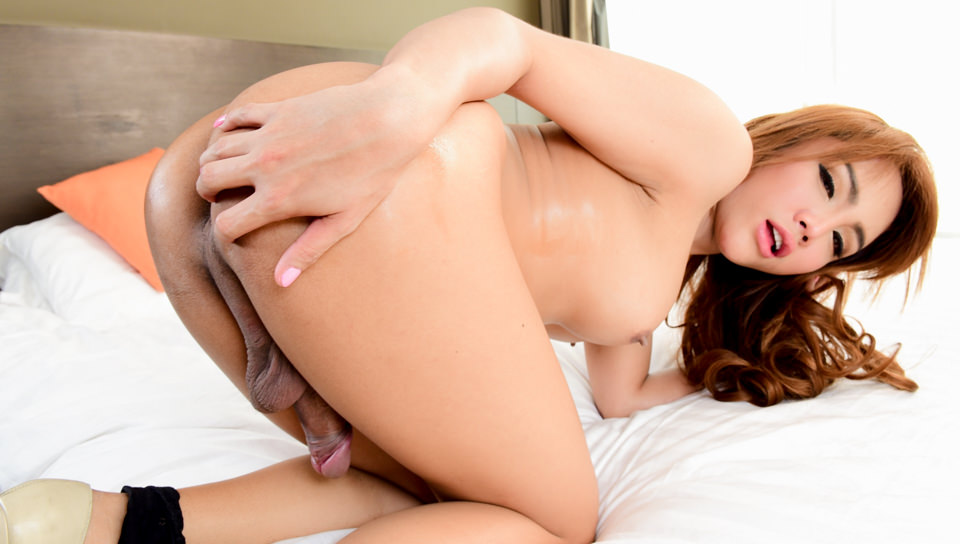 Asian's Thick TS Prick Spews Pearls Of Jism: Chanel D - Thai trans-girl Chanel has auburn hair, a cute face and a shapely, femme body with killer legs. In a bikini top with jewelry in her navel, the tan temptress flirts, poses and releases her big boobs. She peels off tight pink shorts, unleashing a thick brown cock that stands at attention. Chanel masturbates with pink manicured fingers and sticks a hot pink vibe up her tight butthole. She strokes her thick prick till pearls of jism shoot out and fly over her flat tummy.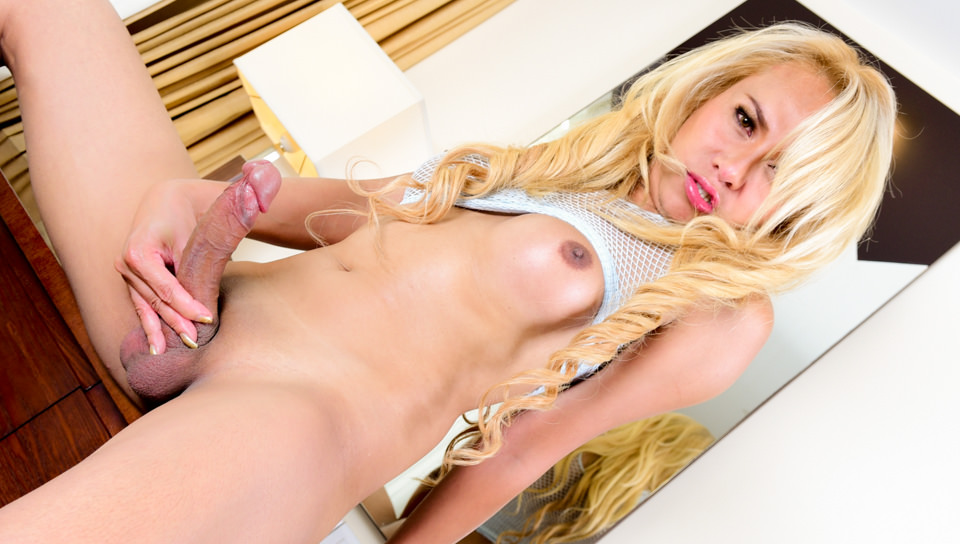 Thai T-Girl's Dirty Talking Solo Session: Candy B - Blonde Thai T-girl Candy B.'s tits show through her net top, and her prick bulges from tiny shorts. As she strokes herself, the tanned femme cutie's super-hard cock springs back to slam her tummy. She two-hand strokes the big boner, grinning wickedly and flirting with the audience: Candy says, 'My cock hungry for some ass now,' and she sticks her prick in the camera as an offer to all cocksuckers. A heated jack session climaxes when Candy says she wants to cum on a face. Gripping a tit in one hand and her huge prick in the other, she shoots streams of hot cum, and blows you a kiss.
TS-On-TS: Which Beauty Was A Bodybuilding Marine?: Isabella Sorrenti, Natalie Mars - Trim, pale TS Natalie Mars is cute in glasses with her junk bulging from lacy panties; glamorous, blonde TS Isabella Sorrenti sports a dress, fishnets and a 'Semper Fidelis' tattoo -- she was a Marine (and a 260-pound body-builder!) before transitioning to femme hotness. The girls make out, caressing tits, stroking shafts, kissing. They trade blow jobs, Natalie fingering Isabella's butthole and feeding her the flavor. Isabella deep-throats! The inked blonde butt-fucks Natalie, whose dick drools, and Nat sucks Isabella's thick boner ass-to-mouth. Isabella plows Natalie's gaping asshole like a Marine! Natalie's boner points up as she rides dick. The girls jack off; Isabella licks up Natalie's cum.
Want some more? Check the site.
| | | |
| --- | --- | --- |
| | Older | Newer | |