[Click on the picture to see all the samples]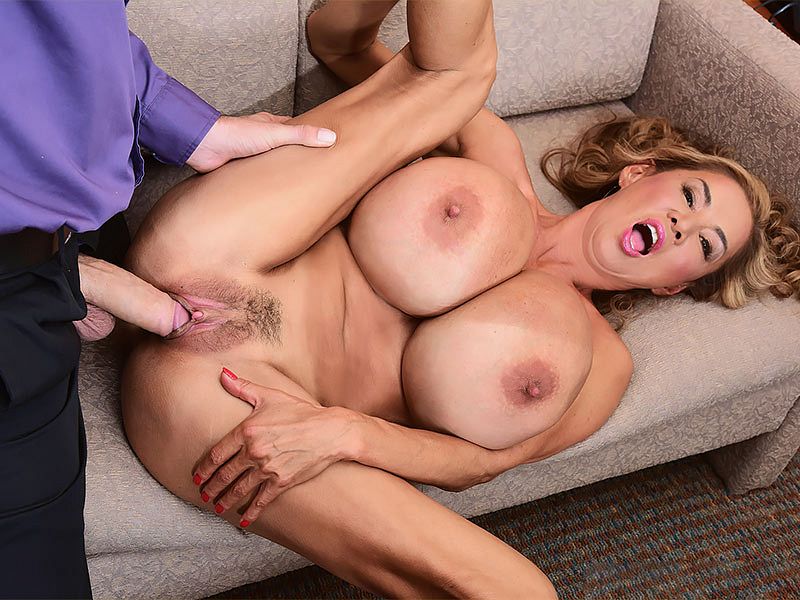 Mega-Boobs Office: Minka -
Minka
, the world's #1 Asian big-tit star since 1994, took a job in a nearby office. The problem is a supervisor in this company. He doesn't understand Minka's sense of humor and her working style.
He gets annoyed when she makes copies of her 44KK tits with the office copier, and Minka's habit of working at her desk with her blouse raised over her boobs bugs him. He spills coffee on the floor, distracted by her protruding pontoons. He just doesn't get Minka.
His first mistake is when he asks to speak to Minka and lays down the law. She quickly turns the tables on him and sucks his cock. That straightens him out fast, and before he knows it, he's breaking every rule in the company handbook by boning Minka on the conference room couch and nutting her mega-boobs.
Who's the boss now?
Daylene Rio's First Time!: Daylene Rio - Daylene was surfing the Net when she came across BeASCOREModel.com. She's an exotic dancer in the Los Angeles area and had been thinking about modeling for a long time. She decided to go ahead and take the plunge.
"I'm a pretty horny girl," says Daylene, who's 5'3" and 125 pounds. Her 42-26-38 measurements and 36DDD cups attract a ton of attention and when she wears a skintight dress or skimpy top and shorts, all eyes are on her every step. "I like to have sex almost every day and I don't wait around for a guy to make the first move. I like good foreplay. I can tell by how a man moves his body what he's going to be like in bed."
Daylene likes to tan, hang out at poolside on hot days, workout at the gym and go to the movies. One thing to never ask Daylene is "Are your boobs real?" "If you can't tell, don't ask. If you're talking to a girl and she tells you she had a boob job, that's fine. If you get next to her, you're going to find out when you play with them."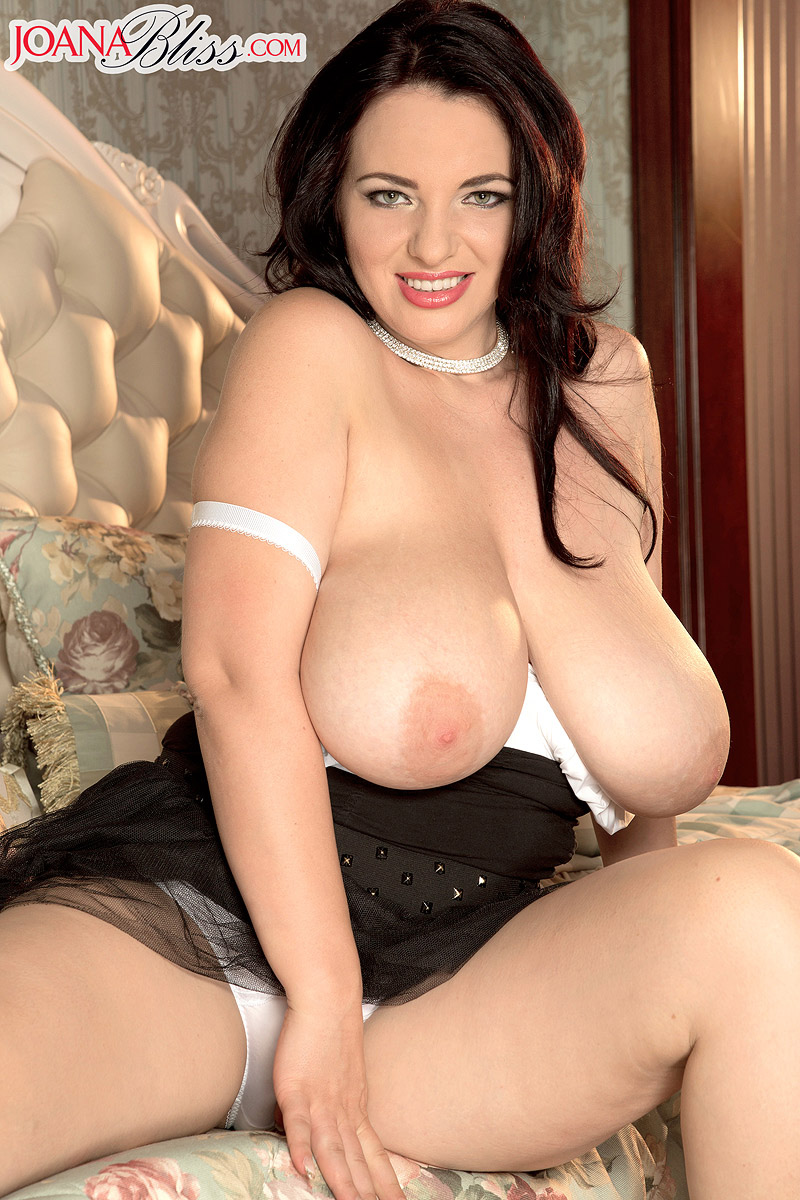 The Countess of Cleavage: Joana Bliss - Joana is responsible for a lot of wood and many loads lost. Finding her back in 2003 was one of the greatest events in big-bust history. That she stays active in front of the camera is a testament to her longevity and how well she takes care of herself. A New Ager, Joana lives a healthy lifestyle; not austere but very holistic.
"I am a vegetarian," Joana said. "I like mushrooms. I don't eat any meat. My meat is mushrooms. Maybe fish and eggs. This goes together with my spiritual life. I meditate and do Yoga. I practice Tantric Yoga also."
That doesn't mean Joana lives an ascetic lifestyle.
"I go to clubs with friends. I like a lot of different music. I like dance music. 1960s music. Old music. I like disco. I like to dance, but I have to be careful about what kind of dancing I do because my big breasts bounce all over the place!"
One day, we've got to see Joana dance. Without any clothing on.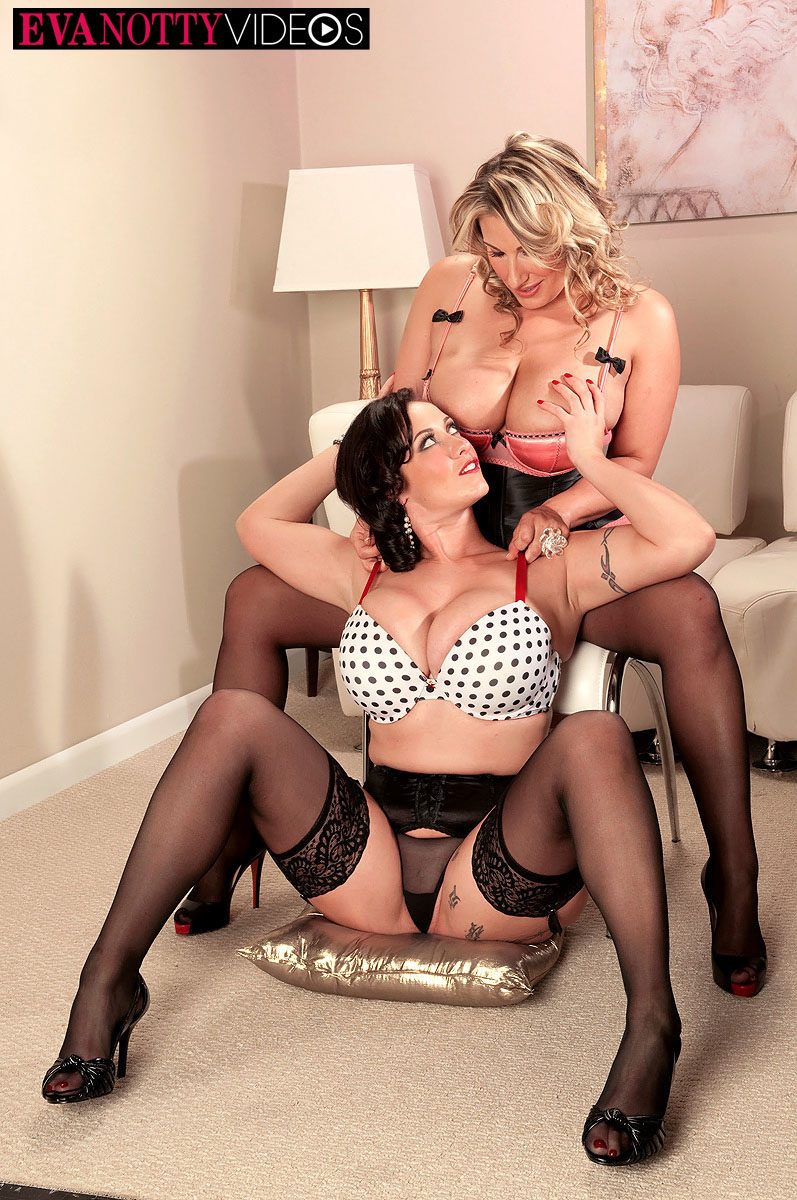 Quite The Pair: Eva Notty - Sarah and Eva are best friends who also happen to live together. These two do everything together. They shop together, go out on double dates and work at the same office. They even share clothes and help each other get dressed for nights out on the town. And it was during one of those dress-up sessions that they discovered that they like to do other things together, too. And by other things, we mean, each other. You see, one night Eva had a run in her stockings and when Sarah got down on her knees with a bottle of nail polish to stop the run, she noticed how curvy Eva's legs are. And when she looked up, she saw that Eva had noticed her horny perusal, too...and liked it. Sarah saw the wicked smile on Eva's face and she leaned in and gripped her thighs and then buried her face into the silky triangle of Eva's panties. Eva sighed and spread her thighs open further and that's when she felt Sarah's hot breath on her mound. She told Sarah to pull off her panties and tongue-fuck her. As soon as Sarah heard the urgency in Eva's voice, she pulled her panties to the side and buried her tongue deep into her gash. She heard Eva's moans of pleasure and it wasn't long before her mouth was coated in Eva's sticky juices. Sarah could feel Eva's knees buckling from the pleasure, so she stood up and led her to the couch where she laid her on her back and lovingly began to lick down her thighs. Eva, now wild with desire, bucked her hips up and pulled her panties off. She told Sarah to taste her again and this time, while Sarah licked and fingered her gash, Eva wrapped her long legs around her head and pushed her further into her wet pussy. "You're going to make me cum so fucking hard!" Eva screamed and then she was thrusting and grinding her pussy onto Sarah's hungry mouth, sending a gush of her juices onto her tongue. Eva, now satiated and panting, ordered Sarah to strip her panties off. "I am going to make you cum like that," she said. And then she was shoving her fingers into Sarah's pussy and holding her legs open wide. "I want you to moan for me. I want to make you cum harder than ever," Eva said. She started licking Sarah's clit slowly and then with greater urgency. The faster she went, the wider Sarah spread her legs. Eva brought her to orgasm and wouldn't stop until she came another time. Needless to say, the ladies decided to stay in that night.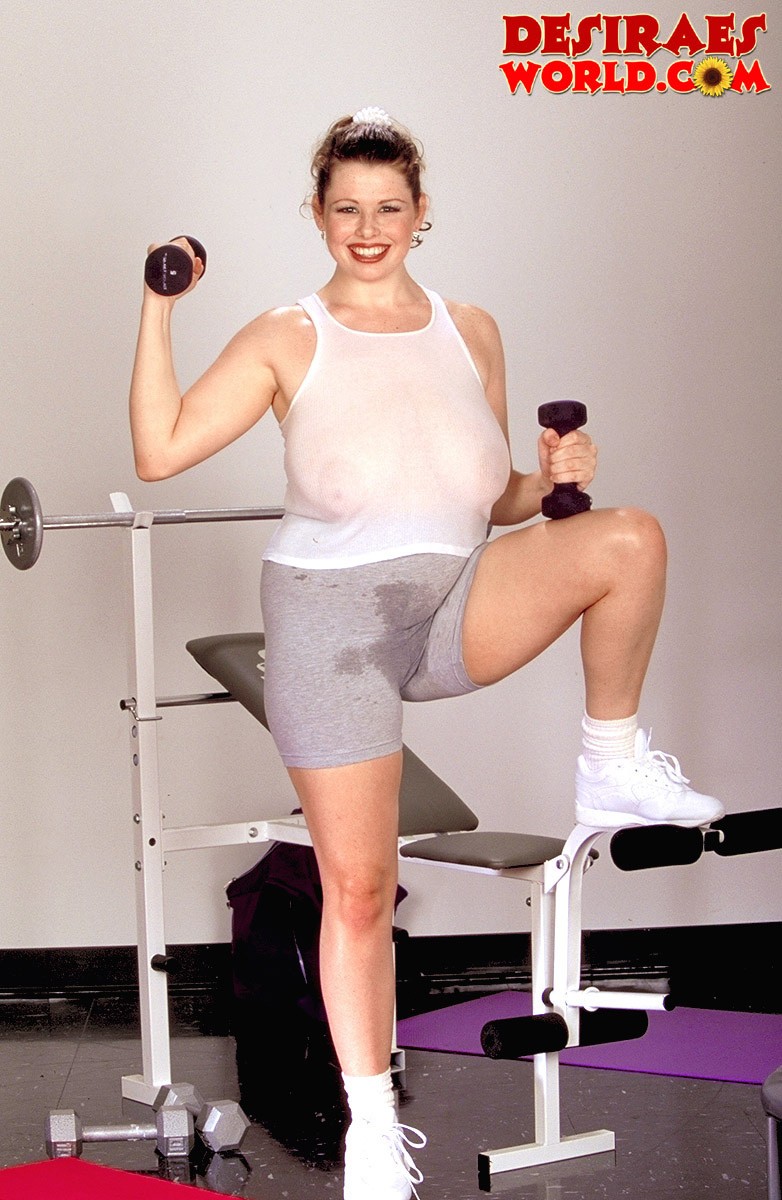 Workout: Desirae - Hey, here's some more shots of me getting hot and naked in a wild workout just for you -- cum real hard for me! I love reading all of your letters to me over and over again--actually, sometimes I like to play with myself while I read them!
Hello
Desirae
,
How are you doing today, you little Leo/Virgo with a Scorpio rising? You may ask yourself how or why would I know this. Well, I will tell you why. We have the exact same birthday (I was born @ 2:45PM). What are the odds? Oh, and you're beautiful! Now back to your sign. I am going to make some guesses about you, so I hope that you will write me back and tell me how close I was. The first one is the easiest. As a Leo Woman, you find it very very easy to pose nude in front of the cameras. You liked to be admired and to feel like you are in the limelight. The Leo will also explain why you like sex and masturbation so much. Leos are very horny, and have a vivid imagination and are very open about sex. I bet that you have made many of your friends blush. You also mentioned that you love to feel dominated. I am not going to get into that because it will take too long to explain, but if you write back I would be more than happy to. I am also pretty sure that you are reading this because Leos love to learn about themselves, and love to be flattered. I would have to say that your Virgo traits are a little more subtle. I am going to say that you exhibit the trait of loving straight lines. What does that mean? Well, when you get bored you like to arrange things in straight lines, or in some form of size, shape, color, etc. order. I.E, say your photographer is taking photos of you, and then he lays them out for you to inspect. While he is talking, you will subconsciously arrange them so that they all line up very neatly. You might pick up one for closer inspection, but when you lay it down it will be right in line with the pictures on the right and left. You probably do not even notice that you are doing it. Same idea with pens or pencils on your desk, or picture frames. You can take the Virgo test if you still don't understand. Take two pens and line them up side by side, then move one so that it slightly crooked. Does this bug you? It should. You also have a thing about being on time.-N.F.
Dear Nathan, thank you for writing to my site. Your letter is very interesting. You are right about me being very horny and open about sex. Now the other things. I am usually not on time most of the time! I don't arrange things in straight lines. The pen test did not bother me.
XOXO, Desirae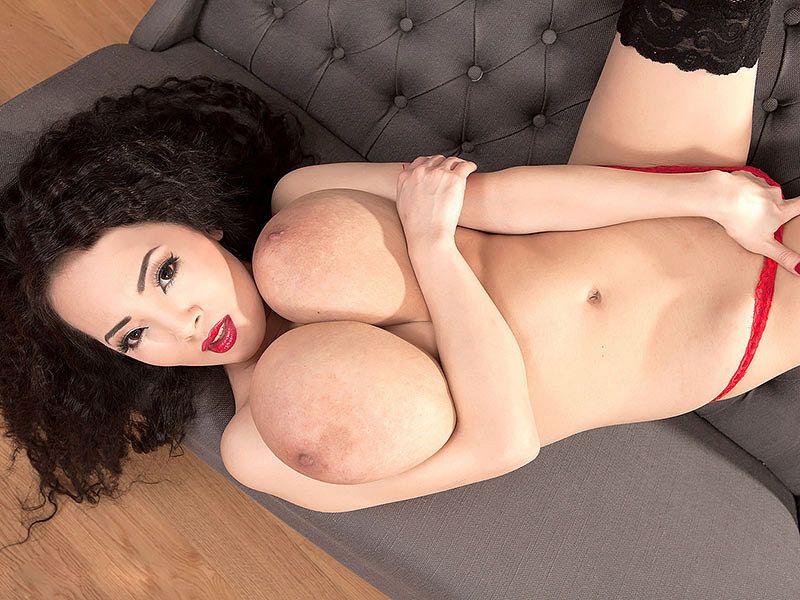 The Miracle of Hitomi: Hitomi - Red lingerie suits
Hitomi
, and the best part is seeing her peel it off to give us a big boob bonanza with nipple self-sucking and pussy-rubbing. Hitomi was in Prague, mainly to get it on with Lily Madison and lick Lily's pink.
SCORE
editor Dave recalled an evening when he and some co-workers took Hitomi to South Beach.
"I couldn't decide whether to walk behind her and check out her cute little ass or walk beside her and watch her boobs bounce. I went for the boobs. We went to Victoria's Secret. I know, Hitomi in Victoria's Secret is a bit of a joke. There's not a single bra in there that can fit her.
"I saw one of the saleswomen make a move towards her when Hitomi was checking out the bras, but she quickly thought better of it, realizing that Hitomi was about three or four cup-sizes too big for anything in the store. When we surprised her with a gift--fragrances and creams, not a bra--she smiled, giggled and was truly gratified, even though she has received gifts from thousands of men."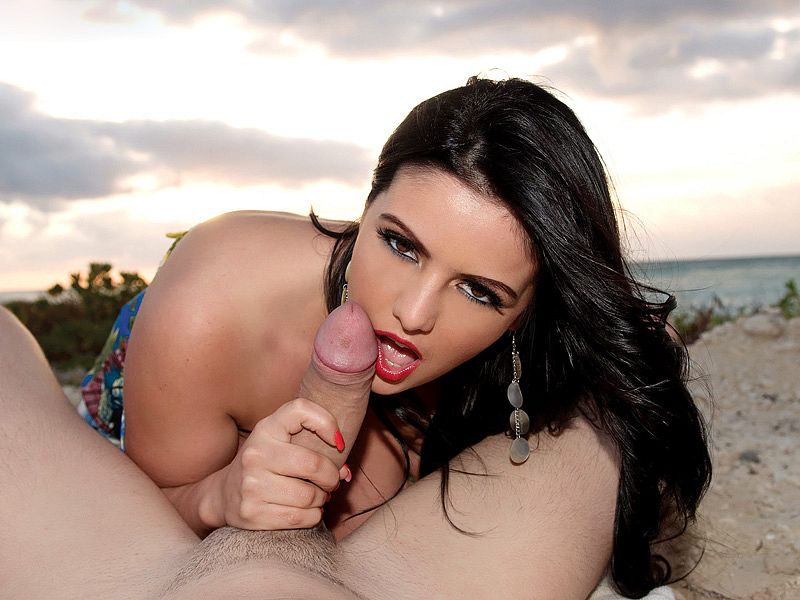 Tits 'N' Tugs With Arianna: Arianna Sinn - You'll know right away that something special is about to happen in this video because Arianna walks right up the path from the beach, showing lots of cleavage in a bikini top, and tells her stud, "Yeah, suck my nipple." But by that time, he already has his head buried in her G-cups. She drags her tits along his chest and rubs his cock through his pants. Then she takes his cock out and squeezes her tits around it. Arianna kneels between his legs and jacks his cock between her tits, then strips to her panties, and rubs his cock between her ass cheeks. "I love to rub my body on your cock," Arianna says. Finally, it's tit-fucking time. Arianna lies back and opens up her tit-tunnel, and J-Mac plunges in for the ride. "Cum all over me," horny Arianna says. "I want you to shoot a big load on me." She smiles. She means you.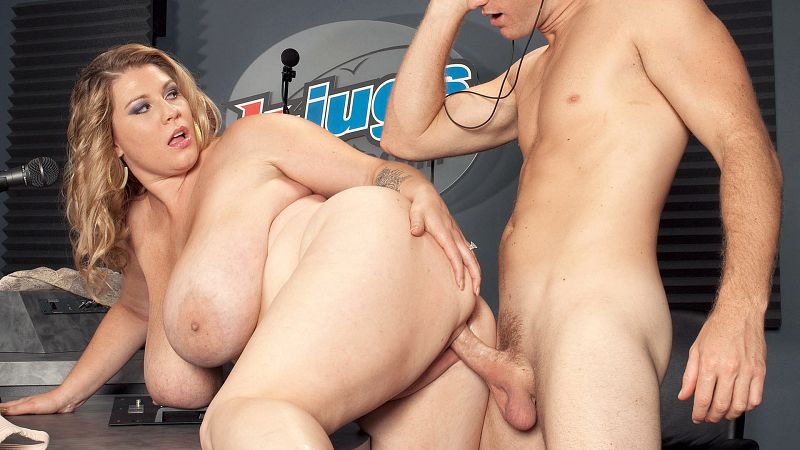 Renee Takes K-COCK: Renee Ross - Bailey and Renee are working at Bailey's desk at radio station K-JUGS. Bailey needs some papers put away and hands them to Renee, who is a little tired and protests. Bailey gets angry and drops the folder on the floor. She stomps off. Renee kneels down to pick up the folder. A guy appears. He's The Late Night Ladies Man, one of the DJs at K-JUGS. He eyes Renee up and down.
"I was a DJ back home and I want to make it here," she says. "They call you The Late Night Ladies Man, right? I've seen your billboards." They shake hands.
"What are you doing after this?" he asks.
"Nothing," Renee says. "Going back to my place."
"Why don't you come with me to the studio?" he says. "I can show you how I work it at K-JUGS."
Renee can't refuse. The Late Night Ladies Man has something he wants to give Renee, and it's not a microphone.
A Xmas Giftie: Leanne Crow -
Leanne Crow
as Santa's helper? Works for us! Finding Leanne under your tree would be the greatest gift of the century. What does this Brit stunna want for Christmas, besides a lifetime subscription to
SCORELAND
and towering high heels? Well, Leanne loves her some music so CDs or downloads would be welcome. "I love R&B and Hip Hop. I like Soul music. I love ballads, like the ones sung by Celine Dion. Recently, I have been listening to electro and dance music. I like it when all of the music is mixed up. I like to hear and dance to all kinds of music." Bras would be nice too. We know that Leanne, like many
SCORE
Girls, has a difficult time finding the right bras. "I like bras that can hold all of my boobs in them, you know, like give me support and all that. But, at the same time I want them to be sexy. I like bras that are lacy and sexy. But it is hard to find all of those qualities in one bra. I mean, I like plunging bras, that have a deep V in the front, but they don't make them well in my size. They don't offer me enough support. I am just going to have to start making my own it seems." Santa should have a bra department at his workshop. Maybe he's reading this and can help.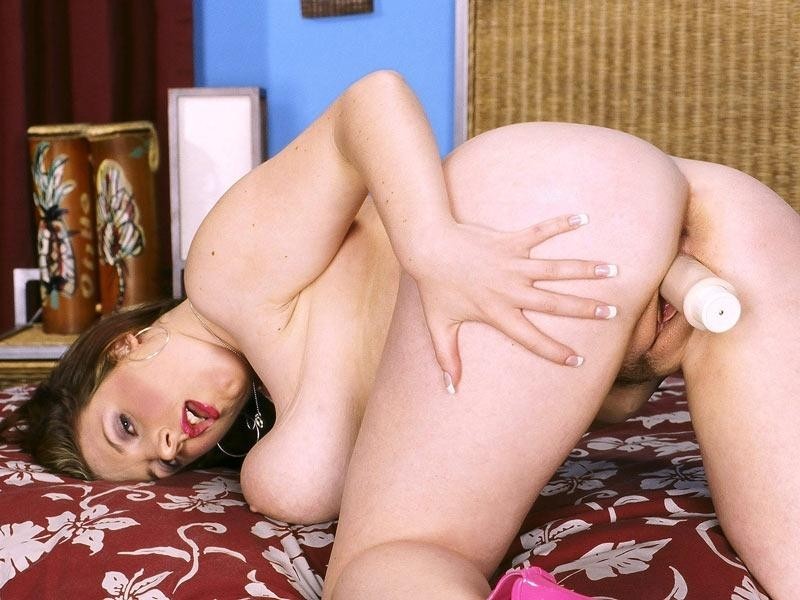 "How to make me happy," by Angela: Angela White - Angela is going to give you a video tutorial. By the time it ends, you will know how to make her very happy. Study carefully and pay attention to her instructions. She knows a lot of horny stuff for a young girl.
We asked Angela, "In Australia, do you run into people who have seen you in
SCORE
or Voluptuous magazines or on
Scoreland
? If so, what's their reaction?"
Angela replied, "I have run into a few people. I really like it when I do because I do enjoy the attention. I like the guys who will come up and talk to me instead of just pointing and staring. I don't bite (outside of the bedroom!) and I'm happy to have a drink with a new friend.
"When I was dancing at a strip joint on the Gold Coast of Australia, I met an English guy on holiday who recognized me and he took me out to lunch. He was so sweet that when I went to London on vacation, I made sure I met up with him again. I know you want to hear all the dirty stories about what we did, but I'm going to leave that up to your imagination! So come up to me and say hello. You never know what might happen!"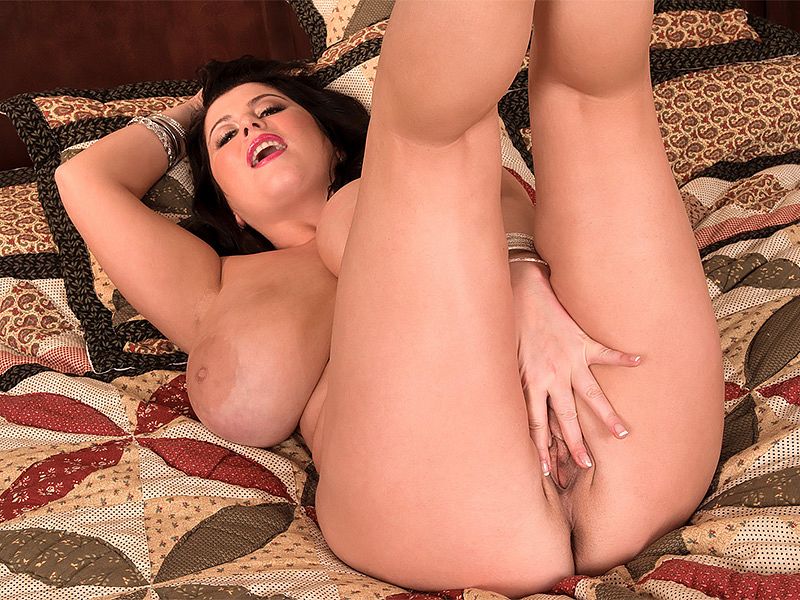 Natalie's Standout Nipples: Natalie Fiore - Ultra-seductive
Natalie Fiore
awaits in the bedroom, eager for a man to share her beautiful, lush body. She's ready to offer everything she's got because that's the kind of woman she is. Natalie believes in the slow and sensuous way of enjoying an erotic interlude, taking pleasure in every moment, extending the sensations. You know that from Natalie's other videos. Her European background has helped cultivate this attitude. Whether it's a meal, a personal activity or a private encounter, Europeans are in no rush to speed through whatever they are doing. They prefer to savor and Natalie wants you to savor her. Natalie takes it to another level in this video with fingering that goes one step beyond.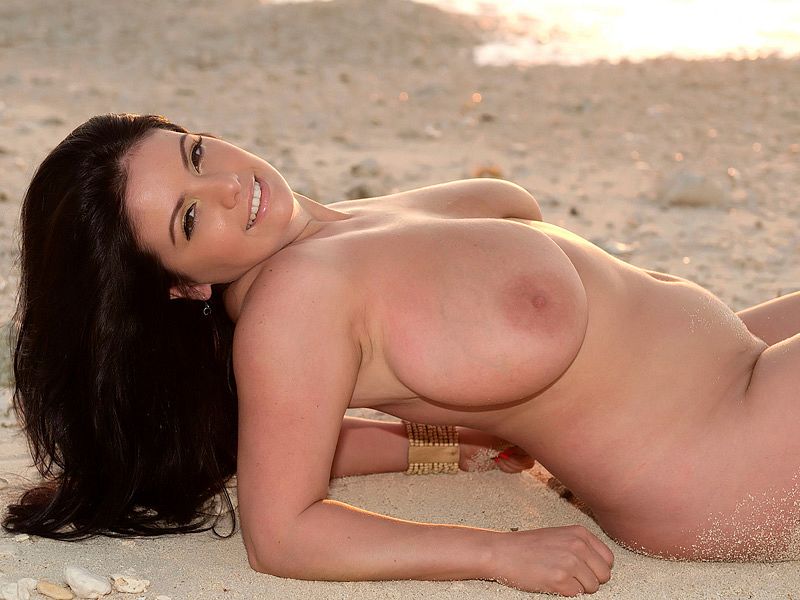 Beach Fun With Arianna: Arianna Sinn - Today, you're in paradise with
Arianna Sinn
...on the beach in Grand Bahama Island, where Arianna wastes very little time pulling her G-cup naturals out of a plunging halter top. And what about her ass? Well, it's shown-off nicely in cut-off jeans that slice right up her ass cheeks. Very nice! If you saw a girl like Arianna on the beach, you'd probably pull your cock out of your swimsuit and jack right there in broad daylight.More highlights of this video: Arianna swinging her tits right into the camera...Arianna spreading her ass...Arianna lying back in a beach chair and spreading her pussy."Are you enjoying this?" Arianna asks, a question that really doesn't need answering. Can't she tell by our hard-ons that we're enjoying this?
Beach fun with Arianna continues with plenty of oiling, and while all this is going on, a soft saxophone is playing in the background and the waves are lapping up on the shore. And speaking of lapping...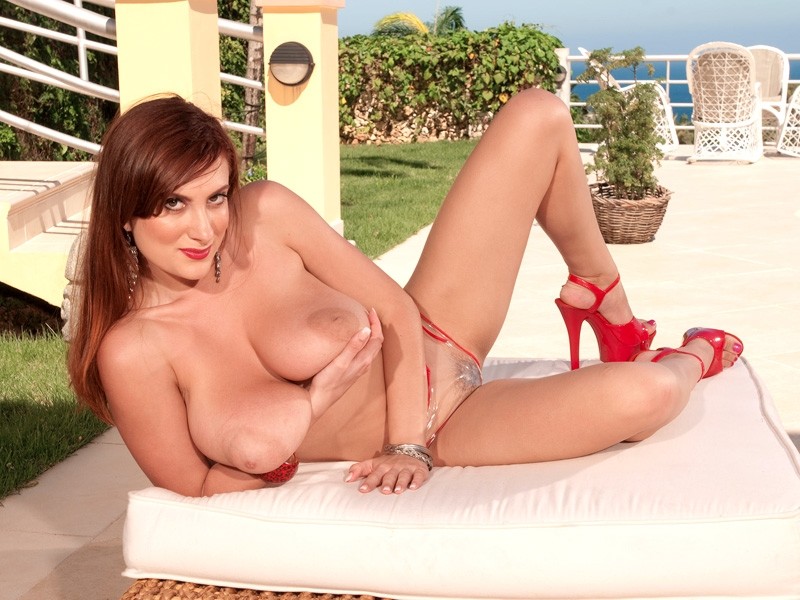 Fantastic Plastic Bikini: Valory Irene - Another space age outfit for Valory, this one a fantastic plastic bikini. She could be one of those hot alien chicks that Kirk and Spock meet on some crazy all-female planet. But although Valory's breasts are big (all-natural FF-cups), with her, it's more a matter of quality than quantity. She has perfectly shaped tits that slope like a ski-jump, rising gently to pale, speckled, silver-dollar areolae and nipples that always look as if they're going to poke your eyes out. And, although Valory's tits are perfect, there's more to her than just a great pair. "The combination of perfect tits and an ass to die for is one that doesn't come along too often, but Valory has it all," wrote L.K. "Valory is like a dream except she's 100% real. Amazing."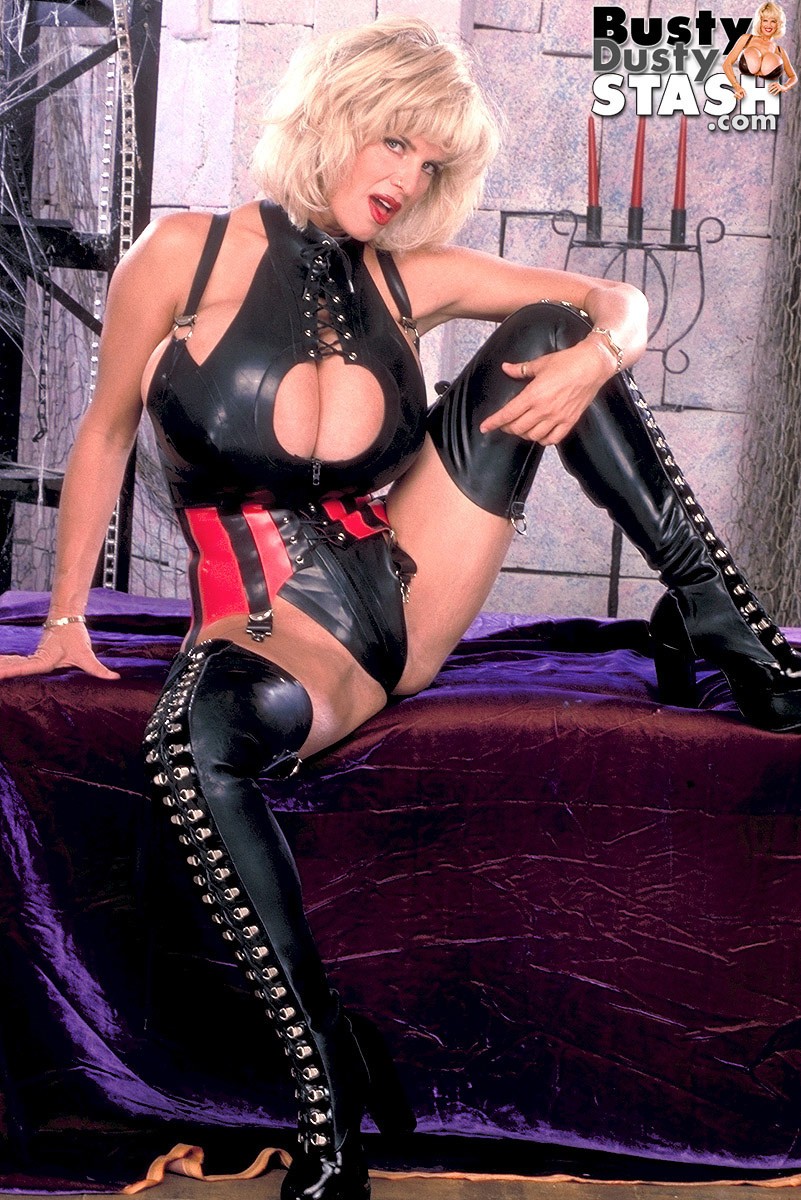 The Final Photos: Busty Dusty - This was the last official, new
Busty Dusty
pictorial, published in the Holiday 1999 SCORE Magazine. "Wish me luck," she said, although shortly after she retired, more photos of Dusty, taken before these set was lensed, surfaced and were published in SCORE and online. What's fascinating about this photo set is that even at the end of her modeling career, Dusty was in her prime, her body as magnificent and tight as ever. Slim 'n' stacked perfection. A true Hall of Famer from beginning to end.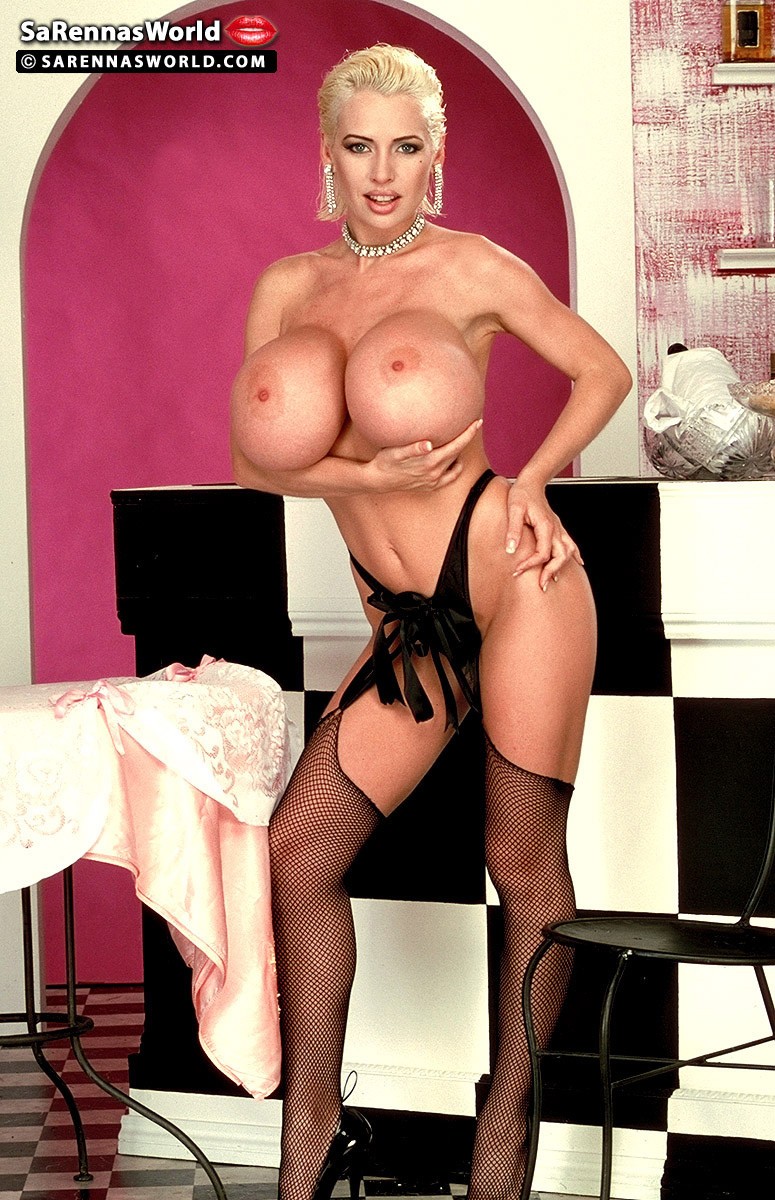 SaRenna's Black Dress: SaRenna Lee - A different look for SaRenna with slicked-back short hair, in a style you saw on many female late-80s rock stars. The body is as sensational as ever. Her very unusual net stockings outfit worn over her black cocktail dress was picked up at a London adult boutique, and modified by wardrobe. The studio set may seem like the famous Linsey Dawn McKenzie "diner" set and the Chloe Vevrier "kitchen" set to those with eagle eyes and sharp memories, but it is not.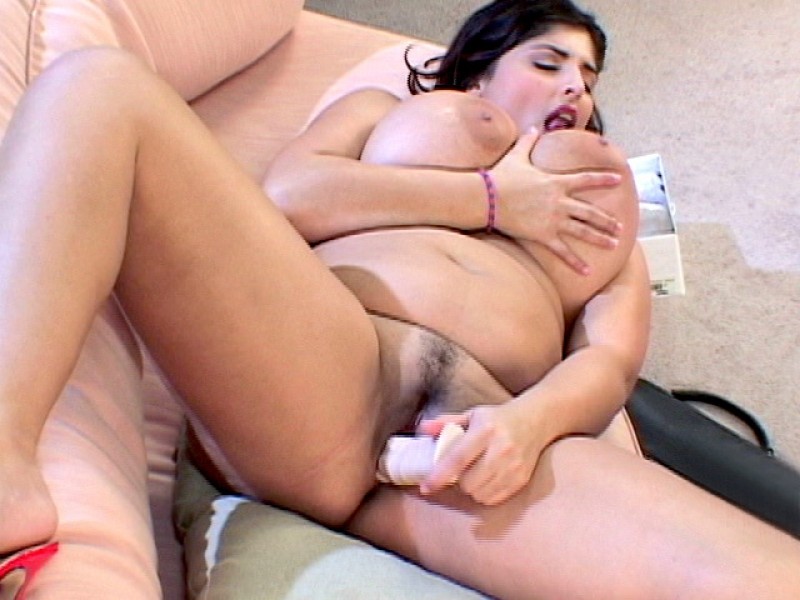 Call-A-Cock: Kerry Marie -
Kerry Marie
is all dolled up for a major night out on the town. She looks like a tube of fancy toothpaste in that candy colored tube dress. Kerry wants to go to dinner, then she wants to go to a show and then she wants to go clubbing. She's got it all planned out, minute by minute. And then she wants some big cock! She's waiting in her living room but her date is two hours late. She decides to call her date and find out where he is because she's going out of her mind. When she finds out he is not coming, she gets really upset, distraught even. Can anyone help this desperate bra-buster?
While she is stewing over the poor behavior her would-be date has shown her, Kerry remembers a card she had in her purse. A smile comes to her lips. This is a service that will deliver a cock to needy, sex-hungry women for a nominal charge on their credit card. Kerry decides to phone them since her date is never coming to pick her up. The delivery-boy drops off a box and leaves. Inside this box is the answer to Kerry's dreams. She'll never need another asshole guy in her life again. Call-A-Cock is the answer to every woman's needs.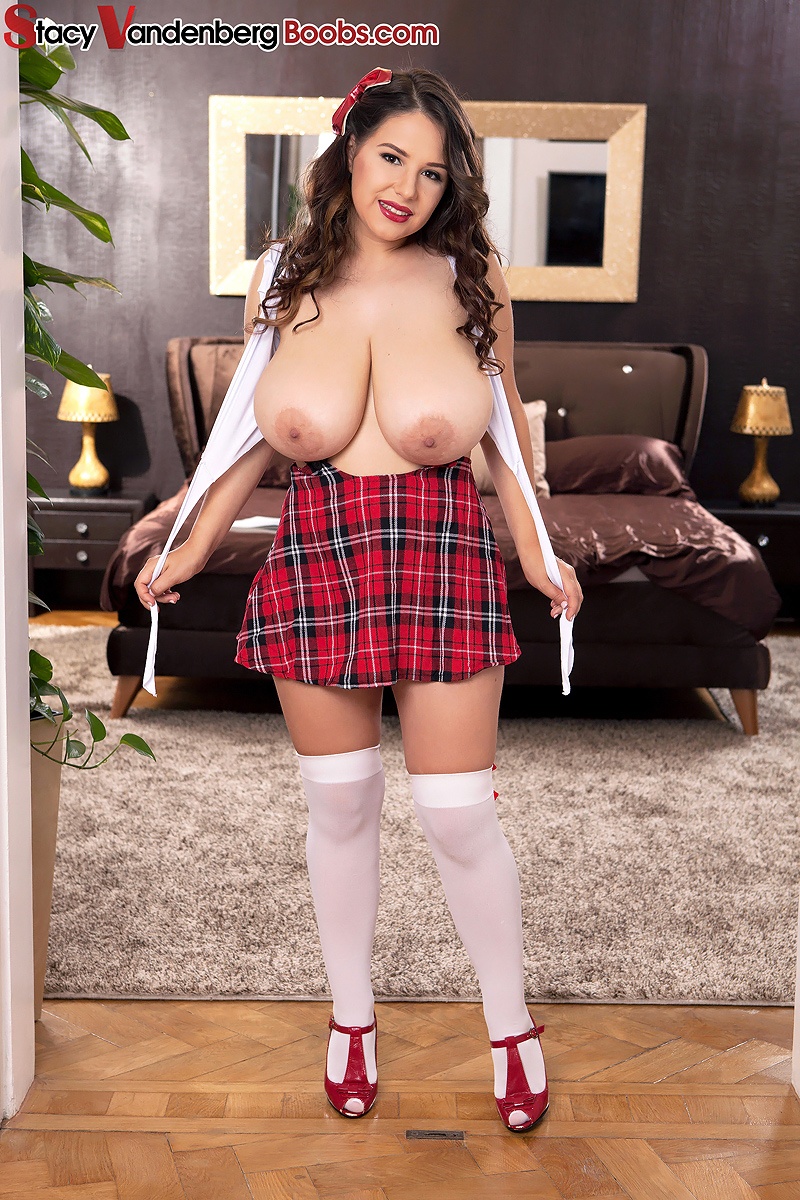 University Coed: Stacy Vandenberg -
Stacy Vandenberg
: university coed. Dressed as a fantasy schoolgirl, Stacy is the subject of our studies in this anatomy course. Higher education has never been this satisfying.
Stacy has the four Bs: boobs, body, beauty and brains.
"I studied at a technical university in the faculty of industrial management and the oil and gas sector," Stacy told us.
"Gas and oil is one of the most-prestigious business areas. At school, I was an excellent pupil. My favorite subjects were mathematics and physics.
"After I graduated from the technical institute, I worked for five years in a head position in a big company. It was a serious career and a great experience."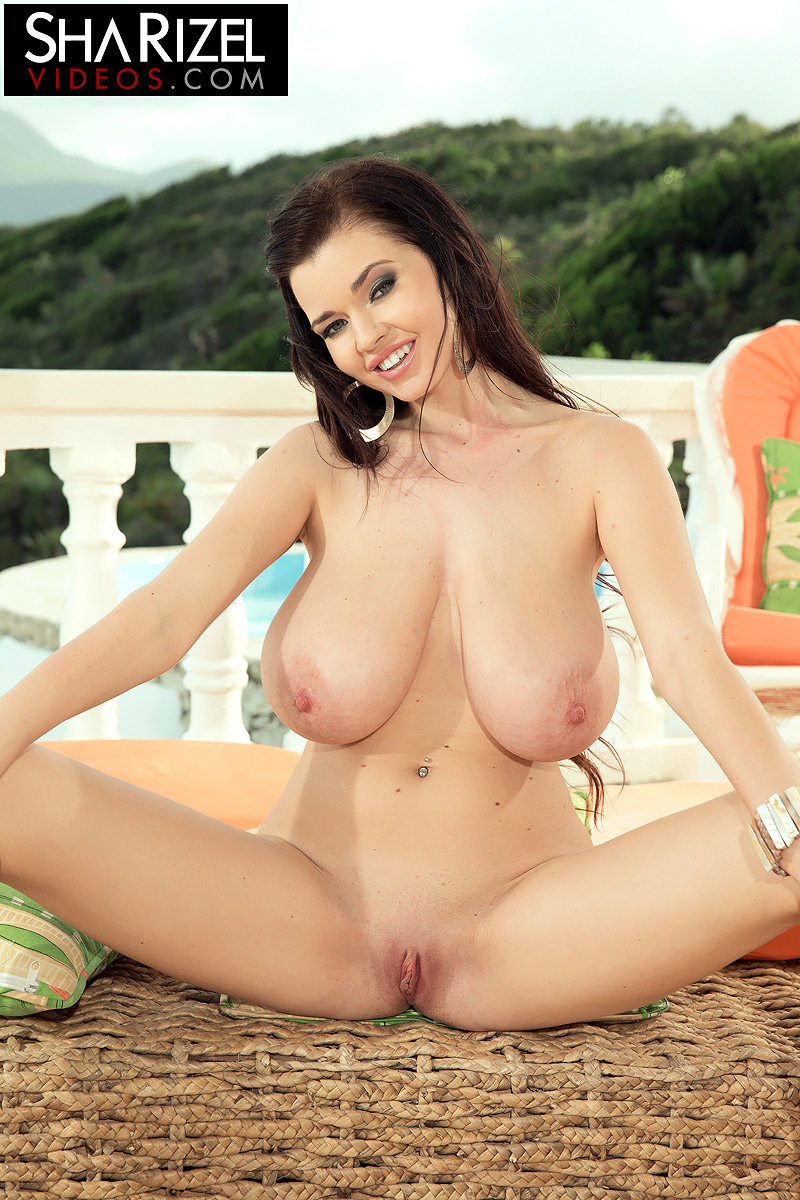 It's A Sha Thing: Sha Rizel - "Every woman likes feeling attractive and knowing that men admire you," says
Sha Rizel
, a woman who gets an awful lot of admiration. Many heads spin, both male and female, to check out her beauty, probably guessing correctly that she is a model, a dancer, and a TV personality. "Men shouldn't just stare all the time. They should sometimes look at my eyes."
Sha climbs the stairway to heaven so stay with her every step of the way. Finding an empty bedroom to get cozy in, she slips out of her tight, low-cut top, miniskirt, bra and panties. Sha shows us what the best-dressed women wear...nothing at all.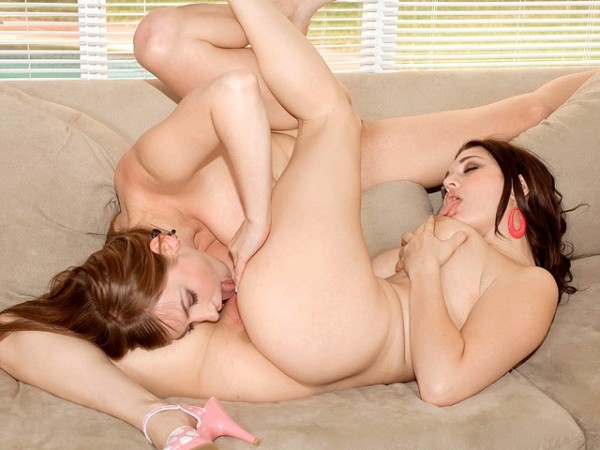 Christy, Cassandra and Clit Licking: Christy Marks - When you're a big-hootered, rising porn star like
Christy Marks
, you have to stay up on all of the new girls who are making their way on to the porn scene. Not because they are competition, because what tits could compete with Christy's full rack of pleasure, but rather, because you need to know who is out there that you can fuck. And that is what Christy does with this issue of SCORE. Some people shop from mail order catalogues and some people, like Christy, shop for ass via dirty mens' magazines. While at the SCORE house for a week for shooting, Christy sees Cassandra Calogera on the pages of SCORE mag and she gets immediately horny. Lucky for her Cassandra is her new roomie in the SCORE house. Watch as these two busty broads meet, greet and skeet all in the span of 5 minutes. Nothing is lovelier than lusty lezzie relations.
Want some more? Check the site.
| | | |
| --- | --- | --- |
| | Older | Newer | |