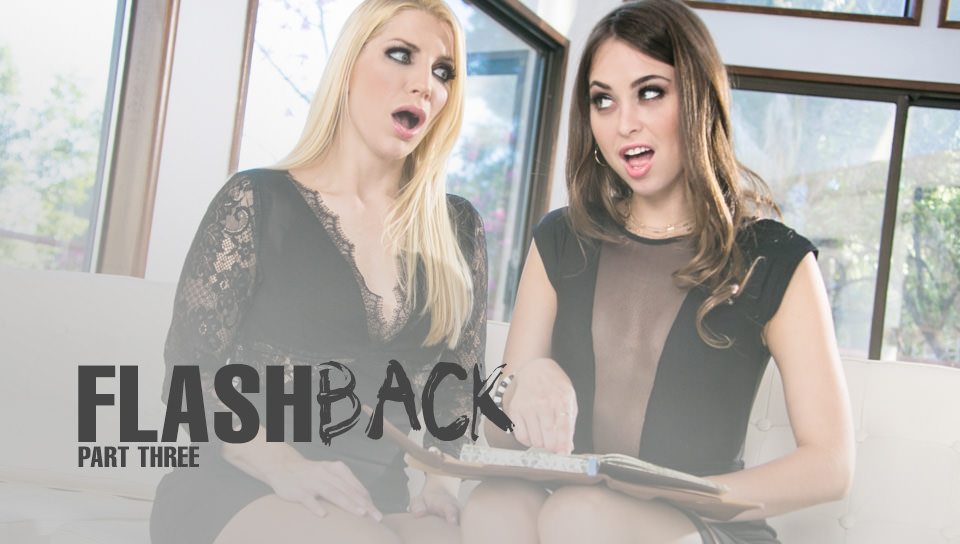 Flashback: Part 3, Scene #01: Riley Reid, Ashley Fires - Previously on Girlsway, Riley Reid was caught back in time at her late father's home. With nowhere to go and nowhere to hide, Riley pretends she was at the rave. Nickey Huntsman believes this mystery girl and seduces Riley in unforgettable lesbian fornication. Their sex-capade is interrupted with the sound of Riley's father calling out for Nickey, so Riley jumps to her feet, grabs hold of her father's journal, and quickly reads passages from it in hopes it will bring her back to the present!
Riley wakes up with confusion in her heart, taking in everything that happened. She's confused and overwhelmed thinking that she is going crazy for believing that any of what just happened could be true, but looking at the bracelet she was given by her younger step mom, in the past, Riley knows she needs answers from her dear mother, Ashley Fires. Meanwhile, Ashley is downstairs mourning her beloved husband, and Riley's dad Billy. Riley interrupts, calling out to Ashley by her old nickname Raveness. Ashley says that her giving Riley the journal was a bad idea. It contained things Riley will never understand like the orgies, the lesbian relations... but Riley understands perfectly, and she reminds Ashley of the day when she meet a very alluring young woman with whom she had glorious lesbian sex. You know, the one that looks just like Riley. Ashley cannot believe that her innocent daughter is the same girl she engaged in lesbian coitus with so long ago... They both have no clue how this could've happened and why, but one thing Riley knows is, she wants to do it again, one last time!
Riley grabs a hold of her mothers lips, tasting Ashley's sweet tongue but Ashley is still not convinced that this is the right thing to do. Riley convinces her mother to give in and embrace their sexual desires for one another and seduces her by licking her soft feet. Ashley's sexuality rises to the occasion from deep within as Riley grabs hold of her plump ass, boobs and shaved pussy. Ashley moans with pleasure, watching her daughter suck her pussy just like it was yesterday and enjoying the soft touch of Riley's mouth as she gasps in ecstasy. They turn over, switching sides, Ashley on top of Riley peeling off her thong and exposing Riley's tight pussy lips, wallowing in her delicate flower. Riley jumps onto Ashley and spreads her legs apart just like deja vu, placing their pussies together with perfect lesbian affection, tribbing with determination for dual orgasmic bliss!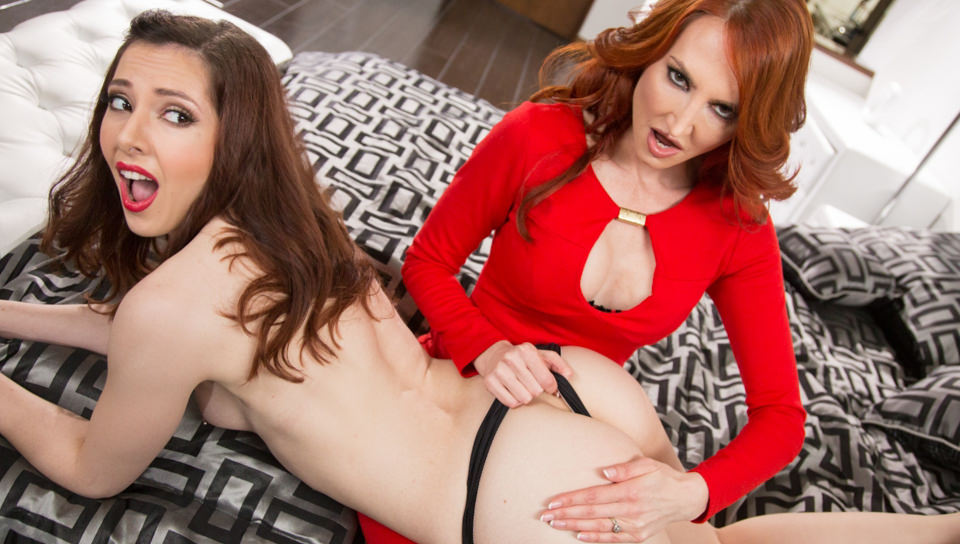 Don't Fuck With Mom, Scene #01: Kendra James, Ember Stone - Sneaking in really late at night, Ember Stone opens the patio door carefully as not to make a noise, but her step mom Kendra James sits in the corner and makes her presence known demanding to know where her daughter has been all night. Ember can't come up with any good excuses especially her coming in with a slutty dress on, hooker red lip stick and high heels, pretending she was out studying. Kendra reiterates the rules; if Ember is caught sneaking out one more time, she will be grounded and the consequences will be very serious.
Ember storms to her room and sulks over her wicked step mother and her stupid rules. But Kendra follows her into the room determined to continue her overbearing lecture. Kendra grabs Ember's cell phone and finds naked pictures and in utter shock flips Ember over and starts spanking her ass and teaching her daughter a rough lesson. Kendra takes her chastising to another level by showing Ember what it really is to be a slut by stripping off her panties and spreading her legs with the intention of having lesbian sex.
Ember sucks Kendra's fingers as she cries out for her father's help to escape her mother's lesbian punishment of having a woman finger her sweet teen pussy. Kendra takes off her panties and opens her legs over Ember's mouth so she can delight in the taste of another woman's juices. Ember refuses to accept that she likes the taste of her mother's pussy but her clitoris is telling another story with her juices begin flowing with excitement. They begin to trib as Ember grows with new lesbian excitement and their pussies rub passionately. Kendra continues by fingering her daughter's tight hole until she orgasms, teaching Ember a lesbian lesson she will never forget!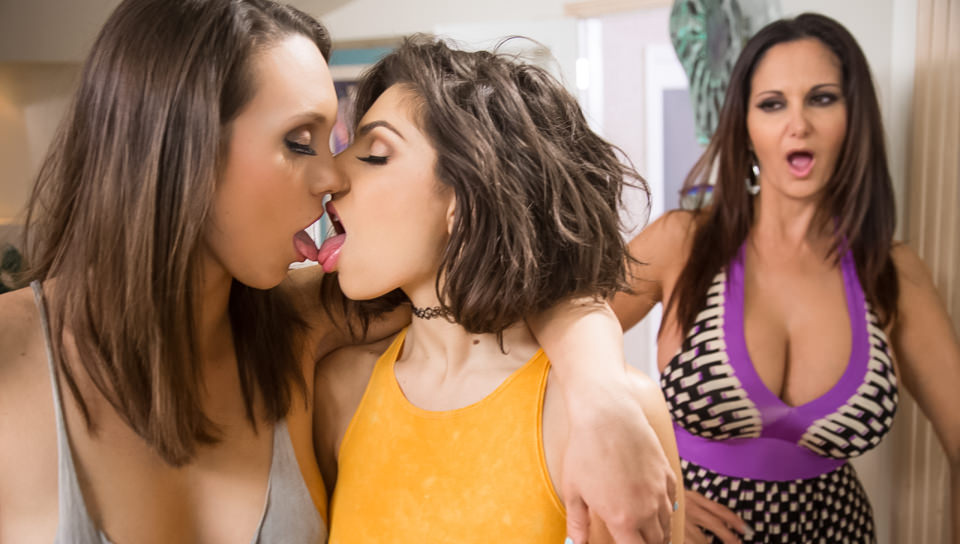 Eavesdropping on Mom: Part Two, Scene #01: Ava Addams, Jade Nile, Darcie Dolce - Previously on Mommy's girl, stepmom Ava Addams and stepdaughter Darcie Dolce secretly engaged in a sensual lesbian sexcapade, pleasing their utmost fantasies. They promised to never let anyone know about their lesbian involvement, especially Darcie's father. But Darcie confides in her best friend Jade Nile giving the jaw dropping juicy details about her lesbian incident. Jade knows all too well the pleasures of fucking another woman as she spills the juicy details of her very own lesbian experiences. Little did the girls know the sneaky step mom is listening to them bitch and complain about how crazy all these wannabe step mother's are and how they think they can get away with seducing their daughters to gratify their lesbian urges.
Ava has heard enough of them calling her a whore and a conniving bitch stepping in to defend herself. She calls Darcie out, saying that she is just as guilty. Ava forces Darcie to tell the whole story but Darcie has absolutely nothing to say. Ava rants on about how crazy and malicious her stepdaughters are, and if anyone is a victim in this lesbian charade it's herself. It's time that Ava shows these girls a lesson or two on parental respect!
Ava grabs Darcie by the hair and spanks her ass, forcing her to admit how much she likes being fucked by her mother. Jade's jaw drops to the floor as she hears Darcie admit how much she enjoys being pleased sexually by other women. Darcie drops to her knees plowing her mouth deep on Ava's massive nipples. Jade doesn't want to feel left alone as Ava's orders Darcie to invite her to join in the lesbian fun. Jade lays on the bed as Ava sits on her face feeling her warm tongue slither over her wet pussy as Darcie's mouth sucks on Jade's hairy pussy sculpting a beautiful threesome. They laugh and giggle enjoying back to back orgasms , tribbing harmoniously and finishing Jade off with some double tongue mother-daughter pussy eating synchronicity!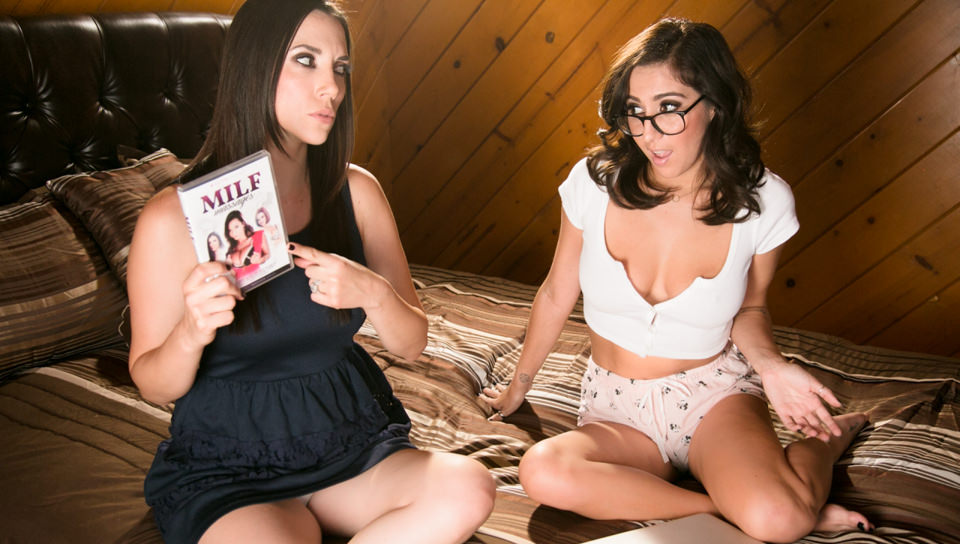 Your Dirty Daughter: Part Two, Scene #01: April O'Neil, Jelena Jensen - Previously on Mommy's Girl, Nina Elle had Jelena Jensen over for more than just a chat about her lesbian step-daughter April. Nina came home to find a pile of DVDs that her husband left out, and found April has become a pornstar, even though her parents don't know!. As it turns out Jelena isn't as upset, and shows Nina that she should just keep her mouth shut, and her pussy wide open for her curious lesbian fingers and tongue.
As Jelena comes home to find April studying, she confronts April about the porno she's made, and April can't deny her sordid past. April takes the time to explain herself, why she was in the maid's outfit, and why she was having lesbian sex. It can't be the same as straight porn, it's not like she did it for just anyone... girlsway's a swanky company to work for after all. Jelena isn't too upset about it, we can tell she's fighting reality but, she is sure that if she threatens to tell her father, step-daughter April O'Neil will open her legs for mommy's afternoon snack.
Jelena in all seriousness can't help her hunger for the teenage step-daughter. April is excited by the thought of lesbian sex with her older step-mom, but reluctant because they've known one another for so long. April is about to unleash Jelena's inner kitten, and see a side of her she's never met. As April peels off Mommy's dress she gets a strong whiff of Jelena's horny wet pussy and can't help but take her clitoris into her warm mouth to get mommy to forget about her bad choices. Will this be the end? or will mommy need a sweet taste of her stepdaughter's sopping wet pussy?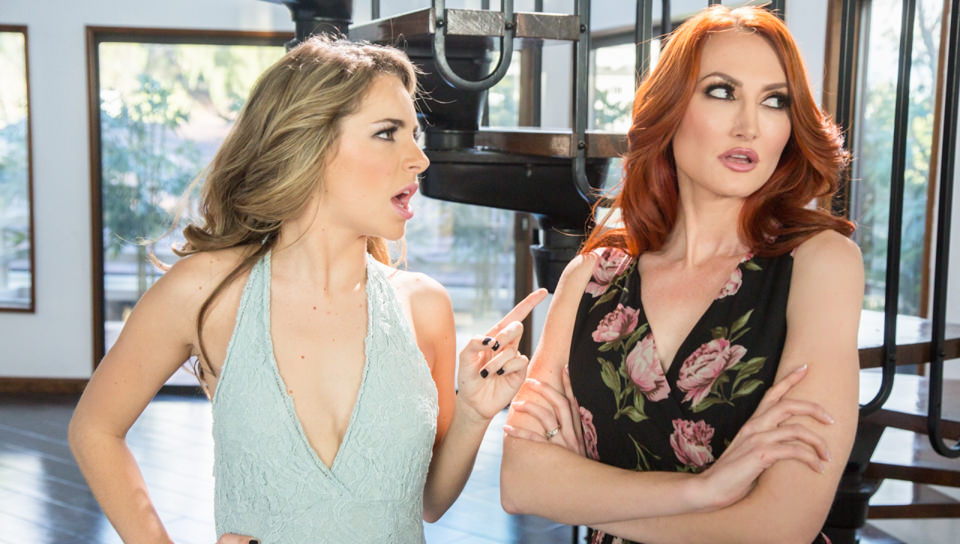 Almost Caught: The Final Time, Scene #01: Kendra James, Kimmy Granger - Horny milf Kendra James is back in action as she prepares for another birthday with the family. Despite the love for her children, Kendra cannot stand the likes of her son's wife to be Kimmy Granger and will say and do anything for their marriage to crumble. She calls for some backup asking her step daughter Veronica Vain to join the party and get acquainted with the newest edition to the family and hopefully destroy any of Kimmy's ambitions of being part of it!
At the dinner table, the family celebrates Kendra's birthday but Kimmy becomes spiteful after watching Veronica and Kendra kiss goodbye. Kimmy grabs her husband and kisses him excessively, knowing this disgusts her mother-in-law. Kendra drops her fork under the table and in shock, notices Kimmy playing with her pussy through her panties. Her son gets up to watch some television so Kendra thinks quick and intentionally drops wine over Kimmy's dress. Kimmy is down right pissed off and knows Kendra did it on purpose, but Kendra uses her charm to persuade Kimmy to take off her dress and give Kendra a birthday present they can both indulge in.
Kimmy refuses to participate in any of Kendra's lesbian ambitions and will not submit to her desires like Veronica but Kendra insists that everyone has a little lesbianism in their hearts, dying to come out. She calls Kimmy out on her masturbation under the table and knows she was horny from watching her and Veronica kiss as Kendra gets down on her knees to lick and finger her daughter's pussy. Kimmy knows she wants Kendra's son to find out but cannot resist having her pussy eaten out by her mother reaching orgasmic heights until her husband calls for her. The girls sneak away just in time and continue their lesbian adventure under and over the dinning room table enjoying magnificent tribbing and phenomenal finger fucking inches from being caught!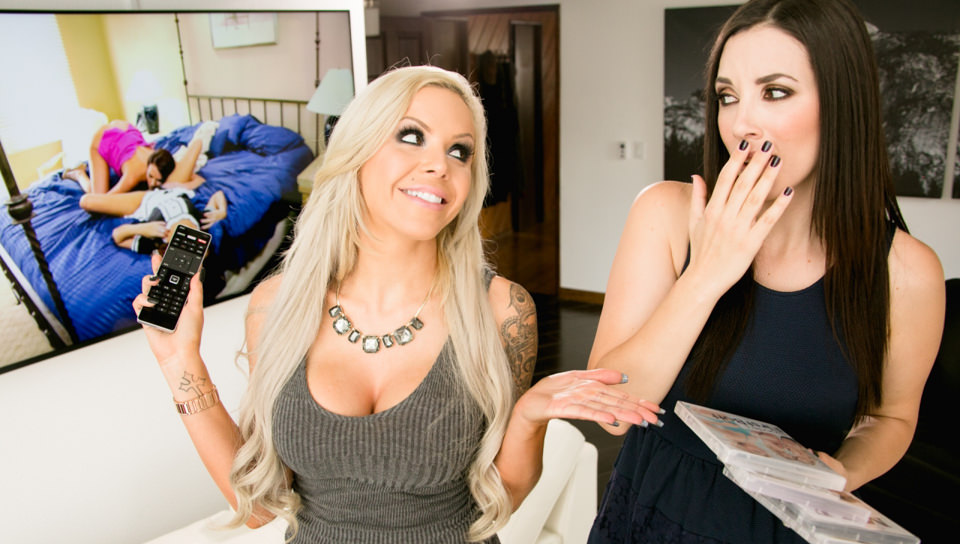 Your Dirty Daughter: Part One, Scene #01: Nina Elle, Jelena Jensen - House wife Nina Elle arrives home from shopping, and calls out for her husband. She walks into the living room and to her surprise, notices on the coffee table, a bundle of lesbian porno films. Embarrassed at her husbands immoral self indulgence, she denies the fact that their perfect marriage is now tainted by the lesbian porn. Nina's depravity increases when she notices her neighbor Jelena Jensen's step daughter involved in the heresy. Nina calls Jelena and urges her to come over right away!
Nina waits for Jelena anxiously, and when she arrives, Nina doesn't have the words to explain to her what she saw, she has to show her to get the point across. Nina brings Jelena her into the living room, where Jelena's eyes wide open in awe, realizing that her daughter is half naked, with her pussy eaten on screen. Jelena thinks about it and admits that she isn't that upset with April's decisions, in fact, Jelena was a naughty girl herself and turned out just fine. Nina, cannot understand how Jelena can be so nonchalant with the whole situation, considering these movies are a grave sin. Jelena knows that Nina has had thoughts about women before and persuades her to loosen up, admitting that lesbian sexuality turns her on...just a little...
Jelena leans in for a sensual kiss, arousing Nina's inner lesbian self, and as Nina removes Jelena's bra suckling on her plump boobs. Nina admits its been too long that she's waited to taste another woman's pussy lips and boobs, and that watching her neighbor's stepdaughter being fucked on TV whets her lesbian appetite. Jelena teases Nina's pussy lips through her thong, stimulating her clitoris for the first of many exhilarating orgasms! To be continued...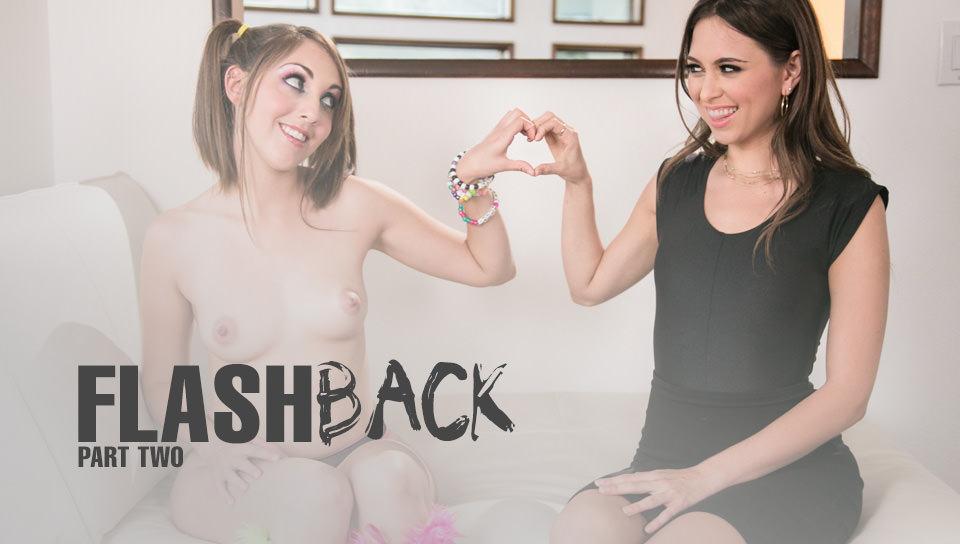 Flashback: Part 2, Scene #01: Nickey Huntsman, Riley Reid - Previously on Girlsway, Riley Reid traveled back in time after reading a private journal of her late father's sex-capades back before Riley was born. Riley experienced the ultimate astral projection, witnessing her biological mother and stepmother in a erotic and seductive evening of lesbian passion. Riley quickly tries to find somewhere to hide as her young step mother Nickey Huntsman opens the door, but it's too late. Riley was caught with nowhere to hide...
Nickey demands to know what Riley is doing in Billy's house, but Riley is speechless. She makes up a story as to why she's here, one which Nickey easily believes. Nickey invites Riley to join her and the others for a bacchanal foursome which includes lesbian euphoria but Riley quickly declines, considering the obvious fact that they're all basically her parents. Nickey teaches Riley what it's like to be a raver, showing her the definition of PLUR: peace, love, unity and respect. Nickey slips a bracelet from her wrist onto Riley's and adamantly leans in to kiss her and teach her things Riley would have never dreamed of!
Riley and Nickey kiss passionately, Nickey removes her new lesbian lover's dress and eagerly rips off Riley's thong to lick at her precious pussy lips. Riley's lesbian hunger begs her for a taste of Nickey's boobs leading her to worship her plump and natural nipples buried deep her warm mouth. Nickey spreads her silky legs, opening her pussy hole to be pleased by this stranger's creamy lips. Riley pleases Nickey in full lesbian force, sticking her tongue in and out of her pussy. Nickey proposes they spice things up by a 69 position, so they can both continue to indulge in one another's pussies until they simultaneously reach orgasmic bliss. Nickey continues to teach Riley new lesbian pleasuring techniques and one of her fast favorites is tribbing. Nickey grinds Riley's pussy and she immediately moans with pleasure and delight enjoying another magnificent orgasm. Their excitement comes to a stand still, as they hear Riley's father calling Nickey from afar. Riley jumps up, and runs to her father's journal, trying to find a way out of the past and back to the future!
Taboo Conquest, Scene #01: Lyra Louvel, Bridgette B - If there is anything Lyra Louvel can mark off her bucket list it would be this; Fucking her hot step mother Bridgette B. As the years went by, Lyra became more and more infatuated with her father's wife, unable to shake off the longings to be sexually intimate with an older woman. Lyra knows her father isn't satisfying Bridgette sexually, and with this knowledge she will attempt to take on her wildest lesbian fantasy, and seduce her stepmother. But her plan goes to shit when Bridgette finds her top secret agenda, discovering Lyra's perverted thoughts and decides to put an end to her little taboo fantasy right here and now!
A few days go by and Bridgette comes home from shopping, unaware of her daughter's presence. Lyra sneaks up behind Bridgette and knows something is up with the way her mother is acting. Bridgette admits she read her diary, and all those sexual thoughts about her need to be flushed out of her mind. Lyra confesses that she cannot stop thinking about her mother's massive boobs and juicy pussy. Lyra knows her thoughts are impure and possibly forbidden, but Lyra takes one more chance and offers her mother the choice; either she fulfills her daughter's fantasy with lesbian satisfaction or walks away and never speaks of it again...
Bridgette cannot resist Lyra's perky boobs waiting for her to touch and smother with her succulent lips. Lyra strips nude, becoming completely submissive to her mother's beckoning. Bridgette punishes her naughty daughter by making her suck on a big ice cube and teases her nipples with the cold chill that goes all the way down towards her shaved pussy. Lyra's wish finally comes true, finally able to grab hold of her mother's humongous tits. They drag each other into the living room to finish what they started. Bridgette wants to see her daughter's pretty pussy and orders her to lie down, legs spread open. Bridgette licks Lyra's erect clitoris, and sucks hard on her lips hearing her daughter scream with joy. Bridgette wants her turn to be satisfied and offers Lyra her lesbian loins as a tasty treat for her naughty lesbian mouth. Bridgette's juices flow down over her daughter's mouth as she moans with excitement demanding Lyra's sucks her saucy wet pussy dry!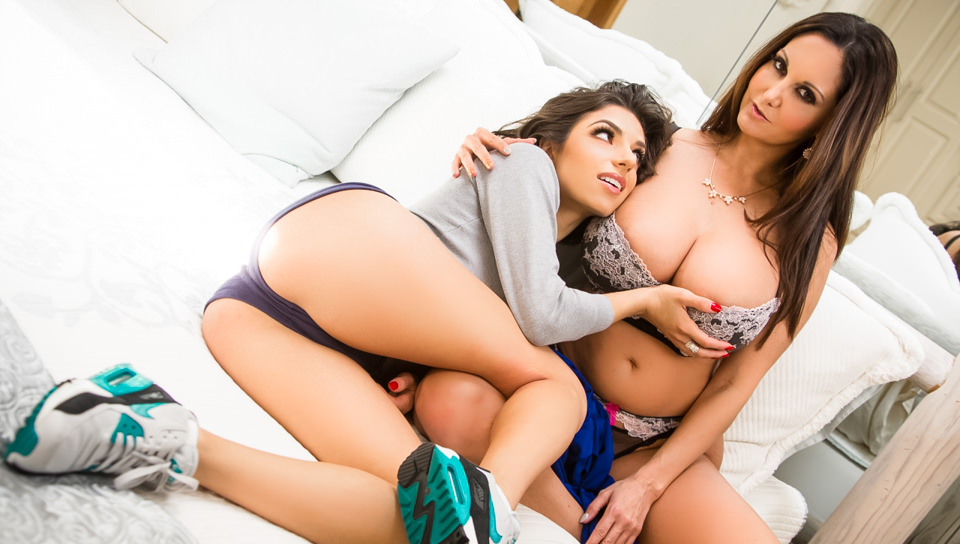 Eavesdropping on Mom: Part One, Scene #01: Ava Addams, Darcie Dolce - Darcie Dolce is on her way back from the gym. She just came from a brilliant workout with her best friend Jade Nile, and a great view to boot. Little does she know, it's not the only great view of an ass she'll get today. As Darcie approaches the back door to her house she sees her new stepmom Ava Addams undressing inside. Ava's also on the phone with her best friend Cherie, who we all know has had her way with her stepdaughters when her husband is away. None of this surprises Ava as she listens intently to Cherie's suggestions, as Darcie sneakily watches and listens.
Darcie's inner drive was initiated when she saw her beautiful MILF stepmom getting undressed, but when she heard that her father hasn't been keeping Ava satisfied, Darcie decides to try and make a move. With nowhere to go, Ava can't resist her daughter's charm, pleased to be met with inflamed budding tits, just like hers used to be. Darcie starts out by coming out to her new mommy. Ava is as graceful as any lesbian's mom should be, but when Darcie reveals that her crush is really for Ava, and Darcie pounces on top of her, Ava tries to clear the way, only to hear Darcie's excuse that she heard Cherie and her talking about it earlier.
Ava is appalled that Darcie would snoop, but we see through her resistance immediately, when Ava sees Darcie's beautiful tits and has her own massive boobs sucked to perfection by her sweet girl. The compliments fly, compliments they never thought they'd have a chance to share. Soon their tits are bouncing together, and Ava is offered Darcie's sweet wet pussy, ready to be sucked and stimulated until Darcie has her first orgasm with Mommy. Darcie helps Ava get more comfortable, tearing off her bra, and showing her how good she is at licking pussy, taking all of Ava's juicy lesbian cum in her sweet teen mouth!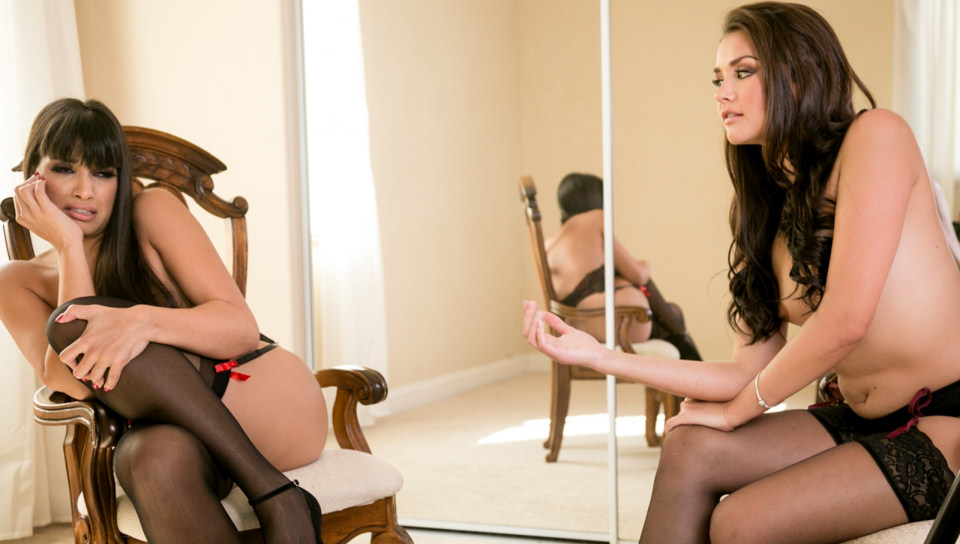 Ex-Mom Movement: Part Two, Scene #01: Allie Haze, Mercedes Carrera - On the brink of a major breakdown, Mercedes Carrera seeks help from conversion therapist Allie Haze. After a thorough history of Mercedes filthy fetishes and lesbian attraction for all her past stepdaughter's, Allie suggests that a little role play could shed some light on Mercedes mental predicament. Allie pretends to be one of Mercedes stepdaughters, as she roots inside the core of her psyche, bringing out the worst of Mercedes' obsession with her lesbianism.
Mercedes is on her knees crying, convinced that she cannot control her sexual urges for tight young pussy. Allie comforts her client, assuring her that this breakthrough is just another step away from being healed. Mercedes has learned she is a sexual monster that preys on young, fleshy daughters. Allie uses her therapy skills to open Mercedes mind, making her realize that she isn't a sick monster after all, just a woman hiding in the shadows from her own sapphic desires. Mercedes finally has an epiphany, and realizes that she was never attracted to men, all her confusion finally lifts away, and she comes to her sense. She is a full blown lesbian. But Allie wants to try one last treatment, one she likes to call 'sapphic conversion therapy', a role playing game aiming to test Mercedes' sexual urges and to confirm Allie's theory.
Mercedes stands up showing off her huge ass with Allie in front of her on her knees and spreads her lesbian patient's shaved pussy. Allie strokes and teases Mercedes' clit, pushing two of her fingers deep inside her hole. Mercedes begs that Allie not to stop until she cums. Mercedes sits on top of Allie, tribbing away with built up lesbian fury, finally unashamed of her natural desires. Hungry to taste Allie's pussy, Mercedes spreads her pink pussy wide open, gratifying Allie with her mouth and tongue.
It took a lot of effort but Allie thinks Mercedes is finally at peace, realizing who she is and what her heart desires! Women!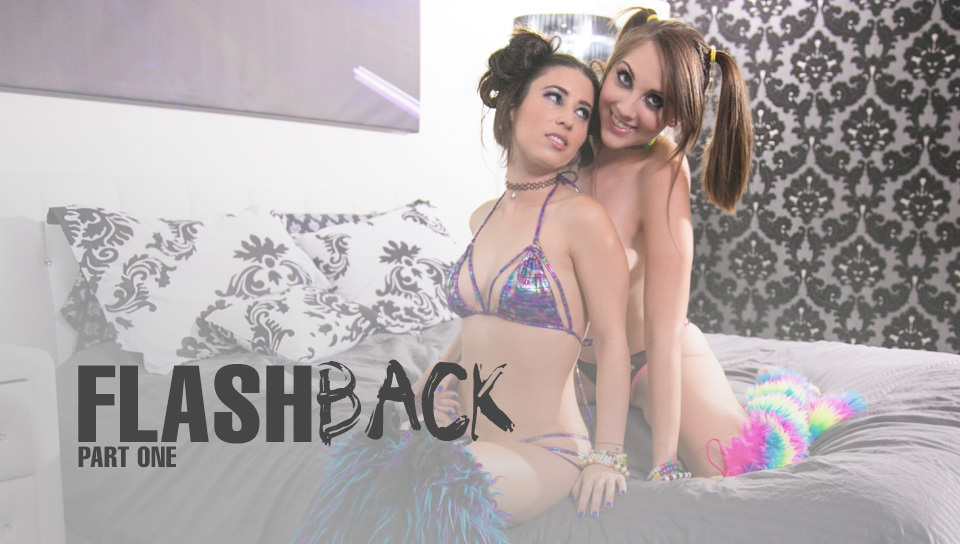 Flashback: Part 1, Scene #01: Nickey Huntsman, Serena Blair - Attention girlsway fans! We would all like to introduce to you a very special and unique CROSS-OVER series. FLASHBACK is an incredible three part series, and is sure to appeal to all girlsway fans.
Sadness is surrounding Riley Reid and step mother Ashley Fires as they mourn the passing of a great father and husband. Ashley sees Riley with her head down, and tries to console her with the notion that Riley's father loved her more than anything in the world, but to Riley that doesn't matter anymore. Ashley joins Riley in her room, to give her an important gift, a notebook. Ashley explains that this notebook contains special information, the truth about Riley's real mother. Ashley admits that she isn't Riley's real mother, and this journal was left to Riley, to be presented at the right time, it details the extravagant lifestyle that led them to today. Riley, with her world turned on it's head, demands to be alone. Curling herself under her blankets she opens the mysterious book. Riley reads on, beginning to feel confused and lethargic, her world literally moving with objects flying off her table, transporting her back into time, where it all began!
Riley fearfully observes her surroundings, taking in the reality that she is in a place that looks like home but isn't at the same time. She hears moaning from afar, stumbling to figure out who the hell is having sex in her house and why she is dressed in such outdated attire. Riley tip toes her way to what she knows as her parent's room, sneaking in a peek, only to find two girls about her age having hot lesbian sex. She overhears a guy in the background calling out to them, telling Raveness (Nickey Huntsman) that she can party anytime with his girlfriend Ashley (Serena Blair). Riley closes the door, to gain her senses, wondering if her eyes and ears are deceiving her. 'There's no way this can be happening,' she thinks. The only thing Riley can do is continue watching Serena and Nickey have passionate lesbian sex!
Serena lays down while Nickey sucks her sweet shaved pussy to the point of orgasmic bliss but Serena wants her way with Nickey's sweet and tasty pussy, pushing her tongue deep inside her hole, and slowly pushing her finger deep inside. Serena continues finger fucking Nickey vigorously as Serena takes charge, placing herself over Nickey, tribbing their soft pussies together. Riley cannot fathom what she is witnessing in front of her, her real mother and her step mother having lesbian sex? She's even more surprised to find that she is incredibly turned on. But this soon comes to a halt, as Nickey gets off the bed and walks toward the door, leaving Riley frightened of being caught, not sure where to hide!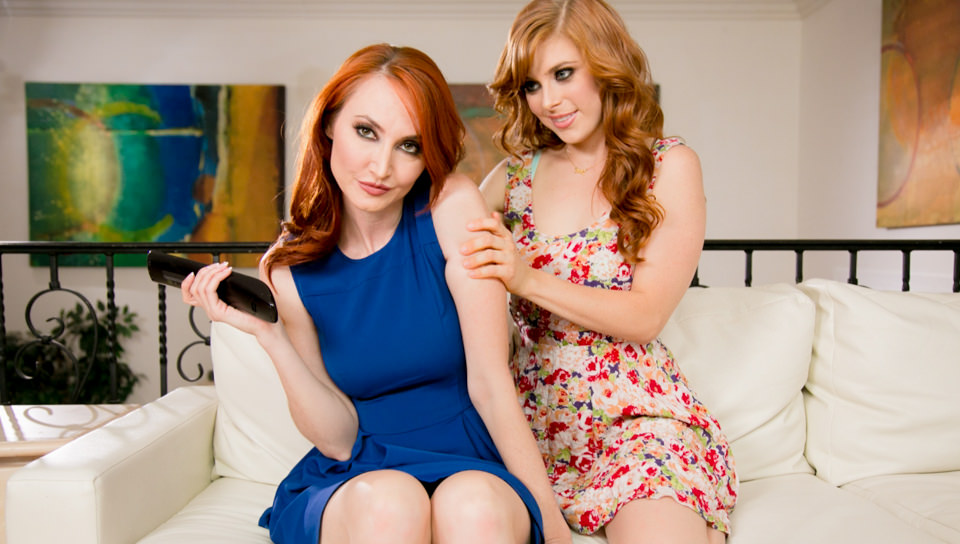 Reluctant Rub, Scene #01: Penny Pax, Kendra James - Kendra James bores her stepdaughter Penny Pax as she gawks at useless items for sale on TV. Penny begs Kendra to either change the channel and spend some quality time together like her mother promised. Kendra thinks watching TV and buying things is quality time enough. Penny is about to give up, trying to argue about her stepmother's obsession with home shopping until Kendra drools over a massage kit. Penny thinks its the most ridiculous item anyone would spend money on and offers to give her mother a massage instead.
Kendra doesn't believe Penny knows anything about massaging, so Penny puts her mother to the test, proving she is much better than any machine you can buy online. Penny rubs her mothers back, gently admiring the size of Kendra's boobs, giving them a subtle caress. Penny makes a deal with her mom; if she can't give her a massage that is out of this world, Kendra can buy whatever she likes online. Challenge accepted!
Kendra removes her brand new dress, afraid it will get stained with oil. Penny takes charge, rubbing her mothers bare back, secretly maneuvering her hands to reach Kendra's boobs. Even though Kendra's focus in on the television, she lectures Penny not to touch her boobs as it is inappropriate. So Penny finds another tactic to seduce her mother, which leads into a lesbian mother daughter sex heaven!
Watch Penny seduce her shopaholic stepmom Today !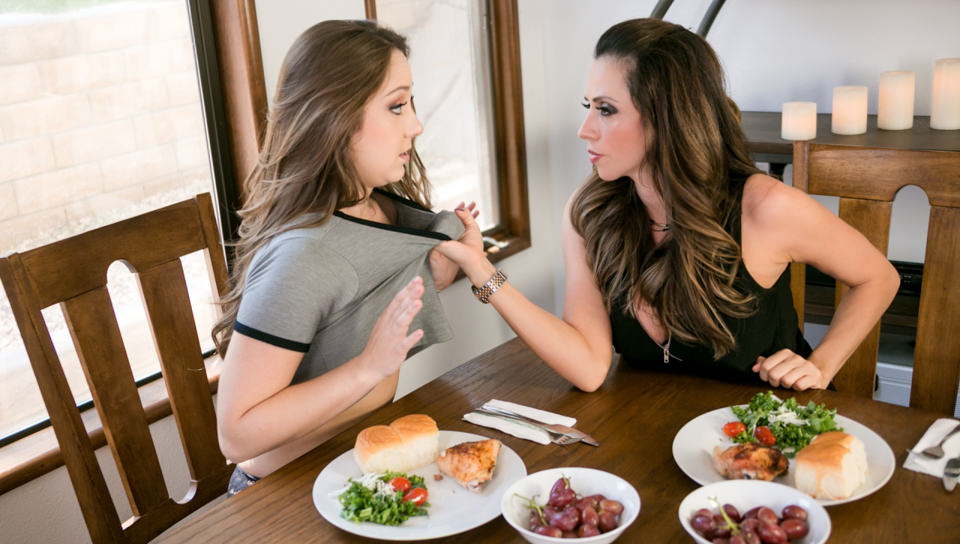 Spoiled Brat: Part Two, Scene #01: Remy LaCroix, Ariella Ferrera - Remy Lacroix goes back to her spoiled ways, unappreciative of all her step mother's hard work, even after their lesbian experience.. Ariella Ferrera prepares a delicious supper for the whole family, only to be shunned not only by her husband, but Remy too. Ariella sits at the dinner table alone, helpless with discouragement.
Remy walks downstairs with her plate half finished and demands to know where her dessert is. Ariella furious at this spoiled brat, thinking she can just leave her to sit by herself and expect to have sweets too. This mother has had enough of being bullied by her daughter, and plans on teaching this girl a lesson in respect! Ariella whips outher massive boobs and thrusts them into Remy face, making it clear who is the boss.
Ariella demands Remy opens her pretty little mouth sucking on her mothers nipple reminding her this is her dessert. Remy's dad isn't too far away but Ariella doesn't care about any of that foolishness at this point, it is her turn to have some sweet pussy pie! Remy lays down on the kitchen table, and spreads her legs for Ariella to dive in. Remy begs for a taste of her mothers pussy juice but Ariella's plan is to straddle and tribbing Remy's pussy lips; a dessert they will both orgasm for!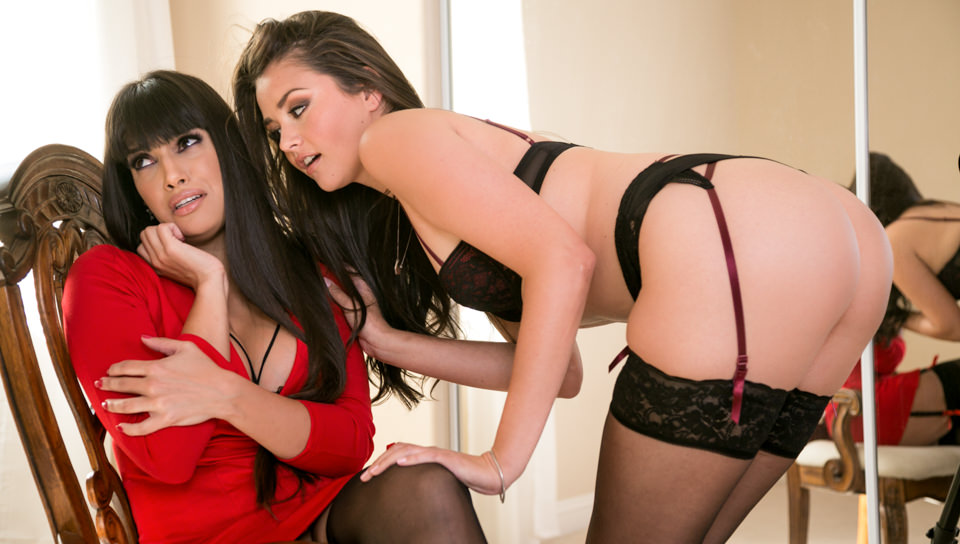 Ex-Mom Movement: Part One, Scene #01: Allie Haze, Mercedes Carrera - At her wits end, Mercedes Carrera paces back and forth, suffering from the pain and humiliation from two crippled marriages. All because she couldn't control her lesbian sexuality, Mercedes is now alone, unable to cope with her shattered life. But this isn't all her fault. Promising to be a good wife and learn her lessons from her first ruined marriage, she puts her foot down, swears she will never have lesbian sex again and remain a loyal wife. Unfortunately, her past catches up to her, her new stepdaughters finding out how she had sex with her first husband's daughter was devastating, and now they are now manipulating the vulnerable woman to their advantage, leaving Mercedes yet again, a lesbian disaster. Mercedes friend Kendra calls, imploring she goes to conversion therapy and meet with specialist Allie Haze. Mercedes a brain cell away from boarding the cuckoo train, agrees to meet this Allie Haze but with little hope anyone can help her...
Mercedes sits down with Allie in her office and starts talking about her lesbian experiences with her stepdaughters. Despite Mercedes feeling uncomfortable in front of the camera, Allie convinces her this will help in her therapy. Mercedes' story begins her story about her lesbian escapade, beginning with her first stepdaughters Jenna and Sara, who seduced her to have sex with both of them. Mercedes then explains how Sara uploaded the hidden sex tape online, exposing her lesbian affair to the whole town and new husband. As time passed, she met a new man, promising herself she would never repeat the same mistakes. But her new stepdaughters knew about her shady past, using this as leeway to get what they wanted! Mercedes tried really hard to be a good wife, but was suckered into complying to her new daughters' sexual demands.
Allie knows exactly what she has to do to mend this browbeaten milf. Role-play. Allie will play the stepdaughter and see how Mercedes reacts toward her advances and learn from there. Allie approaches Mercedes, touching her knees, face and the tip of her cleavage. Mercedes becomes nervous as Allie sits on her lap, unsuccessful in shooing her 'daughter' from being too forward. Allie removes her bra and skirt, wanting her mommy to teach her naughty things. Mercedes thinks shes had enough, no way can this be part of her therapy, but Allie insists they take it all the way, reenacting everything Mercedes did in the past, which includes pussy eating, fingering and unrighteous lesbian acts all in the name of therapy!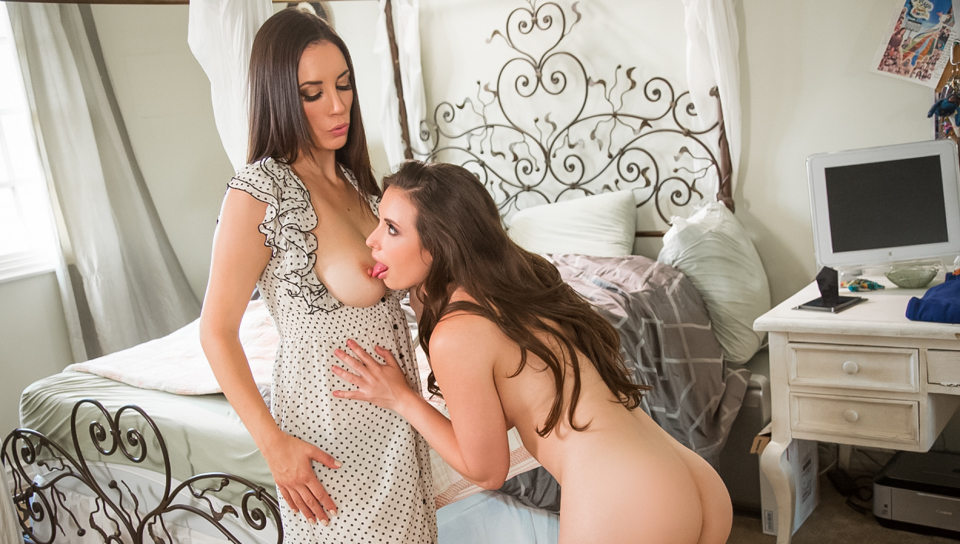 Home Schooled: Part Two, Scene #01: Jelena Jensen, Casey Calvert - Lastly on Mommy's Girl, Casey Calvert was a bad girl. she's been expelled from Gamma School and Stepmother Jelena Jensen takes charge, showing her delinquent daughter how things are going to work from now on. Jelena decides that Casey is going to be home schooled whether she likes it or not, but during the last lesson Casey exceeded Jelena's expectations, giving her an A+ in lesbian sexuality. But Casey isn't happy about being goofed by her mother and seeks advice from a friend on how to get back at her. There is no way Casey is going to be stuck in a house home schooled for the rest of her lesbian teenage life!
Casey sets up her phone on her bureau, activating the video recorder. She calls in Jelena, heckling her for some more lesbian anatomy lessons. Casey's pulls her mother's dress to the side, sucking of her boobs, however, Jelena has her head on straight, and tells Casey play time is over and it is time to study. But Casey shows that she's caught mommy's boobs on camera, bribing Jelena to fuck her right now, or she will expose everything. Casey's turn to give Jelena an anatomy lesson!
Jelena removes her panties, complying to her daughters wishes, spreading her legs, displaying her inner and outer labia, clitoris and vagina. Casey leans in to her mother for a kiss, reassuring her she will not tell her dad if mommy doesn't. Casey strokes her finger over Jelena's pussy lips, her tongue rubbing her clit softly, showing her mother everything she learnt in school, wanting to hear her stepmother say how good it feels. The girls arch their backs, pussies leaning into each other, tribbing, and swaying their wet pussies in angelic harmony.
Will all of Jelena's work be enough for Casey to delete the compromising lesbian video or will she keep it safe just in case?
Want some more? Check the site.
| | | |
| --- | --- | --- |
| | Older | Newer | |