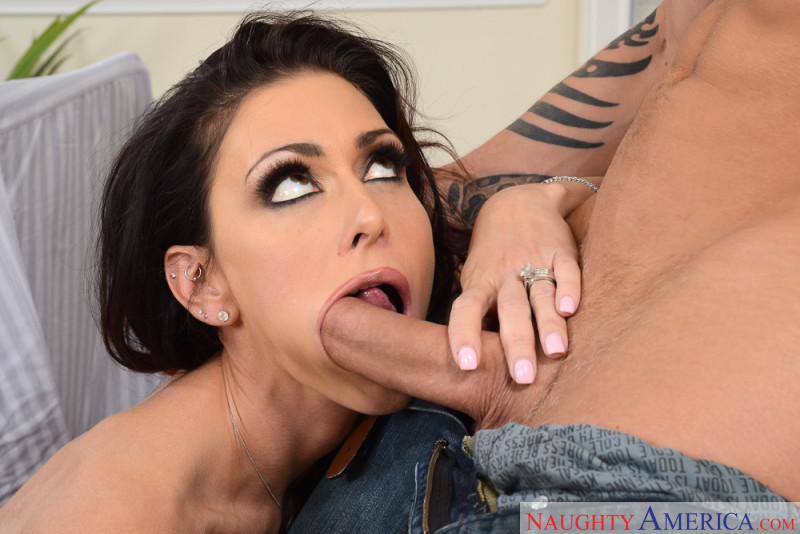 Jessica Jaymes - Jessica Jaymes calls her student's dad, Richie, in for a little conference. Richie's son is a little brat and lacks discipline and Jessica is convinced that he got his lack of discipline from Richie. Jessica decides that the best way to solve her problem is to discipline Richie and have him do exactly what she says. Richie is obliged to follow her directions if he wants his son to pass her class.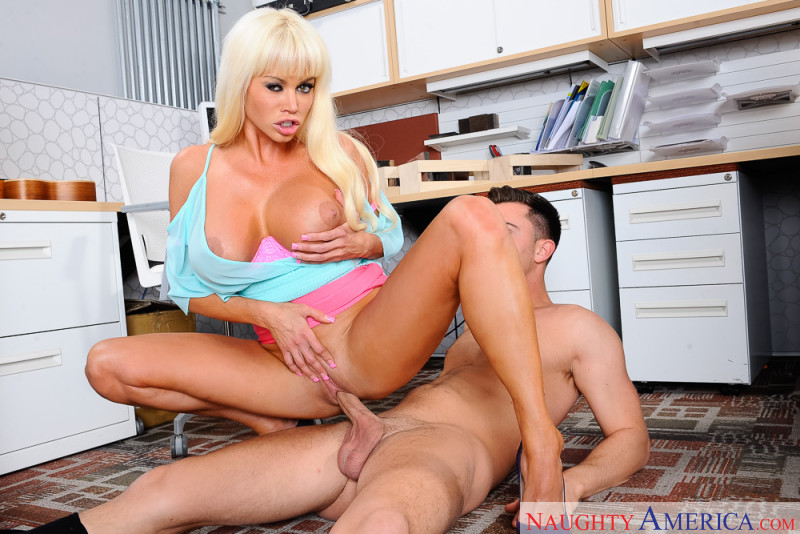 Nikita Von James - Nikita came over to Seth's office to see how things were going with getting her house remodeled. She was just the woman Seth wanted to see because he needed to know what kind of wood she wanted on her walls. The estimate for her walls came out to twenty-five thousand plus! Nikita knows there has to be a way to get the price down. Fiddling with Seth's wood might just be the answer.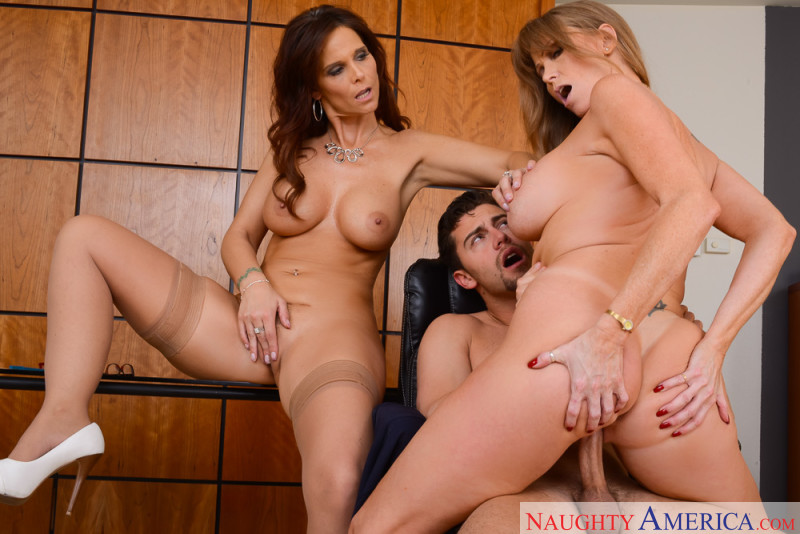 Darla Crane & Syren De Mer - Syren De Mer has the hots for the new intern that Darla Crane hired. Apparently he did whatever it took to get the position. Since Syren finds him attractive Darla decides to show her exactly what the intern did to earn his job. These lovely ladies have him ravage their bodies. It's all in a day's work for their new intern.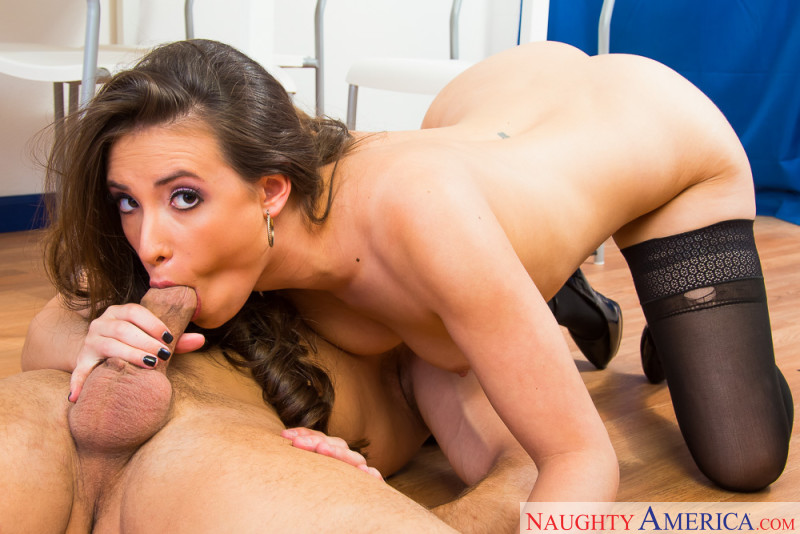 Casey Calvert - Casey Calvert is hanging out in the break room with Bill. She's got a big project to work on during the weekend and could really use Bill's help, but Bill isn't willing to give up his weekend to help her with work. Casey Calvert uses her power of persuasion to convince Bill to help her. Of course, the fact that she offers to fuck him also helped get him on her side.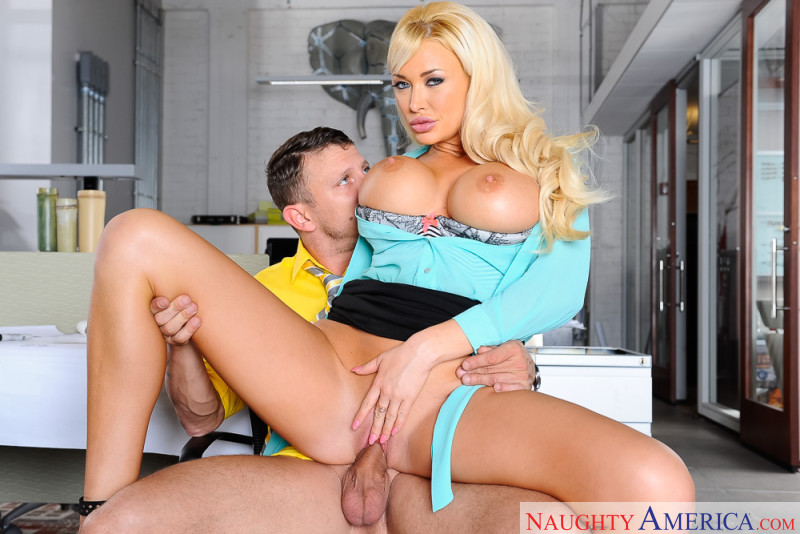 Summer Brielle - Summer catches Pete working late at the office. She knows that he's a hard worker and thinks he should take a break and have a little fun since there isn't anyone in the office. For Pete there's no better reward than the feeling of her sweet pussy griping his cock.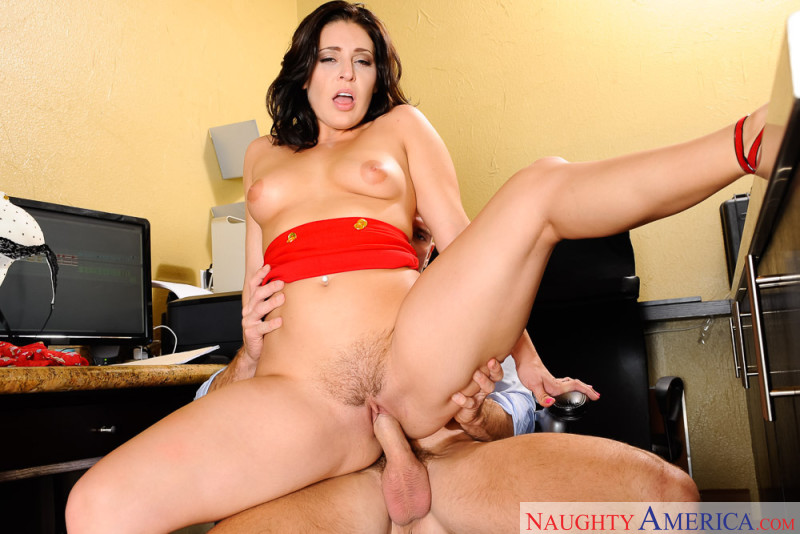 Gracie Glam - Gracie Glam catches her employee editing some porn during company time. She's actually really impressed with his camera work, so instead of punishing him she decides to have him shoot a video for her. She has him record as she slowly strips in the office, then she takes over the camera work as he fucks her.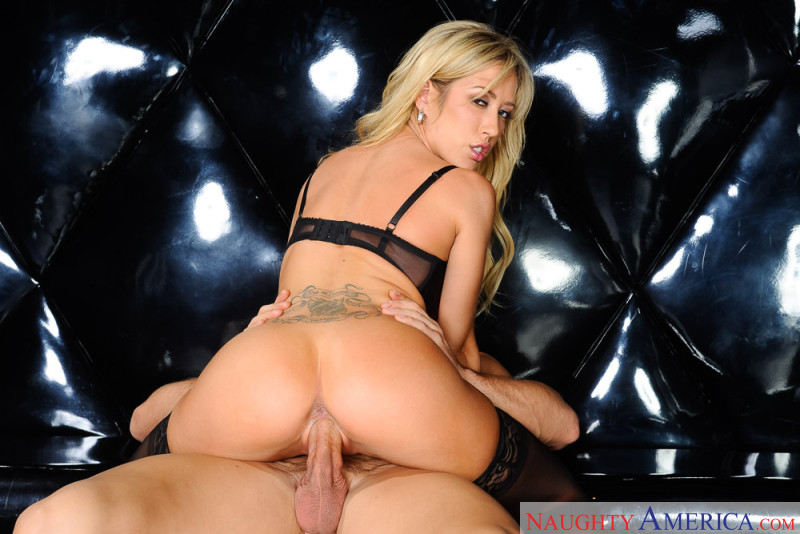 Capri Cavanni - Capri is doing inventory when Johnny walks into her bar. Johnny is looking to get his band booked at this place. Capri isn't the manager or owner and says that she can't help him out. Johnny is persistent and asks if she can call someone to come down because his band is just that good. Capri has a change of heart and think she might have a way that she can help Johnny out if he can help her reach her climax.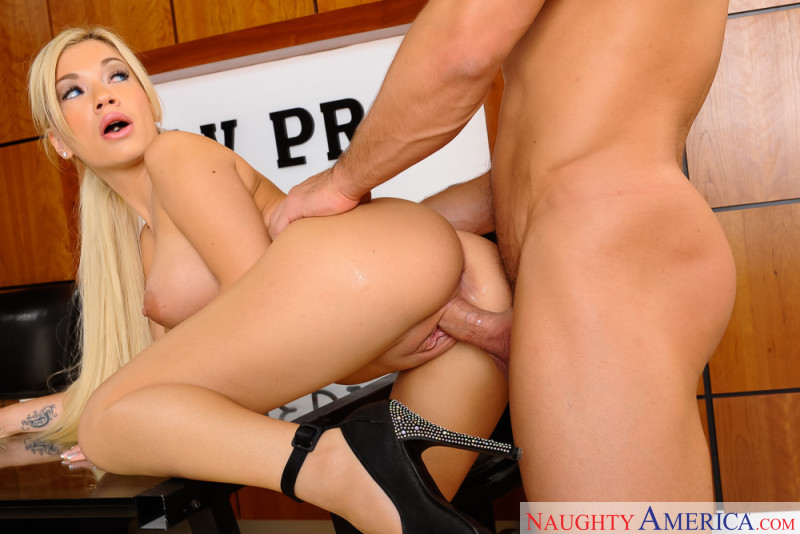 Bibi Noel - Bibi Noel is scheduled to lose her job after the recent merger at her place of work. Bibi can't afford to lose her job though. Luckily, the man in charge of the merger, Johnny, has decided that he is willing to let her keep her position as long as she is willing to take his cock in different positions.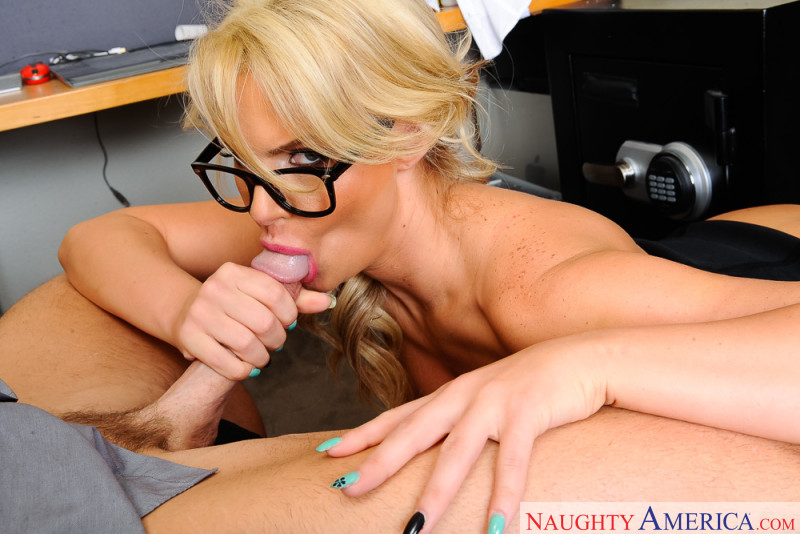 Phoenix Marie - Phoenix is just too nice of a boss and lets her employee push her around. Phoenix interrupts him while he is trying to solve his puzzle cube because she wants to make sure he's going to get the reports on time to her tomorrow. Johnny tells her that hasn't had time to do it and will get to it to her when he can. Johnny wonders how she expects him to work when there's no type of motivation in the office. Phoenix lets him know that he may get fired but, she wont' fire him because she knows he'll fine the motivation to get the reports done. That motivation is Phoenix's huge ass! He turns her around, bends her over the cubicle and has her hike up her dress. She has her innocent face on but, I'm sure she knows and wants what is going to happen next.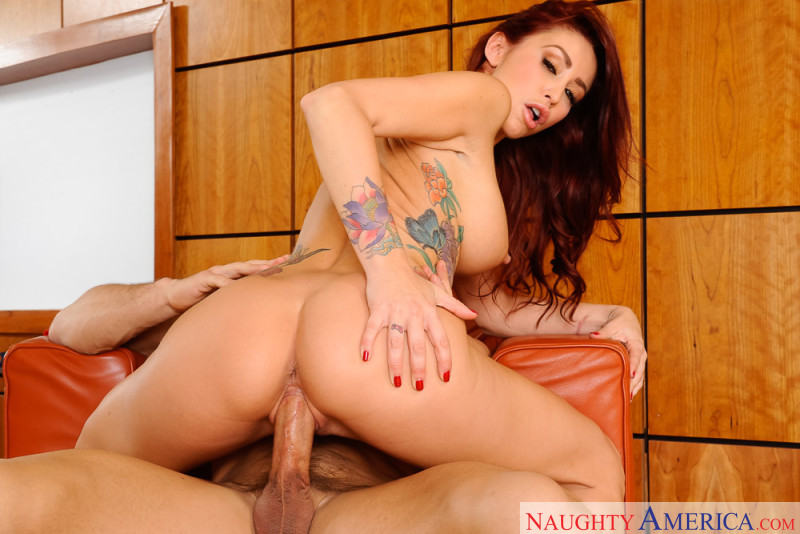 Monique Alexander - Monique Alexander is being naughty in the office. She's playing with her pretty little pussy when her boss walks in. Monique confesses that she couldn't help herself after losing herself in the fantasy of the romance novel she was reading. Her boss thinks that maybe if he helps her live out her fantasy in real life she won't be playing with herself during work hours. He gives her a nice spanking for being a bad girl before fulfilling her fucking fantasy.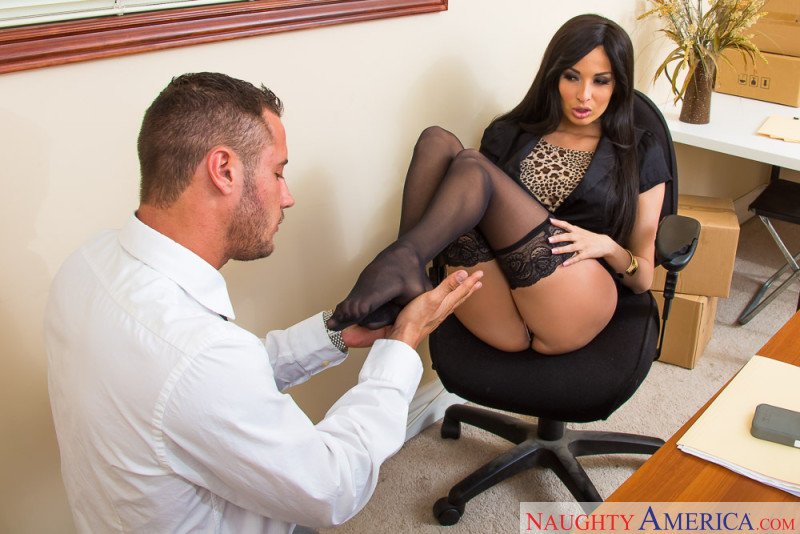 Anissa Kate - Anissa is having a horrible day at work. Her dog is sick, her car is having problems and she doesn't have any hot water at her place. It's so bad that she even gave the wrong paper work to Danny. Work is already stressful enough and seeing such a beautiful girl with so many problems. Danny knows just how to eliminate her stress by pleasing her pussy.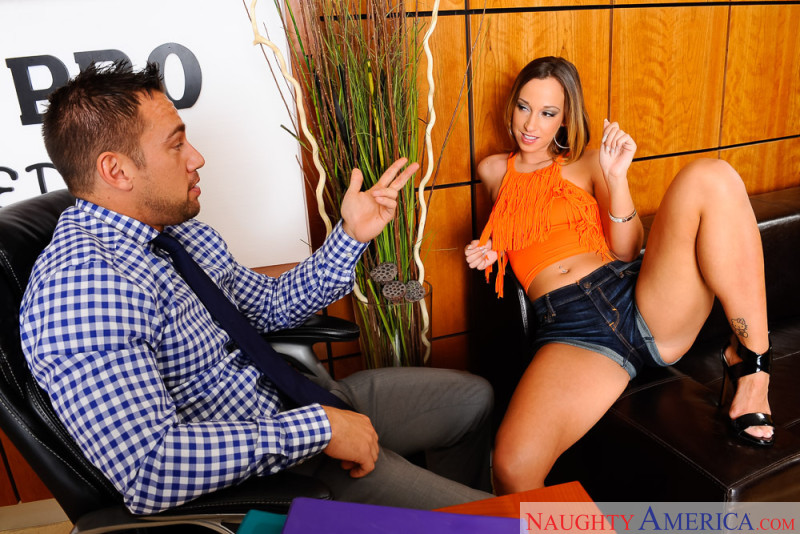 Jada Stevens - Jada arrives with her pictures in hand for a casting call put out by Johnny's company. Her headshot included a spread of her naked. They are looking for a girl to play an after school special and not the one where the student ends up under the teacher's desk. Jada puts her ass down right on the couch and isn't leaving until she gets what she came for. She puts her bare ass on display for Johnny and has the unique talent of loving to take in right in the ass! I'm sure Johnny will put in a good word for Jada with the producers.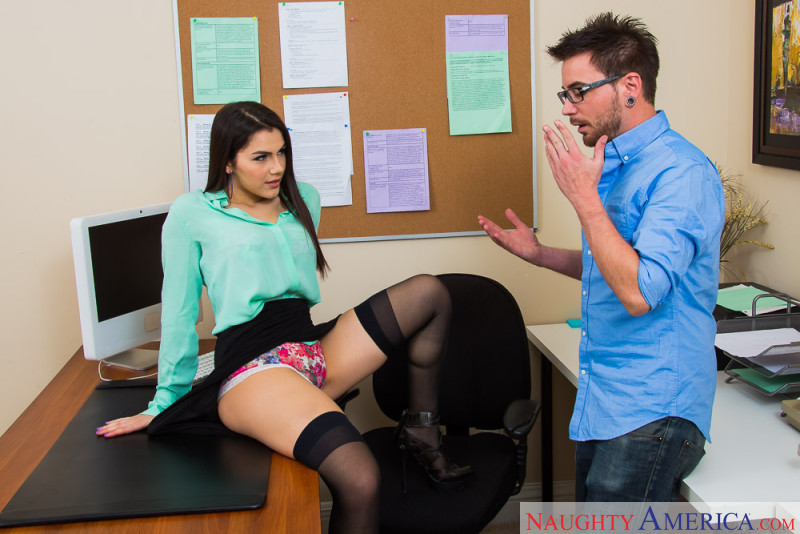 Valentina Nappi - Dane the I.T. guy responds to a call from the new employee Valentina who is having password trouble. He lets her know it's a problem with the computer and restarts it. He asks her to go eat since they are just waiting there and Valentina would love for him to eat, specifically some Italian. She made a good choice because Dane loves Italian food. She sits on the edge of her desk spreading open her legs giving Dane the idea of what Italian dish he's eating tonight. He'll just have to tell HR that it's a good team building exercise between departments.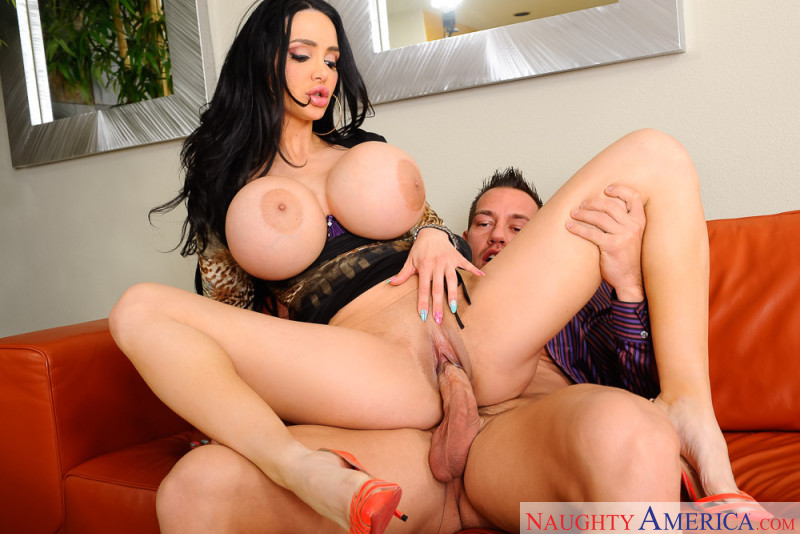 Amy Anderssen - Amy Anderssen calls her employee, Johnny Castle, in to her office when she notices his numbers are down. She is very disjointed and believes that she knows why his numbers are so low, he doesn't jack off enough. Being the excellent boss that she is Amy decides to give Johnny a hand....and a mouth....and a vagina for him to fuck in order to relieve his stress, help him get his head in the game, and make some money.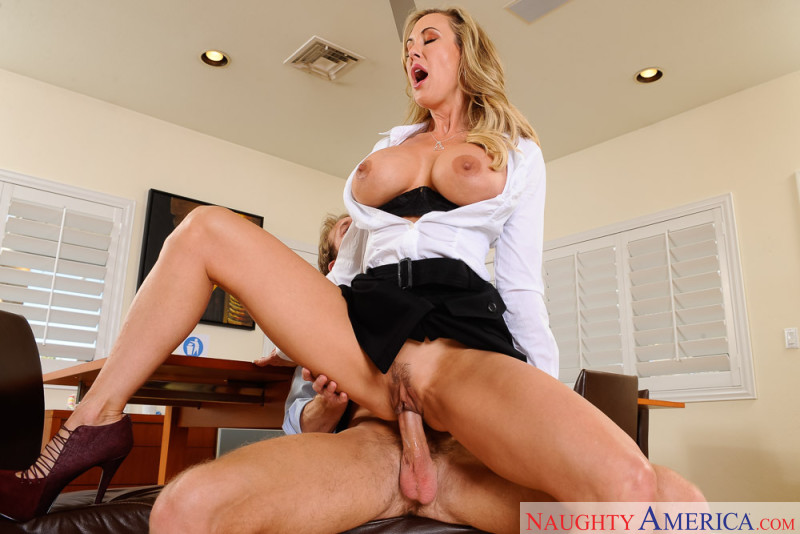 Brandi Love - Brandi Love can't believe how incompetent her employee, Ryan, can be at times. He's just sitting around watching March Madness while the break room is a mess! If Ryan wants to stay employed under Brandi then she's going to have to whip him into shape. Ryan lacks discipline and Brandi is perfect at disciplining. She commands Ryan to follow her orders, which includes licking her pussy like a real man and pounding her pussy fast and hard.
Want some more? Check the site.
| | | |
| --- | --- | --- |
| | Older | Newer | |