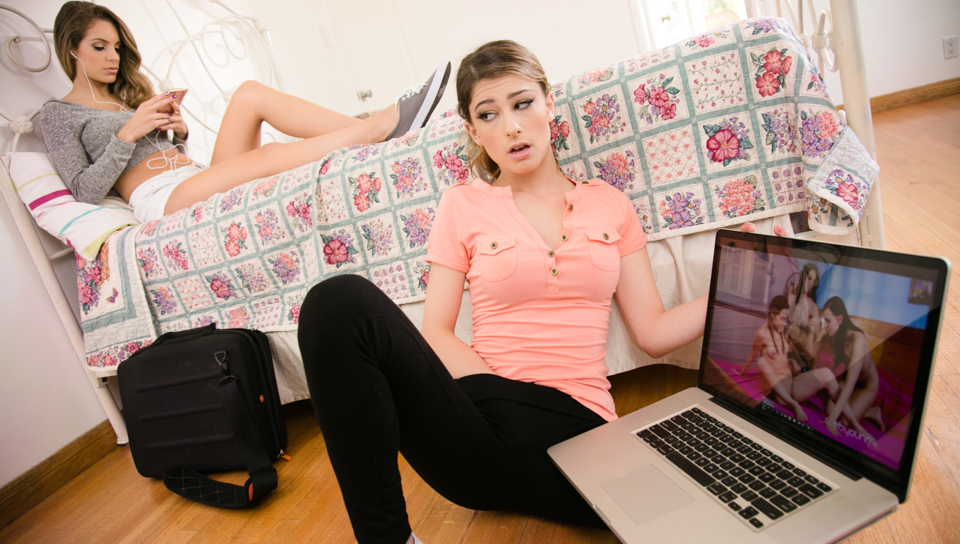 Bunking Up: Part Two, Scene #01: Kimmy Granger, Kristen Scott - After Kristen Scott was caught masturbating at the foot of her step-sister's bed while watching Kimmy Granger's teen lesbian porn and fantasizing about having lesbian sex with her new sister and sucking her shaved pussy into her warm mouth. Kimmy is pretty angry that Kristen would do that right there in front of her, and threatens to tell everyone at school about how she's a dirty perverted lesbian who wants to have lesbian sex with her new step-sister!
Kristen knows a thing or two about being bullied, so it surprises Kimmy when Kristen accuses her of stashing teen lesbian porn under her bed. Kimmy softens up pretty quickly, and it soon comes to the point that these tender teens realize their lesbian fantasies, and lick each other's tiny boobs and suck each other's sweet pussies until they both come.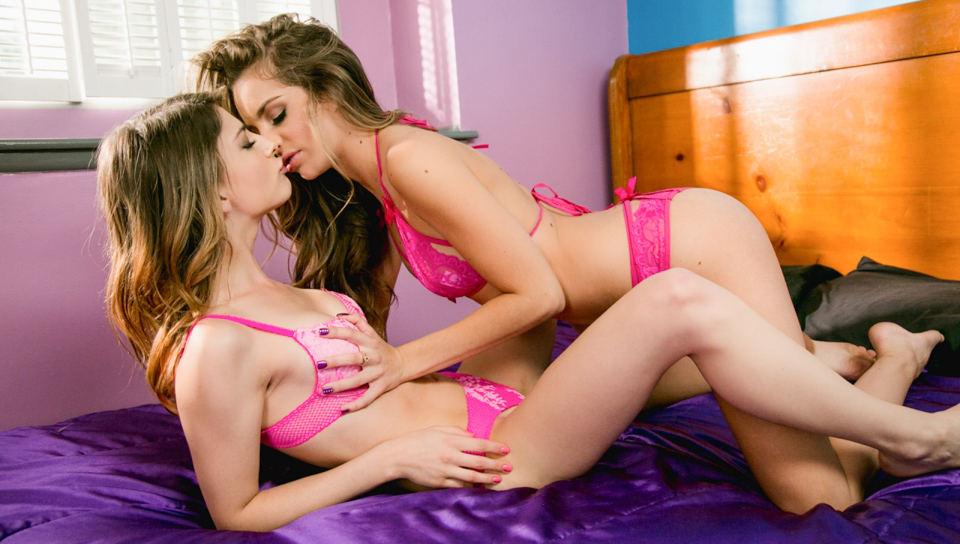 Bunking Up: Part One, Scene #01: Kimmy Granger, Kristen Scott - Kimmy Granger has always been at the top of the pecking order when it comes to her popularity at school. She's so popular that no matter what she does or what she says she's treated like a goddess, no matter how much of a bitch she can be. Today the hot topic is her mother's new marriage to Kristen Scott's dad. While their parents are madly in love, Kimmy just knows that this Kristen chick she knows as the weird gamer girl who eats her lunch on the toilet is going to be a heap of trouble, and ultimately drag her down. When Kristen shows up to introduce herself, Kimmy acts like a typical bitchy mean girl and shuns her from the start. Kristen finds Kimmy's porn stash and begins to masturbate right there in front of her idol Kimmy, but it's when she starts to fantasize about Kimmy that things get real. In her imagination, Kimmy as a sexy goddess who knows just how to treat her teen lesbian pussy, even feeding Kristen her shaved pussy while they 69 and trib until they both have incredible orgasms. But will Kristen's fantasy come true? Only one way to find out!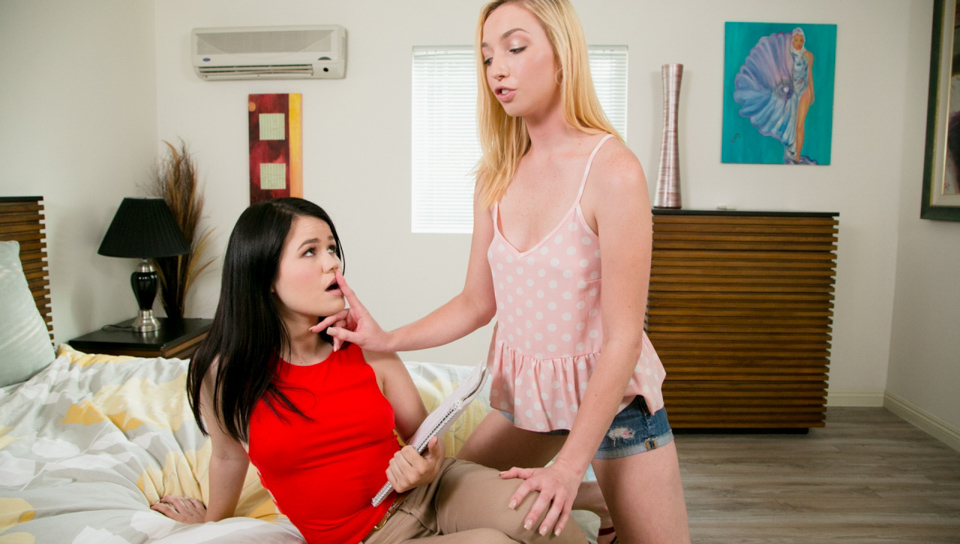 The Soccer Star: Part Two, Scene #01: Yhivi , Zoe Parker - Wild and passionate lesbian sex with Soccer Star Zoe Parker leaves Yhivi in a tough situation. A simple phone call with her editor, reminds her that she was supposed to be giving an interview. They were laying on the bathroom floor licking each other's pussies, while she was supposed to be gathering information from Zoe. Most of the important questions were left unanswered, so of course round two had to happen. She doesn't want to let her editor down, or come off as a complete idiot, so Yhivi races back to Zoe's place in the hopes of getting the real story.
When Zoe sees Yhivi, she's only got one thing on her mind, using her mouth again! That's a given, but it's not going to be for answering any of her questions, it's for pleasing her tight teen pussy. Zoe is used to getting everything she wants, but this time she may be at a loss when Yhivi decides it's business before pleasure.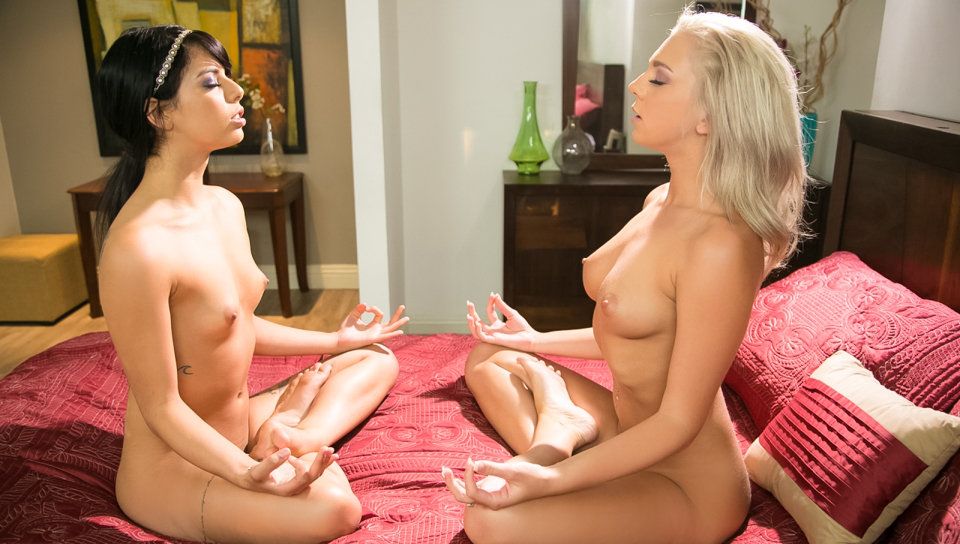 Living With a Nudist: Part Two, Scene #01: Tiffany Watson, Gina Valentina - Roommates and recent lovers, Tiffany Watson and Gina Valentina decide to start things off slow, beginning with some breathing exercise in the form of meditation. Since Gina is going to be teaching, both women need to be naked, in order to be fully open and receptive. Tiffany has shown she's more than eager to sit back and let Gina take the lead. As they sit on the bed together, breathing in each other's air, feeling so relaxed and carefree, Gina pulls Tiffany in for a soft kiss. Leading her tongue down Tiffany's body, resting on her hard nipples. Sucking them to the sound of Tiffany's moans. Gently she traces Tiffany's body with her lips, until she reaches the soft, wet spot in between her legs. Working her finger deep inside Tiffany, while flicking her clit with her tongue. As Tiffany's cum drips into Gina's mouth, she places herself on top of Tiffany, face fucking her mouth. Back and forth, they make each other cum until they're spent, laying hand in hand on the bed. If Tiffany wasn't a believer in Gina's free loving ways before, she sure is now.. and so will you, after watching these two cum together....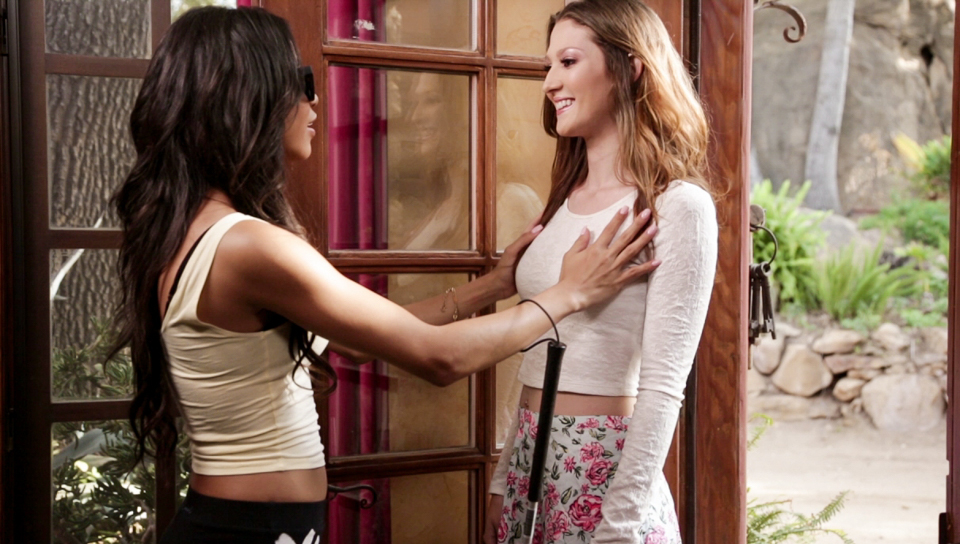 Blind Love, Scene #01: Veronica Rodriguez, Ellena Woods - When blind teen Veronica Rodriguez' lift to church arrives, it's Ellena Woods filling in for her usual ride. Meeting for the first time, Ellena lets Veronica touch her face and body to get a sense of her appearance. Veronica can tell she's tiny and pretty, and thinks she has a nice voice. She likes Ellena, and she wants her help getting showered and dressed for church. And not because she's blind. Veronica's a lesbian virgin, but she's ready to explore Ellena's sweet teen innocence, kiss her soft lips, slip her hand up her floral skirt and feel her tight pussy. Ellena resists at first, but eventually relents to Veronica's sexual overtures and joins her blind friend naked in the shower. Veronica's dark beauty presses against Ellena's peaches and cream complexion, rubbing her lesbian teen pussy until she cums. The girls continue to share their first lesbian experience, as Ellena delicately strokes Veronica's vulva, fingers her pussy and licks her clit, making her pussy squirt during her first lesbian orgasm!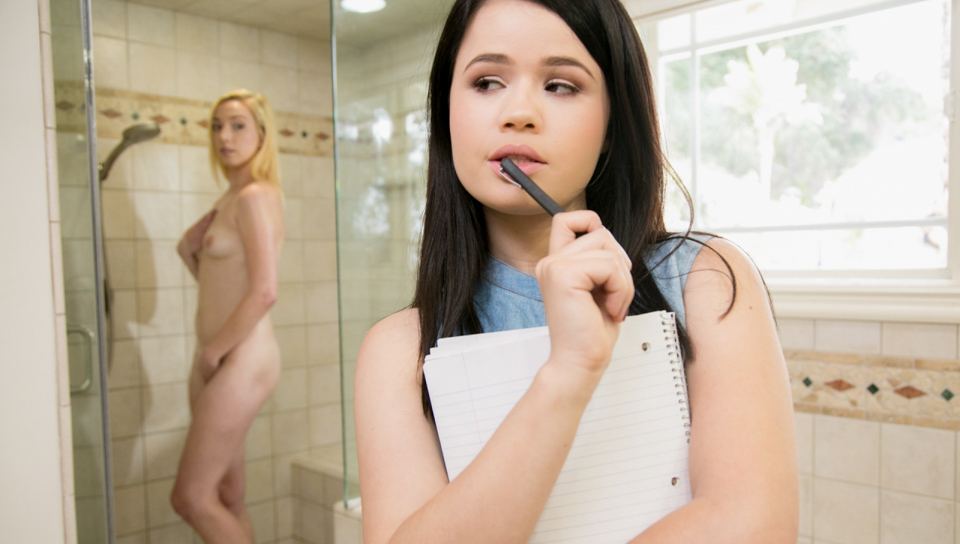 The Soccer Star: Part One, Scene #01: Yhivi , Zoe Parker - Soccer Star Zoe Parker has just led her team to victory and now it's time to enjoy all the benefits! After a quick interview, she heads to the showers. An out of breath Yhivi arrives, only to discover that the interview has already taken place. Not wanting to lose the story she's promised her editors, she musters her pride, and enters the bathroom. As Zoe wipes off her wet body from the shower, Yhivi is standing there. Zoe knows she should be freaked out however, she takes in this cute brunette and decides she's in for some extra fun. As they begin to chat, Zoe hands Yhivi some oil, to rub on her back, not thinking much of it, she complies. However, she notices Zoe is more focused on the massage than on answering her questions, especially when Zoe, grabs the oil and pours it down her chest. As the interview progresses, it becomes less about words and more about pleasure. As Zoe licks Yhivi's hard nipples, her tongue slowly glides down her body until it reaches her awaiting pussy. As she buries her face in between her legs, Yhivi bites her bottom lip in order to stifle her cries of passion. As she cums into this Soccer Star's hot, sexy mouth, she decides it's her turn to take over this interview and Zoe has no idea what's coming.....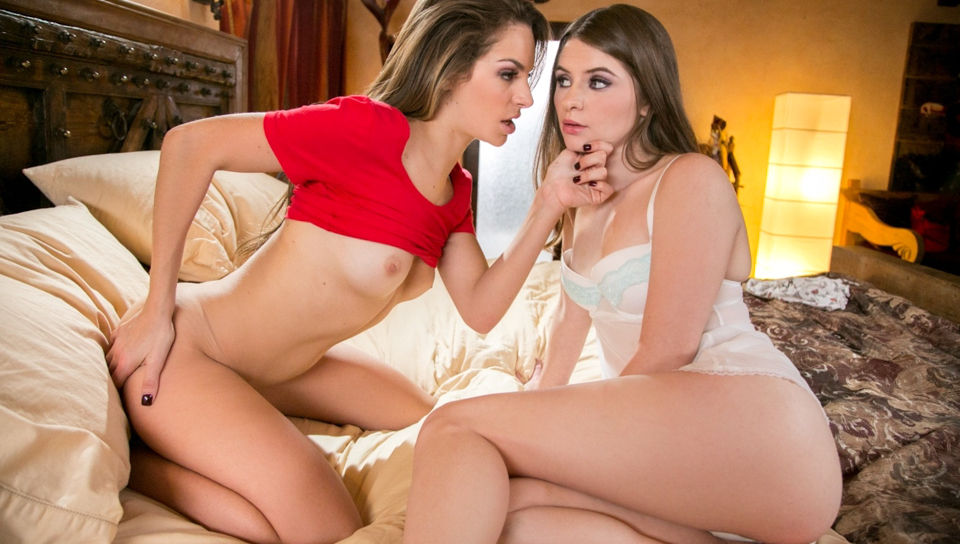 I Caught My Sister: Part Two, Scene #01: Kimmy Granger, Alice March - Previously on Webyoung, Kimmy Granger and her step sister Alice March seemed like rivals but after their sexual encounter that began with Kimmy catching Alice masturbating, Kimmy's lesbianism provoked a wild lesbian sex-capable between the two. Today, Kimmy is obsessed with lesbian thoughts about Alice and tries touching her pussy but she needs the real deal. She calls Alice on the phone and persuades her to come and mend her throbbing pussy. Alice complies by bending over and having Kimmy spank her naughty ass and moisten her soft pussy with her tongue and fingers. Alice is on all fours, feeling her sister's fingers deep inside her wet pussy as she orgasms uncontrollably in sapphic bliss. Kimmy wants her turn, extending her legs straight and wide apart, sitting on top of Alice's warm lesbian mouth refusing to budge until she cums. Finally they sit side by side, fingering themselves vigorously to achieve orgasmic heights of lesbian euphoria together with no thoughts of brawling ever again!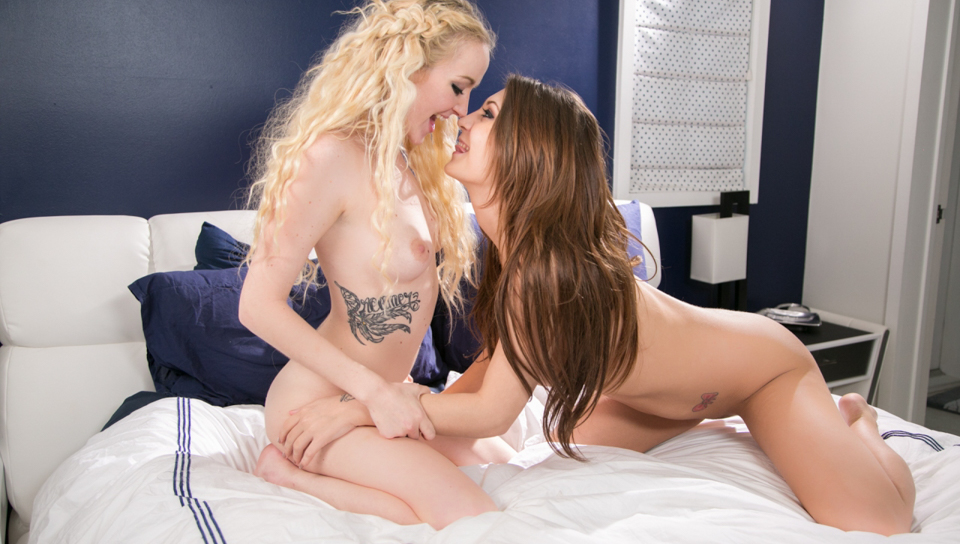 Young Love: Part Two, Scene #01: Jojo Kiss, Iris Rose - After an intense night of passionate lesbian sex, Jojo Kiss and Iris Rose wake up in each other's arms, completely in love. Iris receives a call from her mother asking her whereabouts and demands her immediate return. Iris refuses and makes it clear that she is a lesbian in love and if her mother can't accept her life choices than she would rather face the consequences. Iris begins to panic not knowing what to do, so Jojo grabs a bag suggesting they leave everything behind to start a new life. With the excitement and fear of the moment, the girls giggle with happiness as they celebrate by embracing one another and together, undertake another round of lesbian intimacy.
Jojo kisses Iris lovingly and Jojo spreads Iris' legs apart, soaking her pussy with her wet lips making her beg for more lesbian pleasure. They begin tribbing on the headboard, pushing their dripping lesbian pussies together and pinching their perky teen boobs until they clasp their hands together and orgasm simultaneously. Jojo remains on the base board and spreads her legs for Iris to return to eating her out. Iris licks Jojo's soft, tight lesbian pussy with her pierced tongue ring stimulating Jojo's clitoris like never before. The moment their pussies connect to their mouth in a 69 position they gasp with sexual satisfaction unable to control their moans and excitement demonstrating the power of young lesbian love!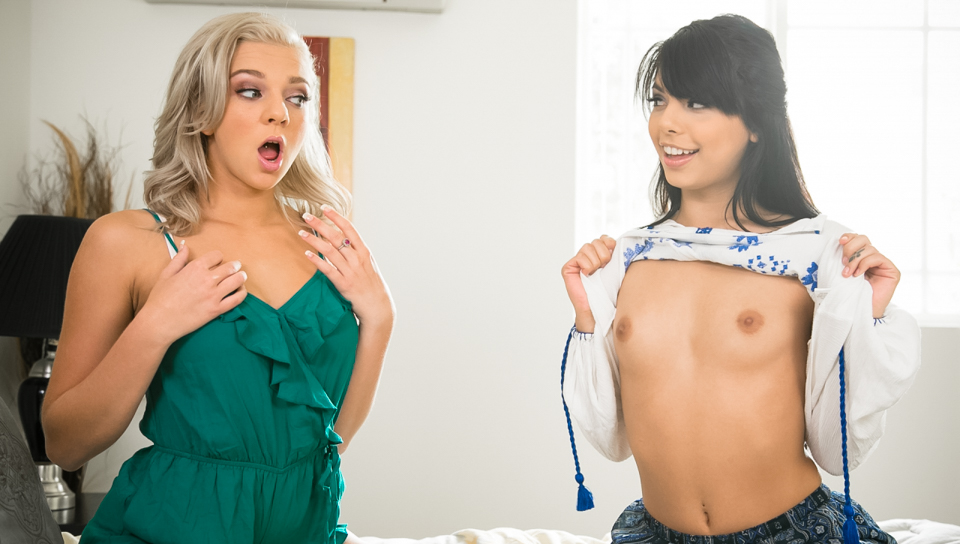 Living With a Nudist: Part One, Scene #01: Tiffany Watson, Gina Valentina - Tiffany Watson needs help paying the rent and decides to find a roommate. When she receives a call from Gina Valentina who goes by her hippy name 'Starfall' she didn't expect it to be quite the adventure. Gina's free spirited nudism causes Tiffany to have lesbian fantasies about Gina and even cheat on her girlfriend. When Tiffany comes face to face with Gina's naked body she admits the awkwardness, especially that she is a lesbian but Gina convinces Tiffany love shouldn't be confined to one person and with that being said, Tiffany goes all in. Vigorously, the lesbian roommates exchange sexual favors by sucking and finger fucking one another's sweet teen pussies, with endless lesbian orgasms and teen squirting surges. They moan in sapphic bliss as they rub each other's throbbing wet pussies and their supple nubile boobs until they experience a plateau of lesbian excitement, forever binding these roommates for good!
To be continued...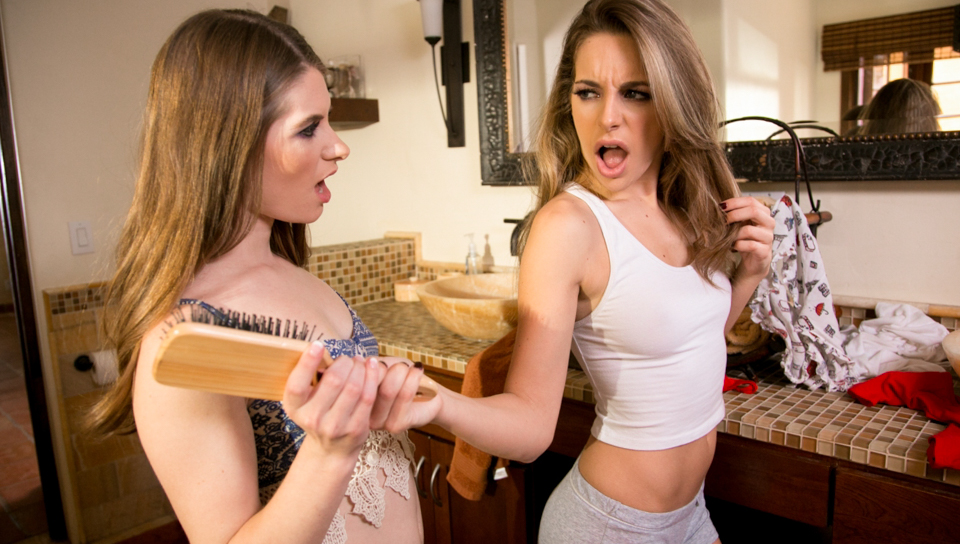 I Caught My Sister: Part One, Scene #01: Kimmy Granger, Alice March - Rival step-sisters Kimmy Granger and Alice March are at each other's necks, fighting over everything and giving their parents no choice but to send them off to boarding school if they can't get along. Both girls skip school without one knowing about the other and Kimmy catches Alice masturbating in her bedroom. She pulls out her phone to record her sister's naughty self gratifying performance, but becomes sexually stimulated and plays with her shaved pussy but fumbles on the floor grabbing Alice's attention that someone is spying on her. Alice uses this as leverage to seduce her sister and begins kissing her softly, fixated on one another's beauty unable to control their lesbian desires for each other.
They race to the bedroom, Kimmy spreads her legs as she watches Alice eat out her soft, shaved pussy licking every last drop of her sister's cum. She begs for Alice to finger her tight whole again, as she cannot control the sexual fervor that is begging to come out. Kimmy can't wait to feel how wet her sister's pussy is and removes her tight shorts before grabbing onto her tight perky boobs with lust. Alice bends over exposing her soft pussy lips. Kimmy places her two fingers inside her sister's hole, stretching her insides and bringing Alice to a new level of lesbian bliss. Switching positions to 69, they have a better view of one another's teen pussies. They fondle each other's holes covering themselves in sweet teen lesbian cum!
To be continued...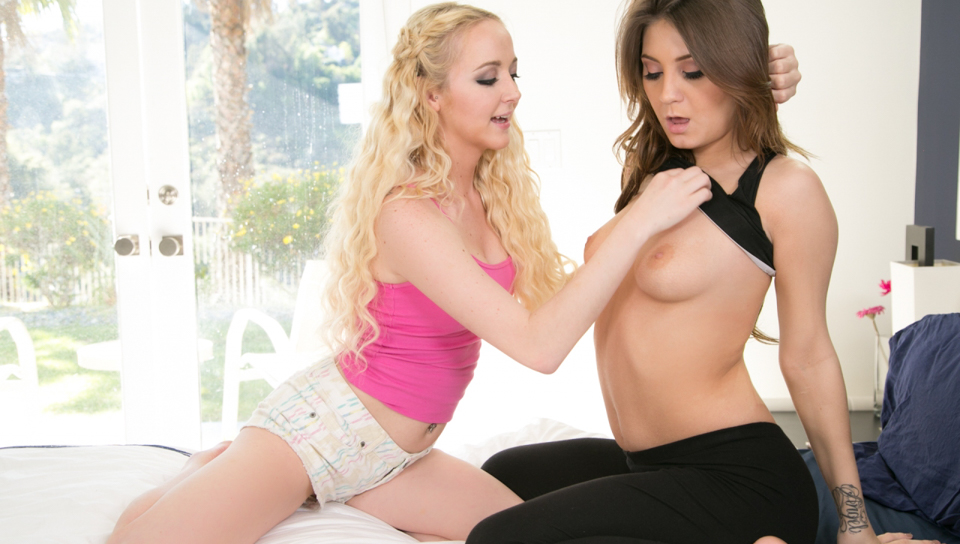 Young Love: Part One, Scene #01: Jojo Kiss, Iris Rose - Iris Rose calls her lesbian lover Jojo Kiss letting her know she confessed to her mother that she is a lesbian. Her mother makes it clear that no daughter of hers will be living a life of sapphic pleasures. Iris leaves her home to be with Jojo and falls into her lover's arms seeking comfort from her grief. Jojo promises her that things will work themselves out and comforts her with passionate kisses. Iris' sexual desires increase as she craves her lesbian lover's sweet naked body. Iris places her lips in between Jojo's soft, shaved pussy and fingers her hole ever so lightly. The lover's 69, simultaneously fingering one another's wet pussies leaving a trace of delicious cum over their luscious lesbian lips. Iris spins around, flipping her ass in the air while Jojo continues eating out her sweet lesbian pussy until she cums in climactic ecstasy. Iris returns the favor by licking Jojo's perky boobs and spreading her legs apart exasperating her pussy for one more intense, hardcore orgasm!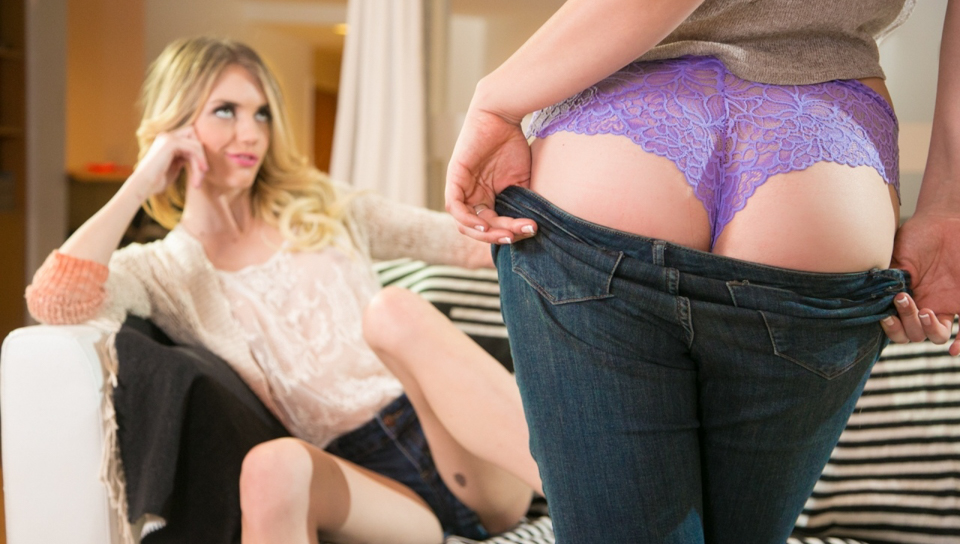 Bad School Girls: Part Two, Scene #01: Blake Eden, Shauna Skye - Previously on WebYoung, naughty schoolgirls Blake Eden and Shauna Skye decided to cut class and head over to Shauna's house where they enjoyed some lesbian time away from school. Shauna didn't think it was such a great idea but Blake convinced her and then some. Blake persuades the lesbian virgin to have sex with her and when it finished, Blake took naked pictures of Shauna with the intention to make it go viral...
After the naked pictures of Shauna went viral online, she takes comfort in her journal to write about all the hatred she feels for Blake. Shes wondering why she would ever do such a thing to her best friend. No matter how much animosity she has for Blake she still can't stop thinking about how sexually attracted she is to her, lesbian or not. Shauna finds the courage to call Blake so they can have a one on one talk and have this fiasco put to rest.
Shauna has Blake sit on the couch and confesses all her feelings and how Shauna, regardless of how Blake humiliated her, can't hold back the strong emotions that are built up inside of her. She explains wanting to reenact their lesbian experience. Blake can't deny her lesbian attraction toward her schoolgirl crush, unzipping her shorts and baring her flawless body as she opens her legs to be pleasured by Shauna's adventurous fingers. Blake returns the sexual favors for Shauna as she places her face over her pussy, eating her love lips out vigorously and sensually. This time around, Blake promises to keep their lesbian love affair a secret...but will she?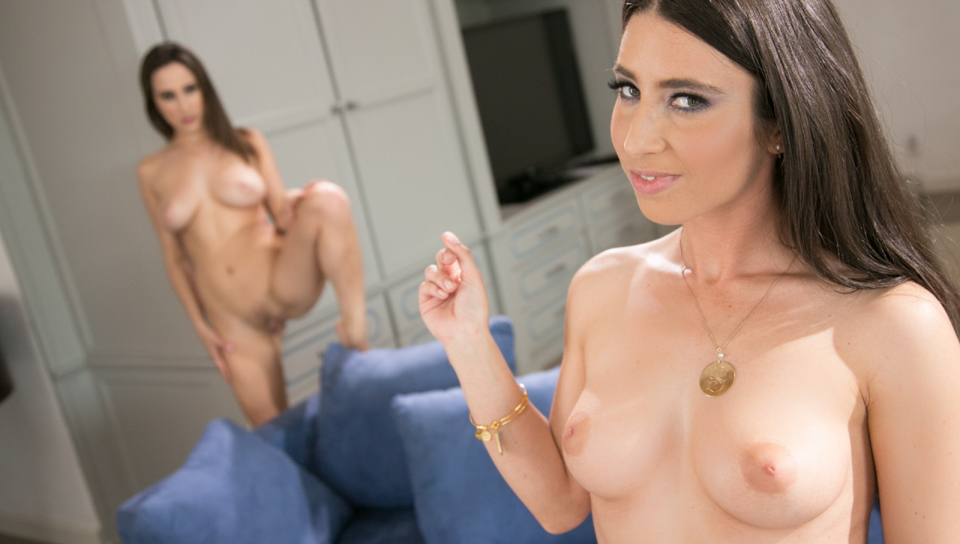 The Pledge: Part Two, Scene #01: Serena Blair, Ashley Adams - Serena Blair hasn't decided yet whether Ashley Adams will win her vote to be a pledge in their lesbian sorority. Ashley, already conscious of the lesbian sacrifices she must make sexually to win Serena's vote. Ashley leans in licking Serena's perky boobs and tickles her pussy and clit with her tongue. Once their pussies are nice and moist, they start tribbing vigorously, slapping their lips together in lesbian rapture. Serena fingers Ashley's tight pussy and proves her dedication to the sorority by squirting her ejaculation over Serena's face and embracing her new found love of lesbian fornication!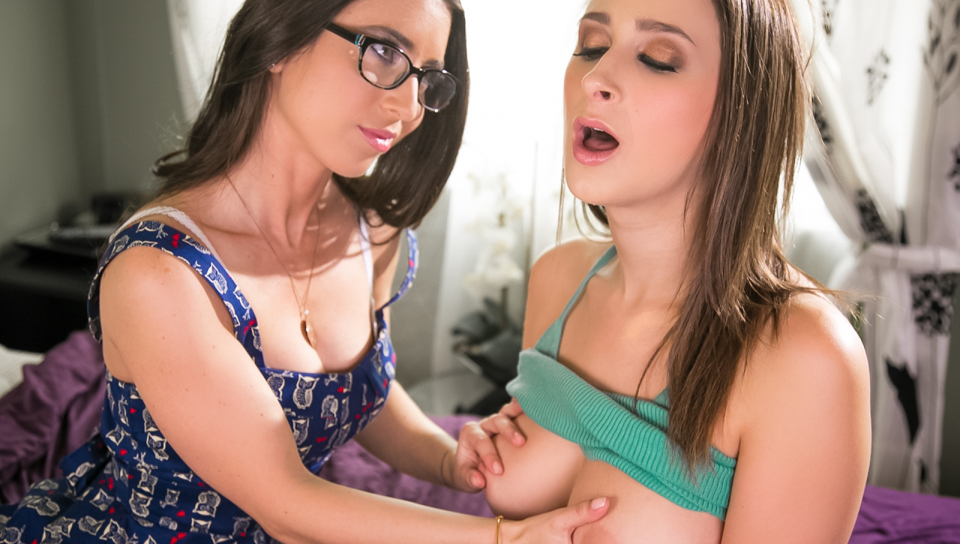 The Pledge: Part One, Scene #01: Serena Blair, Ashley Adams - In order for Ashley Adams to become a sorority sister she proclaims her allegiance sexually to president Serena Blair. Serena grabs Ashley by her neck and kisses her passionately asking her to show her how bad she wants in. Ashley removes her top and displays her natural big boobs and so does Serena. Ashley suckles on her president's soft boobs and places her face over Serena's shaved pussy licking devotedly like a natural lesbian. Serena thirsts for more of her pledge's sexual appetite by tribbing with her fervidly, then squatting on her face ready to spurt her female juices. Serena is sexually fulfilled and takes charge of pleasuring her lesbian lover by finger fucking her tight lesbian pussy until Ashley eventually asks for permission to orgasm until Serena cannot deny her pledge's lesbian excitement resulting in a squirting rage of passion! To be continued...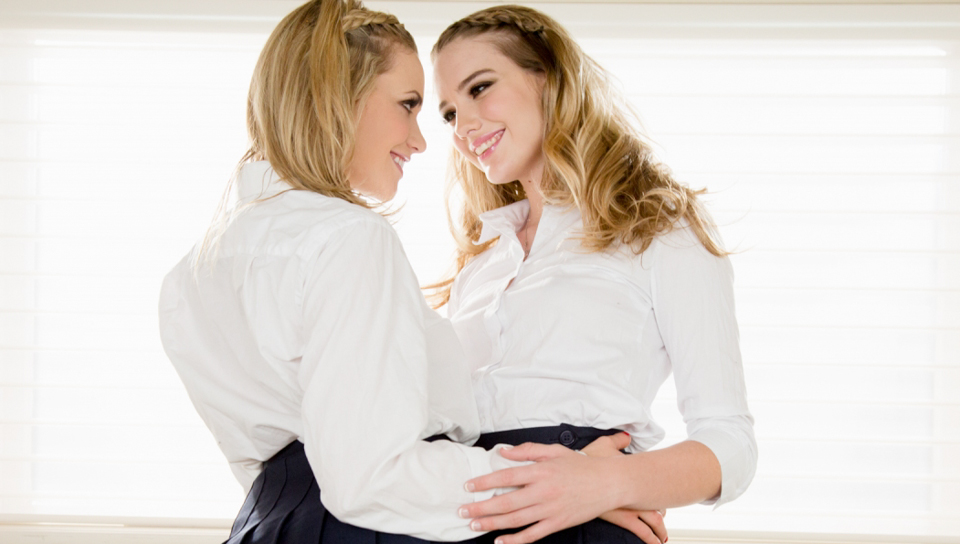 Twinning, Scene #01: Kenna James, Mia Malkova - Twin stepsisters Mia Malkova and Kenna James start off the day admiring each other's naked bodies as they lay on the bed ecstatic to have found true lesbian romance. Taunting one another with their perky boobs and curvy butts they play dress up in matching school uniforms. The two sisters lock lips, fixated on one another's beauty unable to control their lesbian desires for each other.
Kenna and Mia grab onto each other's butt cheek, eager to taste the hidden treasures that lie under their school girl skirt. Playing dress up is fun and all but Mia and Kenna's sexual attraction for one another is becoming overbearing. Mia decides that it's time they take things to the lesbian next level.
Kenna sits on the counter, legs spread apart as Mia wets the outside of her sister's pussy with her mouth and fingers, watching her sister's sexual desire grow. She pushes her fingers inside of Kenna's wet pussy, pushing her fingers toward her sister's g-spot as her sister moans in heavenly orgasms. Kenna returns the favor by awarding Mia with the same sexual pleasures by stroking her soft tongue over her sisters clitoris making her tremble in bliss. To further their lesbian love, they sit face to face, rubbing each other's pussies simultaneously, positioning themselves in a 69 position and they moan as their orgasms grow exponentially together, until their sisterhood love affair brings them into a world of lesbian rapture!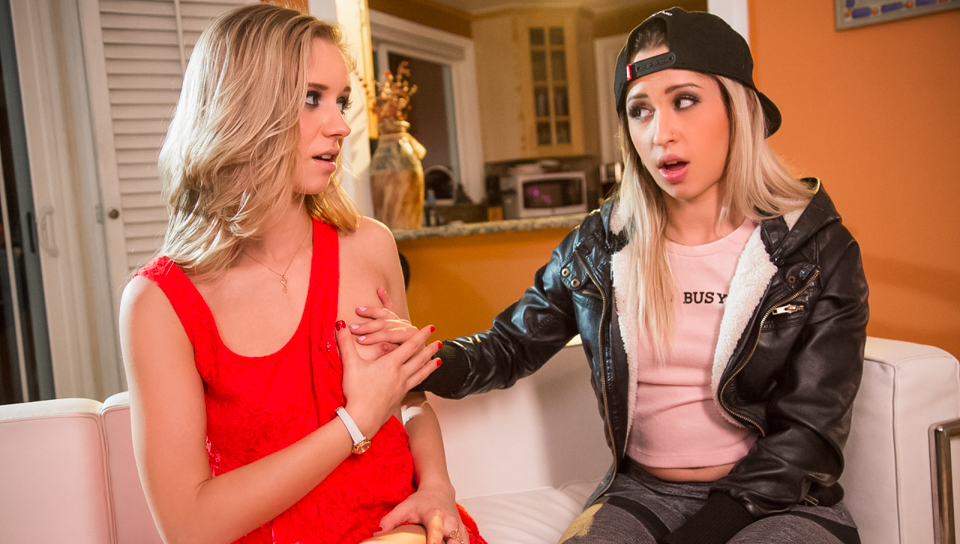 All The Way, Scene #01: Goldie Rush, Rachel James - Goldie Rush is extremely nervous for her date with lesbian lover Rachel James. Things go very well as Goldie walks Rachel home from their romantic evening and Rachel invites her to come in to spend more quality time alone. They sit together on the couch talking about life. Rachel pulls a move on Goldie saying she thinks there is something wrong with her boobs and wants Goldie to give her an opinion. Goldie becomes nervous and shy feeling the pressure of performing to Rachel's standards sexually, because in reality Goldie's butch demeanor as a lesbian is all a facade.
Rachel asks Goldie to unzip her dress and feel her ripe nipples to assure her there is nothing wrong with the way they look. Goldie feels the pressure and admits that her lesbian exterior is a front and her true emotions of shyness and timidness are a result of how infatuated she is with Rachel. Rachel lets Goldie know that she likes her for who she is and not what she pretends to be. With that, Rachel calms Goldie down with a soft and supple kiss.
Goldie helps Rachel take off her silky red dress exposing her bare nipples for her new lesbian lover. They both undress and once completely nude, Rachel places herself over Goldie, spreads her legs and begins feasting on her shaved pussy pleasuring her senses and bringing Goldie to a new level of lesbian euphoria. Things become kinky when they start tribbing for the first time, orgasming spontaneously, creating a tight and unbreakable bond between these beautiful young lovers!
Rival Cheerleaders: Part Two, Scene #01: Piper Perri, Bailey Brooke - Piper's blooming into the teen she's always been inside, and her jealous stepsister, Bailey can't gather herself, not only is she jealous of Piper, beating her out of the closet, but Bailey continues to beat around the lesbian bush, sneaking into her little stepsister's room to sniff her clothes and panties like a teeny pervert, and fuck her. Piper's not a stupid lesbian, and knows the whole time what her closeted big step-sister is up to.
Bailey wants Piper so hard that she pounces on her, hoping to get one out while the quiet morning is still in full swing. Piper warns her that they need to be super quiet so mom and dad don't find out that Bailey is really a lesbian too! let a lone the fact that the cute blonde step-sisters have been fucking under their roof this whole time! Bailey lays some sweet tender kisses on piper, hoping to tempt her into sucking her shaved pussy lips, until she has a huge thigh busting orgasm.
Piper licks her timid step-sister's pussy, and Bailey tries to keep her moaning to a minimum. Bailey lifts her shirt and bra off, to give Piper access to suck her tiny natural tits too. Bailey feels for Piper's tiny little pussy, and reaches under her lilac panties to stick her fingers inside her horny moaning sister. Piper's expert tongue digs deep within Bailey, and before long their moans become uncontrollable, and they are screaming without care, throwing their lesbian caution to the wind. Will mom and dad find out, they've both been raising lesbians this whole time?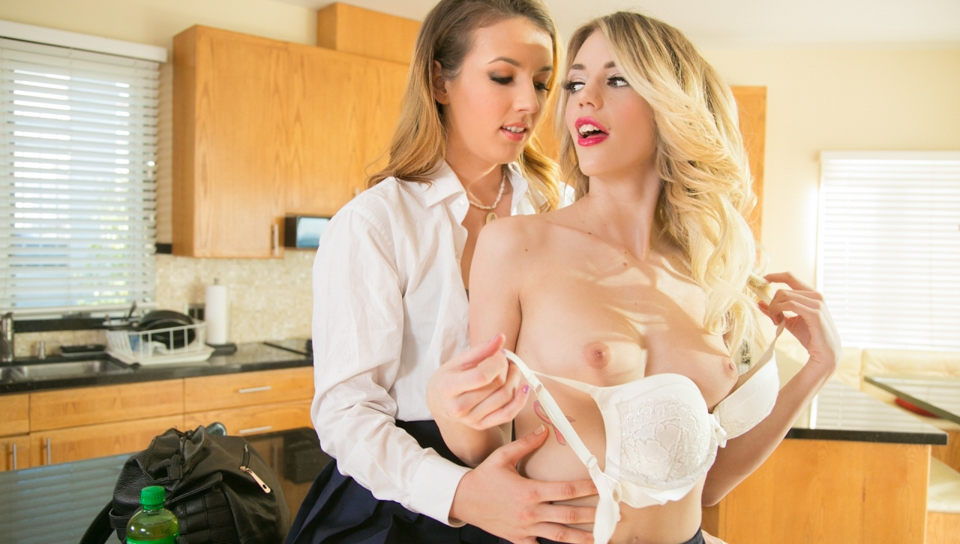 Bad School Girls: Part One, Scene #01: Blake Eden, Shauna Skye - Naughty school skippers Blake Eden and Shauna Skye sneak into Shauna's home but she's reluctant, knowing that her mother could walk in at any moment and catch them. Blake likes breaking the rules which means having fun in every aspect. Shauna doesn't think any of Blake's ideas are any good, which results in them always getting caught and Shauna being severely disciplined.
Blake proceeds to lure Shauna into having some fun by getting closer to her and slowly unbuttoning her shirt. Shauna is nervous with Blake's flirtation as she continues to remove her shirt and begins to caress her supple teen boobs. Blake shushes her, convincing her that they have ample time for a little one on one lesbian intimacy!
Blake convinces Shauna to try new things as she pinches and sucks her perky nipples making them hard and erect. She asks Shauna to spread her legs and goes on her knees, introducing Shauna to a whole new world of lesbian pleasures. Shauna moans with excitement as Blake continues to lick and suck on her pussy juices until she orgasms for the first time ever with another girl. Blake teaches Shauna the ways of pleasing a pussy by instructing her to go on her knees and swirl her tongue all over her shaved lesbian pussy lips. Blake gasps in ecstasy as the lesbian virgin surpasses all of her lesbian expectations!
To be continued...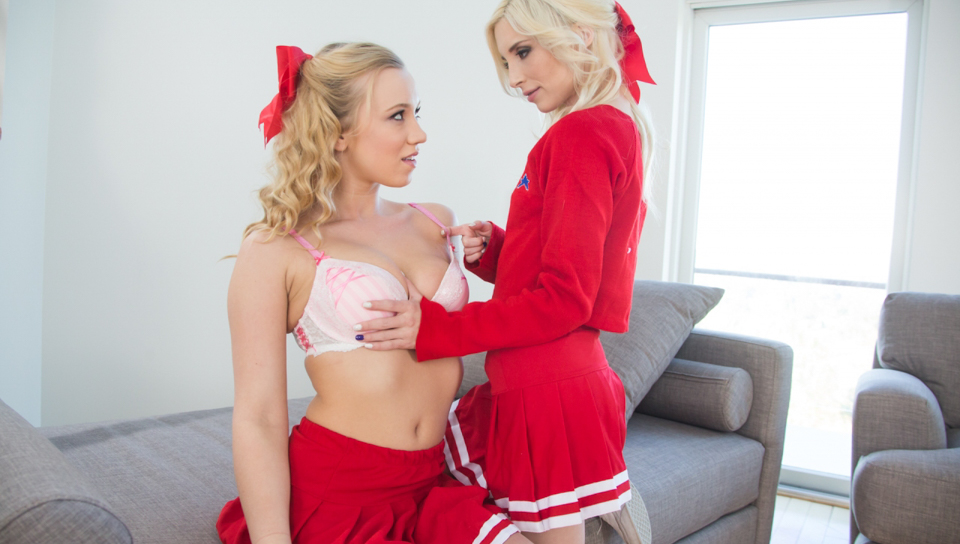 Rival Cheerleaders: Part One, Scene #01: Piper Perri, Bailey Brooke - As Bailey Brooke and Piper Perri arrive home from cheer leading practice, Piper shares her jealousy for her step-sister, over how good she is, how loud she cheers and everything. Piper has recently gone through a big turning point in her life. She's decided that it's time to be herself, no more lying, and missing out on all the opportunities life has to offer. Bailey tries to explain why Piper is failing at cheer leading, and ends up rooting through her bag to try and find more evidence to prove Piper just doesn't have what it takes.
When Bailey finds Piper's vibrating wand, Piper confesses, that her whole interest in cheer leading is rooted to her decision to be more confident and authentically her. Piper comes out with the fact that she's a lesbian, and that it's time Bailey knows, since their parents do. Bailey is caught off guard by Piper's confidence, expressing how gutsy it was of piper to tell their parents that she's a lesbian. Bailey's own secret surfaces, because she understands how much courage it must have taken to come out as lesbian. Bailey also confesses she's one too.
Before long, these beautiful teen girls have discovered that the very thing they need to express their inner voices is each other. Bailey makes a deal, if Piper will sleep with her, she'll be easier on her in practice. Piper warns her that she might not be able to take her, but Bailey gloats about how many girls she's slept with. Soon, their cute little cheer uniforms are flying off and they're using every trick they know of to get one another off, any way possible. The heavy rivalry between these lesbian teens grows and builds with their tiny bodies until finally they have some of the most amazing taboo orgasms either one has ever witnessed. Thank teens we got to witness too!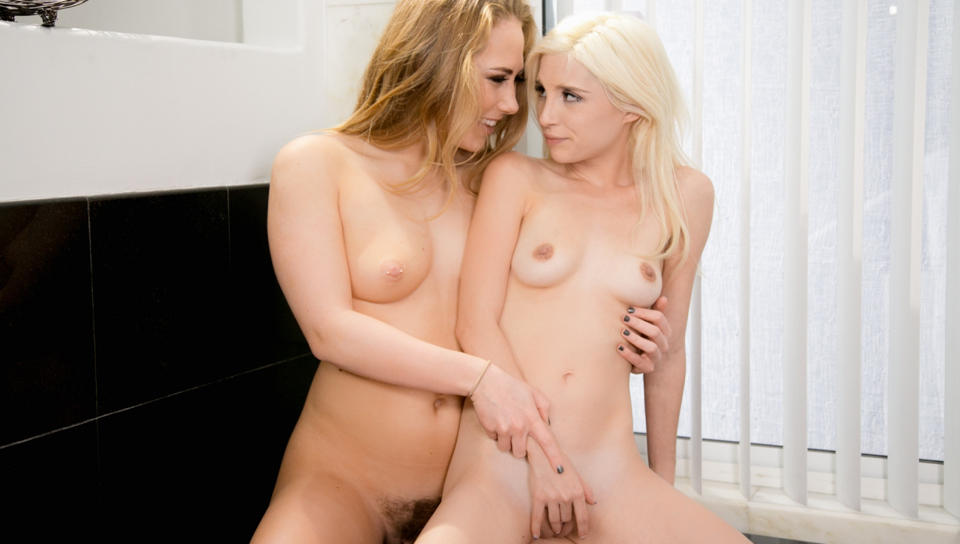 Sister Sitting: Part Two, Scene #01: Carter Cruise, Piper Perri - Previously on WebYoung, Carter Cruise despised the fact she had to cancel her lunch plans to babysit her little step sister Piper Perri. Piper is old enough to take care of herself, but their mother didn't feel that way. When Carter came home to sneak in on her sister masturbating to a pair of Carter's underwear, Carter decides her little sister needs a lesbian coaching. And did Carter ever give her one! they are both ready to take it to another level!
Piper follows Carter into the bathroom. Carter educates her little sister that the bathroom is one of the best places to masturbate. Carter goes over the pros and cons with Piper, really paying attention and intrigued on all these new things she's learning about the different ways of experimenting with her pussy. Piper wants Carter to show her how she can reach new levels of self pleasure all alone!
Piper sits on Carter's lap in the bathtub, sprawling her legs apart to please her shaved little pussy, Carter guides her hands to perfect the art of masturbation. Holding on as tight as she can, Piper unleashes a tremendous gasp of happiness. Piper takes her turn in pleasing Carters pussy, bending down on her knees filling her mouth with her sisters warm wet pussy and finger fucking her until she cums. The two lesbian sisters sit face to face, clenching their pussies together, pinching one another's stiff nipples, exasperating their pussies for one more intense, hardcore orgasm!
Want some more? Check the site.
| | | |
| --- | --- | --- |
| | Older | Newer | |