Cara Reid and Sally D'Angelo - Sucking each other's tits and eating each other's pussies to get those pussies ready for a young porn stud's big cock..that's what friends are for. But Cara Reid and Sally D'Angelo didn't know that when they and their husbands would get together on Florida's Gulf Coast to ride their motorcycles. Cara didn't know that Sally and her husband were swingers. Sally didn't know that Cara and her husband were swingers. And Cara definitely didn't know that Sally had been sucking and fucking porn cocks at 50PlusMILFs.com and 60PlusMILFs.com. "I never brought it up," Sally said. "I didn't want her to think badly about me." And then, one day, Sally took a chance. "I'm a swinger," Sally told Cara. "So am I," Cara said. "I've had sex on-camera," Sally said.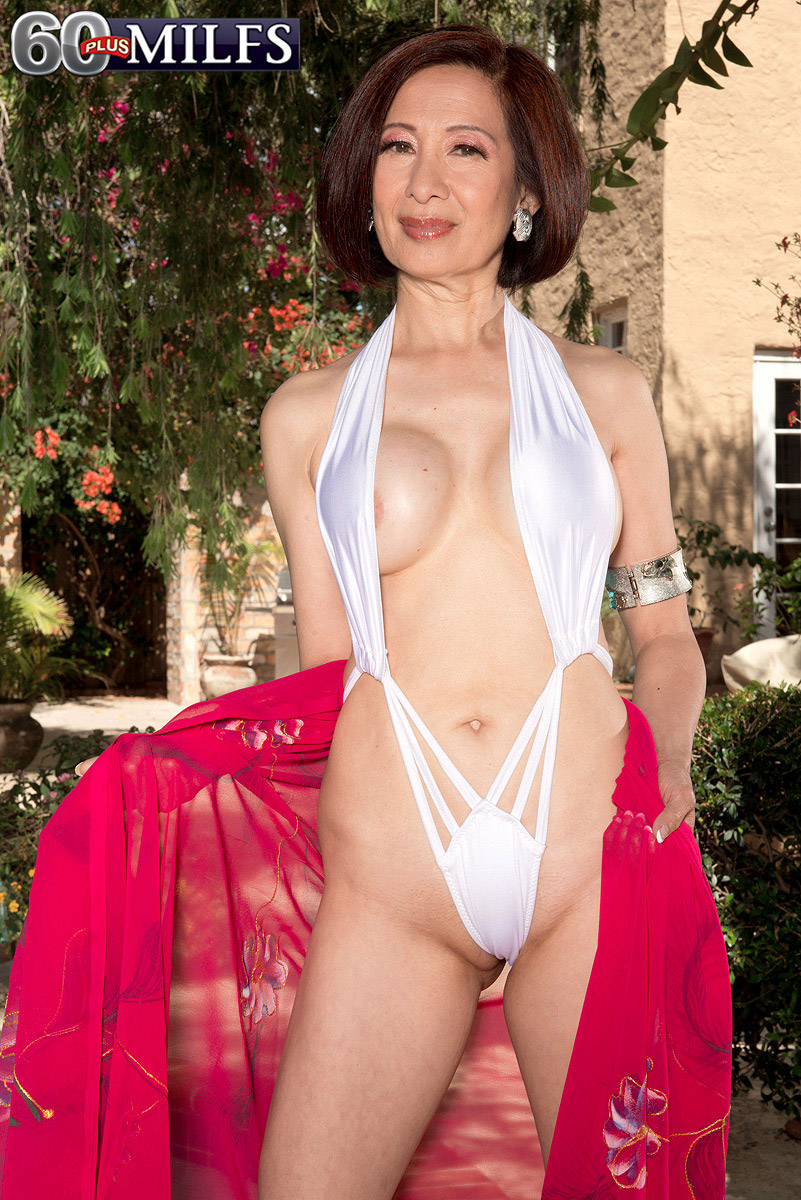 Kim Anh - Kim Anh, a 61-year-old wife from Thailand and our first Asian MILF at 60PlusMILFs.com, has already taken one hard cock up her tight little asshole for our viewing pleasure. And here, in her fourth scene at 60PlusMILFs.com, Kim is going to take two cocks up her ass, one at a time. Those cocks are also going to fuck her mouth and pussy. And they're going to cum on her face. "I was so hot for them, especially when they put their hard cocks in my asshole," Kim said after the scene. "My whole face is still vibrating." Kim told us that when a guy fucks her ass, she can feel it on her G-spot, so it's as if she's getting her ass and pussy fucked at the same time. Here, when Kim is getting her ass fucked, she's also sucking the other guy's cock, so it's as if she's getting her mouth, pussy and asshole fucked at the same time. "I felt so comfortable and warm," Kim said. She probably felt even warmer when her face was dripping with ass-induced cum. Welcome back, Kim.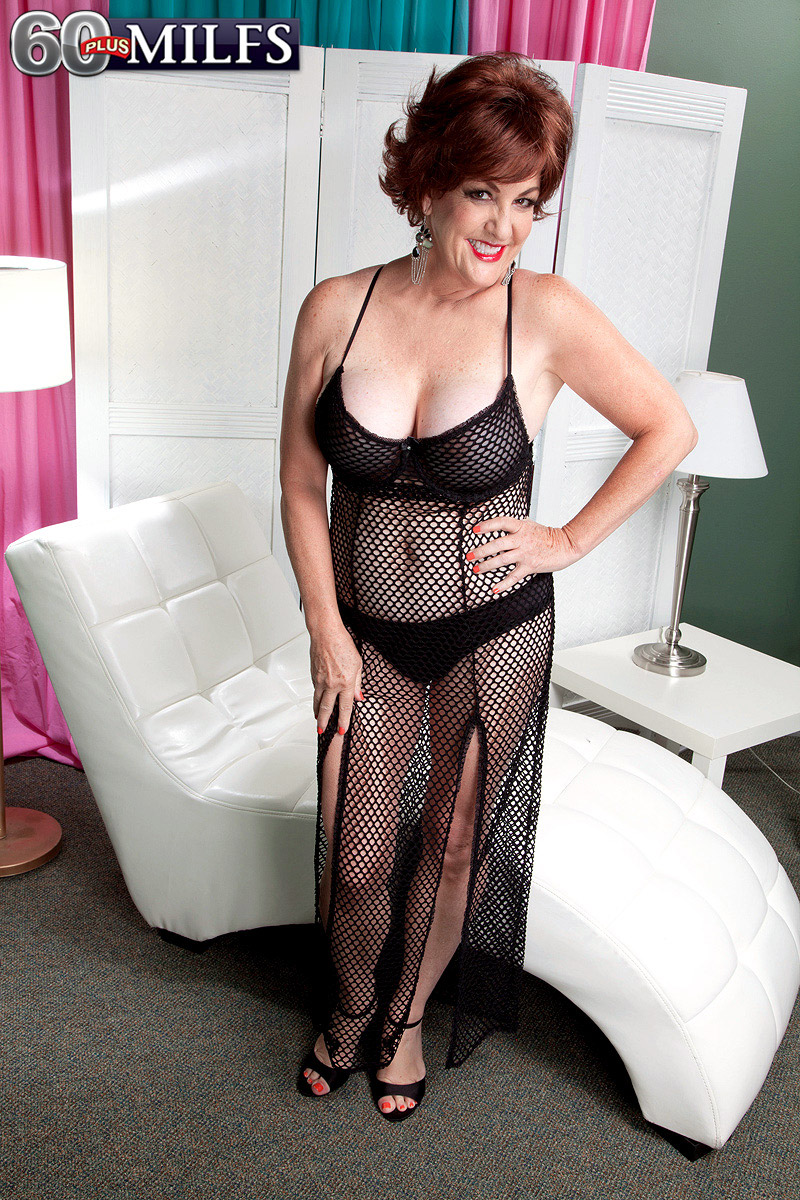 Gabriella LaMay - Gabriella LaMay, a 60-year-old mother and grandmother from Kansas, joins us here at 60PlusMILFs.com, and she's not wearing much when this scene opens, just a fishnet nightgown that barely covers her DD-cup tits and womanly curves. She's obviously very horny. She runs her hands all over her big tits. She wants cock.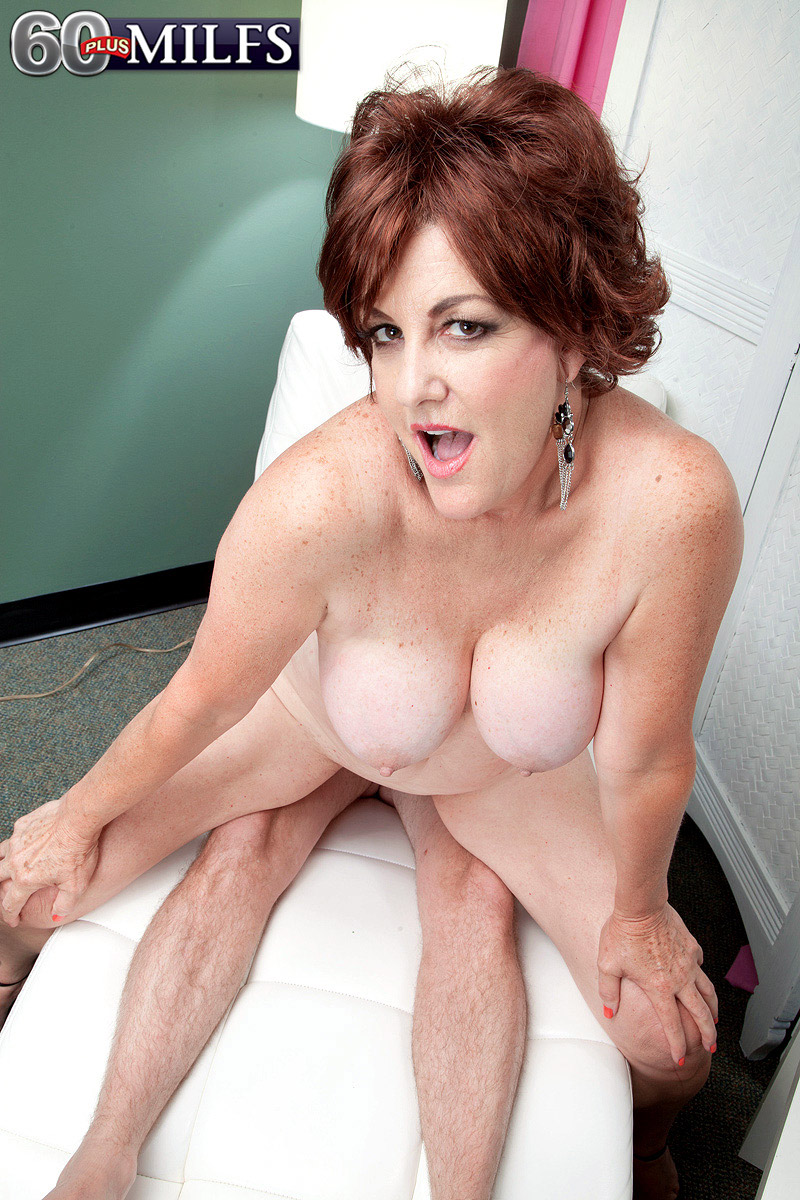 Gabriella LaMay - Before she came to the 60PlusMILFs.com studio, Gabriella LaMay's favorite job was as a bank teller. Now, we like to say that having sex for 60PlusMILFs.com isn't a job. It's an adventure. And, sure, Gabriella got paid for her first-ever professional modeling gig. But for her, that was secondary to getting fucked by young porn cock and eating cum on-camera. The woman is horny. Redheads tend to be that way. She's a 60-year-old granny and divorcee from Kansas who has a big pair of DD-cup tits. She talks dirty (as you'll find out in her video) and loves cock. Gabriella, what do you want to do that you've never done before? "This!" she said.
Luna Azul - We asked 63-year-old GILF and divorcee Luna Azul what makes her horny, and she said, "Being near a luscious, hard cock."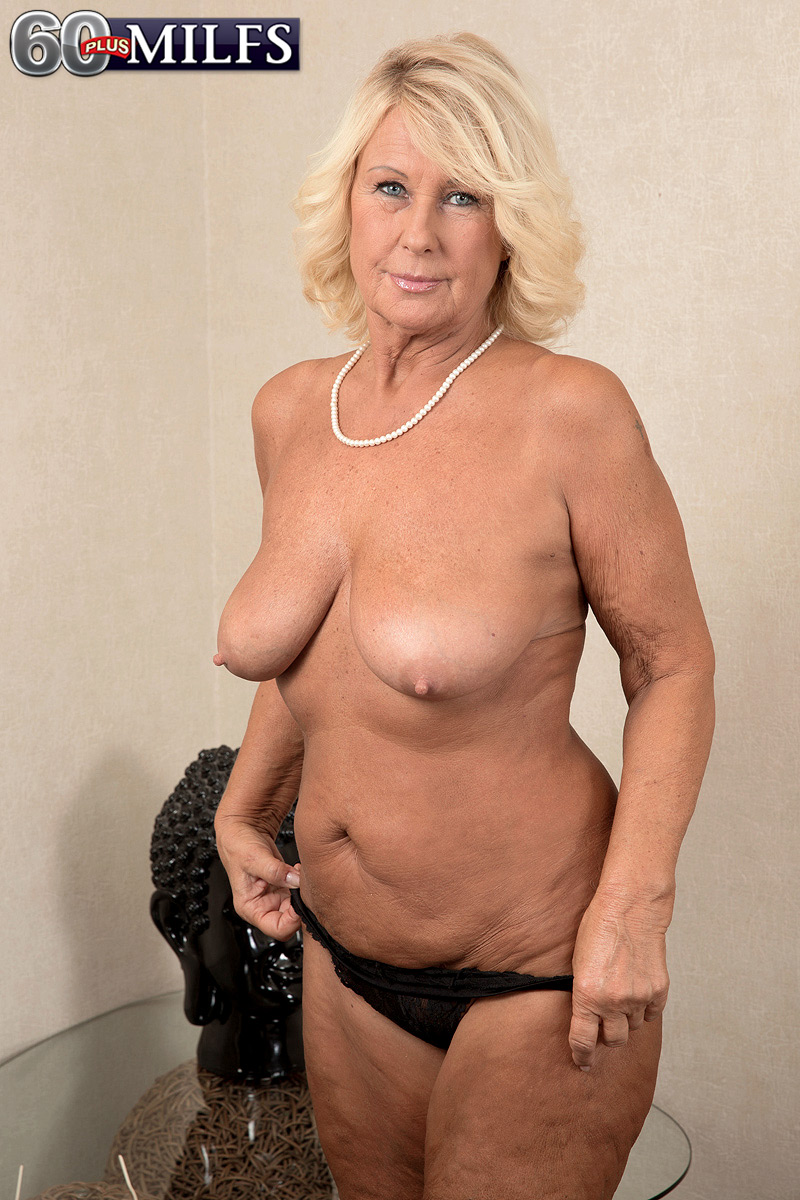 Regi - The first time Regi fucked at 60PlusMILFs.com, after the guy had blown his load all over her pretty face, she said, "That was fun! Next time, I want to do a creampie!" Well, who are we to say no when a sexy GILF asks to have a stud cum inside her old pussy? We didn't say no, and here's 62-year-old Regi in her second scene, sucking cock and fucking and yes, getting a creampie. She's obviously happy about it. As the cum drains out of her pussy, Regi has a big smile on her face. "I love when men cum in my pussy!" Regi told us through a translator (she's from the Czech Republic). Blond and busty, Regi strips out of her button-down shirt and skirt and lies face-down on the massage table, totally naked. For some reason, the masseur shows up wearing just a towel around his waist, and that's fine with Regi because when he pours oil on her back and starts rubbing it in, she gets rid of that towel and starts sucking his cock. Maybe that's why he was wearing just a towel.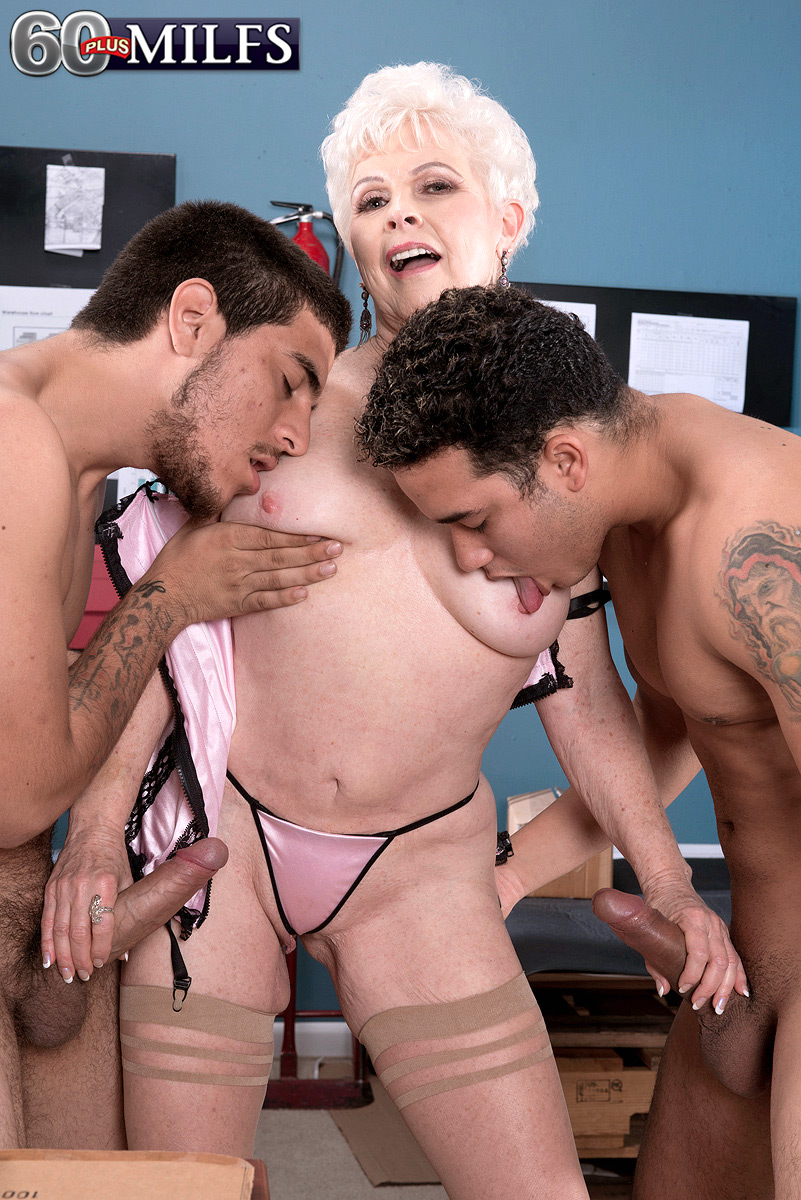 Jewel - She practically swallows James' cock and is so focused on the sucking that she doesn't realize Rocky's watching until Rocky tips over a box by mistake.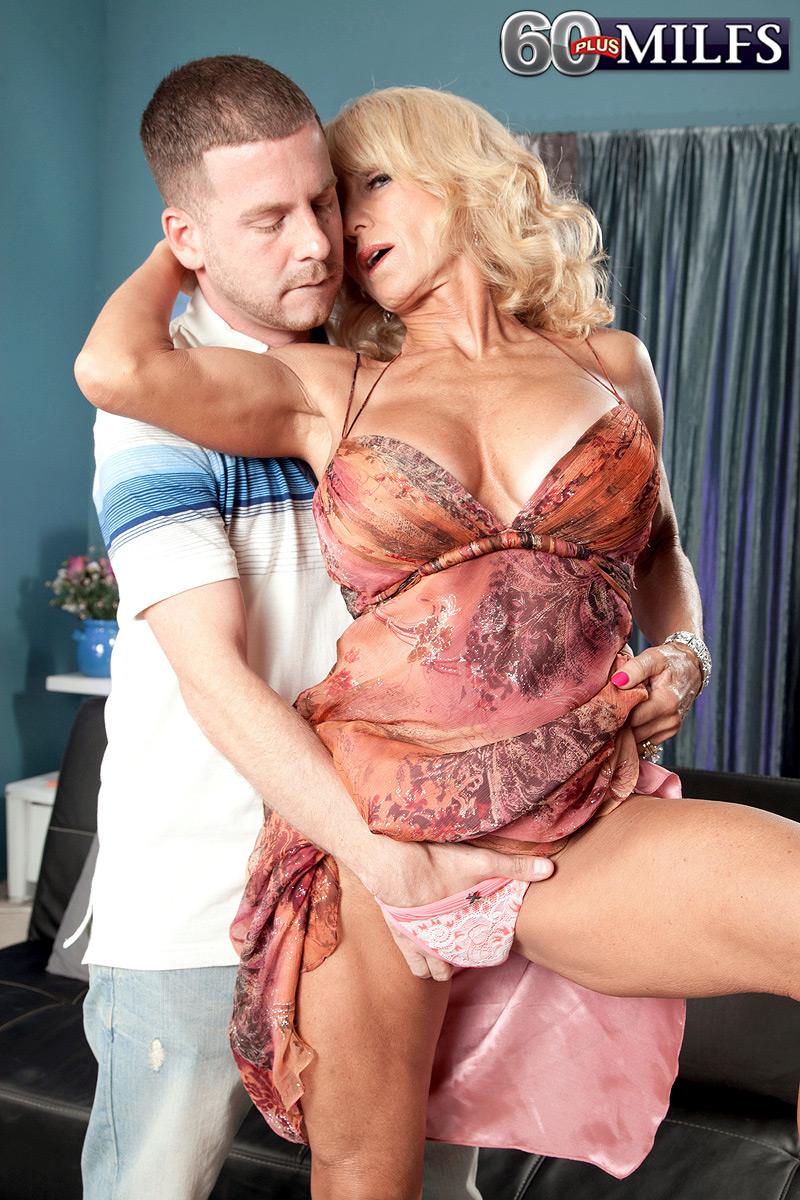 Cara Reid - "I lived a very sheltered life until 15 years ago, when I met my second husband," Cara said. "A Southern upbringing with Bible, church, things like that. As I grew up, I could feel things inside, but society says, 'Ladies don't do those kinds of things.' I was raised like that."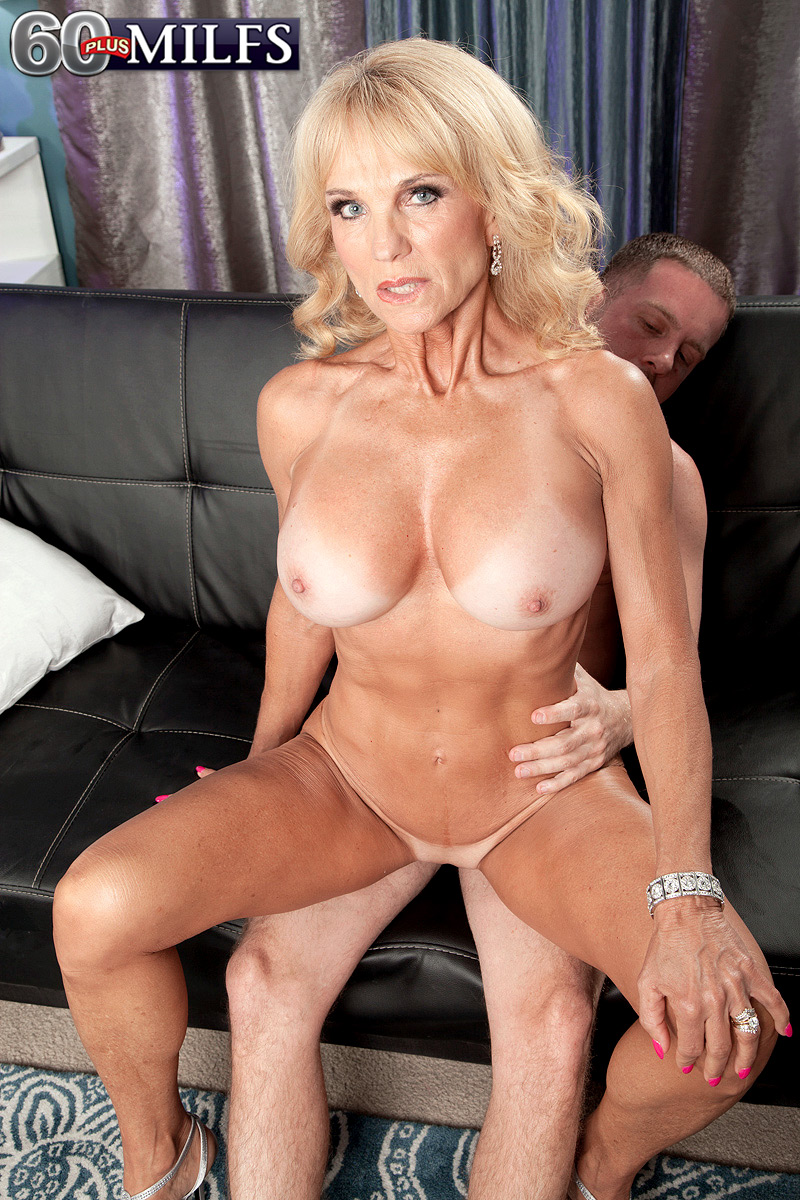 Cara Reid - Looking beautiful and fit to fuck, as usual, 61-year-old Cara Reid takes on some young cock for the second time at 60PlusMILFs.com. "I want you to pound me so hard," Cara says. "And I want you to pull that cock out and I want to taste my pussy juice on your cock. Oh, my pussy is getting so wet thinking about it." Married and living in Texas, sweet-talking Cara came to us by way of Sally D'Angelo, and we're pleased to announce that it's only a matter of time before you'll see Sally and Cara sharing a cock at 60PlusMILFs.com. But that's a story for another day. Here's the story for today: Cara is blonde and has sexy tan lines and big, fake tits. They're DD-cups. When Tony cums on her face, she smiles. You have to love a woman who smiles when she has cum all over her face. Tony, the guy who does the honors in this scene, is 34 years old.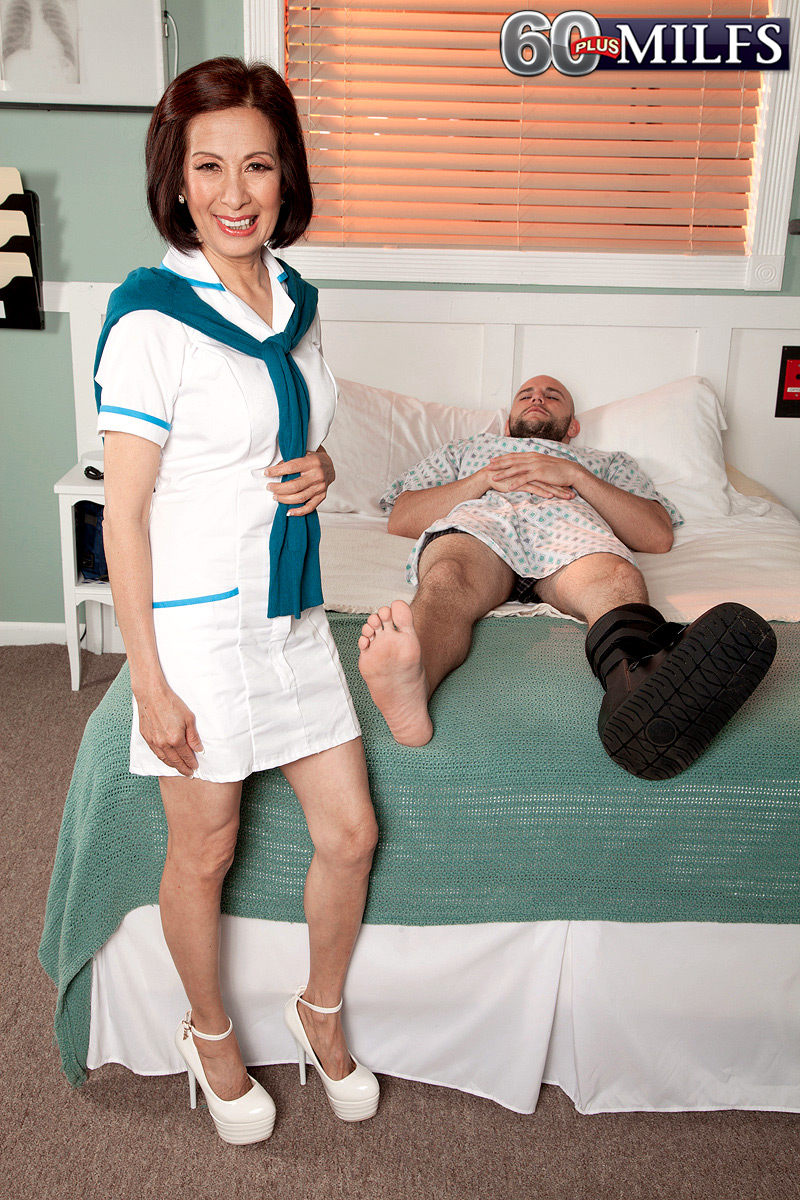 Kim Anh - In her return to 60PlusMILFs.com, 61-year-old Asian hottie Kim Anh is JMac's nurse. Seems like he has a broken foot, so she sits down to attend to it and notices that he's tenting his nightgown. She can't cure his broken foot but she can do something about his rock-hard dick, namely suck and fuck it and then take his cum into her mouth and play with his sticky stuff. Nurse! "I've always been adventurous," Kim said. "I always tried to move above and beyond my comfort zone. That's how I like to live." Here, Kim moves outside the comfort zone by taking on a huge cock. It seems even bigger because Kim is only five-feet tall and weighs 92 pounds. Born in Bangkok, Thailand, Kim now lives in the Midwest United states with her husband. Lucky guy. "I watched my first two scenes with my husband," Kim said.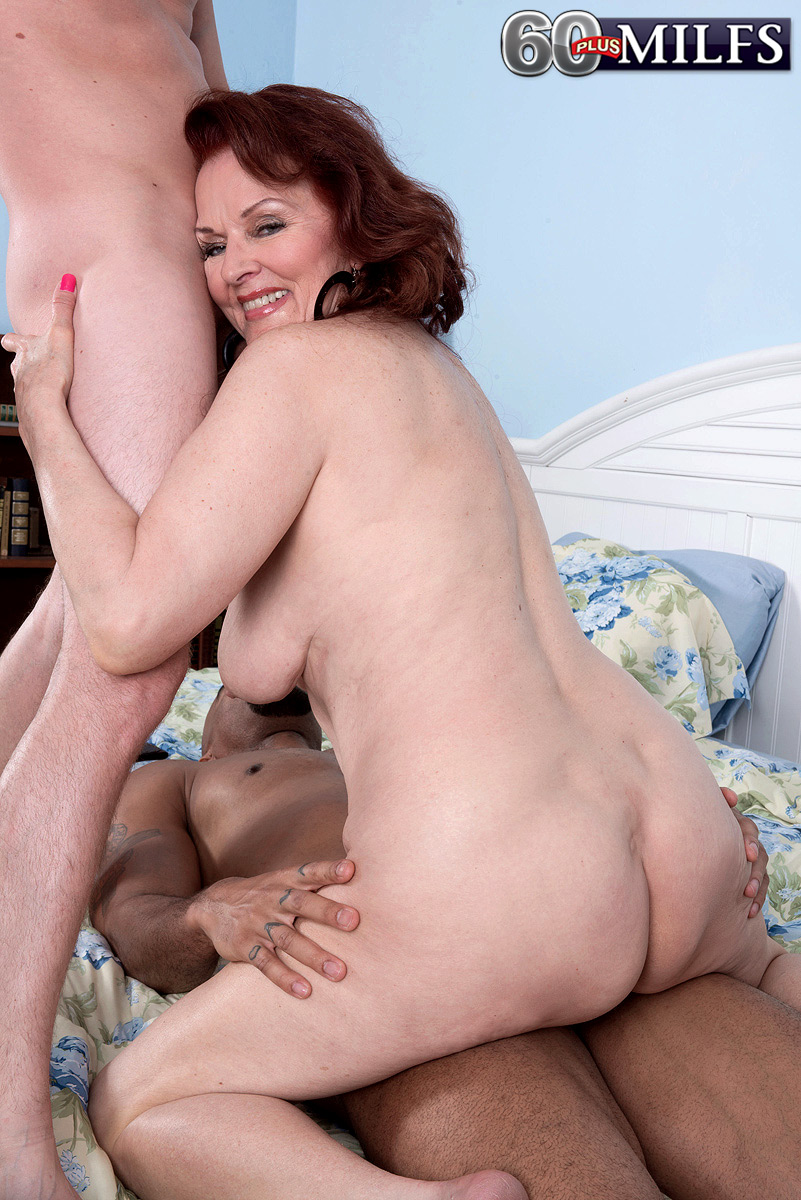 Katherine Merlot - Katherine has a room for rent, and Asante and Tony are there to see her house. The problem is, there are two guys and one room, and even worse, the room has bunk beds. But Tony isn't really checking out the room. He's checking out Katherine's big tits.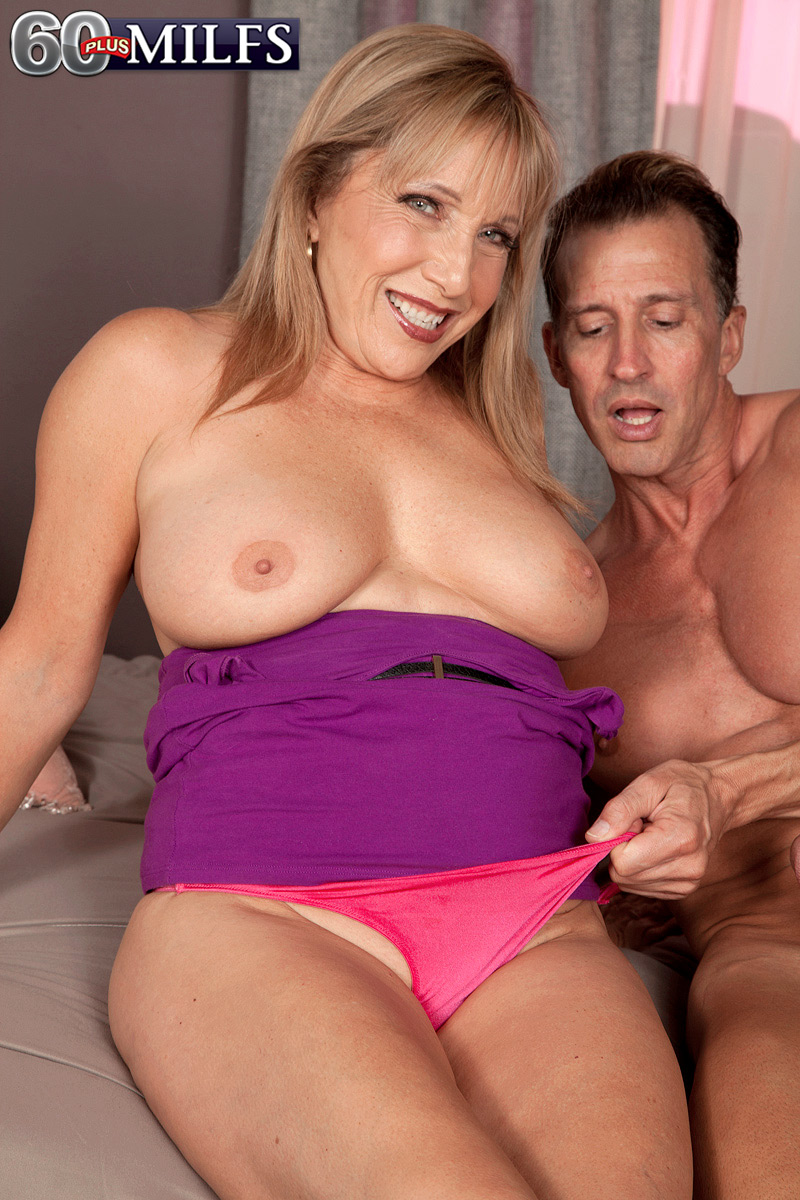 Luna Azul - If you have neighbors or thin walls, you might want to turn the volume down on your computer or TV while watching this scene. Luna Azul, one of our favorites, is back, and she's super-horny and super-loud. In fact, we can think of only one other scene at 60PlusMILFs.com in which a MILF was so loud while getting fucked: Georgette Parks' scene with Lucas Stone. Luna, who's 62 now but will be 63 on May 18, starts by telling us how horny she is. Then she takes Tony's dick deep into her mouth and makes loud noises while slurping on it. Then Tony finger-bangs Luna, who has her first orgasm of the scene. More orgasms follow as Tony fucks Grandma Luna every which way, filling her old cunt with his curved cock and igniting her G-spot.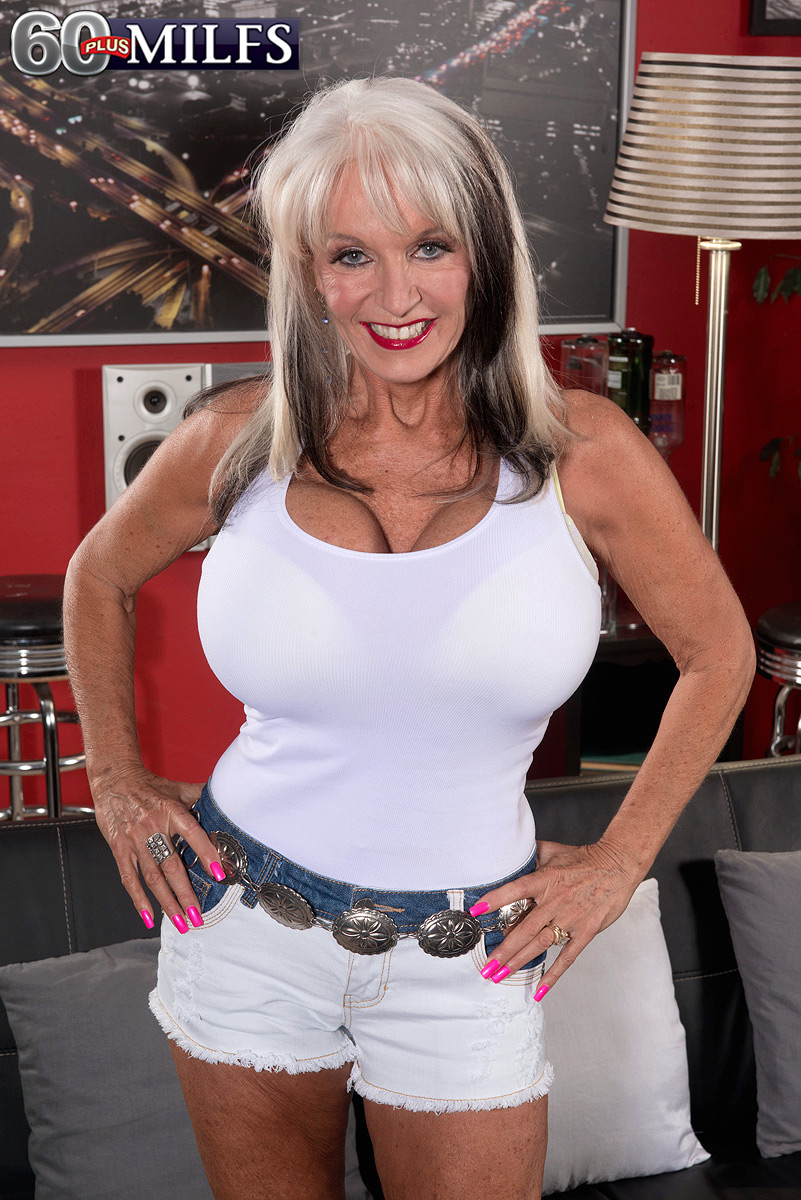 Sally D'Angelo - What does it mean when Rocky slides his finger in Sally D'Angelo's tight asshole in photo no. 30 of this set? And then keeps his finger firmly inserted in her butthole for six more photos? It means Sally is finally going to get ass-fucked on-camera! That's right! In her fifth fuck scene, this just-turned-60-year-old wife, mother, grandmother and all-around cock lover is going to take a cock up her ass. Not that we're surprised. After all, Sally has been spending a lot of time with Rita Daniels, and Rita has taken it up her ass every which way for our cameras. Rita and Sally even had a three-way, and you had to figure Sally was not about to allow herself to get one-upped-her-ass by Rita much longer. "I've had anal sex with my hubby and with my hubby in my ass and another guy in my pussy," Sally said. "That was hot, but I had to have a few drinks to get there!" She didn't need a few drinks this time. She was ready to get ass-fucked the second she walked into our studio. And did she enjoy it? Well, we didn't ask her. We didn't have to.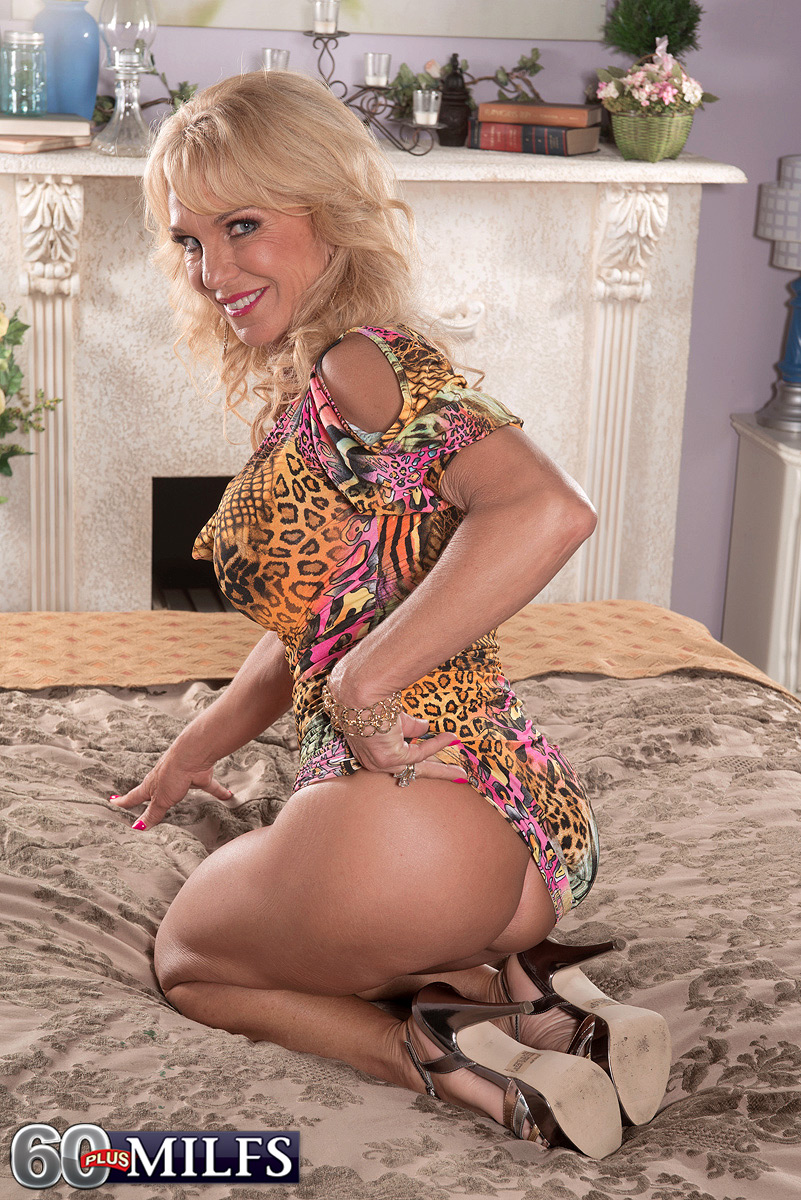 Cara Reid - Once upon a time, a woman named Cara was friends with a woman named Sally. They were both biker chicks--meaning they and their husbands liked to ride motorcycles--and they met through a website where bikers found other bikers to ride with. "My husband and I live in Texas, but we come over this way every once in a while on vacation," Cara said, "this way" meaning South Florida. That's where Sally and Cara and their husbands would go riding. Well, in addition to being bikers, Sally and Cara were also swingers, but Sally didn't know that Cara was a swinger and Cara didn't know that Sally was a swinger. And what Cara really didn't know--and Sally took pains to keep secret--was that Sally had sucked and fucked on-camera for 50PlusMILFs.com and 60PlusMILFs.com. You see, Sally is Sally D'Angelo. MILF/GILF extraordinaire. Wife who loves to fuck studs while her husband watches. But how was Sally to know that Cara's husband also enjoyed watching his wife having sex with other men? Sally and Cara were biker friends, and that was that.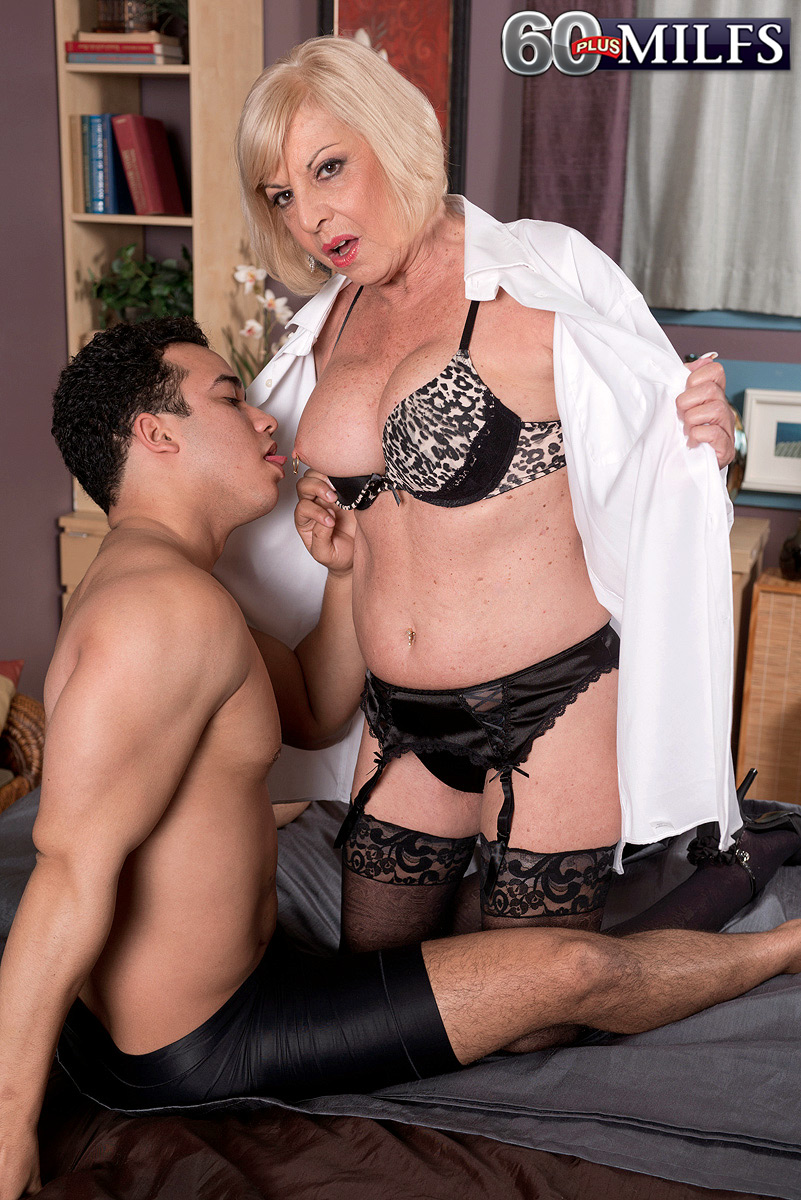 Scarlet Andrews - In her return to 60PlusMILFs.com, 65-year-old wife Scarlet Andrews sucks and rides 25-year-old Rocky's cock and invites him to blast his load all over her old face. Rocky accepts the invitation, and Scarlet, her pretty faced glazed with cum, smiles for the camera. All's well that ends with a facial! In her first scene at 60PlusMILFs.com, Scarlet fucked a guy right in front of her husband. In her second scene, Scarlet and 50PlusMILF Jenna Covelli took on two guys. Now, Scarlet is back for more. "I love having sex while my hubby watches," said Scarlet, who's wearing a sexy bra and panties, stockings and a garter. "We really enjoyed watching my first two scenes together." We enjoyed watching them, too. Scarlet told us she'd never had sex with a much-younger man. Well, Rocky is 40 years younger than Grandma Scarlet. We think this counts.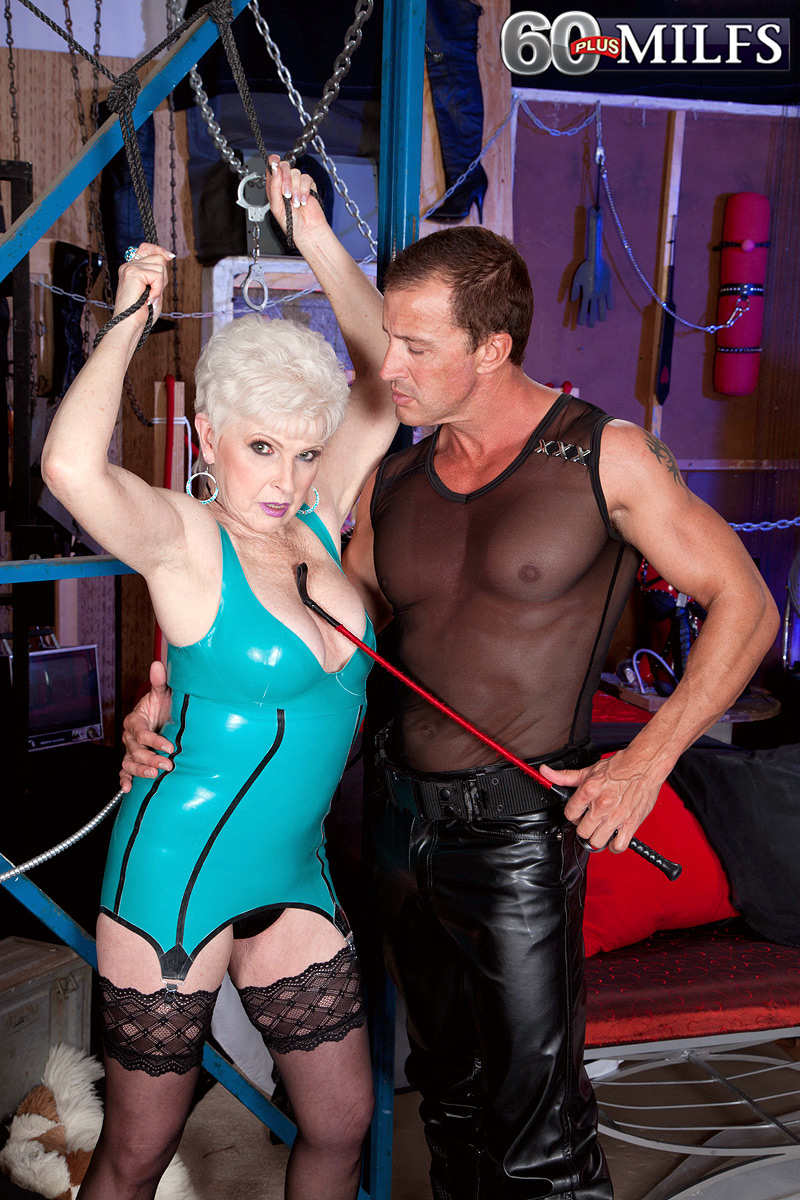 Jewel - When we asked Jewel whether she's sexually assertive or passive, she said, "I can be both. It depends upon my mood." Today, Jewel is passive, and Tony is her master. Jewel, the horniest 65-year-old wife and grandmother you're ever going to see, is looking very sexy in a blue, Latex skirt with stockings and heels. She's in Tony's dungeon, and he has a riding crop. "I understand you're a good master," Jewel says before Tony starts dominating her bare, shaved pussy. Then he feeds her his cock, and at that point, we're wondering who really is the assertive one because Jewel, as usual, does a number on his hard dick. Then Tony fucks her every which way, then he cums on her face. And so goes Jewel's ninth fuck at 60PlusMILFs.com. She's one of our most-popular ladies ever, and her popularity is showing no signs of fading. "I usually don't like having sex while people watch," Jewel said.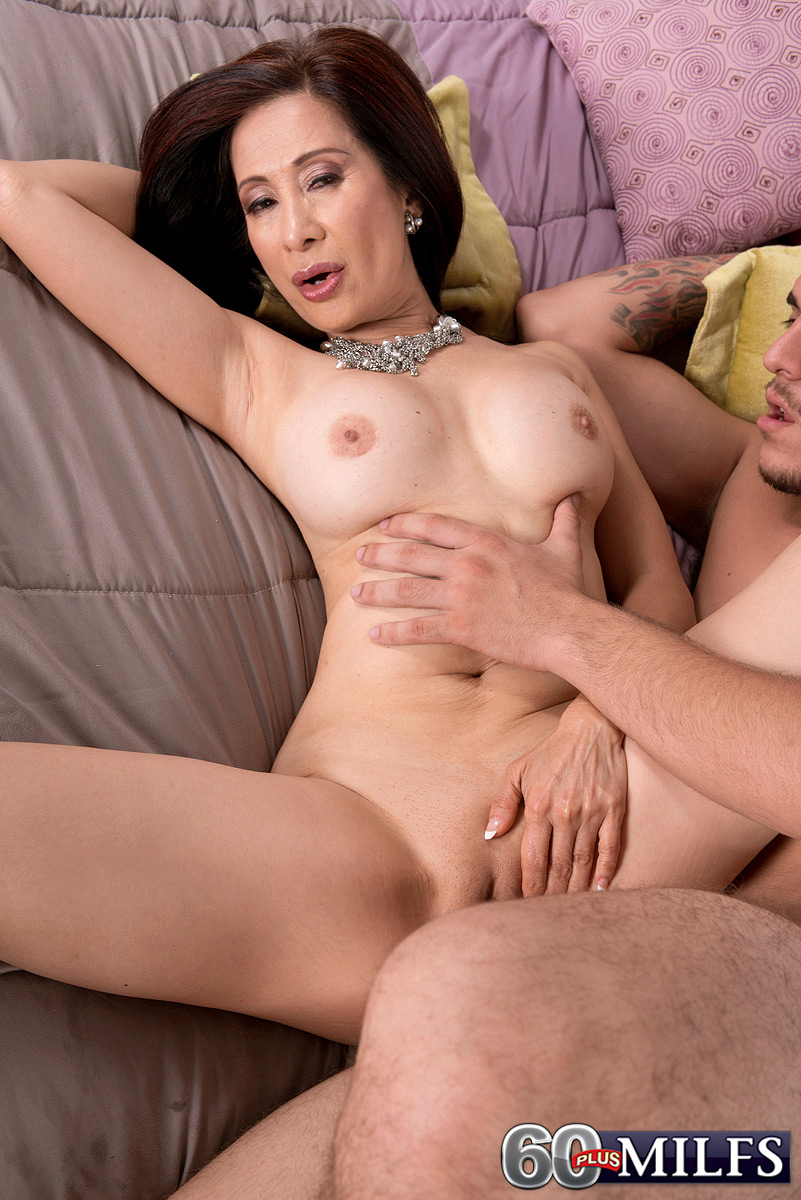 Kim Anh - When this scene opens, 61-year-old Asian wife Kim Anh is wearing a purple dress with a sheer bra. She's looking at herself in the mirror.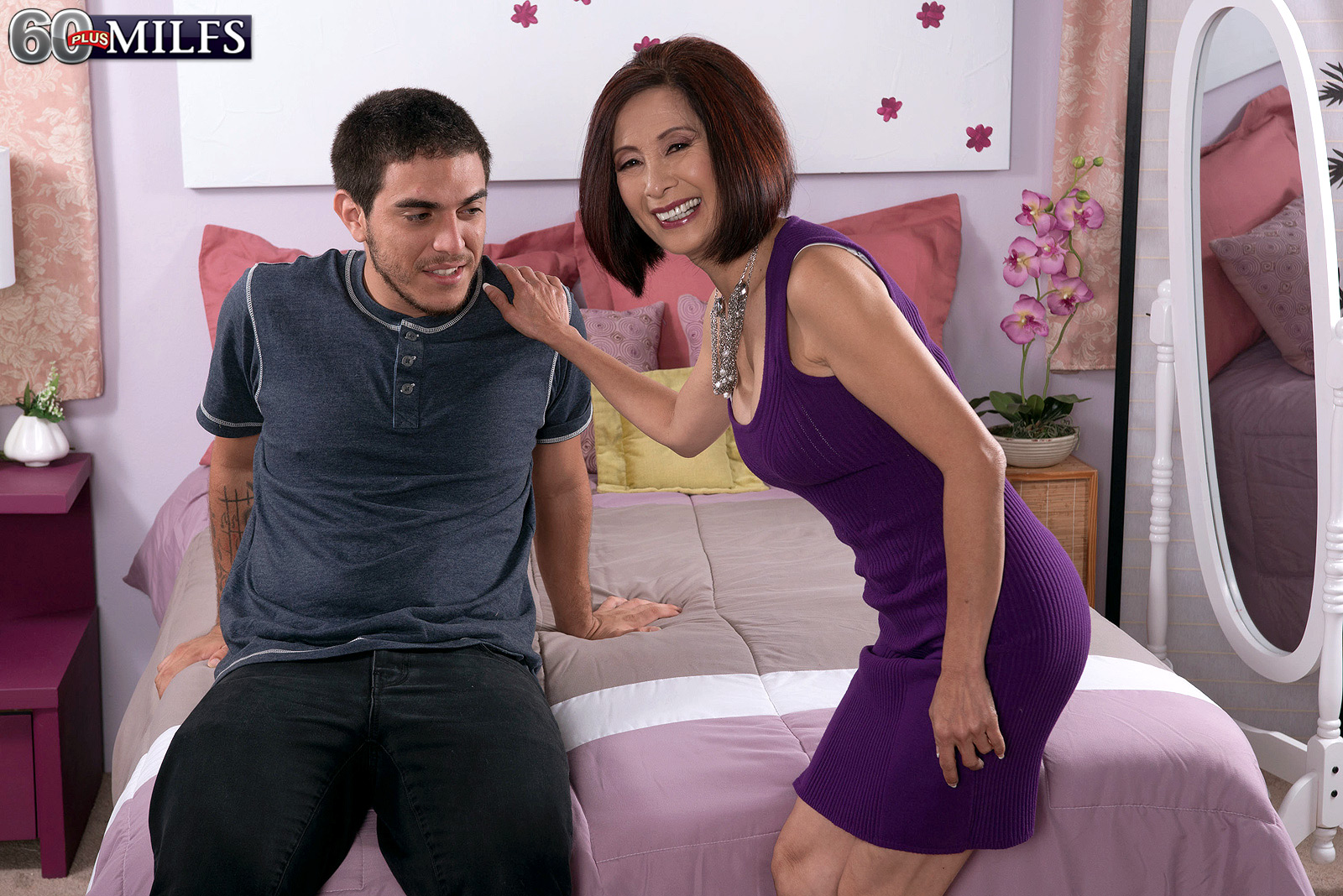 Kim Anh - When Kim Anh visited us the first time, she said, "I love when men who I know, or don't know, start putting fingers in my asshole, and then I get him hard. And from there, I will spread my cheeks and let him thrust his hard cock into my asshole. I love it!" Kim, who's 61 years old and married, was our first Asian MILF when she debuted, and she made her debut even more memorable by getting ass-fucked in her first scene. And can you guess what Kim is doing this time? She's getting ass-fucked again! And the guy starts by priming her asshole with his fingers. Why? "Because I love anal sex!" Kim said. Born in Bangkok, Thailand, now living in the midwestern United States, Kim is five-feet tall and weighs only 92 pounds, making it even more impressive that she can take such a big cock up her ass. She also has C-cup tits that she eagerly shows off. Kim came to us through Rita Daniels, one of our favorite GILFs. No surprise there. Rita has an eye for horny women, and Kim is nearly as naughty as Rita..maybe even naughtier considering that Rita didn't get ass-fucked the first time.
Want some more? Check the site.
| | | |
| --- | --- | --- |
| | Older | Newer | |