[Click on the picture to see all the samples]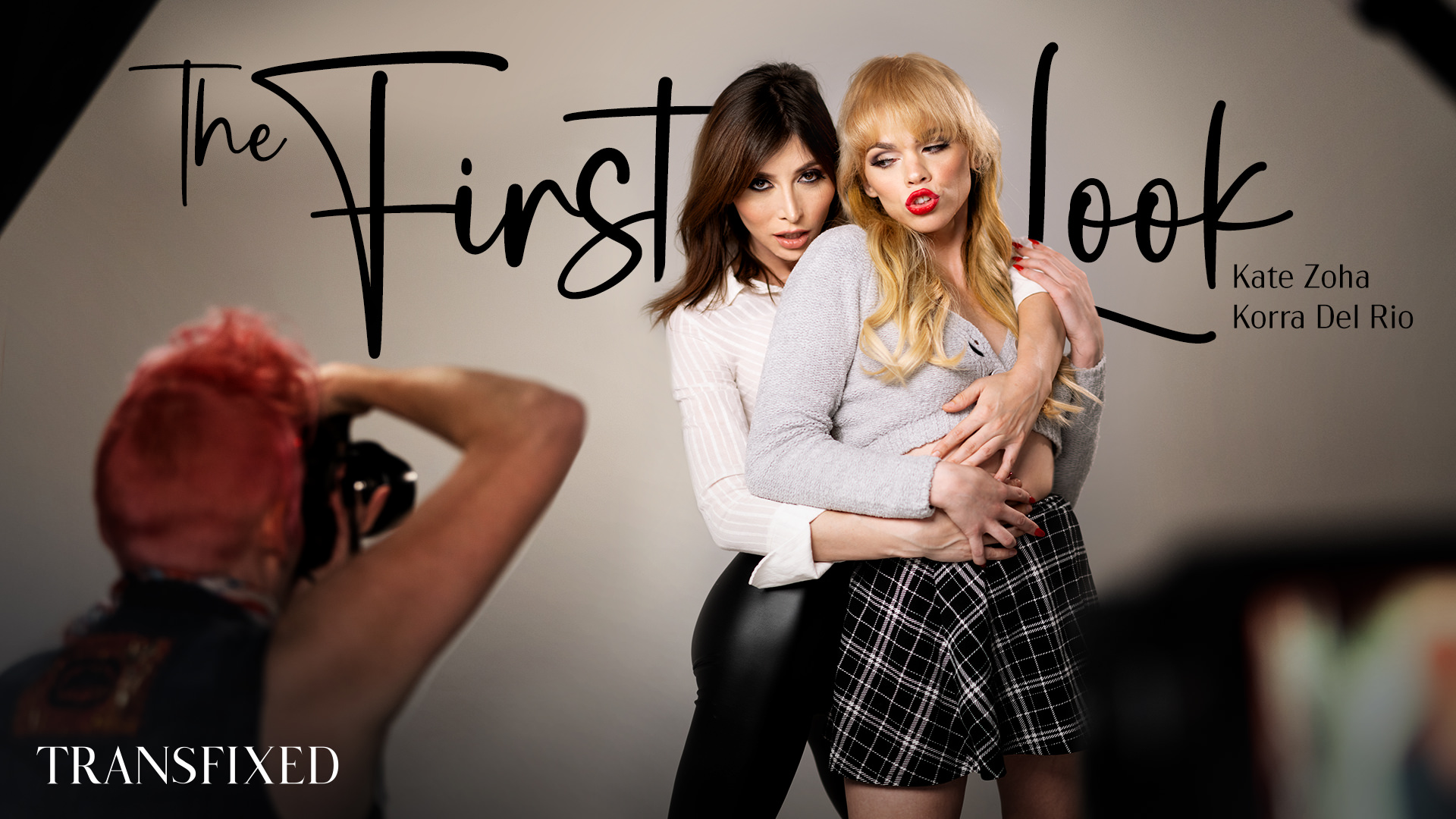 transfixed: The First Look, Scene #01: Korra Del Rio, Kate Zoha - Kate Zoha nervously enters a studio, there for her first photoshoot. Since she's late, she's immediately ushered to makeup by the photographer, where she meets the makeup artist, Korra Del Rio. Although Kate's nervous, Korra is friendly and professional as she gives Kate a quick lookover, seeing what she has to work with. Of course, as she does so, sparks fly as their eyes meet... and the air only becomes more charged once Korra works her magic!Finally, it's time for the photoshoot, and Kate shyly follows after Korra. As Kate hits the stage, she flaunts everything she has, whether she's wearing a schoolgirl-inspired skirt or a skimpy bikini. Meanwhile, Korra intently watches from the sidelines, happy to offer moral support between wardrobe changes.But the photographer is no fool and notices the sizzling chemistry between Kate and Korra. That's when she gets both of these beautiful ladies to star in an intimate shoot together, which leads to an electrifying and unforgettable encounter.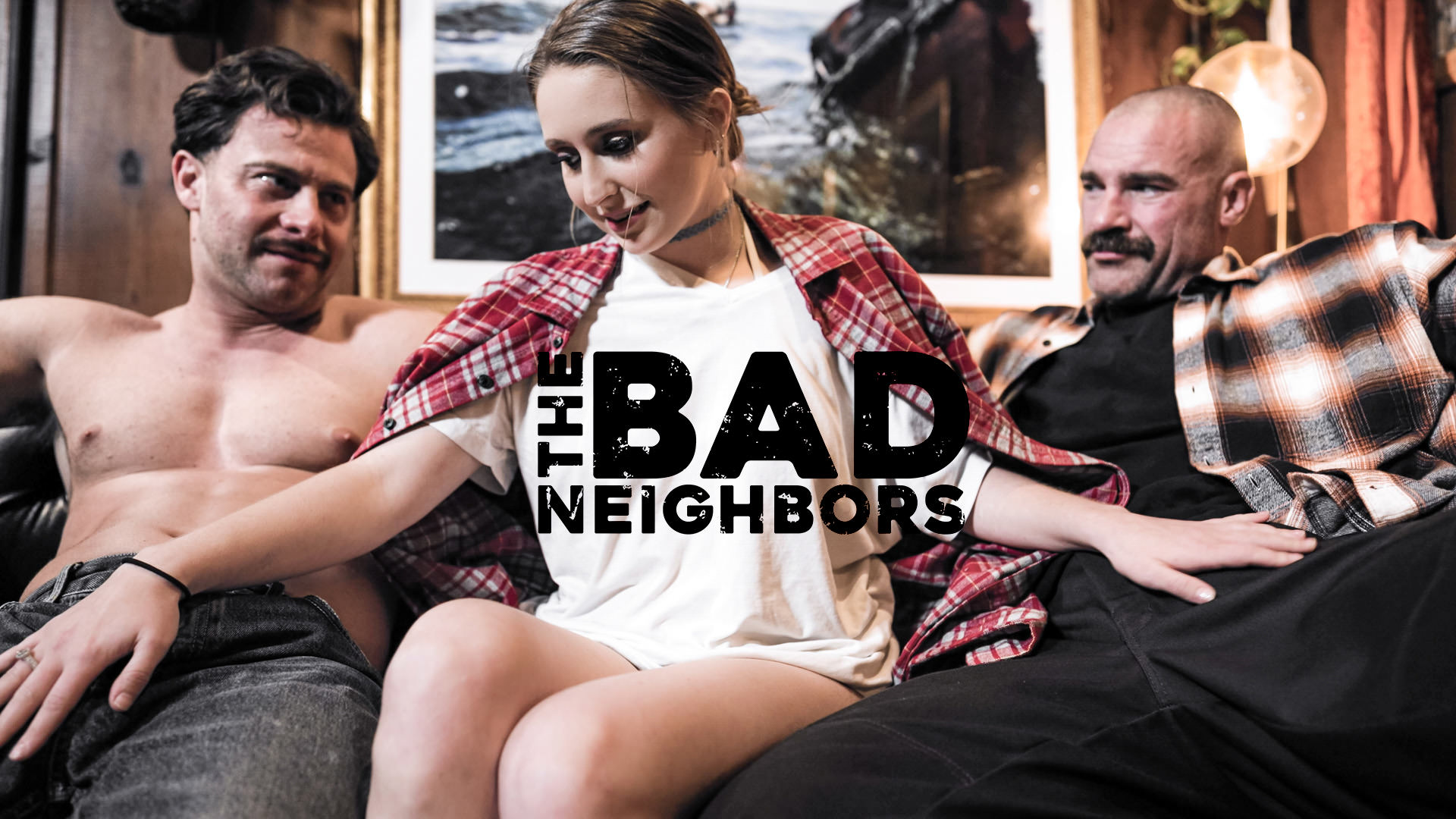 puretaboo: The Bad Neighbors, Scene #01: Laney Grey, Seth Gamble, Charles Dera - THE BAD NEIGHBORS In this prequel to THE BAD UNCLE, Crystal (Laney Grey) is swimming in a pool when it starts to rain. She jumps out and tries to get back inside her house, but realizes the doors are locked. It is revealed that she has recently moved in with one of her parents, but their relationship isn't great. The parent in question seems to have forgotten she was swimming and locked her out before leaving for work. Crystal has no choice but to go next door and see if her neighbors will let her in to wait out the storm. Dressed only in her bikini, she goes to knock and is greeted by Leon (Seth Gamble) and Joe (Charles Dera). They welcome her in to take shelter. Crystal asks for a towel but they ignore her, asking her rapid questions about her recent 18th birthday instead. Leon and Joe playfully joke that they didn't get Crystal anything for her birthday, and begin to muse about what they could potentially get for her. She can't quite put her finger on it, but Crystal is getting a strange feeling from these two men. Leon then takes off his top and puts it on Crystal so that she can be warmer. She sits between them on the couch and Joe can't help but comment on her feet. Joe then suggests they give her a foot massage as a late birthday present. Before she has time to accept, Joe and Leon surround her, one giving her a foot-rub and the other a back-rub. The conversation quickly devolves into probing questions about her sexual history, where Joe and Leon learn that Crystal is a virgin. Crystal is overwhelmed, but when Joe mentions that his cock is hard, she appears intrigued. Joe asks her if she wants to touch it, and she does. Soon enough, Crystal is holding both their cocks in her hands, lustily stroking them. Leon and Joe know full-well that this little virgin has fallen right into their trap. They have an intense threesome together- one that Crystal will never forget.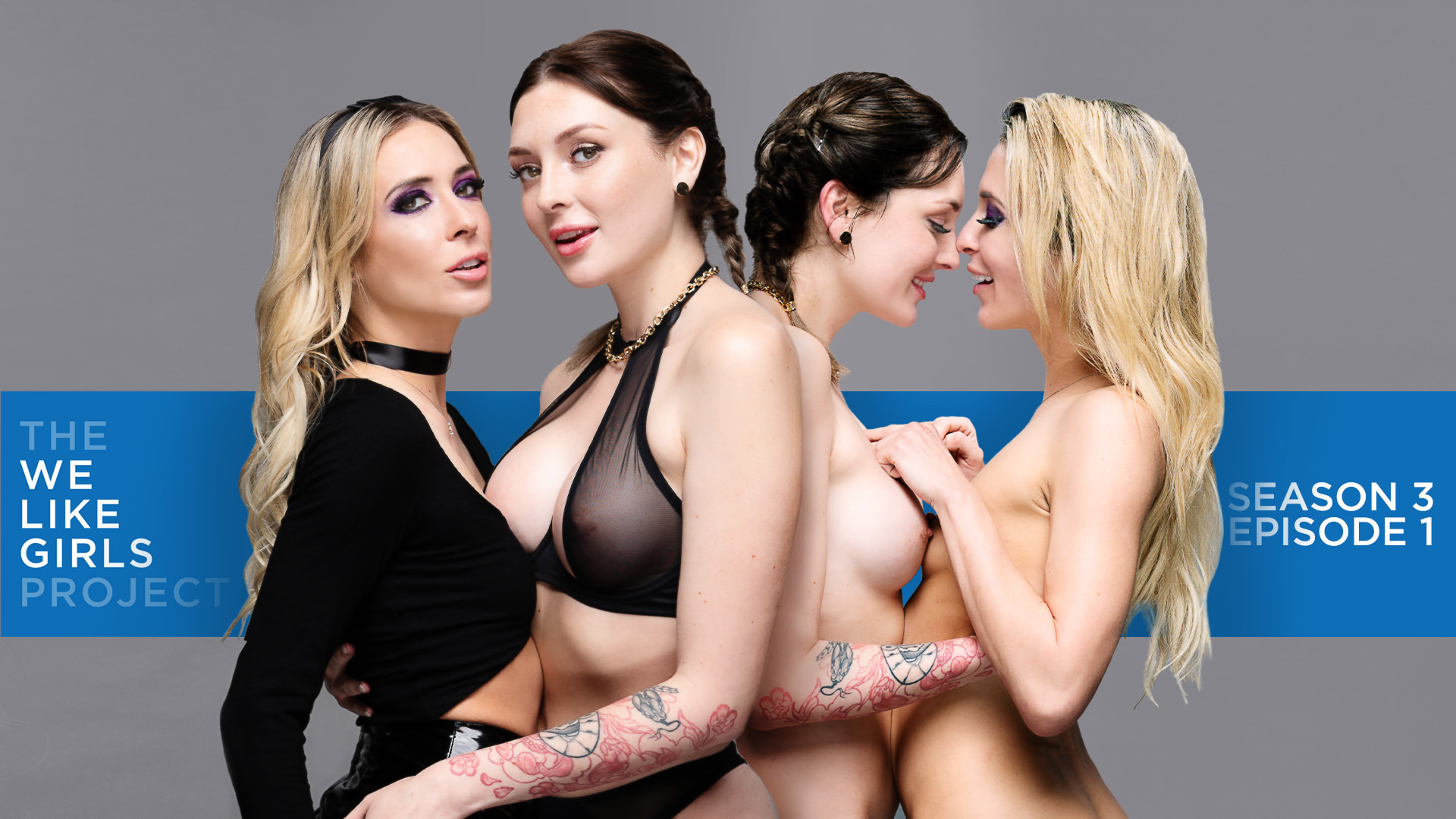 welikegirls: We Like Girls - Charlotte & Aiden, Scene #01: Aiden Ashley, Charlotte Sins - This past year, I got the opportunity to direct two amazing women for the first time: Charlotte Sins and Aiden Ashley. They were for separate projects, but I was really impressed by each of them... and for similar reasons: they were both kick-ass, professional, good actors, great sex performers, and very genuinely like other women.When I was on set with Charlotte, I heard her telling a co-star about how much she craved authentic lesbian sex scenes and, naturally, that piqued my curiosity. So I told her about WLG and asked who she would want to pair with if she had the chance. In the end, I received an email proposal about Aiden Ashley and, while I could paraphrase it, it's better to just read it in full:'Before I had fully entered the industry I was sporadically camming but started to take notice of certain performers via twitter. I don't remember what scene I first noticed Aiden but she certainly left an impression. She was cute but dominant and clearly attracted to women which is (as you know) difficult to find in GG scenes. So often GG performers over-act but severely lack any passion. With Aiden it's all passion, all of her energy is directed at her partner. Once I joined the industry, it seemed anytime I heard Aiden's name it was accompanied by how she was a bad-ass, take no shit bitch who loved women! Time and time again I've heard from directors and performers alike that she is an amazing performer and fascinating woman. I could go on about how absolutely sexy I find her, her feminine exterior and dominant presence on camera is enough to make me melt. Personally, it takes a lot more than looks to intrigue me. I hardly know anything about Aiden beyond what I've seen on screen and this mystique definitely plays a role in why I find her so intimidatingly sexy. But I'm excited and eager to find out for myself what turns her on, what makes her moan and most importantly what makes her cum!'The We Like Girls project is back everyone... and I'm pretty sure it's going to be a good one!- Bree Mills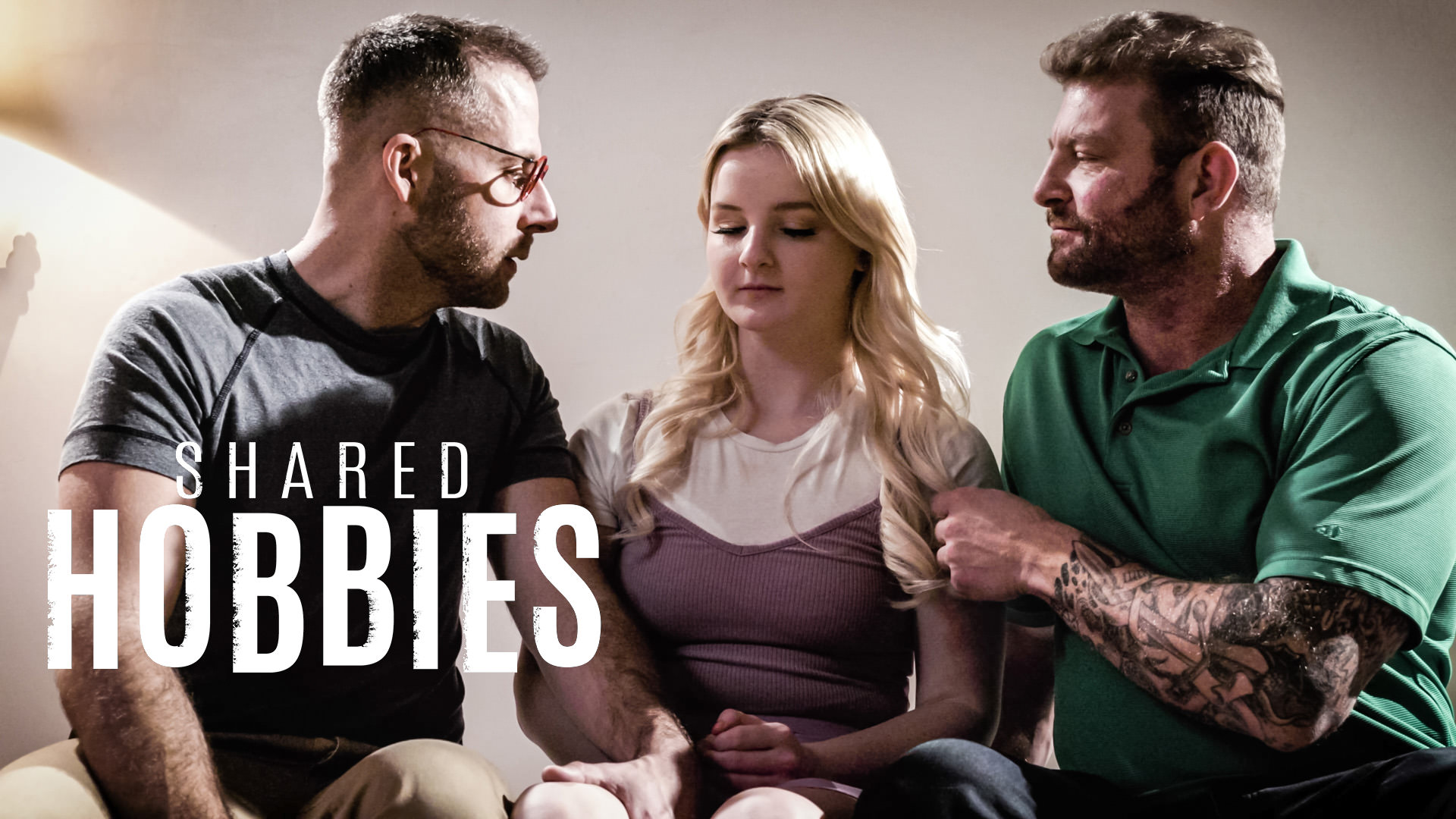 puretaboo: Shared Hobbies, Scene #01: Eliza Eves, Joel Someone, Colby Jansen - Lindsay (Eliza Eves) rings the doorbell of a home, where she is greeted by Sal Baxter (Colby Jansen), Lindsay's neighbor. They have never met before and Sal, while seemingly normal, is somewhat of a recluse. But this doesn't worry Lindsay as she cheerfully announces that she's there to get pledges for an upcoming charity event. That's when Ed Hoskins (Joel Someone), another man who lives with Sal, comes to the door and introduces himself to Lindsay. He is much more approachable and smooth as he invites Lindsay in to talk about her charity. Lindsay agrees and cheerfully steps inside, though when her back is turned, there are hints that Sal and Ed are hiding something dark...Ed and Sal lead Lindsay deeper into the house towards a dim room. There are more and more hints that Sal and Ed's intentions for Lindsay are less than pure. While Lindsay is a bit nervous, she's also intrigued by the change of atmosphere. There is something electric about the air that's undeniable.As she tries to focus and talk about her charity, Ed and Sal sit on either side of her, keeping close. As they chat, she questions if the men are husbands, but they cryptically insist that they are just two men with similar interests... And right now, they are both interested in HER.While Lindsay is initially surprised and hesitant, there's something about having the attention of not one but TWO older men that awakens something deep inside her...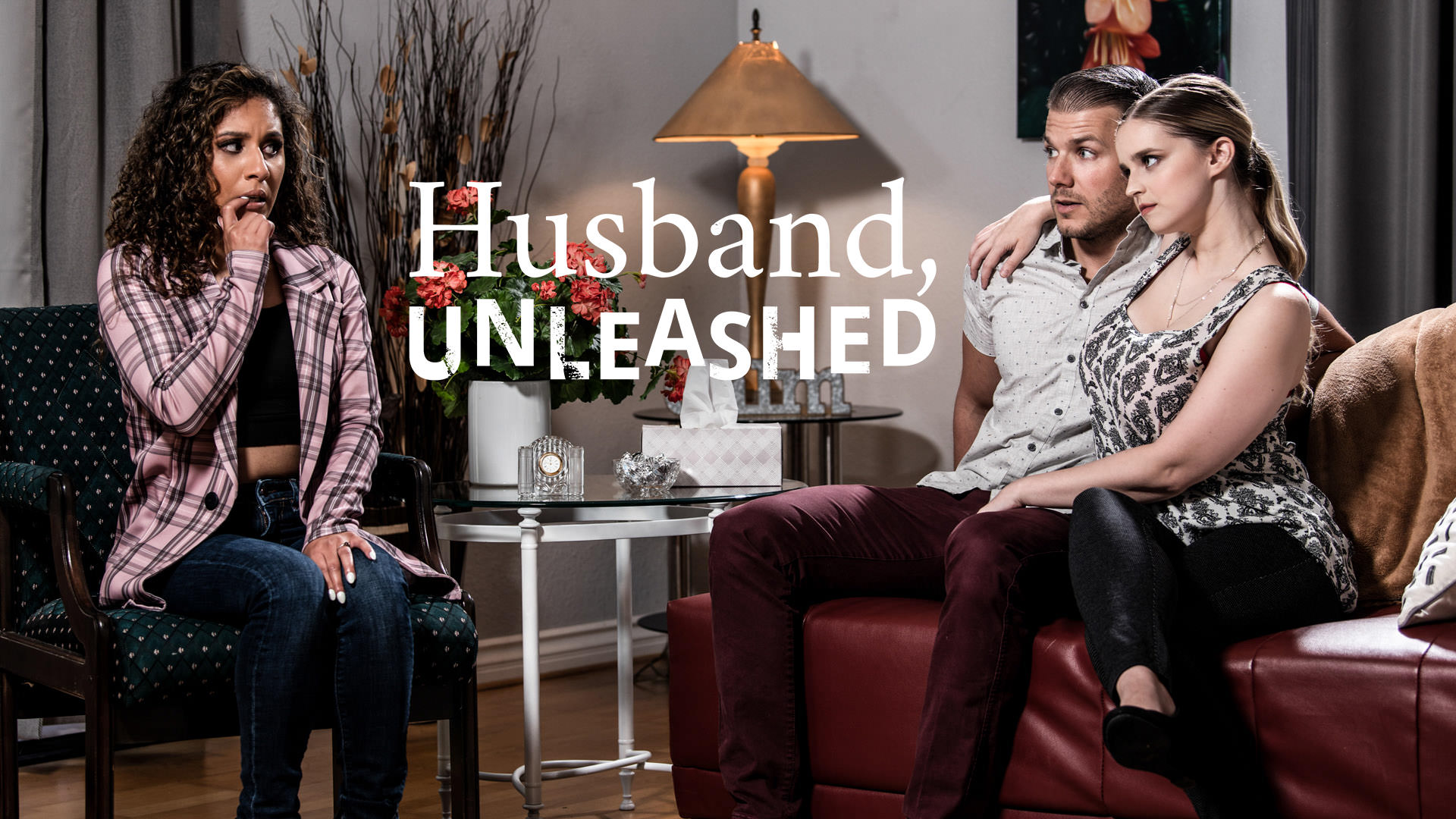 puretaboo: Husband, Unleashed, Scene #01: Codi Vore, Codey Steele - HUSBAND, UNLEASHEDSCENE OPENS on Harry (Codey Steele) and his wife Meryl (Liv Revamped) getting ready for bed. Meryl cuddles up to him, thanking him for a wonderful dinner. Hinting that sex would be the perfect way to end the day, Meryl starts to initiate foreplay with Harry. After a few moments, however, their intimacy fizzles out, mainly due to Harry being awkward and meek. It is revealed that Harry isn't assertive enough for Meryl, and this has been an ongoing problem for them. She appreciates every other aspect of their relationship, but this one missing component is driving her nuts. Out of options, Meryl suggests they get marriage counseling to help solve the issue. Though Harry is initially reluctant, he ultimately agrees. Meryl is thrilled, convinced that this may indeed turn Harry into the perfect husband. CUT TO TITLEA few weeks later, Harry and Meryl are greeted by their new marriage counselor, Dr. Greene (Codi Vore). They explain their situation and then answer some questions from Dr. Greene. As they discuss, it becomes clear that Harry puts his needs behind his wife's- maybe a little too much. Dr. Greene seems to sympathize with him, and there are subtle hints that she even finds him quite attractive. At one point, Dr. Greene has heard enough. She states that the real problem with their relationship is not Harry who is too meek, but Meryl who is too controlling. She's not letting Harry be himself and wants him to do everything the way SHE likes it. Harry, for the first time, shows a bit of confidence and agrees with Dr. Greene. Meryl is shocked, but has trouble denying the truth. Dr. Greene says that for their situation to get better, Meryl has to let harry 'unleash the beast'. She has to let him do something WILD without intervening, and Dr. Greene has the perfect idea for what that could be. She suggests that Harry fuck her, then and there, right in front of Meryl. Though Meryl and Harry are initially shocked, Dr. Greene manages to convince them that this is the right course of action. With that settled, Meryl can only watch on the sidelines as Dr. Greene guides Harry through a unique sexual experience, pushing him to go deeper than he's ever been before.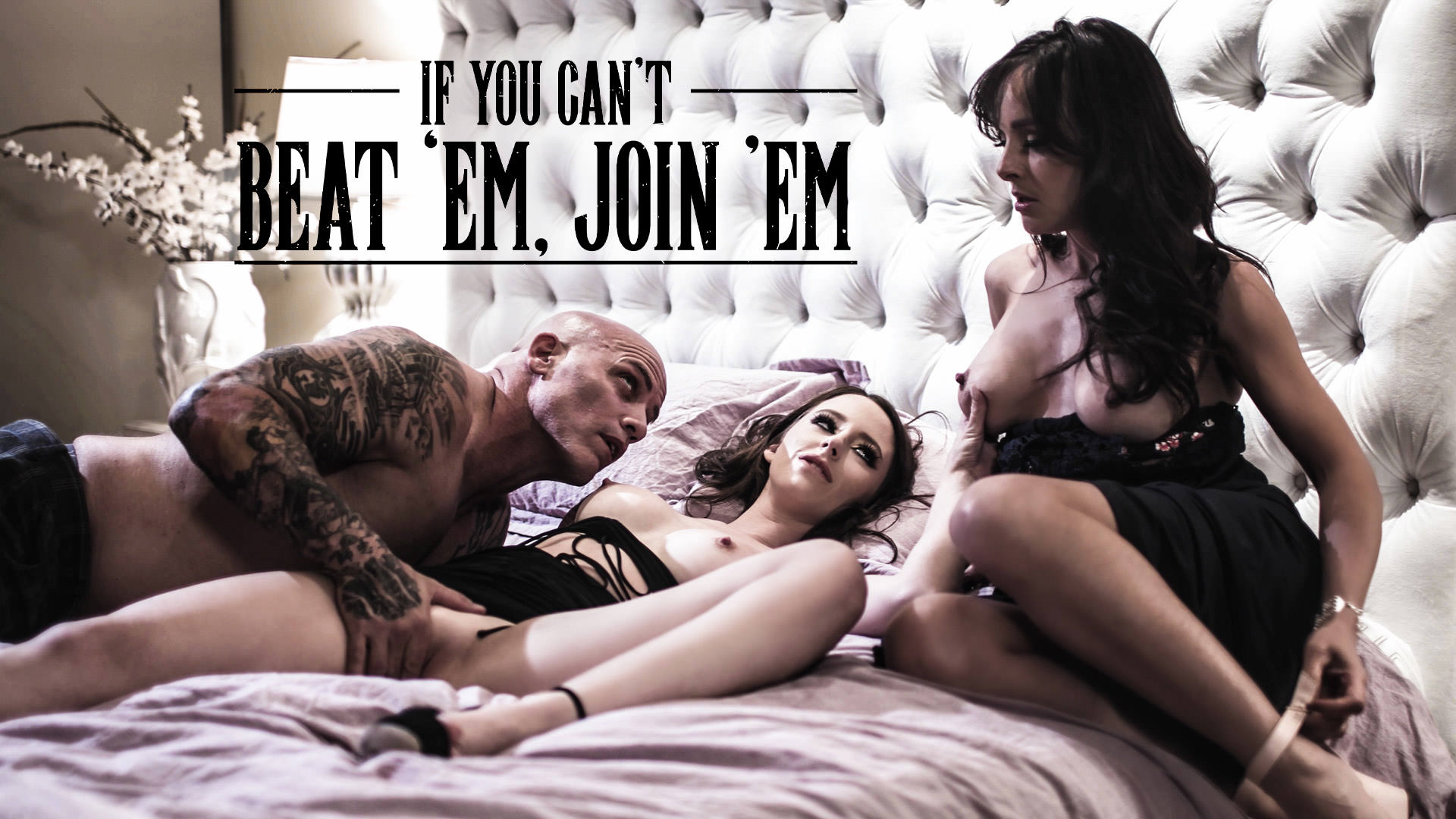 puretaboo: If You Can't Beat 'Em, Join 'Em, Scene #01: Charly Summer, Cytherea, Derrick Pierce - Caroline (Cytherea) is waiting around in a stunning dress, clearly planning to go out somewhere that night. But she looks frustrated as her husband, Joseph (Derrick Pierce), arrives home late. He's a restaurant owner, so complains about his restaurant holding him up, but Caroline doesn't seem to be buying it... especially when he hugs her close and she catches a whiff of perfume on his shirt collar...A few days later, Caroline gets ready to leave for a weekend with a friend as Joseph sees her off. But after Caroline leaves and parks just out of sight, it becomes obvious that the weekend away was just a ruse. In fact, once she's sure enough time has passed, she doubles back to the house.When Caroline creeps back into the house, she hears sounds of pleasure coming from the bedroom. Pumping herself up, preparing for the worst, she opens the bedroom door and catches Joseph sitting too close to a younger woman, Stella (Charly Summer). Joseph instantly tries to lie, telling Caroline that Stella's a waitress from the restaurant and that they're just talking shop, but Caroline sees right through him.As she confronts them, Caroline realizes that if she wants to keep Joseph interested in her and their marriage, she's going to have to get creative. That's when she swallows her pride and offers to spice things up with a steamy threesome. At least then, she'll be able to call the shots just a little longer...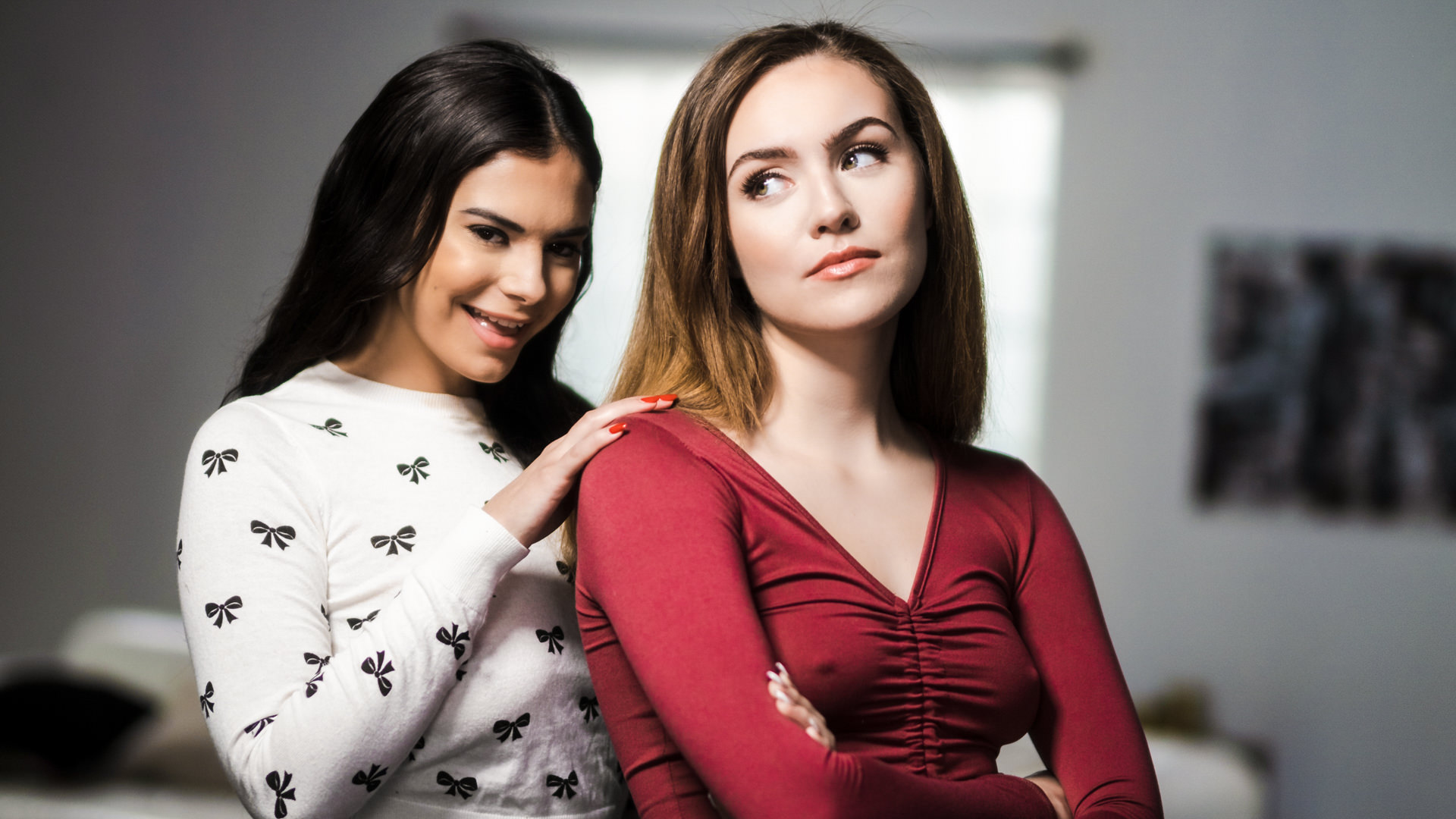 webyoung: Scrambled Seduction, Scene #01: Freya Parker, Violet Starr - Violet Starr excitedly lets her friend, Freya Parker, into the house to hang out. As they settle down together, it's revealed that Freya's brought a new tile-based game for them to play. Although Violet's never heard of it before, she's down!But as they start playing, Freya starts to become suspicious about Violet's intentions. While Freya puts down more innocent words, like 'CANDY,' Violet puts down more suggestive words like 'PUSSY.' When Freya calls Violet out on it, Violet is mischievous as she insists that she doesn't mean for them to be taken sexually....After a few more naughty words, it becomes too obvious to ignore and Freya rolls her eyes. Violet then grins as she sidles close to Freya, boldly coming onto her... Although Freya's surprised at first, she soon can't resist having a little 'FUN!'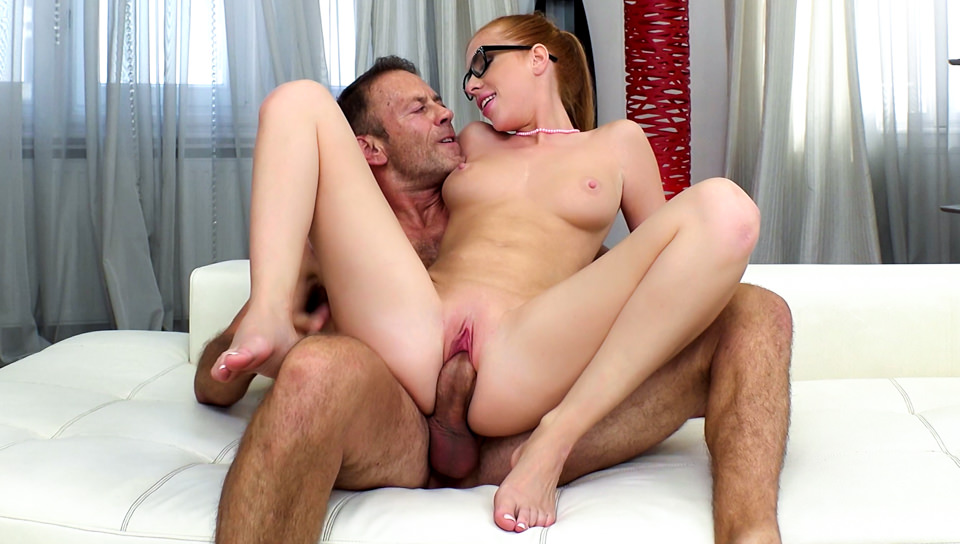 roccosiffredi: Rocco's 4Cams POV - Holly Molly, Scene #01 - Holly Molly, Rocco Siffredi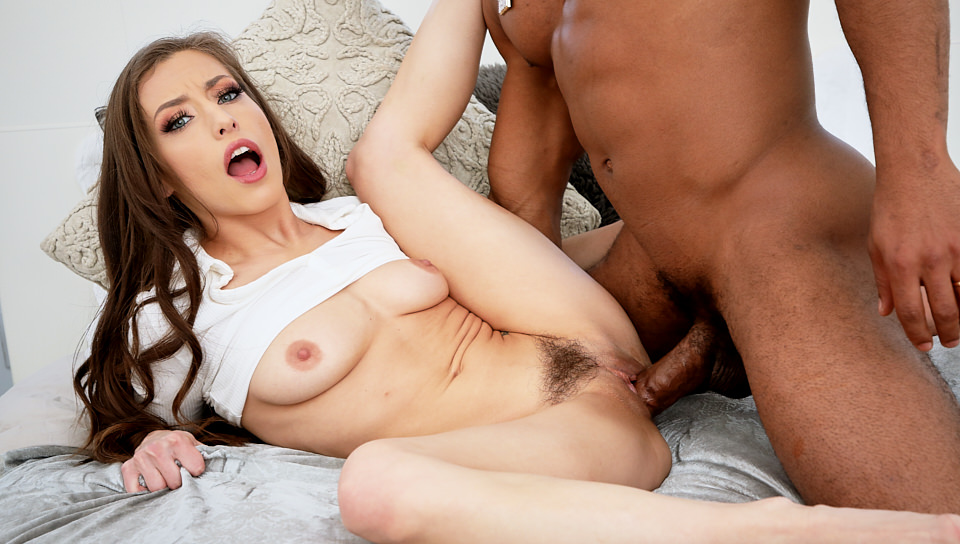 devilsfilm: Wife-Swap Schemes #02 - Spencer Bradley & Mazee: Spencer Bradley, Mazee - Mazee waits in the hall as his friend Tommy Pistol comes down to greet him from the second floor. Tommy grins and tells Mazee that his wife, Spencer Bradley, is waiting for him upstairs. They fist-bump with silent mutual approval, clearly showing that something out of the ordinary is about to happen. Mazee climbs up the stairs. Mazee enters the master bedroom, where Spencer lies in bed. He climbs in without her noticing and starts kissing her neck. She thinks it's Tommy, but when she turns around, is shocked to see that it's Mazee instead! Mazee is confused, letting her know that Tommy said it would be okay. Apparently, he and Tommy had agreed to do a wife-swap, and Tommy is downstairs with Mazee's wife as they speak!Though Spencer is initially shocked, she DOES find Mazee to be incredibly hot. She can't resist but go along with this unconventional agreement, letting Mazee dip between her thighs and eat her out. When she's wet and ready, Mazee slides his massive cock into her, and she loves it. They have playful, energetic sex all over Spencer's bed. Scheme or not, these two certainly aren't complaining!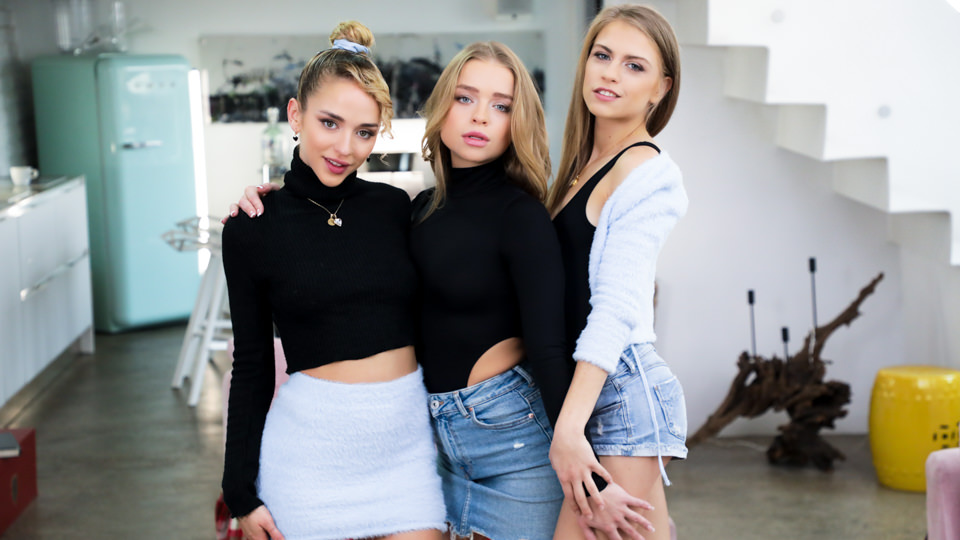 21sextury: Till Next Time, Scene #01: Alexa Flexy, Bonnie Dolce, Geisha Kyd - Alexa Flexy and Bonnie Dolce invite their cute friend Geisha Kyd. Geisha may have a boyfriend, but she's way more interested in a hot all-girl celebration!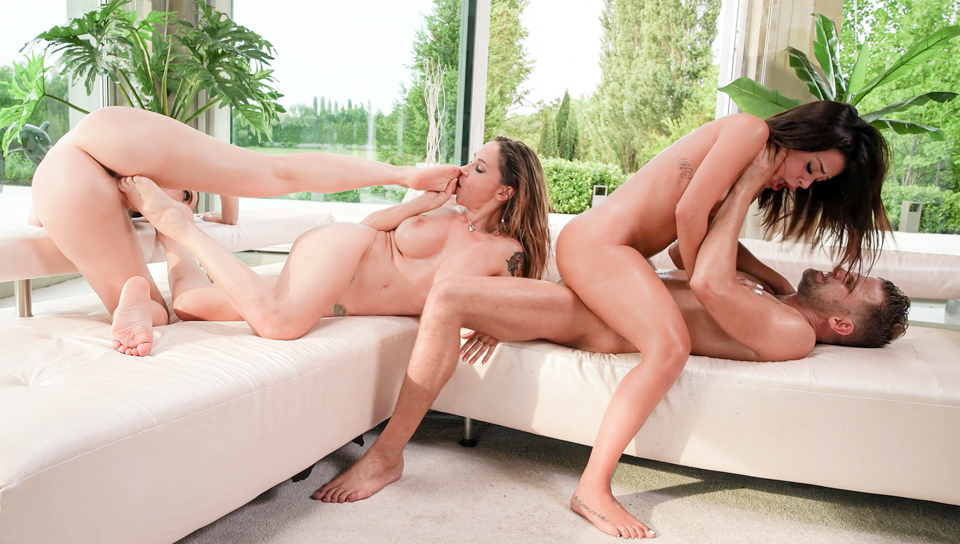 roccosiffredi: Rocco's Sex Clinic - Second Treatment - Episode 2: Valentina Nappi, Malena Nazionale, Martina Smeraldi, Vince Karter - None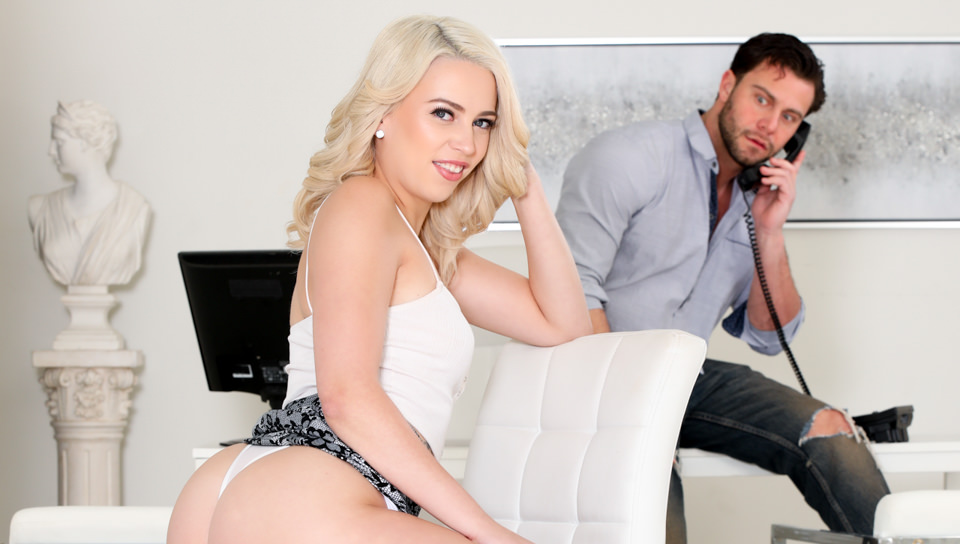 devilsfilm: I'm Gonna Buttfuck Your Teen Girl #01 - Madison Summers & Seth Gamble: Madison Summers, Seth Gamble - Seth Gamble is looking at hot pictures of his coworker's little angel, Madison Summers, who will be joining their law firm as a legal secretary. Seth seems to like everything he sees in the photos, but he ESPECIALLY likes Madison's sexy ass. Madison then arrives for a meeting about the job, and is surprised to find out that her parent won't be joining them for the meeting. Seth claims it's because he'll be able to judge her character better without the parent there. He then says that he wants to give her a special gift, which turns out to be... his dick!Madison is shocked at first, but when Seth assures her that they won't get in trouble, she happily begins sucking on his dick. He pulls down her top so he can touch her breasts, then licks and fucks her pussy... and of course, he fucks her amazing ass as well!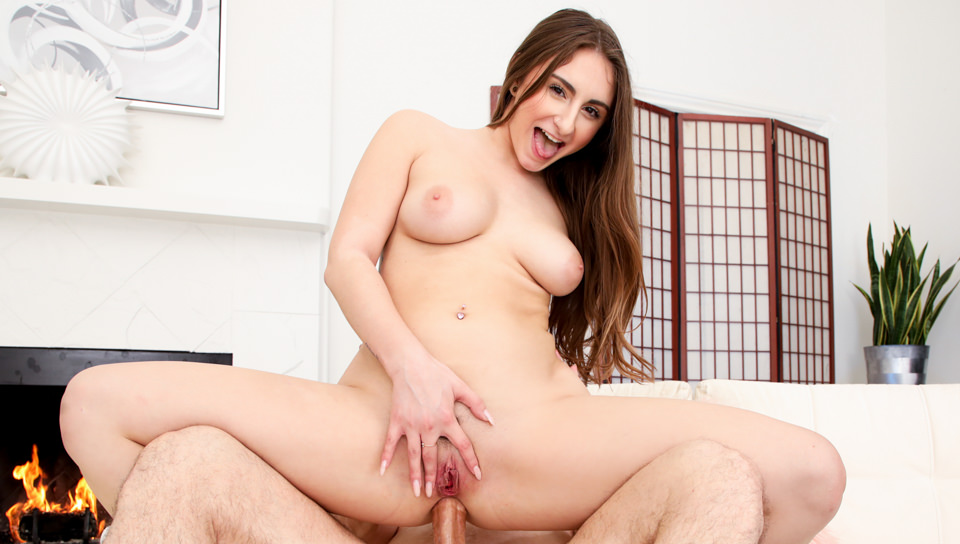 devilsfilm: I'm Gonna Buttfuck Your Teen Girl #01 - Penelope Kay & John Strong: Penelope Kay, John Strong - One morning, John Strong comes down into the kitchen one morning and gets a call from his friend. It's revealed that his friend owns the house and John is staying there while on vacation. In the nearby living room, John notices his friend's teen, Penelope Kay, lounging on the couch. John hangs up the call and walks over to her. John delivers a message from Penelope's parent, reminding her she has to submit her applications for college. Penelope quickly changes the subject and asks John how long he's staying. As they talk, it's revealed that John was quite the player when he was young. Penelope has heard MANY stories of John's wild and crazy days, including how he would fuck LOTS of girls.John is caught off guard as Penelope arousingly hints that maybe he should fuck HER. After all, she is young and hot and... very eager. John hesitates- she's his best friend's teen and this would be a huge breach of trust. At the same time, maybe she needs a good fucking to help her put some effort into her college applications... John and Penelope decide to go for it, with Penelope getting both her holes filled as John takes his vacation into new, sexy territory.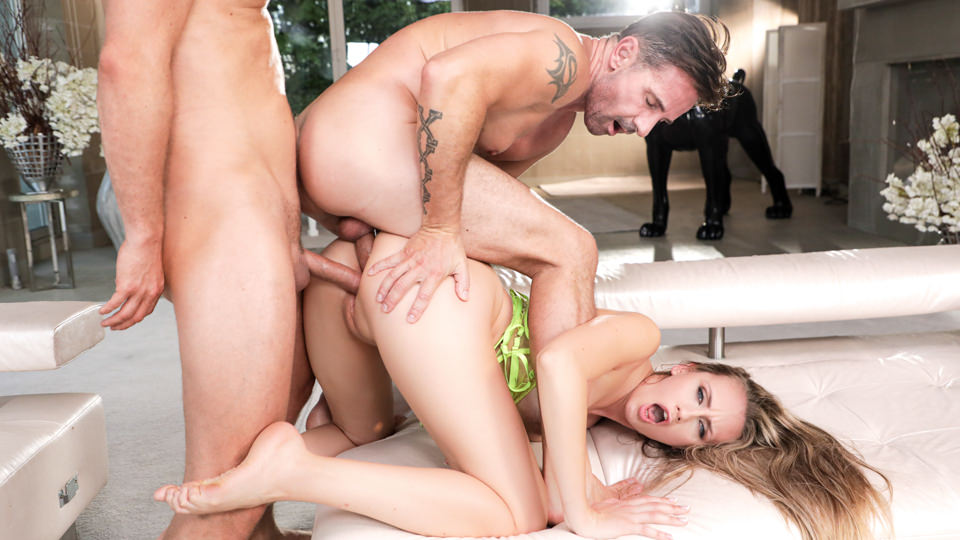 21sextury: Twerk To Work, Scene #01: Linda Leclair, Kristof Cale, David Perry - Booty popping Linda Leclair shows off her special skills with her phat ass. Horny David Perry and Kristof Cale love what they see so much that they offer Linda their throbbing cock. She sucks on both their cock before letting them both fuck her. Linda takes their cocks like a pro before getting a mouthful of cum.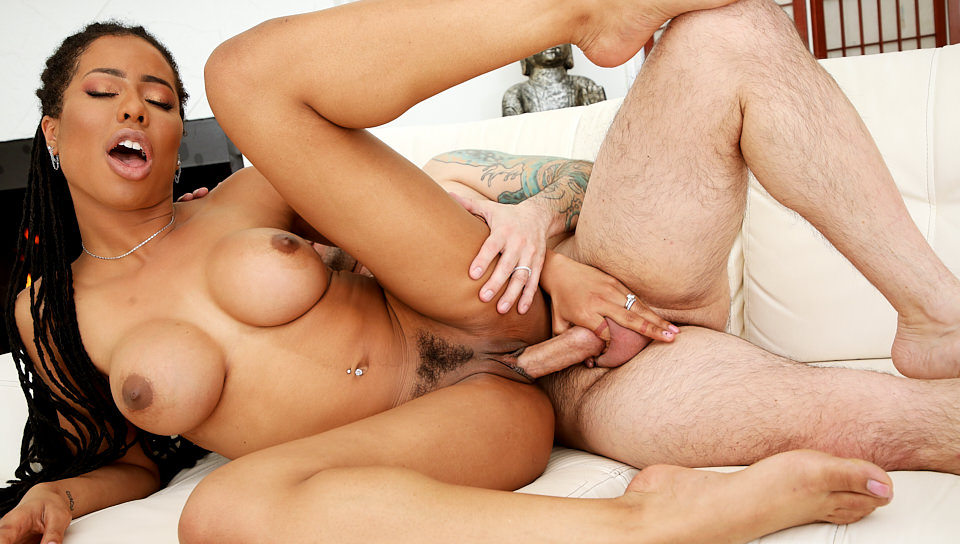 devilsfilm: Wife-Swap Schemes #02 - Kira Noir & Tommy Pistol: Kira Noir, Tommy Pistol - Tommy Pistol and his wife Spencer Bradley are hanging out at the gym with their friends, Mazee and his wife Kira Noir. Tommy can't help but notice that Kira is really hot, and he can tell that Mazee thinks the same thing about Spencer. Tommy suggests to Mazee that they swap wives for one night. They could all rent a vacation house together on the weekend, and do the swap there! Mazee thinks that's a great idea, and they do a little fist bump to seal the deal.That weekend, both couples arrive at the vacation house, and have fun partying and sightseeing. However, the REAL fun begins at night, when Tommy approaches Kira and gets flirty with her. Kira is surprised, pointing out that her husband and Tommy's wife are in the house. Tommy lets her know that Mazee and Spencer are actually fucking right now, and she is shocked. Her husband is cheating on her?! Tommy explains that they're just swapping wives for the weekend. Doesn't that sound fun?Kira doesn't want to be the only one not having fun, and tells Tommy that he's right. She grabs him and kisses him, then enjoys the feeling of him stroking her pussy and eating her out. She then sucks his cock, and lets him pound his cock into her pussy. Best weekend ever!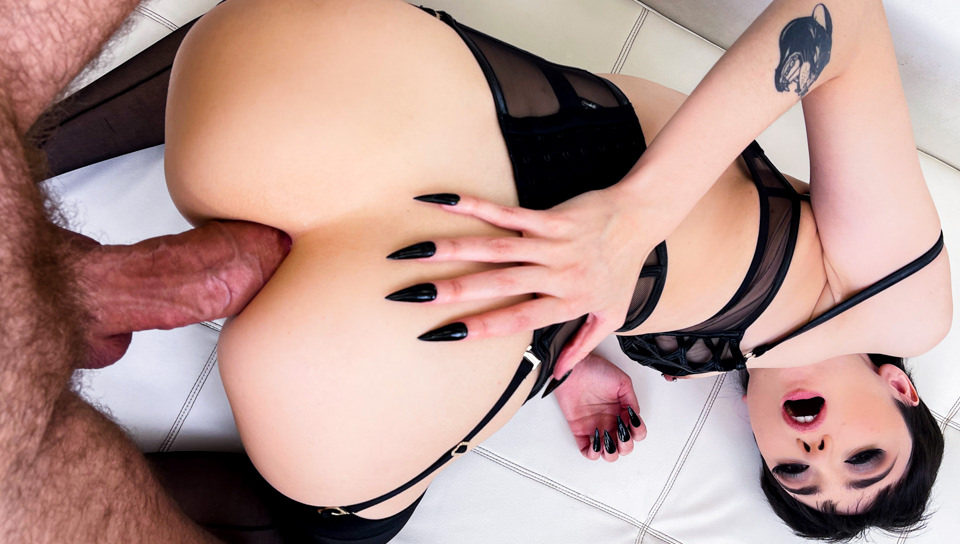 roccosiffredi: Rocco's 4Cams POV - Catherine Knight, Scene #01: Catherine Knight, Rocco Siffredi - None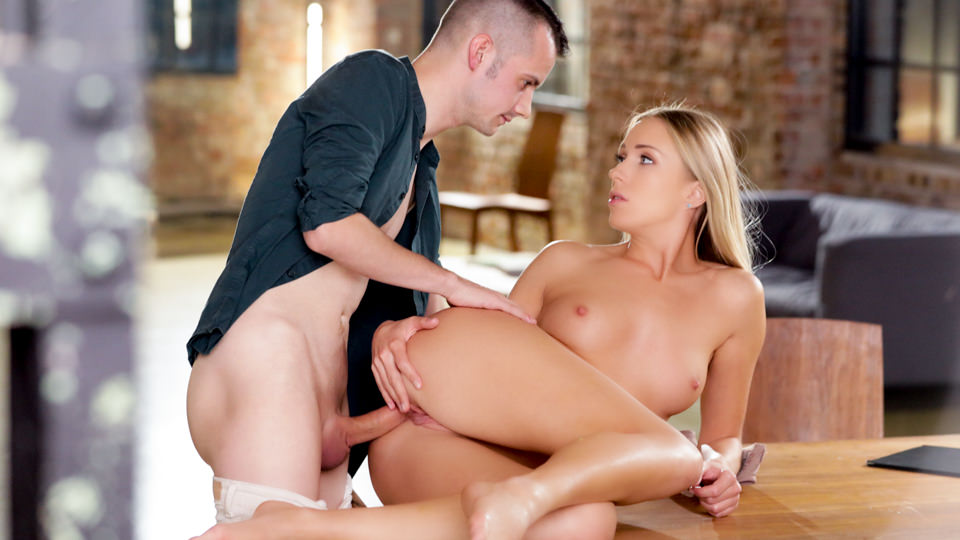 21naturals: Pure Perfection, Scene #01: Angelika Grays, Sam Bourne - Stunning blonde Angelika Grays is perfection: her deep blue eyes, her fit, firm body, and her great butt. She also can't hide her desire to get her ass fucked passionately!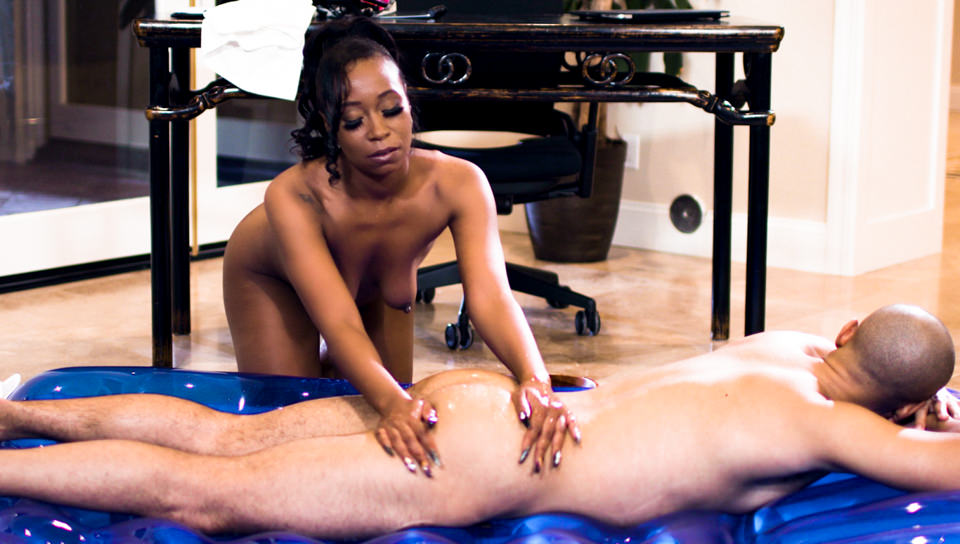 nurumassage: Miracle Cure, Scene #01: Mocha Menage, Oliver Davis - Oliver Davis feels generally unwell and, although he has visited numerous doctors, can't find answers as to what is wrong with him. Finally, he sees a more progressive MD, Mocha Menage, who takes a very holistic approach to treatment. She quickly determines that his symptoms are caused by a lack of human contact and decides on a course of treatment -- a nuru massage -- to overload him with the contact he's been sorely lacking.After stripping down and grabbing the nuru gel, she gives him a sensual massage, sliding her naked body all along his own. Gradually, Oliver starts to feel better and better... until he accidentally becomes aroused. After Mocha sees that sexual contact causes his symptoms to improve even MORE drastically, the good doctor realizes that a sensual sex session is the miracle cure that he's been looking for all along!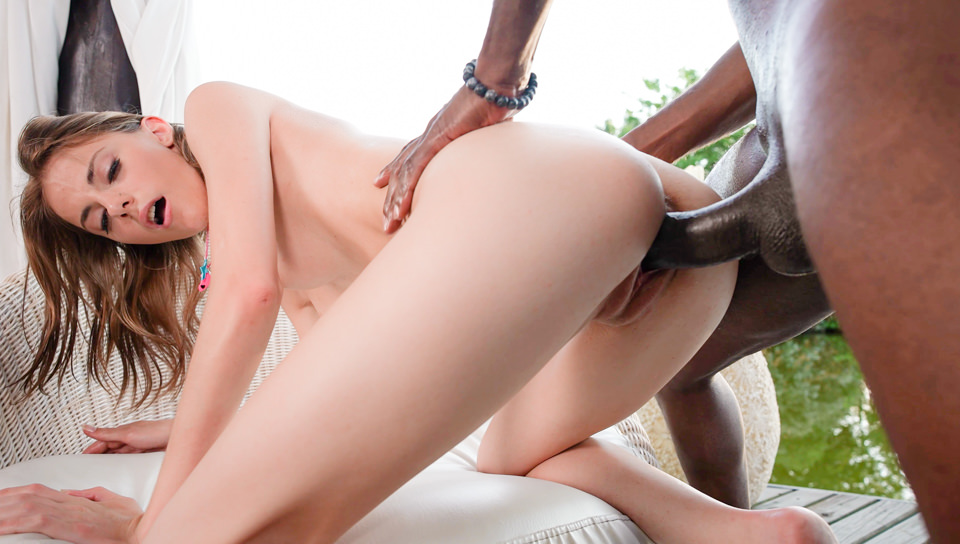 roccosiffredi: Rocco's Sex Clinic - Second Treatment - Episode 1: Hermione Ganger, Mike Chapman - None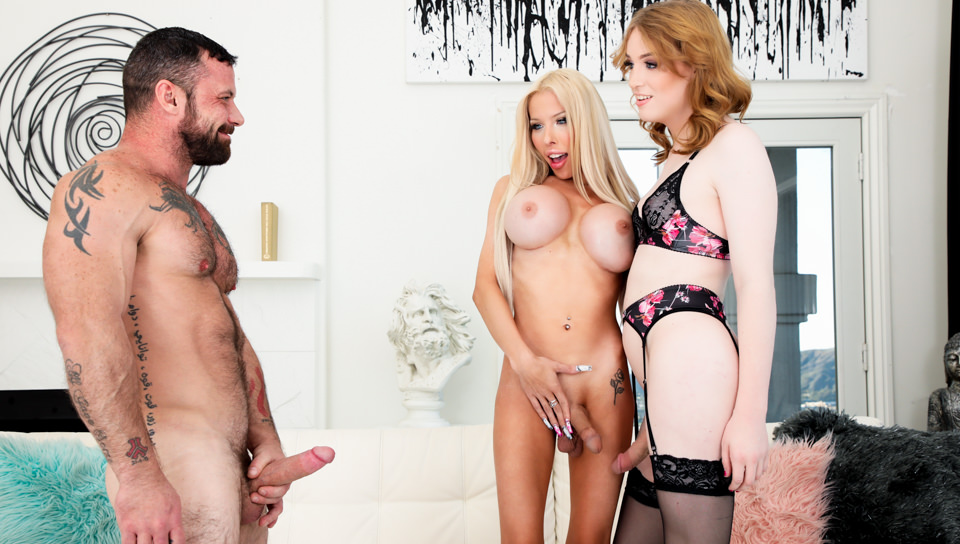 devilsfilm: Take A Ride On The Trans Train #03 - Brittney Kade, Erica Cherry & Sergeant Miles: Sergeant Miles, Erica Cherry, Brittney Kade - Brittney Kade and Erica Cherry are chatting on the phone when Erica makes her friend a steamy proposal. It turns out that Erica's boyfriend, Sergeant Miles, is interested in a threesome, and Erica wants the third to be Brittney. Brittney is definitely intrigued, admitting that she finds Miles to be SUPER hot. With all of that settled, they agree to meet up that evening for a sexy encounter.Sometime later, Erica introduces Brittney to Miles, who is watching TV in his living room. He is immediately awed by Brittney's beauty, looking her over with satisfaction. Erica and Brittney start making out, with Miles watching hungrily. Erica lowers Brittney's top and starts sucking on her amazing tits. After a few moments, they can't help but take off the rest of their clothes, revealing their hard cocks, ready to pound and get sucked. After watching for a bit, Miles joins in, bringing his throbbing cock into the mix. These three jump into an energetic, passionate threesome, leaving no hole un-stuffed. It's going to be a bumpy ride on this trans train, but for Brittney, Erica, and Miles, this works out just fine.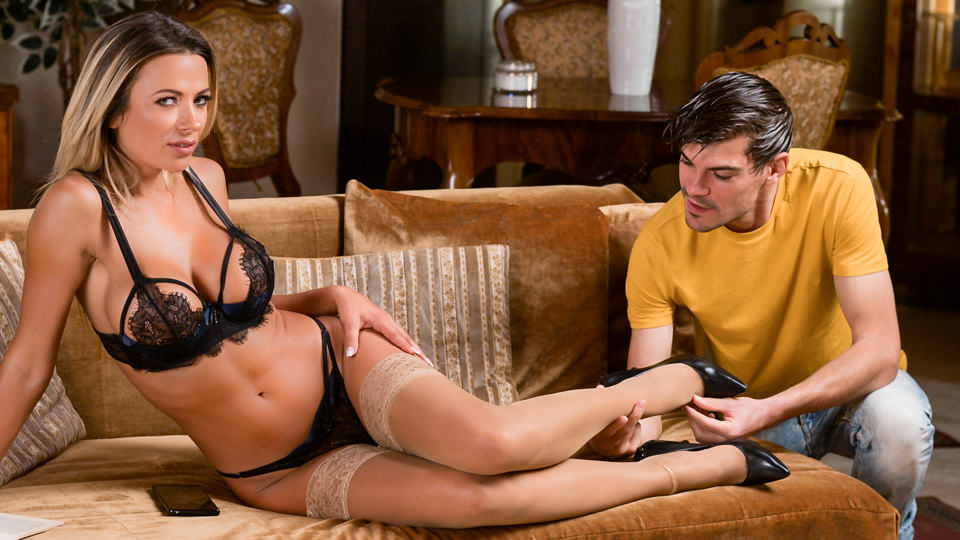 21sextury: I Toetally Missed You, Scene #01: Shalina Devine, Josh Jo - Perfect blonde MILF Shalina Devine is horny and wants a cock in her pussy. With her agile toes, she takes good care of Josh Jo's dick right before he stretched her wet lady intimacy.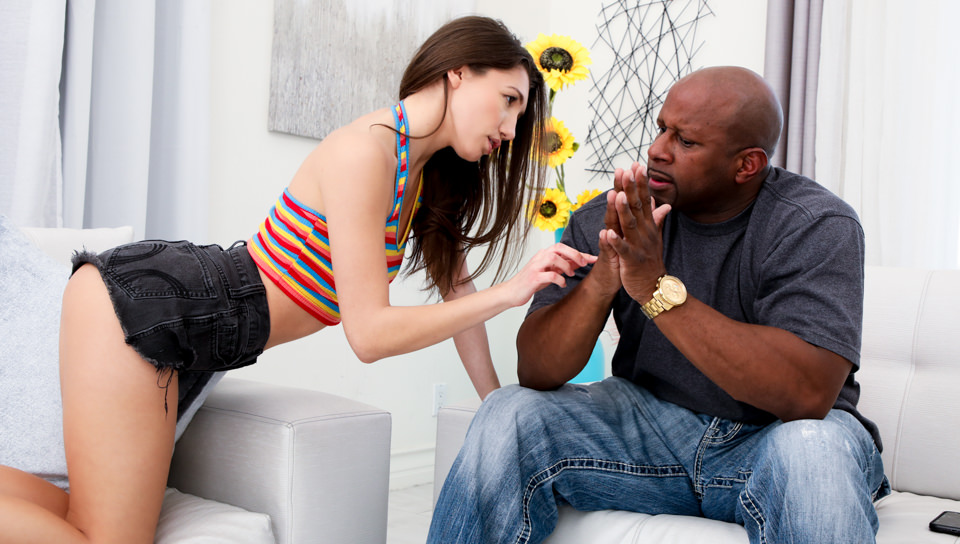 devilsfilm: I'm Gonna Buttfuck Your Teen Girl #01 - Maya Woulfe & Prince Yahshua: Maya Woulfe, Prince Yahshua - Maya Woulfe is sitting with Prince Yahshua in his living room when he gets a call from her parent. Apparently, they are looking for her, but Prince doesn't reveal that she is with him. In fact, Maya came to see him in confidence. When Prince hangs up, Maya explains that she ran away from home since her parent is overbearing. She just can't take it anymore and asks if she can crash at Prince's house while she figures out what to do. Prince considers this and asks Maya what sort of rent she is willing to provide in return for her safe lodging. Maya suggests that she can just stay in Prince's bed. That way, she won't be taking up a room and rent won't be an issue. Prince jokes that if he finds her in his bed, she may very well get fucked. To his surprise, Maya seems very into this idea. This changes everything, and Prince admits that he's been very interested in 'tapping that ass' for quite some time. They can't resist any longer, and Maya gives Prince a sloppy blowjob, followed by Prince flipping her over for some raunchy sex and amazing, tight anal.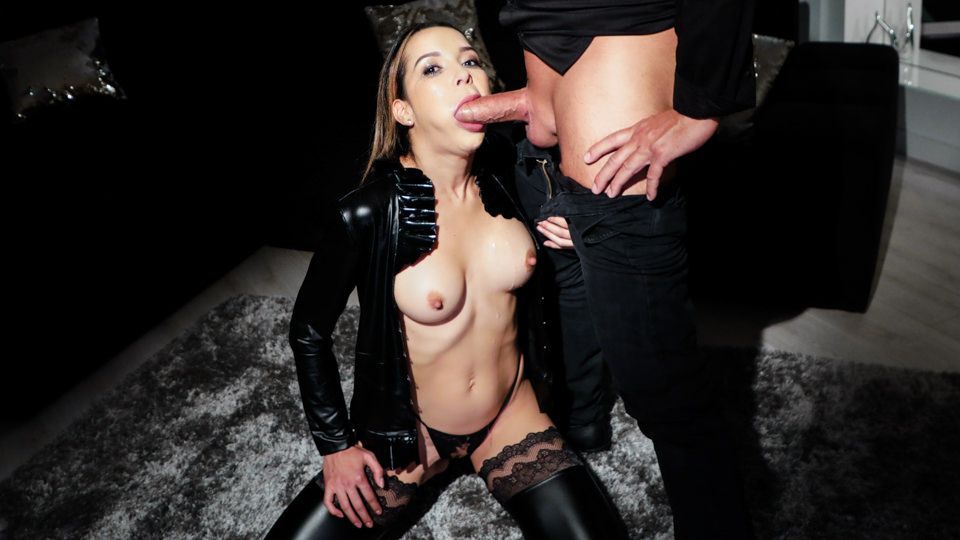 21sextury: Anal Impression, Scene #01: Francys Belle, Thomas Stone - Sexy MILF Francys Belle put her finest lingerie on and wait for Thomas Stone. She's ready to get fuck in the ass. She prepared herself with a butt plug and enjoyed a hard cock in her ass!
devilsfilm: Wife-Swap Schemes #02 - Gabi Paltrova & Alex Mack: Gabi Paltrova, Alex Mack - In the previous scene, Alex Mack and his friend Van Wylde agreed that it would be fun to swap wives one time. Van has already enacted step one of the plan by going to another room with Alex's wife Lexi Luna, which leaves Alex alone with Van's wife, Gabi Paltrova. Alex and Gabi have fun talking about movies and laughing, but eventually Gabi wonders what's taking Van and Lexi so long to come back. Alex says they're probably having sex right now, and Gabi is shocked.Alex explains about the swapping idea, and once Gabi understands, she becomes playfully determined to fuck Alex even better than Lexi is probably fucking Van. Gabi kisses Alex, and enjoys the feeling of him touching her breasts and licking her pussy. She gives him a blowjob, and then bounces up and down on his cock. It's great to see that this wife swapping plan is working out well for everyone!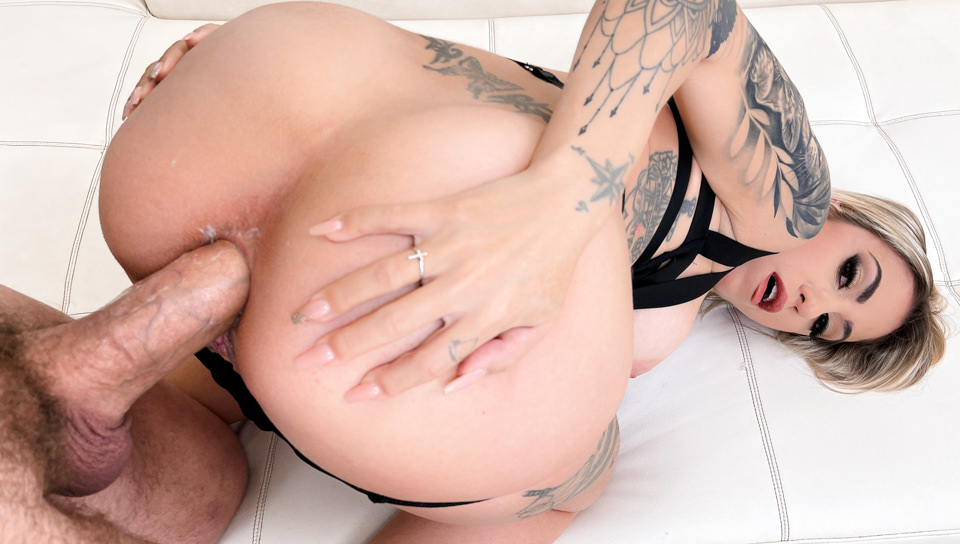 roccosiffredi: Rocco's 4Cams POV - Marika Milani: Marika Milani, Rocco Siffredi - None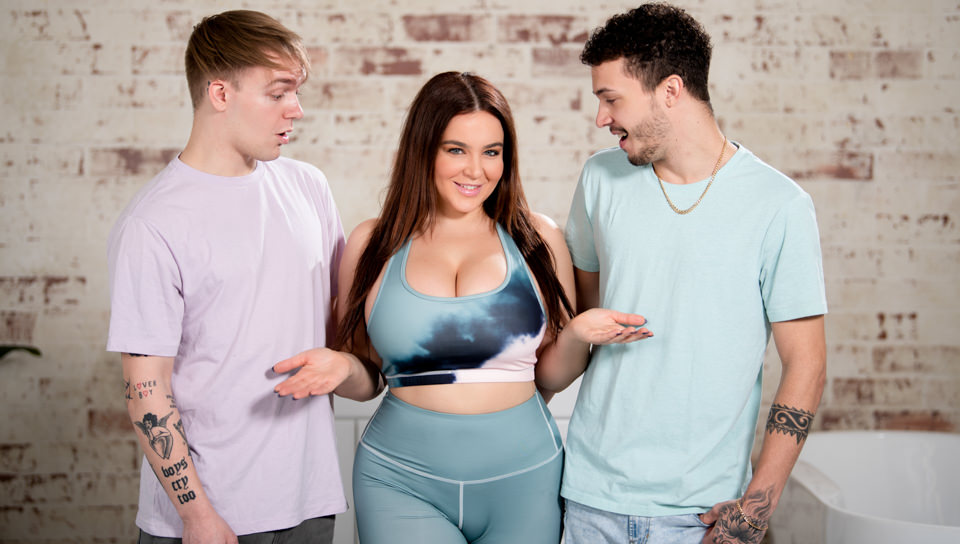 nurumassage: Going Halfsies, Scene #01: Natasha Nice, Joshua Lewis, Apollo Banks - Natasha Nice, a masseuse, is at work when Apollo Banks and Joshua Lewis step in. She smiles when she sees them since they are friends of her boy, though is then surprised when they admit to wanting to try some of her services. Although Natasha is a little taken aback, she soon goes over the services she provides.Apollo and Joshua then become a bit sheepish as they realize that getting a massage is more expensive than they thought it'd be. They then ask if they can 'go halfsies' on a single massage with Natasha massaging BOTH of them at the same time. Natasha is amused at the odd request but decides to go along with it.A few minutes later. Natasha leads Joshua and Apollo into a private massage room that has two nuru mattresses side-by-side. They all undress for the massage, then Joshua and Apollo climb onto the mattresses. Natasha slowly and sensually gives a nuru massage to both Apollo and Joshua, alternating between them as she rubs her naked, glistening body along theirs. As she does, the young men squabble a little over her, which starts to make Natasha a bit curious.Eventually, another squabble breaks out and it's revealed that they both think Natasha is hot! Natasha acts stern as she confronts them about it, which makes Apollo and Joshua further admit that they're also virgins who just wanted to be touched by her.Fully expecting to be booted out, to Joshua and Apollo's surprise, Natasha is actually amused by the situation. She then surprises them even more by taking their cocks into her hands, admitting that she thinks they're pretty cute... Now it's time to give them both what they REALLY came for!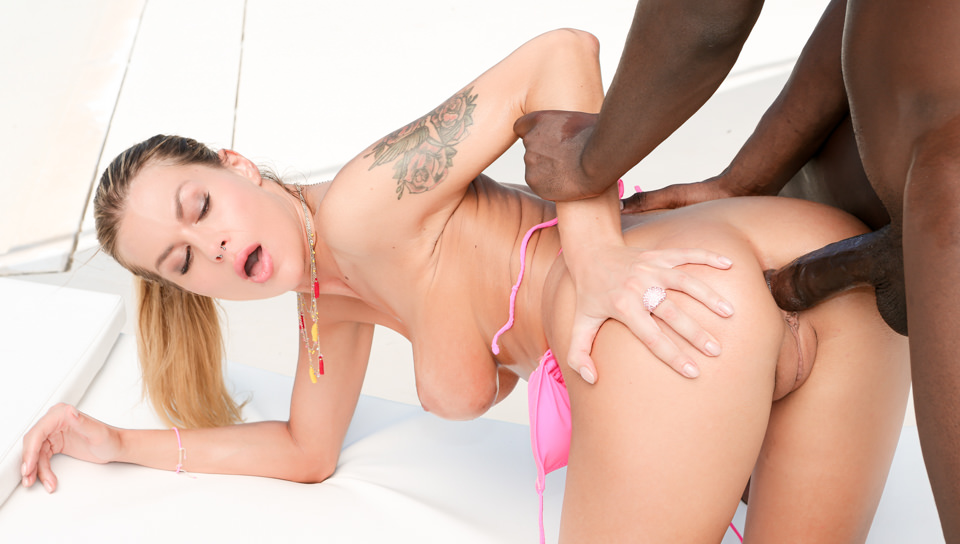 roccosiffredi: Rocco's Sex Clinic - Episode 5: Zlata Shine, Jack Rippher - None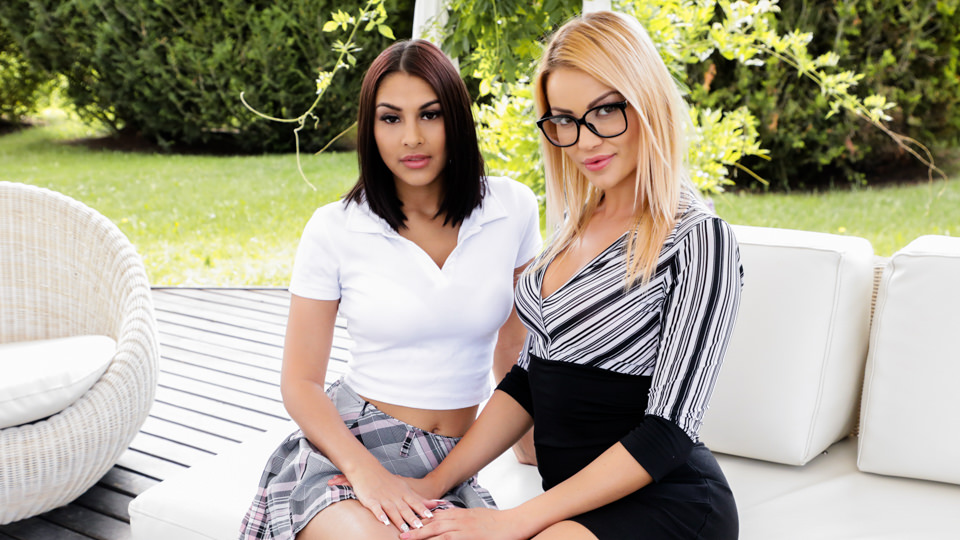 21sextury: Butts & Bubbles, Scene #01: Cherry Kiss, Sarah Cute - Perfect outdoor sex for two horny lesbians, Cherry Kiss and Sarah Cute. They can't resist each other under the heat of the sun.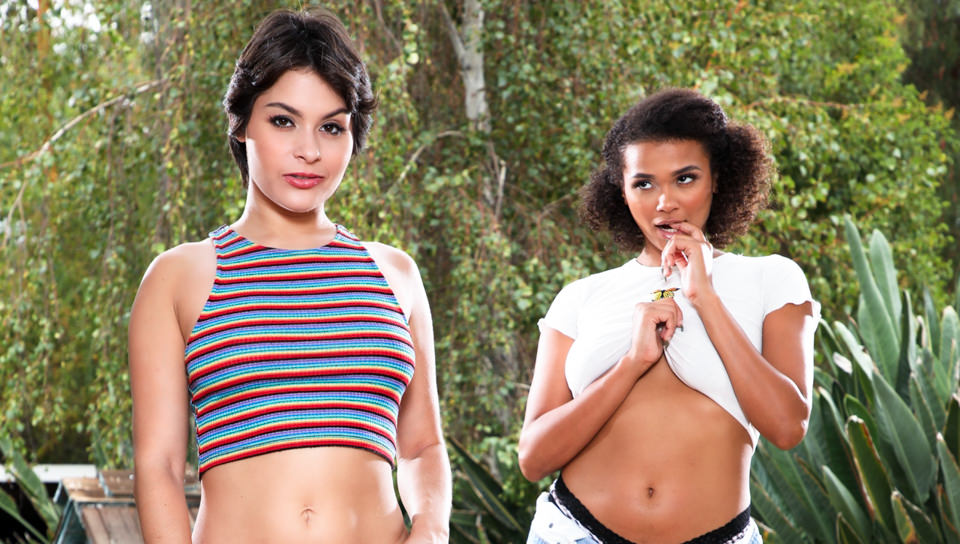 devilsfilm: Seducing My Straight White Best Friend #02 - Alina Ali & Nicole Aria: Nicole Aria, Alina Ali - Nicole Aria is frustrated as she has a text conversation with her boyfriend, who is being a jerk while off camping with his friends. When her best friend, Alina Ali, finds out about this, she insists that Nicole dump him already. But, since Nicole doesn't seem to be ready for that yet, maybe they can make him jealous instead! When Nicole asks how they're going to do that, Alina suggests that THEY get together to have some fun. Although Nicole is straight, the thought of making her boyfriend squirm DOES sound appealing...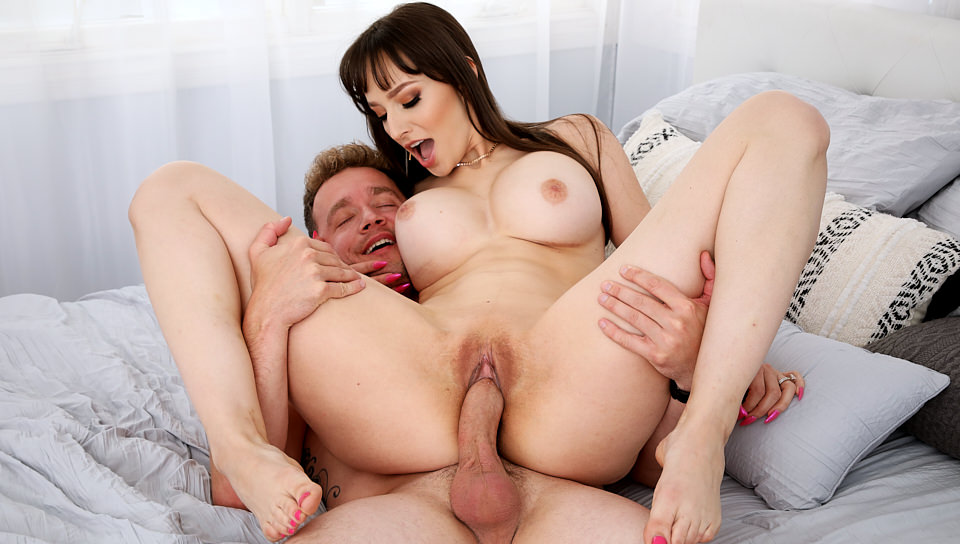 devilsfilm: Wife-Swap Schemes #02 - Lexi Luna & Van Wylde: Lexi Luna, Van Wylde - Van Wylde shows his buddy Alex Mack some land where he's going to have a new house built. Alex is impressed, saying that he's sure Van's wife Gabi Paltrova will love it. Speaking of wives, Van thinks Alex's wife Lexi Luna is pretty hot, and he knows that Alex thinks Gabi is hot. Van suggests that they swap wives for just one time, so that way both couples could spice up their lives a bit. Alex is shocked at first, but then admits it sounds hot. Luckily, Van has an idea to make it happen!The next time both couples hang out together in Van's living room, Lexi comments on Van's plan to have a new house built, asking what's going to happen with the old one. Van says that the rooms in the old house will probably be rented out to college students, and offers to give Lexi a tour of the rooms. Van and Lexi go to look at the rooms together, while Gabi stays behind with Alex.Once Van and Lexi are alone in one of the other rooms, Van brings up the swapping idea, explaining how it would be a great time for everyone. Lexi is surprised at first, but when she finds out that Alex and Gabi are into the idea already, she admits that she's interested too. She kisses Van and sucks on his cock, then gets onto the bed so he can eat her out and fuck her. Looks like Van was right about this being a great time!
Want some more? Check the site.
| | | |
| --- | --- | --- |
| | Older | Newer | |