Update: 2/19/2019
Description: Joanna Angel, Queen of fetish tattoo punk emo girl, offers great scenes of extreme hardcore for awesome tattoo pornstars. The site serves with Burning Angel for one price.
Price


$1.00/3 days (Streaming Only) trial, recurring $29.95/1 month
$19.95 $29.95/30 days, recurring $29.95/1 month
$68.95/90 days, recurring $68.95/3 months
$95.40/1 year, recurring $95.40/1 year
Special Discount is only for the visitors from our site.

[Click on the picture to see all the samples]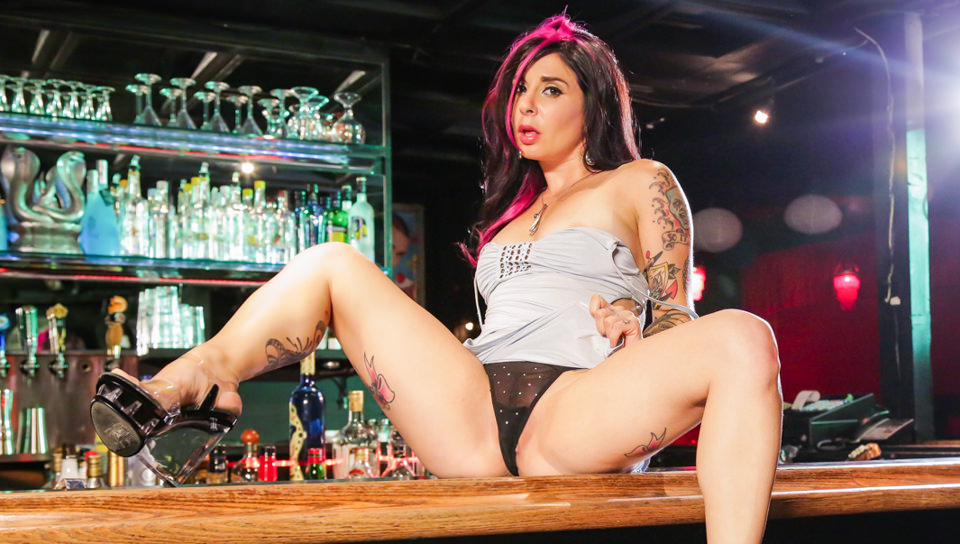 Bar Stripper, Scene #01: Joanna Angel, Bill Bailey - Hey baby, do you like what you see? Let me just do a sexy dance right on the bar - you don't mind, right? You like watching me squeeze my perfect tits together, and wiggle my pretty round ass in the air, don't you? I know Bill Bailey does.. Come to the champagne room with me, you sexy thing! I'll let you treat my pretty pussy right. Lick my cunt and ass till I cum and fuck my brains out with your nice thick cock! I love the feeling of my pussy getting stretched and stuffed full of dick. Mmmm, it's so big! Fuck yeah.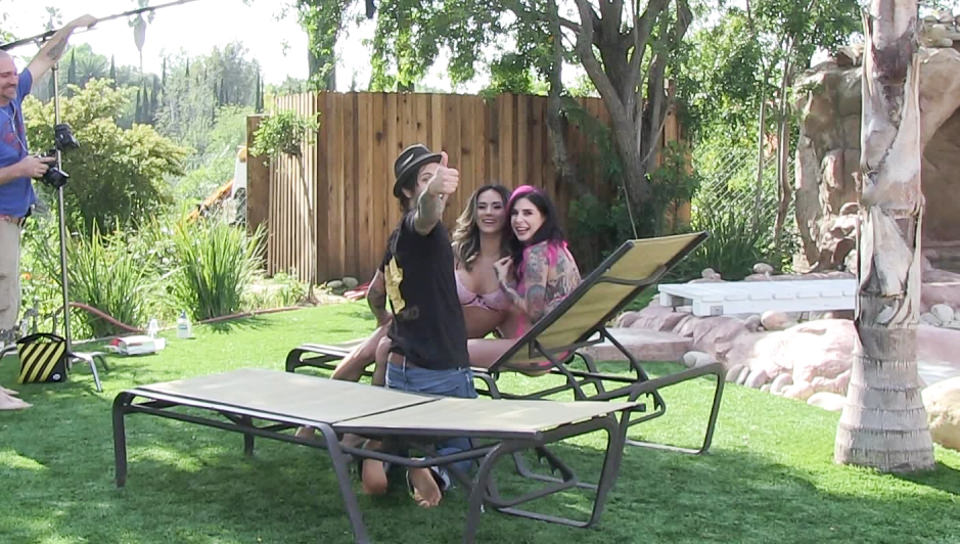 BTS Episode 52, Scene #01: Joanna Angel, Nadia Styles, Small Hands - Find out Nadia's secrets as we interview her from set! Speaking of Nadia, I guess like to put her in really weird and funny scenarios in our movies - for the threesome, she plays herself and is working as a maid, and we're really huge fans who then get a little bit strange (the good kind) - and there was that one time she was an astronaut stripper.. And since it was a beautiful sunny day in porn valley, I modeled for new photos in my hot pink bikini from our threeway with Small Hands outside by the swimming pool!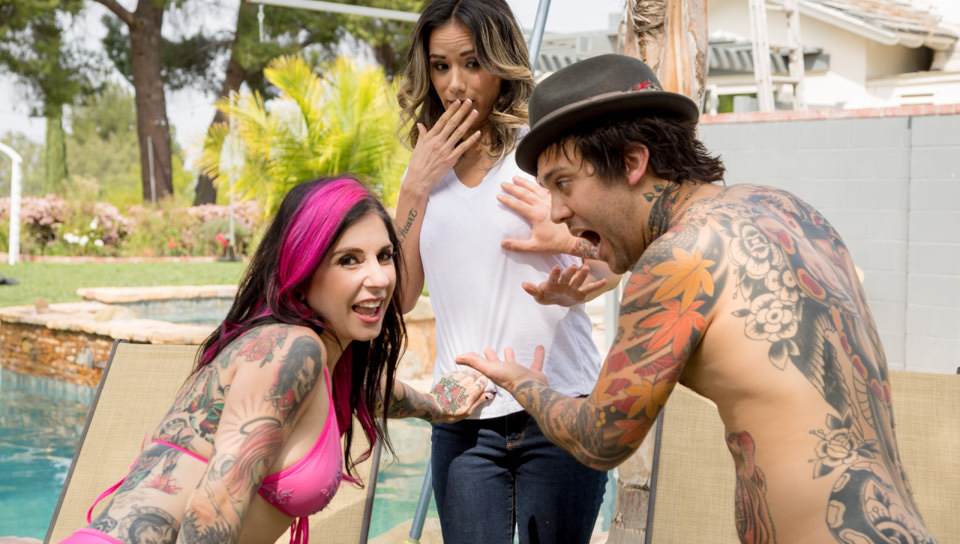 She Looks Familiar, Scene #01: Joanna Angel, Nadia Styles, Small Hands - Small Hands and I hired a maid to clean up the house. We couldn't place it at first, but she looked just like Nadia Styles.. because it was! We're huge fans and didn't know why she was a maid - she said so much porn is free now so it's hard to make money. She was cleaning the pool, we thought maybe we could give her some extra dough to pose like a porno cover. It didn't bother her because she missed the days of being a porn star. That's when we got an idea: we should all fuck in an anal threesome outdoors. It was a dream cum true as we double-teamed and shared her star pussy and perfect ass! Then we cleaned the jizz off each others faces and tits. Yum.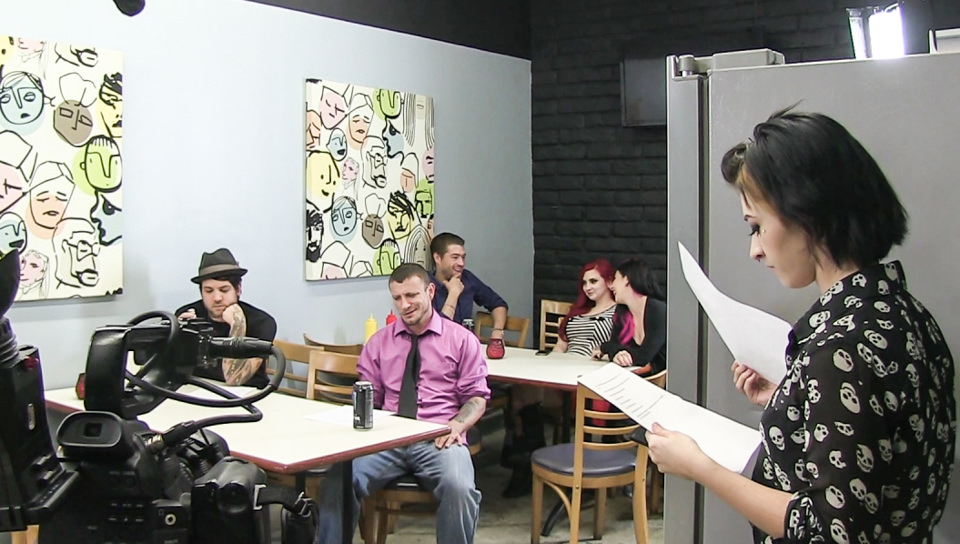 BTS Episode 50, Scene #01: Joanna Angel, Amber Ivy, Silvia Rubi, Devin Saint, Mr.Pete, Xander Corvus - This past February, we shot hot scenes with adorable newbie Devin Saint, who won the lottery and got to be a millionaire fucking another millionaire - maybe someday we'll gift her the fantasy of a jail cell orgy like the wanted. We get to know veteran European porn star Silvia Rubi who came all the way from Spain to make pornos, she has these really cute petite boobs and a gorgeous round ass - DANGER ZONE! Love her accent! And Amber Ivy talks about her anal sex scene with Ramon where I dominated her before she got a present for her ass! Also: Amber Ivy twerking.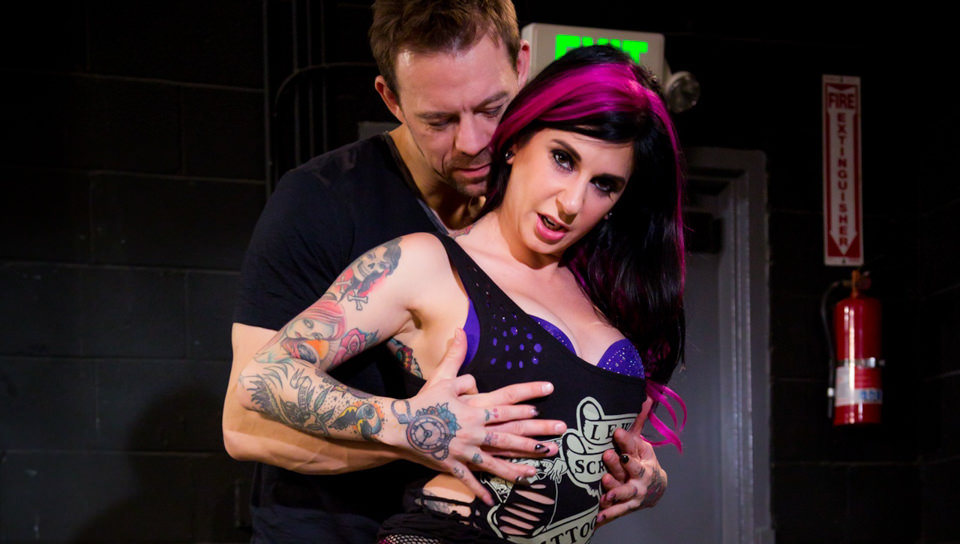 Slaying Ass With Erik, Scene #01: Joanna Angel, Erik Everhard - I circled Erik Everhard like a hungry shark with a craving for an anal pounding, sizing him up and enticing him into giving me what I want. He played with my clit through my fishnet stockings, and he got so excited, he ripped a hole in them. I choked down his huge dick, getting it nice and sloppy for entry into my pleasure centers - which Erik mind-meltingly lapped with his tongue until my eyes rolled back, before he fucked me through my torn stockings! He stretched and railed my tight pussy and butthole to the limits. He found all the right spots!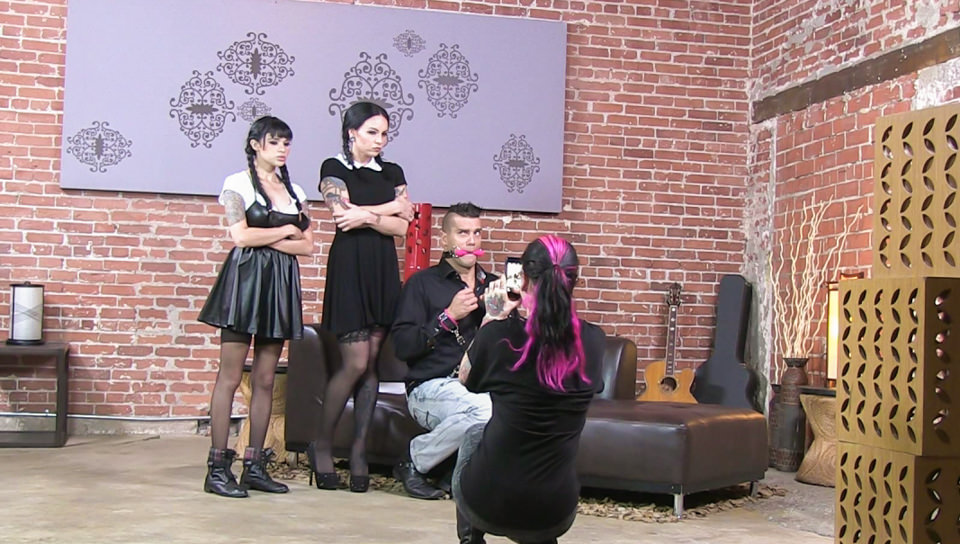 BTS Episode 48, Scene #01: Joanna Angel, Judas, Ophelia Rain, Necro Nicki, Ramon Nomar, Xander Corvus - Follow me behind the scenes of our adult parody of original youtube series Adult Wednesday Addams. There are so many Wednesdays, because we have so many hot tattooed goth chicks - Necro Nicki, Judas, and Ophelia Rain were on set that day. Seriously, this was a great last minute idea, and most of the girls already had Addams-like attire with them, so it was perfect! Other highlights include: Braids, Judas's sweet booty, Ophelia's guitar strumming, and Necro getting into character before her girl/girl/boy threesome!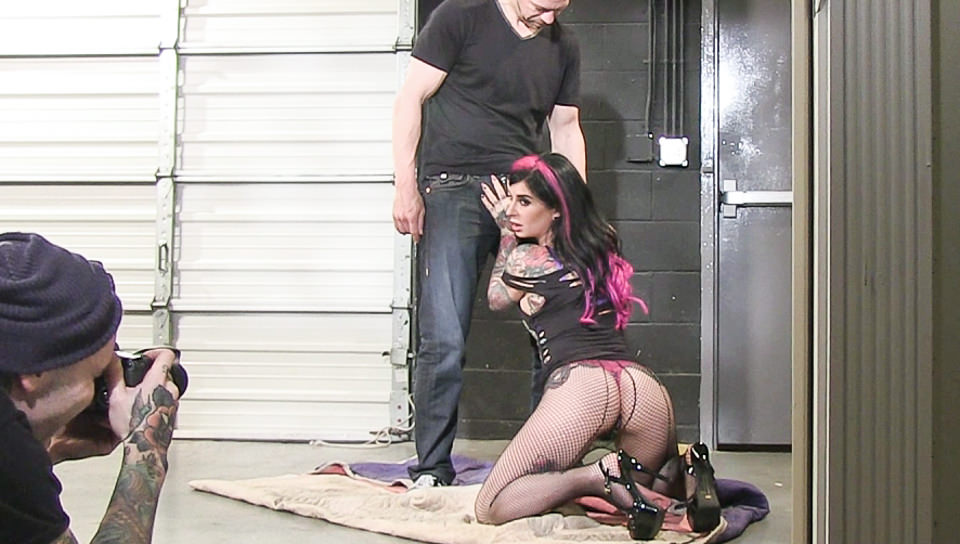 BTS Episode 47, Scene #01: Joanna Angel, Erik Everhard - Wanna see my photoshoot process and porno genius in action? Then today is your lucky day! You can watch me take my clothes off and play with myself as my photographer snaps pictures. Then, Erik Everhard and I waited to shoot our fishnet ripping, hard anal scene, as requested in a poll by my lovely members. I give you exactly what you want. Ask and ye shall receive! I really enjoyed circling Erik like a shark about to tear up some prey. I can hardly wait until this hot little fuckfest between Erik and I drops online!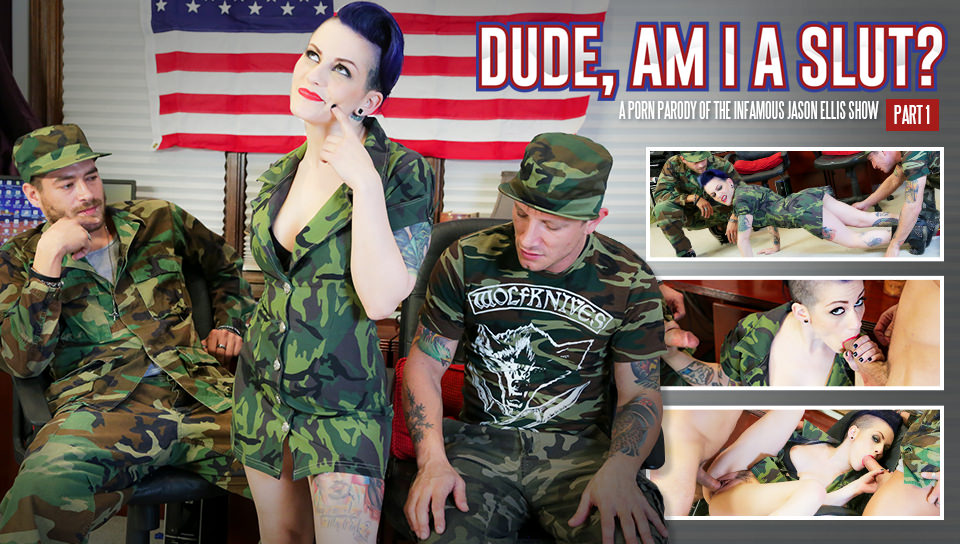 Dude, Am I A Slut? - Part 1: Joanna Angel, Rizzo Ford, Mr.Pete, Xander Corvus - Here's the ultimate treat for all Ellis and Joanna Angel fans: after years of being a guest on the Ellis show - here I am playing Jason Ellis in a porno, based on their bit 'Dude, Am I A Slut?' - and Rizzo Ford was the first wanker in question able to stop fingering herself long enough to call me and tell me the sluttiest thing she ever did: she went to her Army recruitment center and wore a skirt with no panties, the men ordered her do push ups and caught them looking up her skirt - but since it was about freedom.. She took both their dicks as they double teamed her in this threeway for the USA. Some girls dream of being President, others dream of being declared a slut by Jason Ellis. Red Dragons!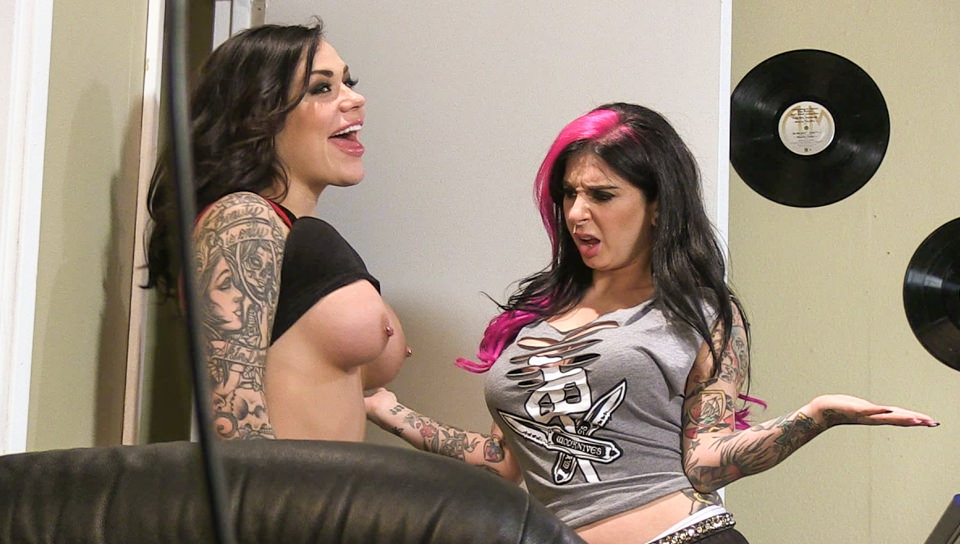 BTS Episode 46, Scene #01: Joanna Angel, Karmen Karma - Here's your first look at our brand new Ellis show porn parody, 'Dude, Am I A Slut?' where I, Joanna Angel, play the role of the one and only Jason Ellis. And my cookie is fucking humongous! I've been going on Jason's show for 10 years and he and his callers came up with the idea to parody his radio show, based on the previously mentioned bit, where girls call in and confess slutty stories, and he gets to determine whether or not they're a slut. The scenes were selected from actual calls made to the show, fan favorites, and some of them were truly crazy - so we got to re-enact these calls, porno style, and the movie wraps up with Jason (me), having sex with a caller (Karmen Karma).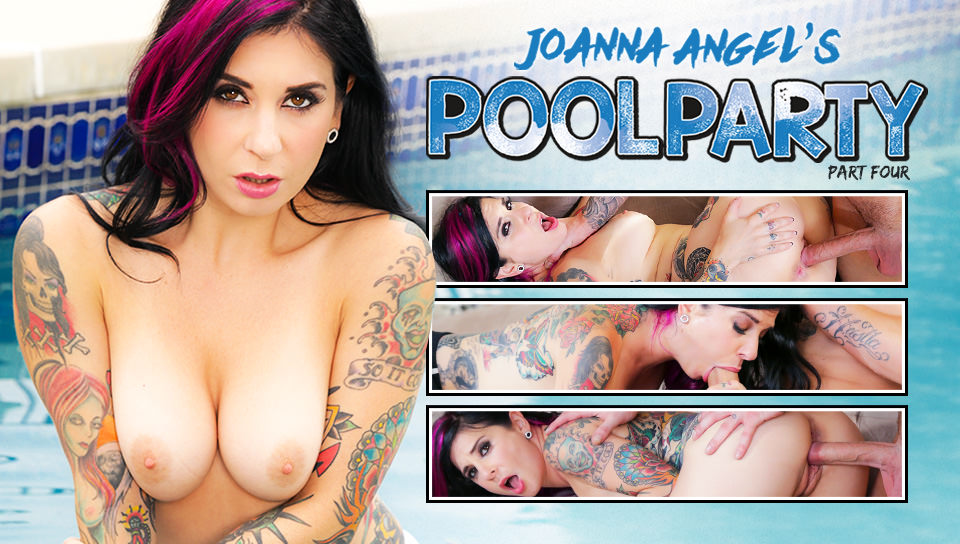 Joanna Angel's Pool Party - Part 4: Joanna Angel - My pool party was a great success and as things were winding down - BUSTED! The homeowner returned, inquiring as to why some douchebag posted party photos from his house - and got DJ 12 Shooter's instagram account suspended (and he thought he could take the homeowner in a fight - he couldn't). Everyone left and being in trouble, I thought I could help this grumpypants relax with some forgiveness that includes a sloppy blowjob and putting his meat in my tight pussy while he fingered my asshole. Wow, he had a huge cock! The deep dicking I took worked out fine, until he realized someone peed in his expensive plants.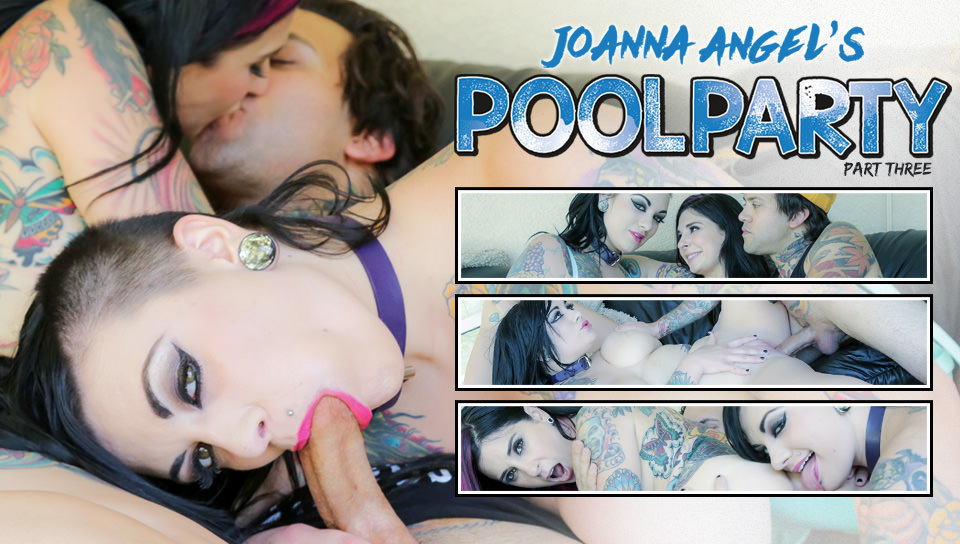 Joanna Angel's Pool Party - Part 3: Joanna Angel, Scarlet LaVey, Small Hands - It didn't take Small Hands long to notice the real reason I threw an entire pool party - I wanted to have sex with curvy goddess Scarlet LaVey and suck on her amazing big tits, taste her pussy, and share a threesome with my man at the same time, but I was too dorky and shy to say so. Luckily, she thought we were really hot and got turned on when she caught us making out - and she wanted to play! Scarlet sucked his balls and played with my butthole while I rode him cowgirl, and she looked gorgeous taking a dick in front of me. We even made him watch Scarlet and I enjoy some girl on girl action! Mission accomplished!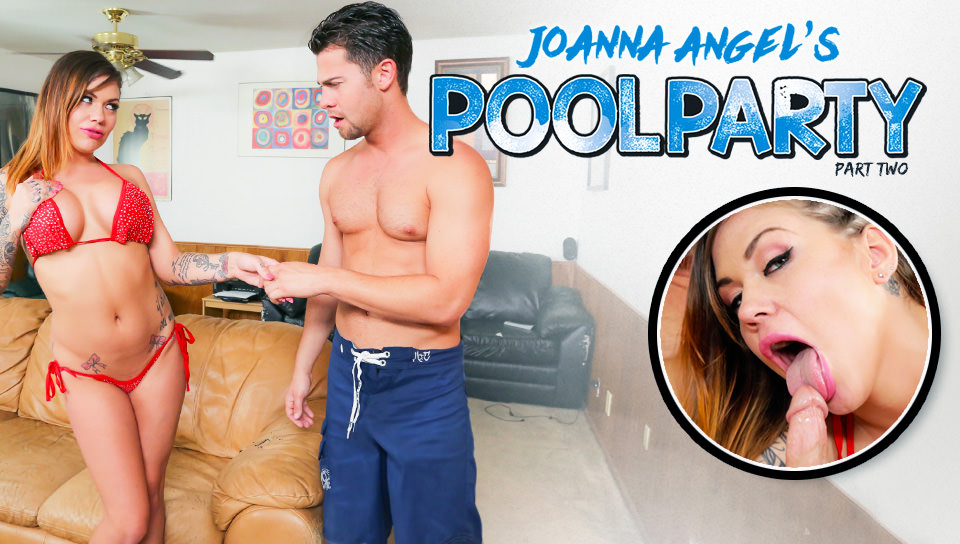 Joanna Angel's Pool Party - Part 2: Karmen Karma, Seth Gamble - Our instagram whoring paid off when Karmen Karma showed up looking for a good time in a hot red bikini! We played Marco Polo in the swimming pool, and our new guest disappeared with Seth Gamble. She didn't come for the party, she's horny and came to get some stiff cock for her holes to satisfy her craving. She ravenously deep throated him, slobbering all over and choking on his knob. Seth made her cum from pussy licking - she knew there was a reason she wanted to be slutty and fuck him right away. He delivered his member to her wet slot, Karmen rode him rough like a stallion, and he took her doggy style, perfect ass and big tits bouncing. Cool party!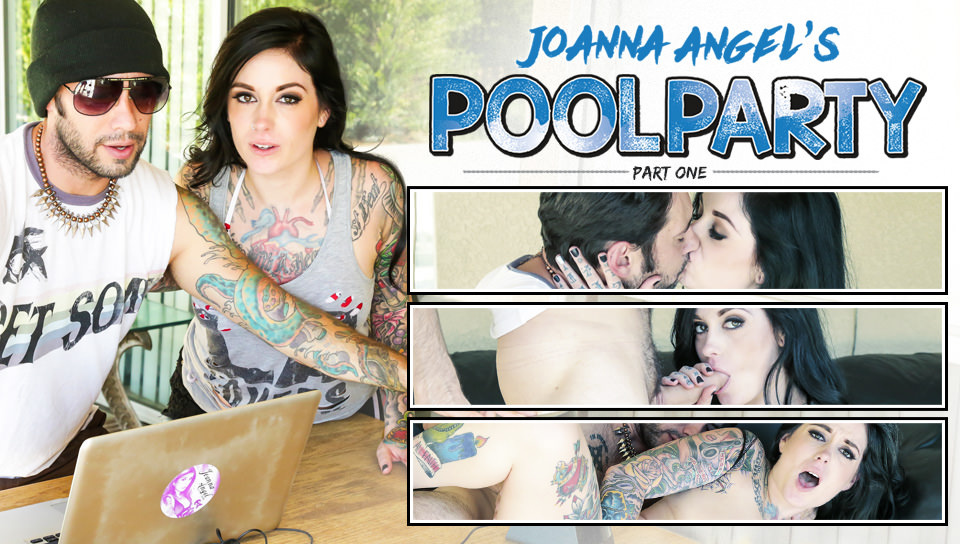 Joanna Angel's Pool Party - Part 1: Hayden Hellfire, Tommy Pistol - I was house sitting for some plant obsessed homeowner who laid out very specific rules for me to follow - water the plants, no parties, etc.. I break rules. Time for a pool party with the gang! Quick thinking instagram whore and groupie slut Hayden Hellfire invited DJ 12 Shooter, aka Tommy Pistol to spin our fiesta and he actually came! Hayden was then determined to be a starfucker - so that's exactly what she did. She dropped to her knees to show off her blowjob skills, and spread her tight pussy and ass for a hard pounding, with some anal sex for good measure. The word was officially out about my crazy sex party - I mean, pool party! What other cum-covered shenanigans and fuckery can we get into?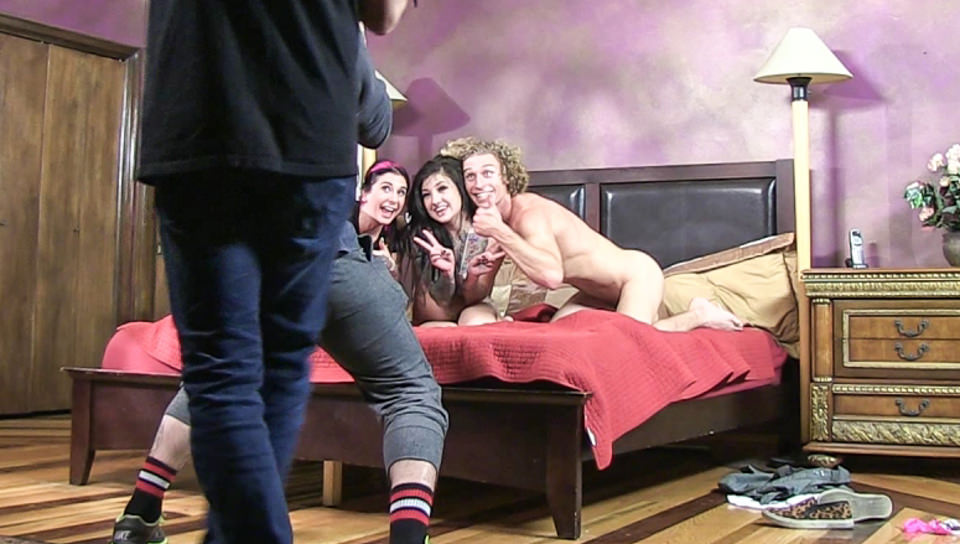 BTS Episode 42, Scene #01: Joanna Angel, Amber Ivy, Kelsi Lynn, Sheena Rose, Mr.Pete, Michael Vegas - Kelsi Lynn was here to pick up Sheena Rose from set one day and I just had to convince this hot tattooed slut to shoot porn for us, as you may have seen. She kept getting hit in the eyes with cum during the moneyshot photos too - what a good sport! We interviewed this Vegas girl post-coitus, and it turns out she was ready to do porn anyway, and now does webcamming too! Then we get to know cherry redhead pin up model Amber Ivy, a stripper and bio major, more intimately before (and after) she went to pound town with Mr. Pete for her first time sex on camera!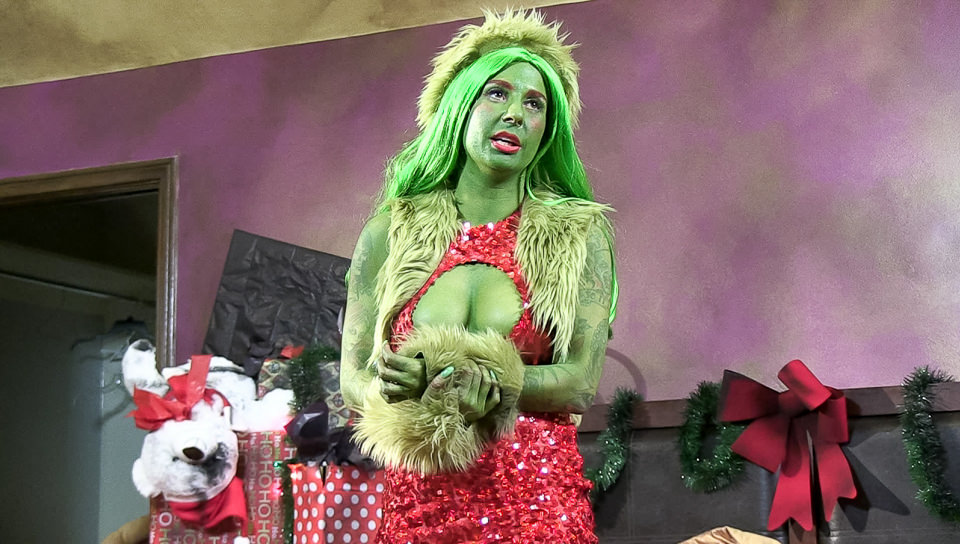 BTS Episode 41, Scene #01: Joanna Angel, Krissie Dee, Amber Ivy, Michael Vegas, Small Hands, Xander Corvus - Let's rewind for a minute and take you behind the scenes of our latest Christmas holiday feature How The Grinch Gaped Christmas! You can see me in all my mean green glory talking about anal gaping, Krissie Dee and Michael Vegas bone and get a little tongue tied delivering lines, Amber Ivy strips down in her photoshoot - and demands Xander Corvus show a little bit more cleavage to match her. Small Hands busts some rhymes, we all get goofy, and Xander is actually a secret holiday cheer ninja. Just another day on the Burning Angel set!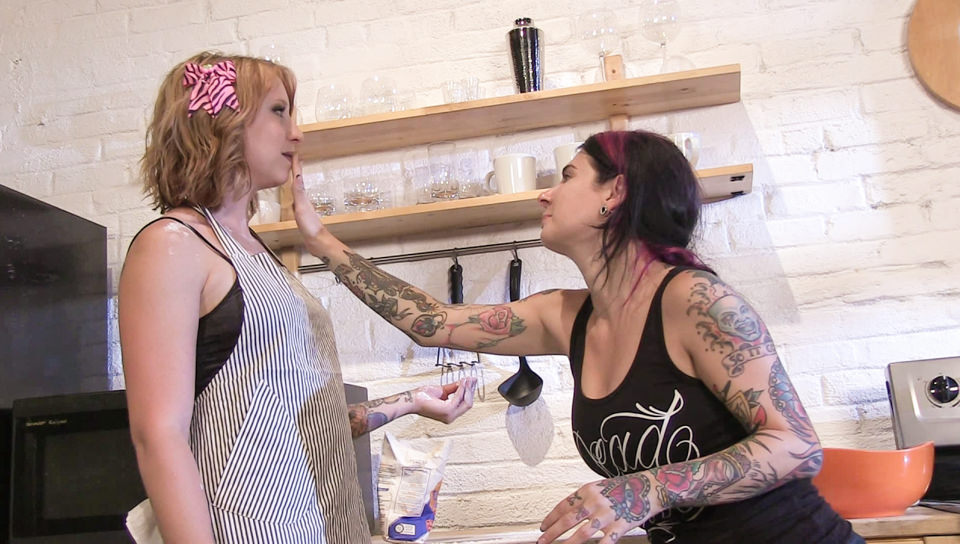 BTS Episode 40, Scene #01: Joanna Angel, Eidyia, John Strong - Recently you may have viewed a scene called 'Nookie Cookie' starring Eidyia and John Strong. Well today, we're going behind the scenes so we can relive the magic of our painfully cute redhead being a messy babysitter covered in flour, having been baking for the 'little angels' and their good behavior, and to catch up with our sweet darling. Don't you just want to put your face in her special pussy cookie all day every day? You're lucky we love to share our tasty treats with the world. Beware: this is not gluten free.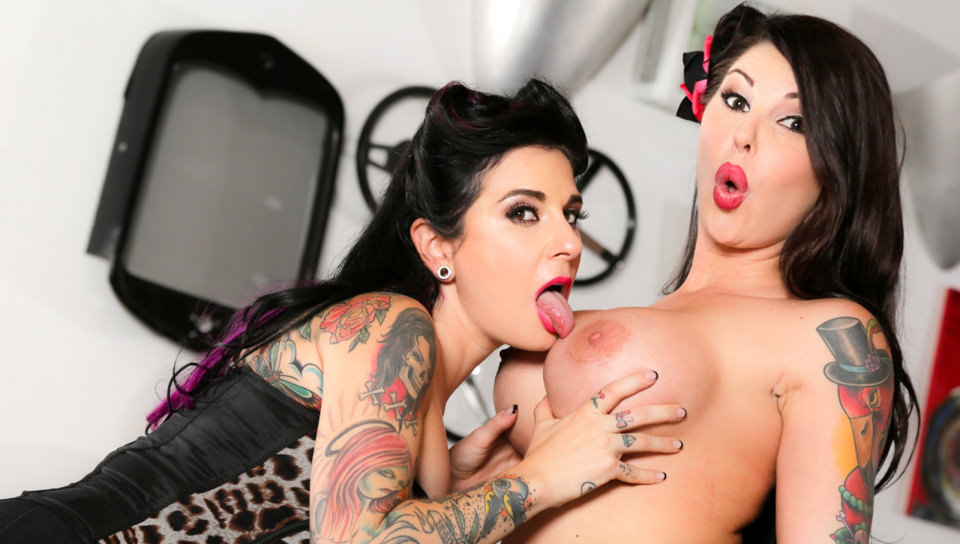 Joanna Angel Loves Darling Danika, Scene #01: Joanna Angel, Darling Danika - I am a very lucky person. I've had sex with beautiful women of all types, but there's just something about Darling Danika that makes me melt into a slutty little sex puddle. And there's also something about getting all dolled up like rockabilly pin up models and making sweet lady fuck in the back seat and on the hood of a classic car - I'm basically a sploosh-machine when it comes to this woman! I long to be near your voluptuous titties and pretty pink pussy again someday. You and me, girl on girl - anytime!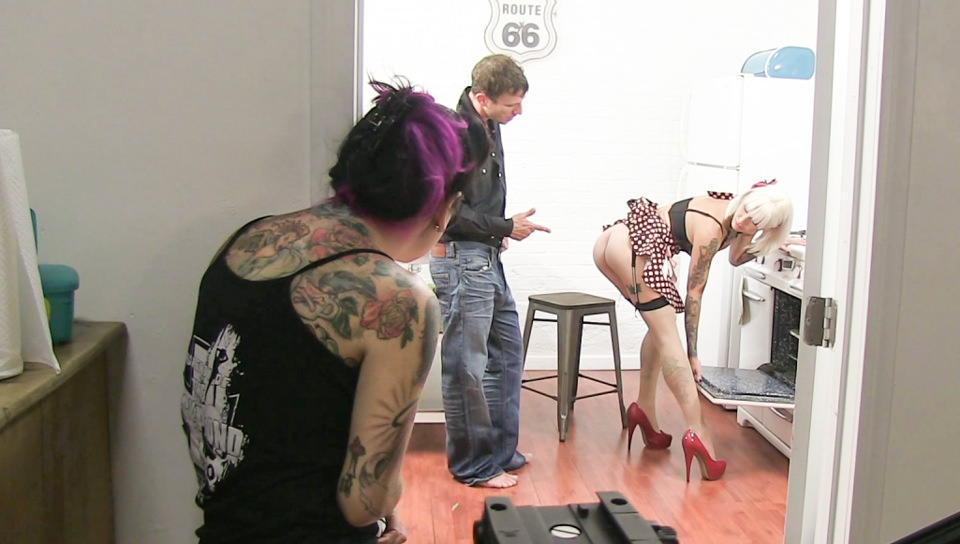 BTS Episode 39, Scene #01: Joanna Angel, Sheena Rose, Kleio Valentien, Mr.Pete, Prince Yahshua - Have I mentioned lately how awesome Sheena Rose is? This girl takes a big black dick (provided by Prince Yahshua) and, I swear, falls in love with every inch of it. It's a thing of beauty, even (especially) when her makeup gets all smeared after a hot fuck session. Not only does she know her way around a cock, our resident homegirl can also play piano by ear, and I also got a quick twerk lesson! Then we catch up with Kleio Valentien on the set of an upcoming I Love Lucy-inspired scene with Mr. Pete, sure to be a real crowd-pleaser!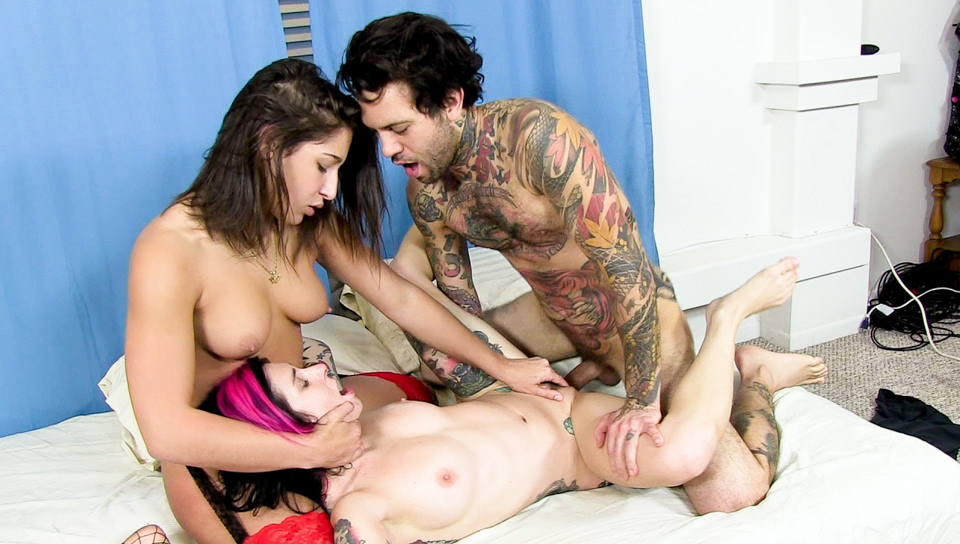 Live Webcam Archive - Episode 14, Scene #01: Joanna Angel, Abella Danger, Small Hands - Small Hands and I fuck porn starlet Abella Danger in a previously recorded live sex show. Watch brand new live streams weekly in the Burning Angel chat room!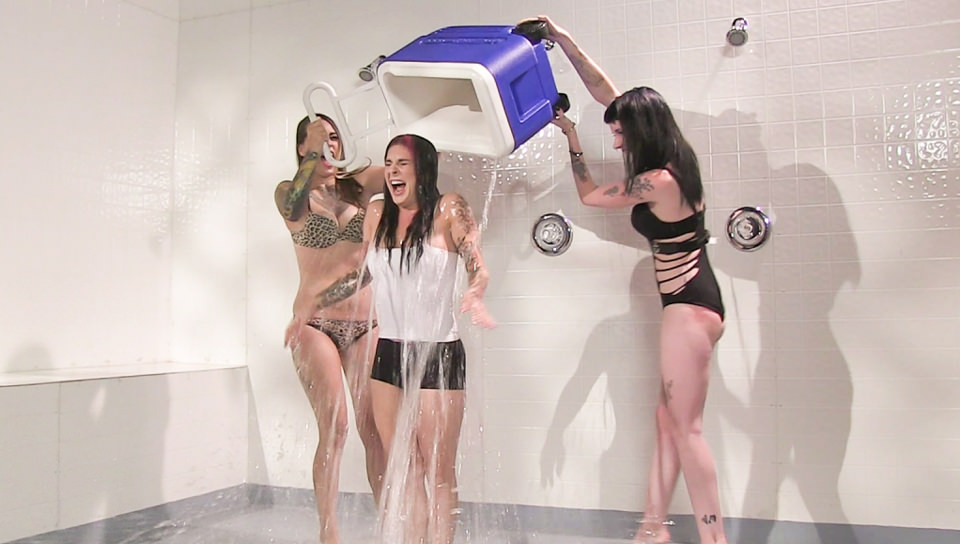 BTS Episode 38, Scene #01: Joanna Angel, Karmen Karma, Kelly Chaos, Jordyn Shane, Taurus, Tommy Pistol, Seth Gamble - Today we continue our behind the scenes look at 'Dreaming The Dream,' starring Karmen Karma, Jordyn Shane, and the ever-hilarious Tommy Pistol. Being one of the funniest things we've ever shot, you get to take a look at how the wheels turn in the mind of resident joker Tommy Pistol. Then we catch up with Taurus - our lovely half Irish half Jewish girl hasn't shot for us in a long while and we're so happy to have her back with BurningAngel for more kick-ass porno videos. Kelly Chaos gets on her knees in the shower, and then assists me with the help of Taurus in completing the ALS Ice Bucket Challenge by dumping a cooler full of ice water and dildos on my head!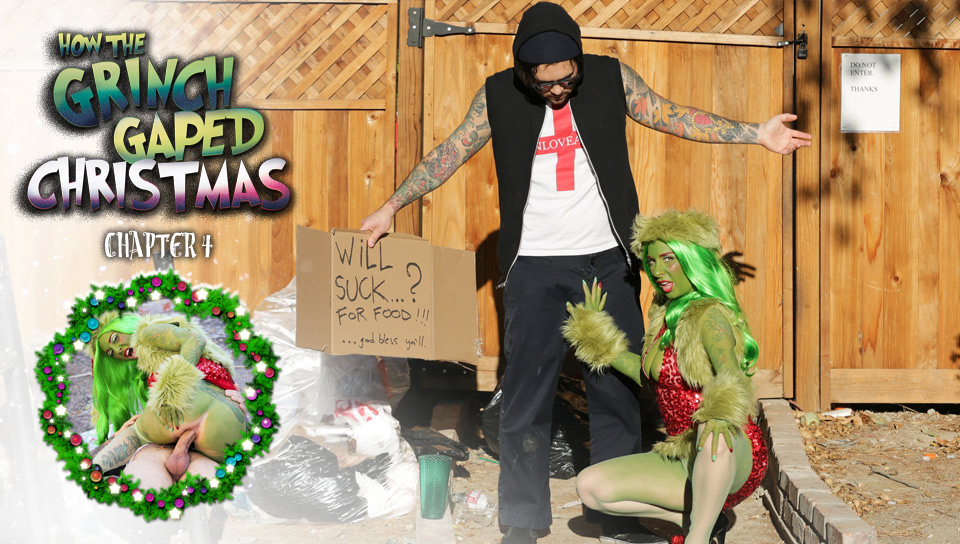 How The Grinch Gaped Christmas - Chapter 4: Joanna Angel, Small Hands - Out onto the streets, into the daylight I fled - I found a handsome homeless guy and began to give him head! Twas probably food that he wanted in order to heal, but I thought my asshole would make a much better meal! In the true spirit of Christmas, I wanted to do him right - first I let him take my pussy - much to this grinch's delight! For I think the bum knew I hadn't been boned very well, and so he welcomed being under my holiday gaping spell. And it was on that day that my asshole grew three sizes - there are no whores on Christmas that this grinch really despises! And to know this fact should fill you with glee - Happy Holidays from BurningAngel, and mother fucking me!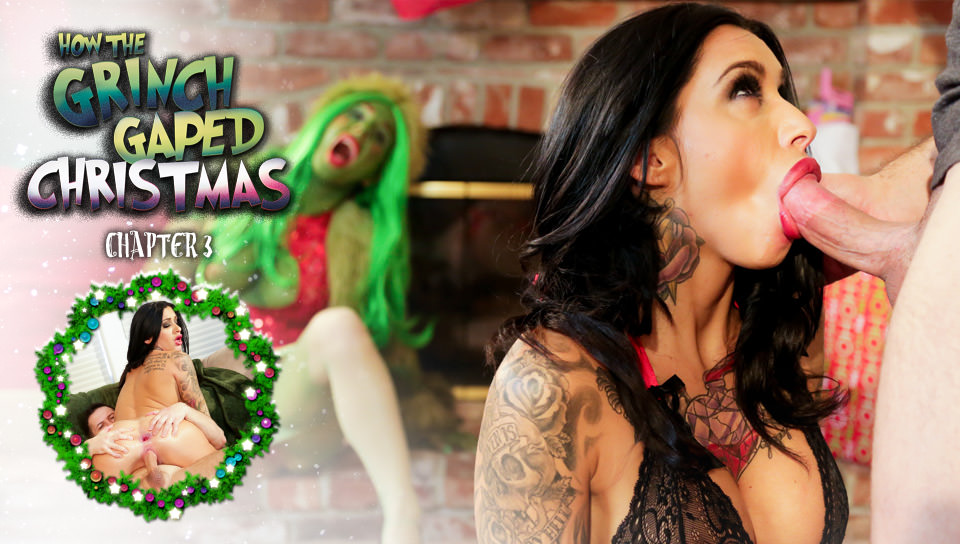 How The Grinch Gaped Christmas - Chapter 3: Joanna Angel, Alby Rydes, John Strong - There is one lonely whore, and I know his true desires - he genuinely loves to be with women he hires. Everyone knows and never wants to say what - that his lame ex wife never gave him the butt. And Ms. Alby Rydes, so moved by John's story - would freely give him her ass, and take all the gaping glory. When I snuck into his house and upon seeing what I did - well it was quite unexpected, so I went and I hid. I merely could not stop myself but to watch them diddle, twas with my own grinch pussy that had I begun to fiddle! Really, I was touched by the offer of sex without a fee, which is when I realized the truth and had a Christmas epiphany! There is one meaning to Christmas, and this much is clear - I should give anal sex to the needy! And then I shed a tear! But just as this holiday pair's cumshot was no more, it was then that they caught me in the corner - a green creeping ass whore!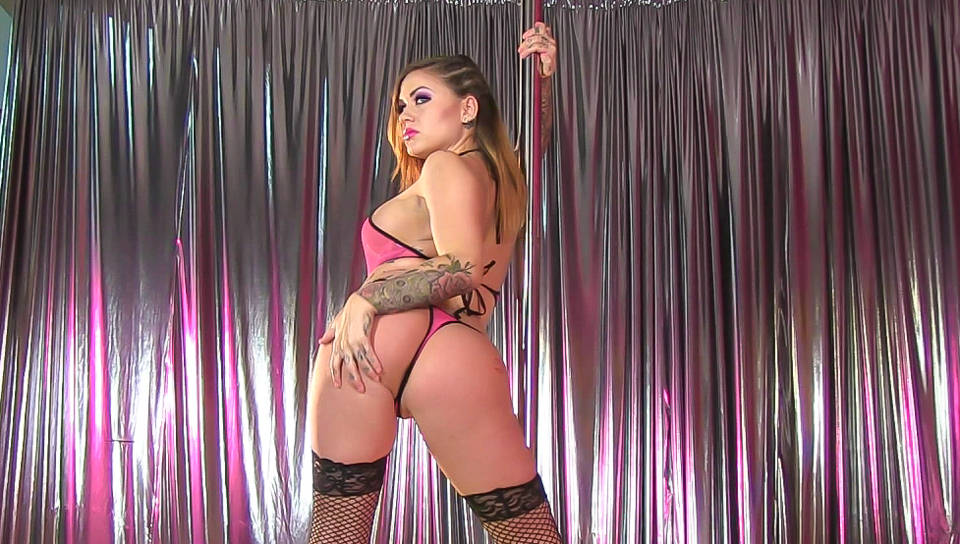 BTS Episode 37, Scene #01: Karmen Karma, Jordyn Shane - None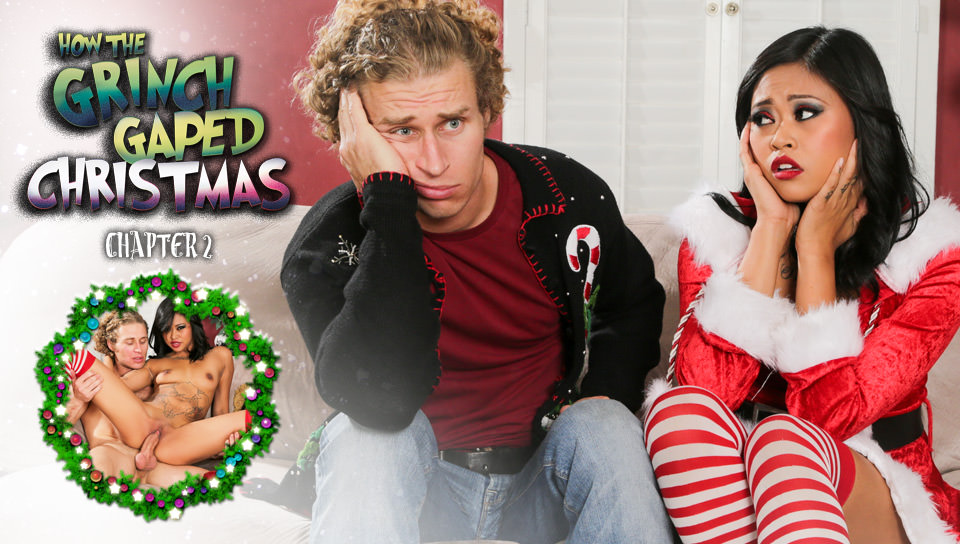 How The Grinch Gaped Christmas - Chapter 2: Joanna Angel, Krissie Dee, Michael Vegas - I left the home of those holiday whores, ew, they love each other - what a bore! I walked down the street and what did I see - it was the home of one Krissie Dee! And poor Michael Vegas, working overtime for a buck - when this grinch stole their presents: surely he'd know they were shit out of luck! And wouldn't you know it - things still felt light as a feather, because Christmas could never be ruined... as long as they were together! Even when someone made off with all their gifts in a pouch, the best medicine for holiday blues is to make your girlfriend squirt all over the couch!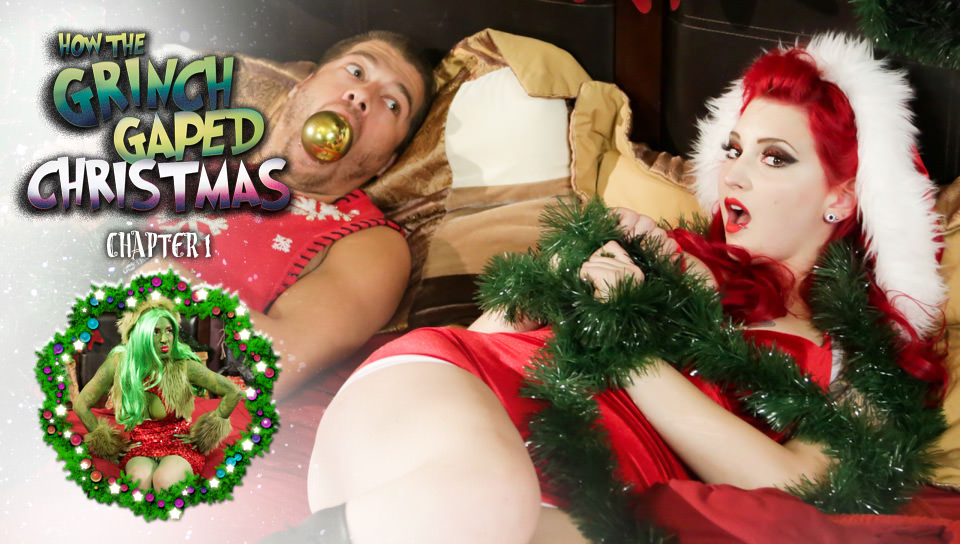 How The Grinch Gaped Christmas - Chapter 1: Joanna Angel, Amber Ivy, Xander Corvus - Oh those whores down in Whoreville, they annoy me a lot! One of these days, I'd just like to hit them with a big old pot. But I suppose since the fate of these carolers is purely in my hands - I'll just beat them with an umbrella, as to carry out a more devious plan! I dragged Amber Ivy and Xander down stairs, where I tied them to my bed - oh my, what a pair! And secretly, this grinch must have wanted them to fuck, because they escaped from this trap which is just my luck. And speaking of fuck, that's just what they did, because when your lives are in danger, true feelings for redheads are not to be hid!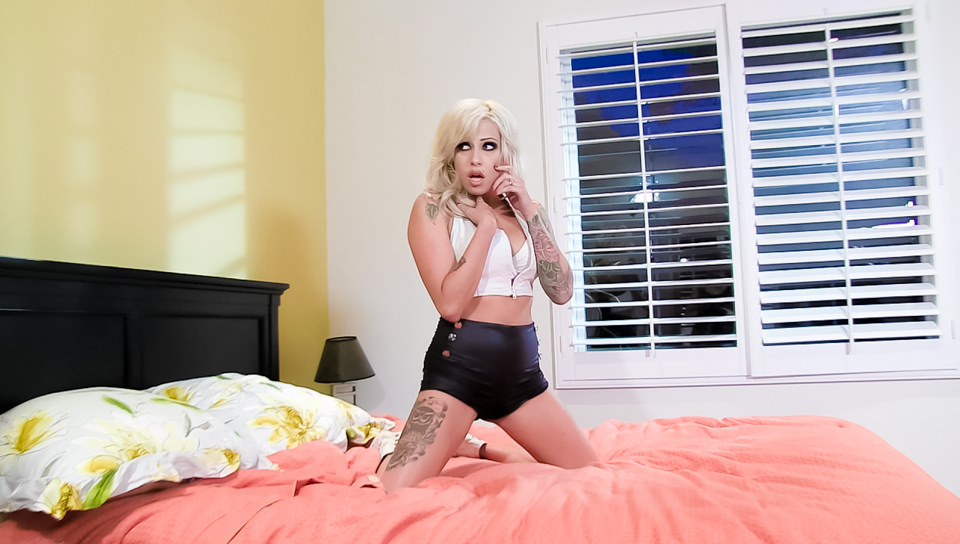 BTS Episode 36, Scene #01: Joanna Angel, Vyxen Steel, Veronica Layke, Jessie Lee, Tommy Pistol, John Strong, Nat Turnher - In today's behind the scenes episode, we have story time in BurningAngel land, where I recall some pee-pants moments of hilarity on set, and then we come back down to Earth and follow up on the latest tinfoil fashion trends from Areola by way of foil undergarment designer and BA house cock Tommy Pistol! The struggle is real. We crept on rockabilly glamour pin up doll Veronica Layke during her threesome shoot, during which we beheld the fury of nature when a tarantula hawk (a scary ass wasp with the 2nd most painful sting in the world) actually hunted down a tarantula for dinner. On my fucking set. Shiver. Vyxen Steel closes with talk of aliens, various perversions, and big black dicks!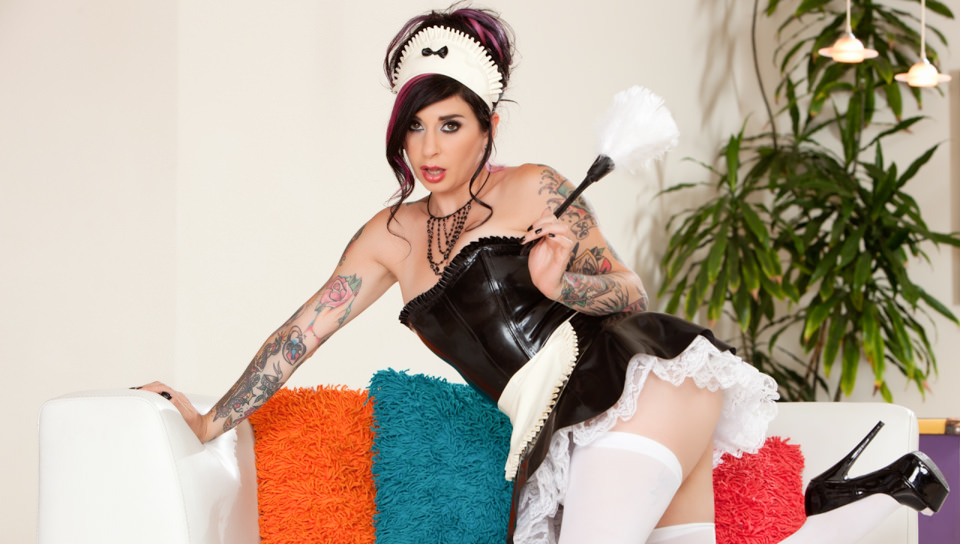 French Fuck Maid, Scene #01: Joanna Angel, Small Hands - I was tidying up the place in my latex French maid uniform, making sure to make spotless the entire place with my feather duster - and I 'forgot' to wear panties! Mr. Small Hands got very excited when he noticed me bending over the couch, so I approached seductively and gave him my sultriest 'fuck me' eyes. Maybe it was all those balls clacking together, but I was so turned on, I just had to stick my tongue down his throat and his fingers in my pussy! I fucked his face with my cunt, and I enjoyed gagging on his big dick with that tattoo giving me the eye of the tiger, until finally he railed me doggy style over the side of the pool table.. And on the furniture I just cleaned - le sigh. At least cum won't stain my pretty face! Roleplay is fun.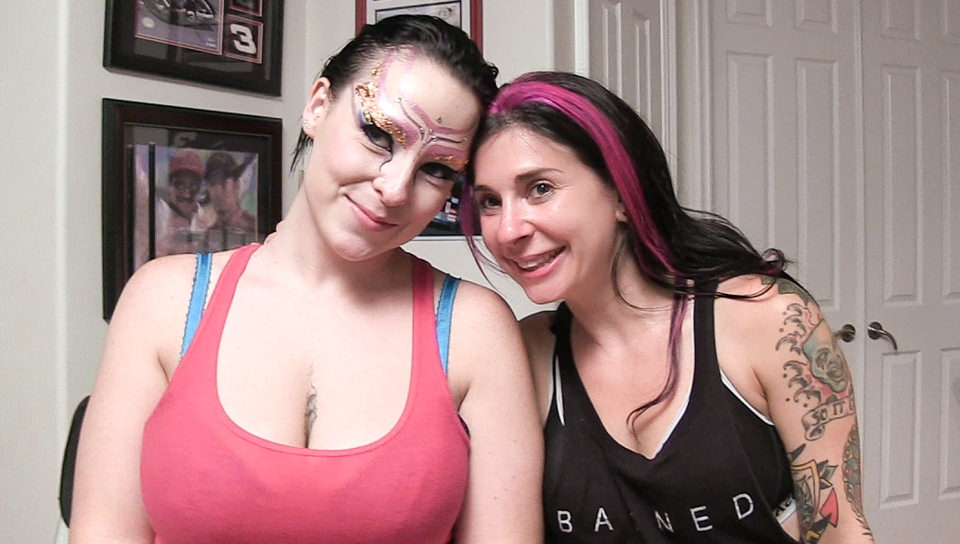 BTS Episode 35, Scene #01: Joanna Angel, Jessie Lee, Sheridan Love - We join Axis Evol, a Burning Angel newbie from Las Vegas, Sheridan Love, and Jessie Lee all on the set of Killer Kleavage From Outer Space. Big tits, shiny space outfits, and squirting - I, for one, welcome our new Areolan overlords. Take me to your leader! Axis made Sheridan cum so hard, she squirted the camera across the room. Oops. Apparently, you should not squirt towards a six thousand dollar piece of equipment. Find out which Burning Angels believe in aliens, and who wants to have sex with not only Predator, but a creepy clown, in today's behind the scenes clip!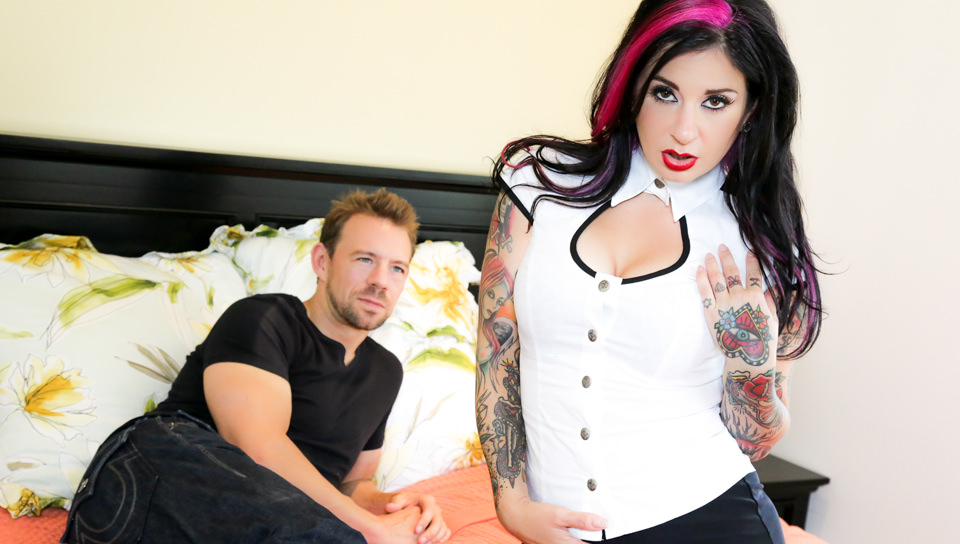 Striped Thigh Highs, Scene #01: Joanna Angel, Erik Everhard - I did a sexy striptease on my way up the stairs and stopped to masturbate and play in my thong. Erik Everhard was waiting for me in the bedroom - we made out a little while he sucked on and admired my tits, then I spread my legs for him while he fingered and eagerly lapped up my sweet pinkness, until I came hard on his face! I loved shoving his thick cock down my throat to return the favor - he's so kind he orally pleasured my again till I came before he rammed his dick far into my cunt and took me for a ride! I really enjoy fucking Erik, his deep-dicking, and how he stretches my tight slit to its limits! He's a true pussy slayer.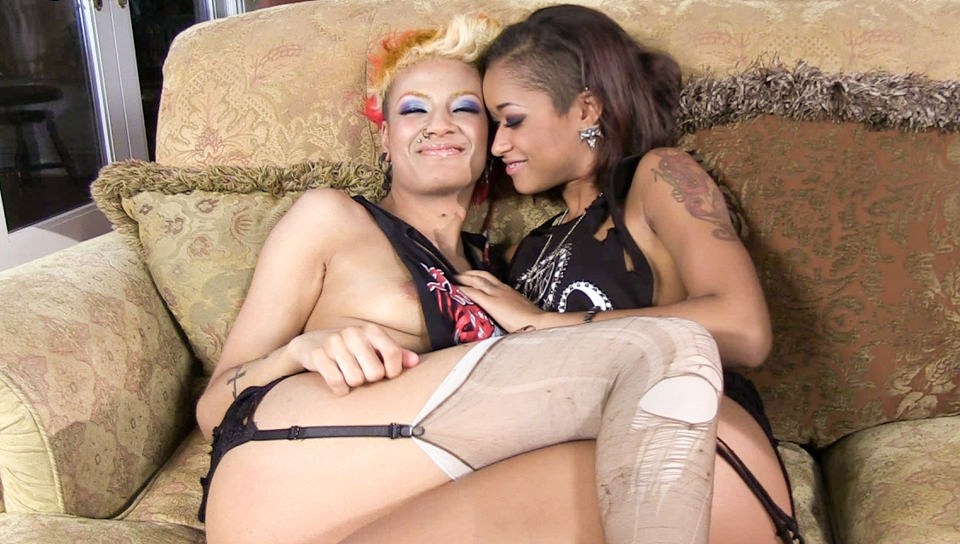 BTS Episode 34, Scene #01: Joanna Angel, Annie Cruz, Skin Diamond, Roggie, London Lanchester, John Strong, Wolf Hudson, Small Hands - London Lanchester, Annie Cruz, Skin Diamond, and Roggie paid the BurningAngel set a visit for shooting some kick-ass new porno of the Asian gothic lolita schoolgirl and cosplay and the hot punk ass threeway variety, and we caught everyone. Besides fucking and some sweet new tattoos (Bukkake knuckles!), London has been writing her own comics. She and Annie are both heavily into the cosplay scene, and did some great sex together with John Strong, and while that happened, Small Hands did a freestyle rap for the cameras!


Want some more? Check the site.
| | | |
| --- | --- | --- |
| | Older | Newer | |