[Click on the picture to see all the samples]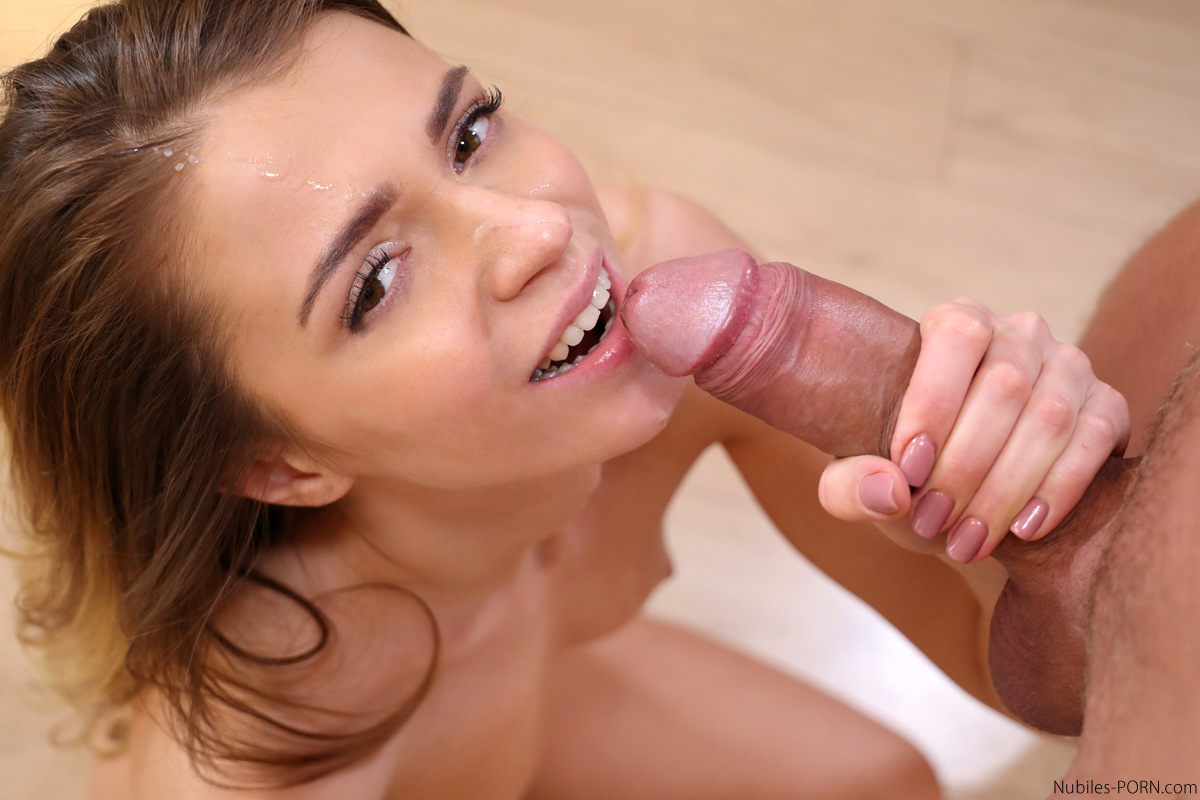 Putting on makeup in front of the mirror and donning a sheer bra and thong is all the preparation Kalisy needs to get ready for a lusty time with Ricky Rascal. It doesn''t take long for Kalisy to find herself in Ricky''s lap as he relieves her of her bra so that he can bury his face against her perky breasts while laving attention on her rock hard nipples. Dropping to her knees, Kalisy pulls Ricky''s stiffie close so that she can lick and suck to her heart''s content.Before she knows it, Kalisy finds herself on her back on the ottoman with Ricky buried balls deep inside of her. She reaches down to rub her clit as he fucks her, doubling down on the pleasure from his long, sure strokes. When she gets on her hands and knees for deeper penetration, Ricky obliges by going harder and faster.On her back once again, Kalisy lifts her knees so that Ricky can keep pounding away at her slippery snatch. As he reaches the edge of his endurance, he pulls out and moves up so that his dick is right above Kalisy''s mouth. From that position she can easily milk his cock while sucking the tip, leaving him ready to explode. She kneels on the floor for that grand finale, aiming carefully so she can enjoy the facial she desires.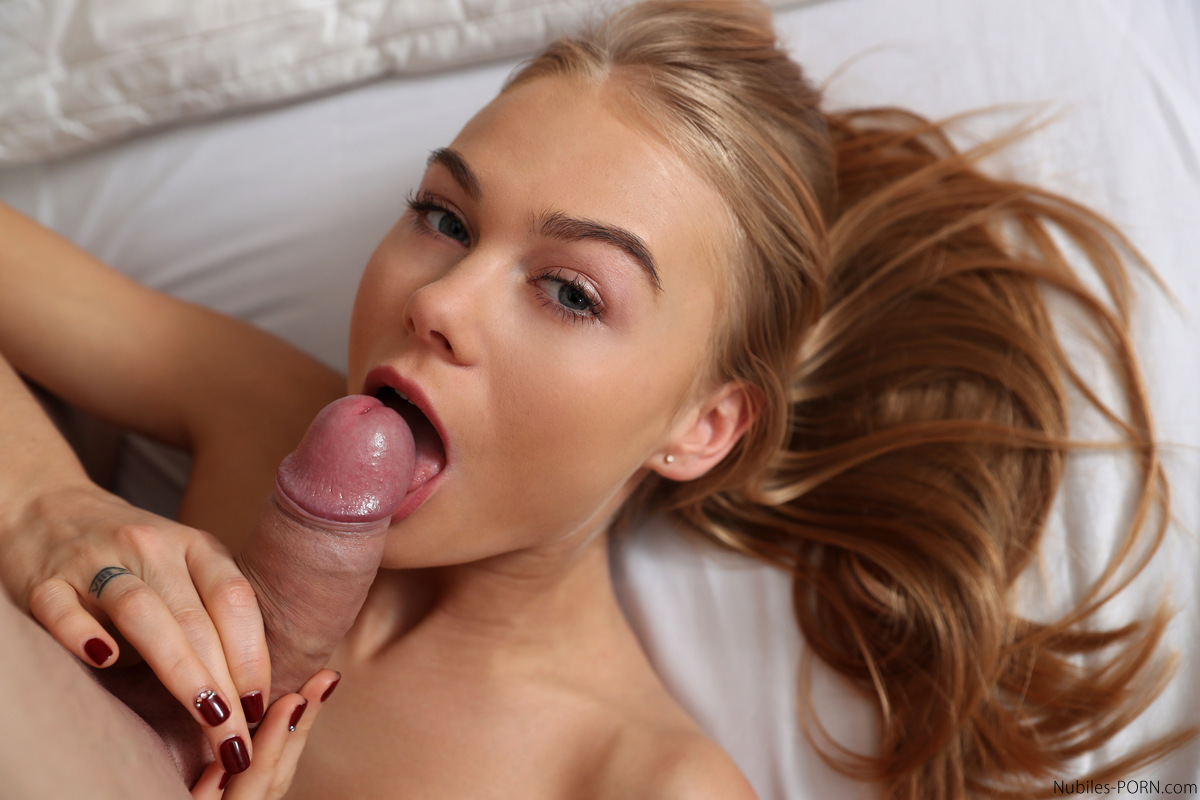 Nancy A. knows just how to tease Martin onto a lusty encounter. Sucking on an ice pop, she makes it known that she''s in the mood for love, and her husband is definitely willing to play. It''s not long before Nancy has her shirt off so that Martin can admire her boobs while she sucks him off in a slow sensual blowjob.Pulling Nancy around so that her creamy twat is within easy reach of his face, Martin leans forward to nip at her soft folds. Finding her nice and wet, he laps away at her greedy slit while she keeps on sucking his dick in a 69. As much as Nancy loves the feel of her lover''s tongue making magic, she wants his stiffie inside of her even more. Sliding forward, she lifts her ass and then sinks down on Martin''s hardon for a reverse cowgirl fuck.Falling to her side after her wild ride, Nancy enjoys the deep thrusts as Martin spoons her from behind. What really gets this horny sex kitten off, though, is taking a doggy style pussy pounding. With such a bounty of ecstasy before him, Martin can''t hold back for much longer than it takes to bring Nancy off. Pulling out, he watches as she lays beneath him sucking him off until the last moment when she aims his cock at her breasts to cover them in his cumshot.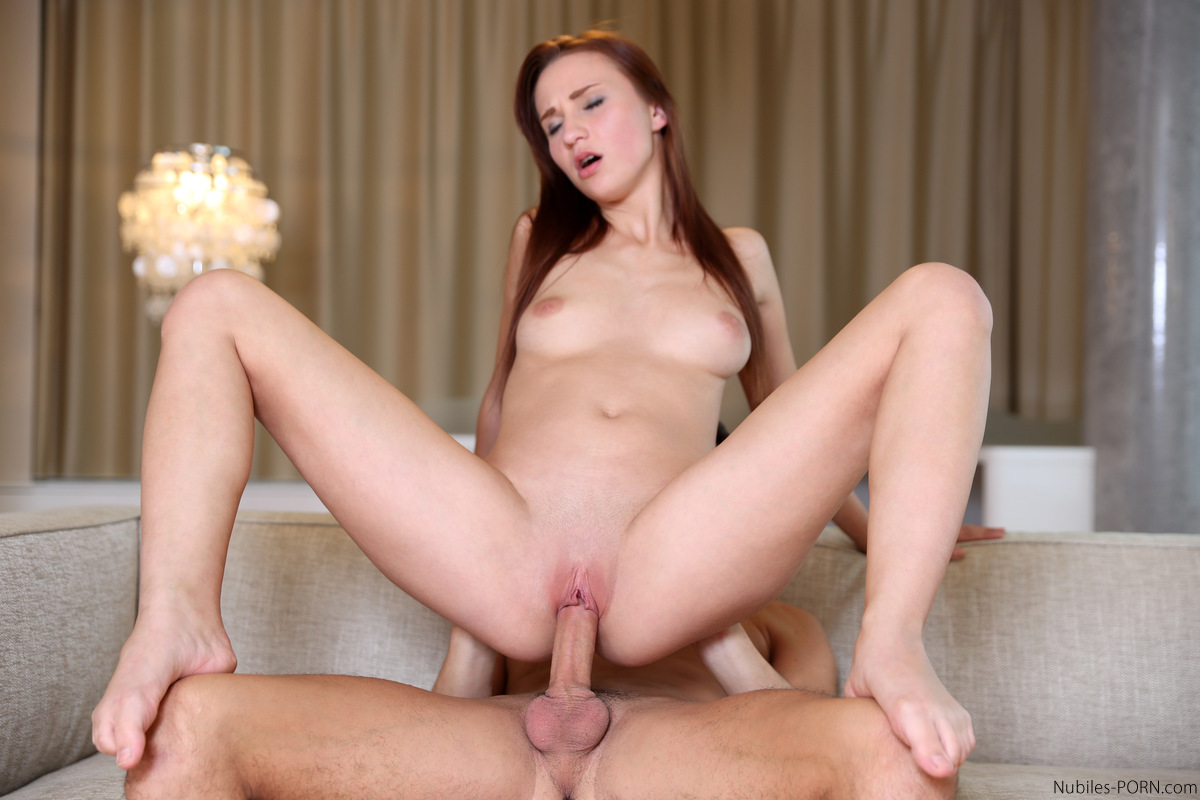 Perky coed Chesley Sun wants to make her boyfriend Nick Ross''s day. Dropping to her knees, she pulls out his already hard stiffie and wraps her puffy lips around the head. She sucks him long and hard, using her hands to stroke his shaft and caress his balls. When her tongue follows the path that her fingers just took, it''s all Nick can do to stay still instead of fucking her on the spot! Peeling off her clothes, Chesley settles back on the couch and spreads her thighs so that Nick can repay some of the delight of oral sex. He doesn''t hesitate to dip his head and sample the brunette''s sweet nectar. As much as he enjoys the taste, though, he can''t help but give in to the temptation to sink his dick into her creamy bare twat. Chesley happily helps Nick try out a variety of positions, from her riding him to her getting a doggy style pussy pounding. When she has finally had enough, Chesley rolls onto her back and starts sucking her guy off again. Nick can only take so much of Chesley''s warm mouth before he cums all over her face and neck in an explosion of passion.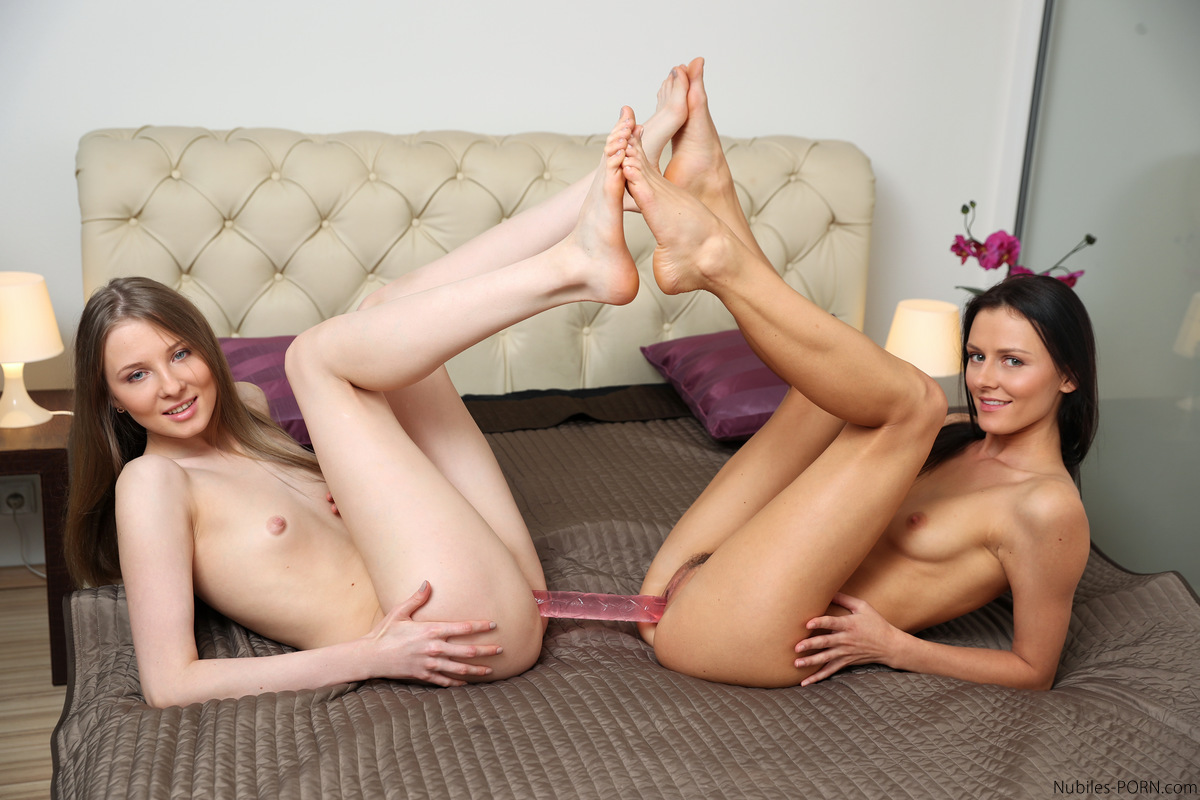 Kirra and Nimfa are ready for a horny lesbian fuck fest! Once they have both stripped off their bras and panties, Nimfa licks and fingers Kirra''s landing strip twat into total soft wetness. Then she climbs on top of Nimfa for a pussy feasting 69 that leaves them both panting. When the 69 disbands, Kirra works her fingers and mouth over Nimfa''s snatch.The girls turn to a double sided dildo as their passion grows. Nimfa is the first to press it into Kirra''s cooch, but once it is firmly seated in her friend''s pussy she takes the other end deep into her own. Working together, the girls scissor with the toy between them until their fuck holes are creamy wet and dripping with excitement.Next they rearrange themselves bottom to bottom with the toy firmly embedded in their cooters. That doggy style position is just what they both need to get off, which they do with loud moans of ecstasy. Disengaging from their toy, they lick the tip clean as they bask in the afterglow of a good fuck.
Cock hungry coed Nickey Huntsman shakes her ass and flashes her tits for Logan Pierce''s pleasure. Once she has tried on a bunch of outfits, she decides that naked is best and doesn''t waste another minute with clothes. Instead, she turns her attention to getting Logan nice and hard and ready for a fuck fest in her juicy bald twat.Sucking Logan off is just the start for this horny student. Long strokes of her lips and tongue whet both of their appetites, preparing both of them for the moment when NIckey turns around and lifts her rump in a silent request. Logan is happy to slide balls deep into the tight fuck hole that is dripping just for him. Moving his hips, he pounds away while leaning forward to cup and massage Nickey''s heavy breasts for added pleasure.Adjusting their position so that Nickey is on top, Logan anchors his hands to his lover''s hips and then watches her boobs fly as she goes to town bumping and grinding above him. Her stiffie ride is fast and furious with a few sensual slowdowns here and there, everything NIckey needs to explode. Flipping his lover onto her back, Logan takes her one last time and keeps pumping until the last moment when he pulls out and sends a shower of cum to cover Nickey''s breasts and belly, and even splatter into her mouth.
Horny Alecia Fox lets her boyfriend Charlie Dean know with a kiss and a caress that she''s feeling a little bit horny. When her hand wanders down below the belt, she finds Charlie''s dick already hard and needy. It''s simple for her to lean forward over the couch and wrap her soft lips around his fuck stick. Her slurping and sucking gets more enthusiastic the longer she goes on, especially when Charlie urges her up to take a break so he can suck her little boobs.Laying back on the couch, Alecia moans her enthusiastic excitement as Charlie leans forward to press his lips to the meaty slickness of her pussy. Her cries grow even louder as Charlie slides two fingers into her tight twat, and then louder still as he curls up to spoon behind her so that he can replace his fingers with his big dick. Long strokes speed up gradually as the lovers find the perfect rhythm.Climbing onto Charlie''s lap, Alecia slides her landing strip snatch down onto her boyfriend''s hardon for a booty bouncing stiffie ride. Then she leans forward so that Charlie can pile drive into her from behind, his long strokes bringing her off with a scream of orgasmic bliss. As her climax shakes her sweet body, she turns around and starts stroking Charlie off while sucking at the same time. That last bit of titillating sensation is all Charlie needs to blast off right in Alecia''s waiting mouth.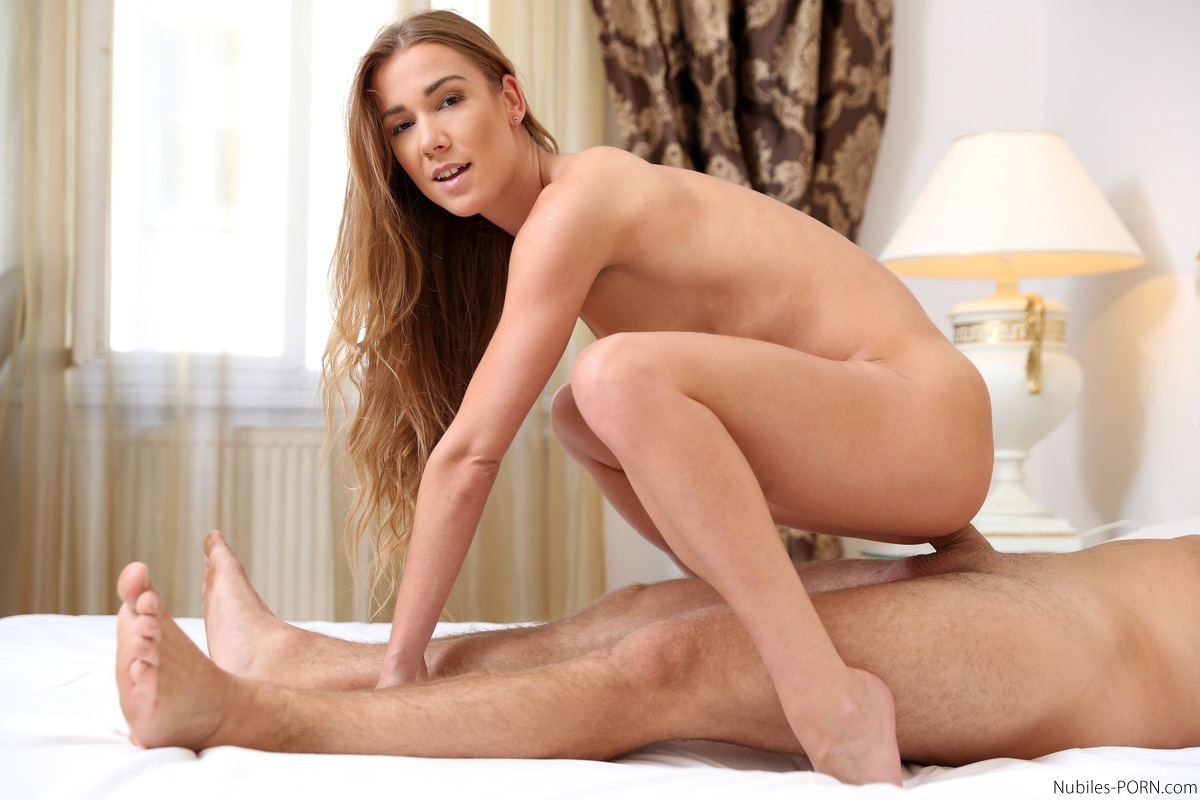 Short sweet brunette Alexis Crystal is a total tease as she sends increasingly naughty selfies to her boyfriend Michael Fly. By the time Michael Fly arrives, Alexis is already horny as hell and ready to go. He whips out his dick, and Alexis strokes and sucks it on her belly while kicking her feet behind her in obvious pleasure. Slipping out of her robe, Alexis turns around so that Michael can slam into her from before. There''s nothing gentle about his pussy pounding, especially as he winds a hand around her neck to hold her in place. Falling to their sides, Michael doesn''t miss a stroke as he continues to fuck Alexis from his spooning position.When Michael rolls onto his back, Alexis is quick to adjust her position so that she rises above him. She starts riding him while staring into his eyes, but soon she turns around so she can go on a small tit bouncing stiffie ride. As her pussy pulses with the delight of her climax, Alexis brings Michal to the same grand finale by sucking and stroking until he hits her mouth with the cumshot she craves.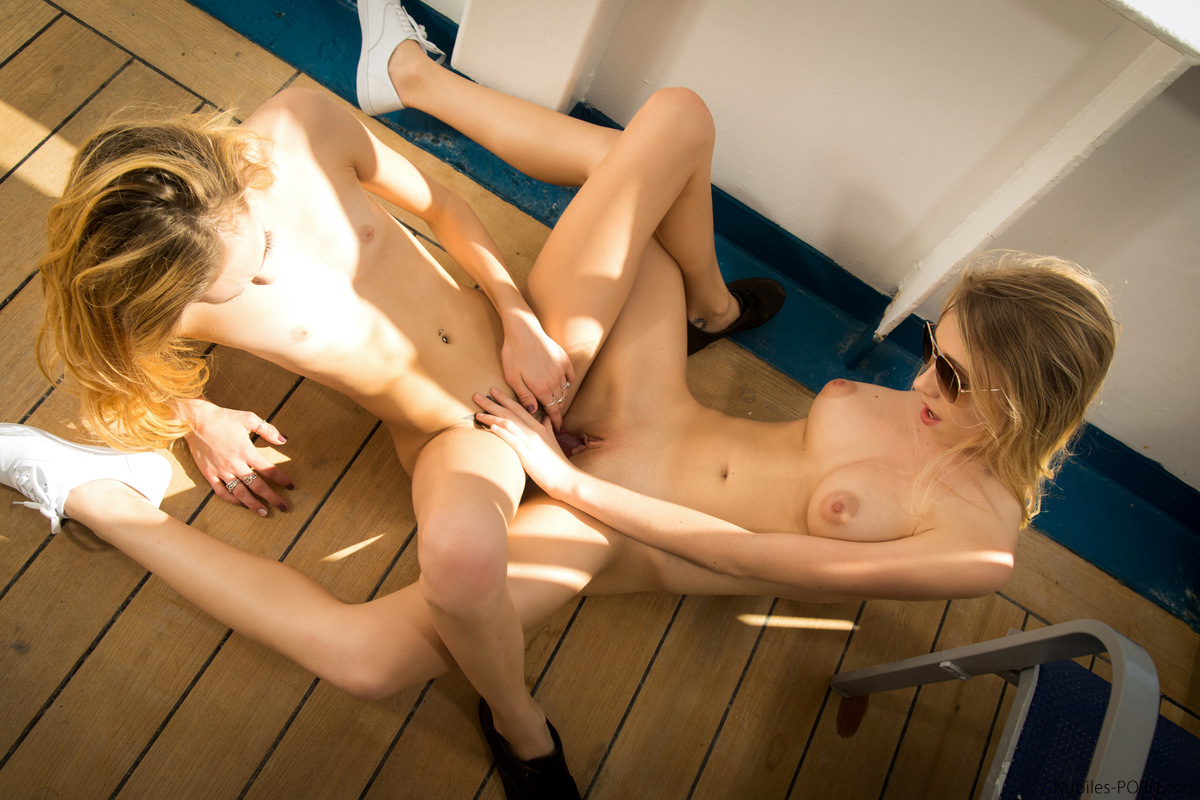 Beach babes Kali Renee and Melissa Young are decked out in bikinis and horny as hell. These two hotties are ready to fuck as they make out in the hallway of their small yacht. Soon their bras are on the ground as Marissa licks and sucks at Kali''s breasts and then throws her head back in excitement as Kali returns the favor. When their bottoms hit the ground next, nothing will stop these two from making each other''s days.Kali soon finds herself in a chair with Marissa hovering over her. After a brief sampler of Kali''s musky juices, Marissa allows herself to be repositioned on the floor. That allows Kali to do some pussy massaging of her own before the girls arrange themselves in a lusty 69. When they whip out a double-sided dildo, they are both nice and wet and ready to rumble with their toy.Working in tandem, the girls first arrange themselves so that they are each penetrated by the dildo while scissoring with one another. That position is perfect for getting them each off, although Kali soon finds herself with Marissa once again feasting on her greedy puss. Happy to return the favor, Kali presses Marissa back and listens happily to Marissa''s long sighs of ecstasy as she works magic with her talented tongue.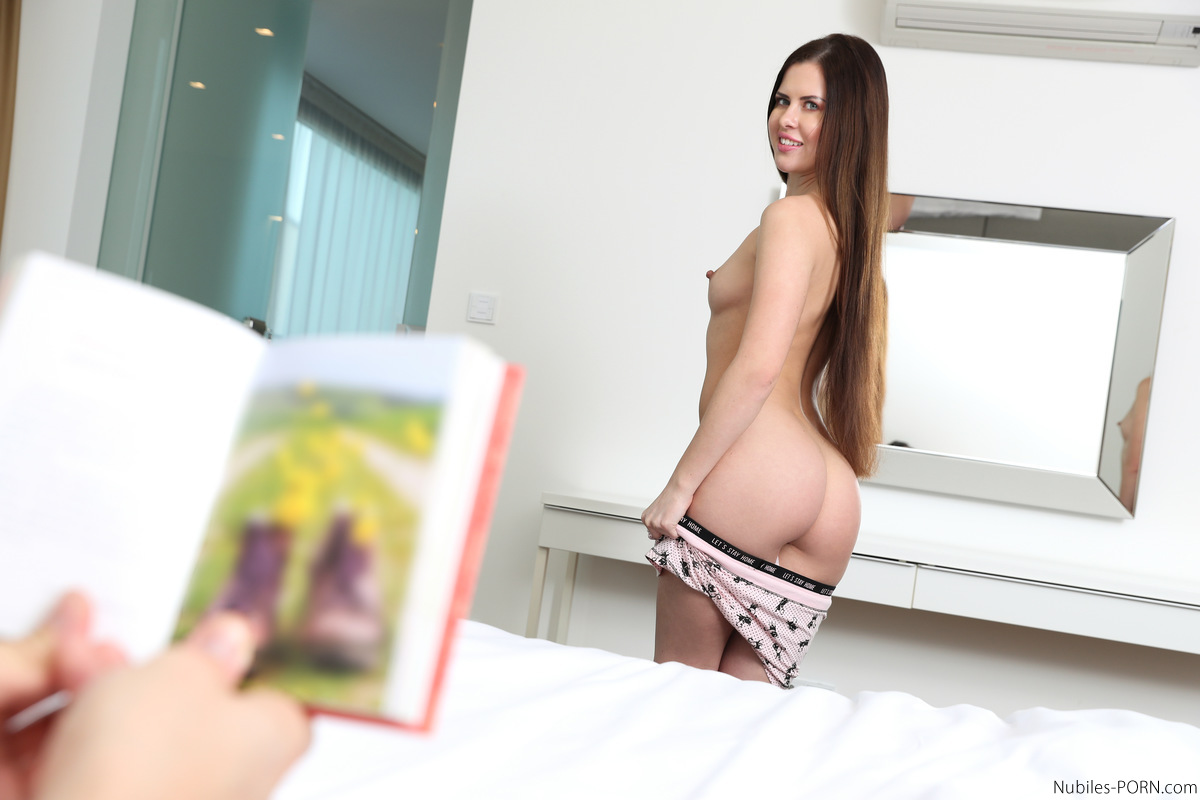 Cassie Fire would do anything to get Nick Rossa''s attention. She starts by putting on a sheer bra, makeup, and boy shorts. Then she struts into the bedroom and does a striptease for Nick''s pleasure. When that still doesn''t get Nick to put down his book, Cassie goes to plan B: She crawls onto the bed and slips her puffy lips over her guy''s dick. Once Cassie finally has Nick''s attention, she crawls up his body and slides her creamy snatch down onto his long fuck stuck. Her cowgirl style ride gets even hotter when Nick realizes that Cassie''s tits are in easy sucking distance. When Cassie turns around so that Nick can thrust deep into her twat, her moans fill the room.Rolling onto her side, Cassie lifts one leg high so that Nick can drive into her from behind. That''s not quite what this greedy coed needs, though, so she gets on her hands and knees to take a doggy style fuck. With her body still pulsing in ecstasy, Cassie lays on her back so that Nick can bring her off again before pulling out to take his pleasure as he gives her a facial of cum.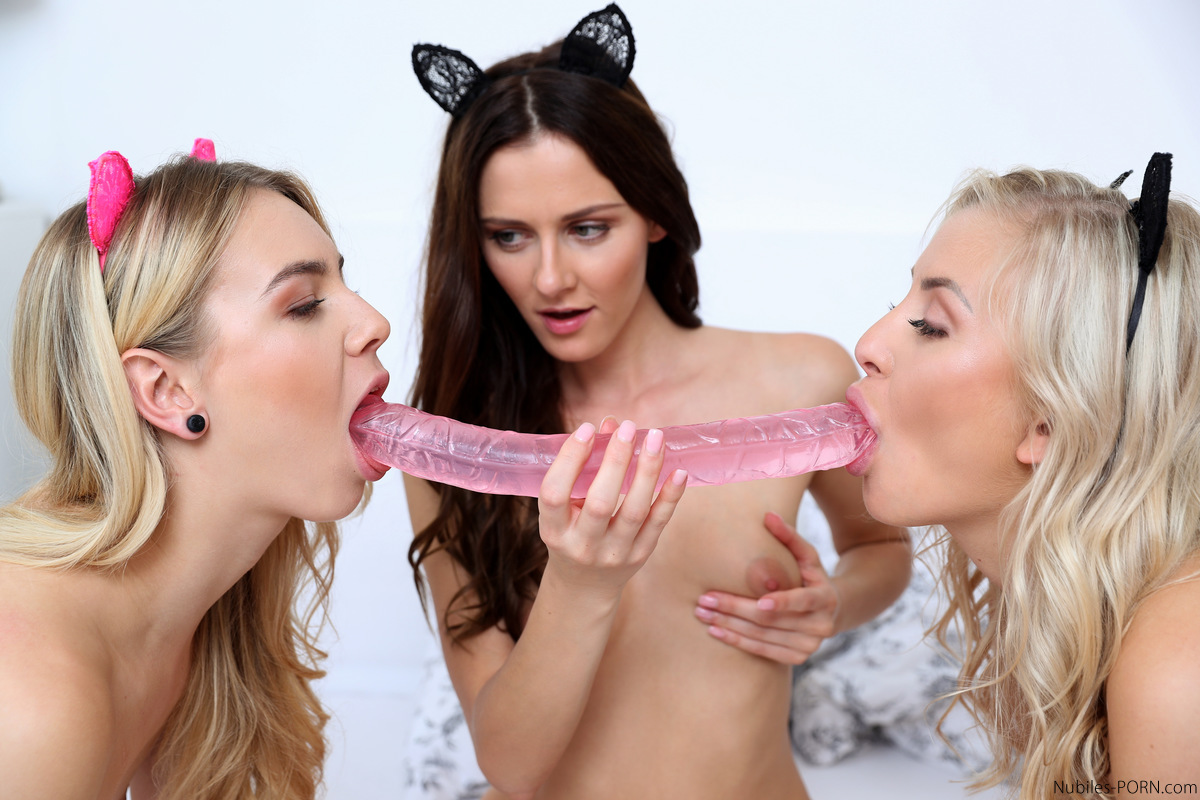 Kirra sits at her makeup table trying on a pair of cat ears. Wearing her own kitty ears, Kayla joins Kirra and makes her intentions clear with long caresses and soft kisses. Soon the girls find themselves on the bed with Cayla helping Kirra out of her panties. Dropping to her belly, Cayla buries her face in Kirra''s landing strip snatch and goes to work with her magical tongue and talented fingers. When Cayla uses a toy that offers incredible stimulation for Kirra''s clit, she watches in pleasure as her brunette girlfriend comes undone with a big climax.It takes some time for the two lovers to notice that Alecia Fox is watching from the doorway, dressed in her own kitty ears and holding a big double-ended dildo. When Alecia does decide to join them, it is to press her mouth to Cayla''s lusty twat as Cayla continues to drive Kirra wild. Once Alecia has Cayla nice and wet, she slides the dildo deep and uses it to leave Cayla breathless with passion as Kirra rides her face.The girls rearrange themselves so that Kirra is positioned behind Cayla and Alecia. The two blondes gaze into each other''s eyes as Kirra pushes the dildo into each of their fuck holes, and then they moan in ecstasy as Alecia rides Cayla for both of their pleasure. When they settle into a final position of a sex triangle, each lush coed has her own cream fuck hole to feast upon and fondle. Finally satisfied, the three kitty cats cuddle together while stroking the toy that gave them so much enjoyment.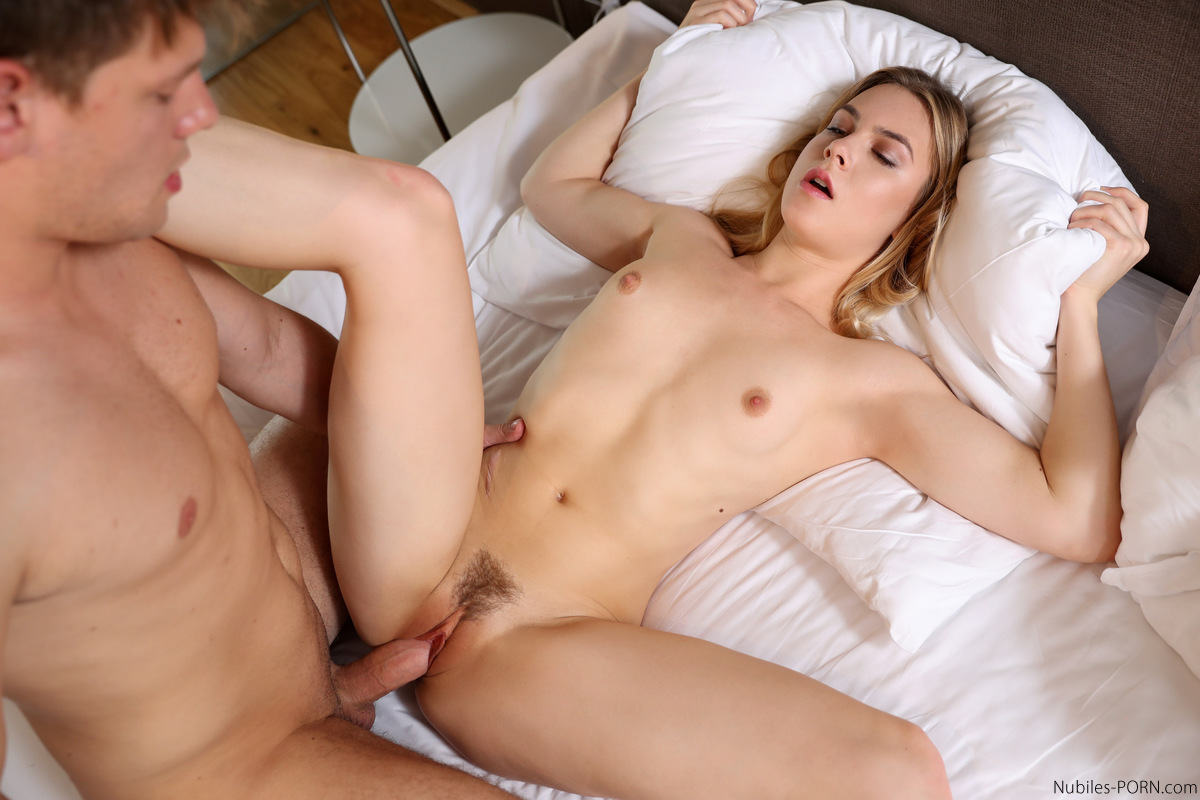 Hot blonde Alecia Fox can''t wait to get her big dick lover Michael Fox inside her tight twat. She crawls into bed naked and wraps her soft hand around his stiffie, sucking and stroking him to total hardness. As soon as she thinks he''s ready, she rises above him like a goddess and sinks down so that he fills her trimmed twat completely. Leaning forward so that her tits are in Michael''s face, Alecia rides him with long sinuous movements of her hips.Turning around, Alecia enjoys a reverse cowgirl ride while Michael guides her with his big hands on her hips and ass. Then she falls to the side, moaning in delight as he enters her while spooning from behind. Lifting one leg high in the air, she changes the angle of penetration so that they are both When Alecia gets on her hands and knees on the bed, Michael takes her up on her unspoken request to come into her from behind. He knows just what she needs to get off, filling and fucking her with deep strokes. Turning onto her back, Alecia grips the bedsheets as her powerful climax rolls through her. Moments later, her pulsing pussy walls bring Michael to the end of his endurance. He pulls out and lets Alecia guide his spurt of cum to her small boobs as he covers her in his love.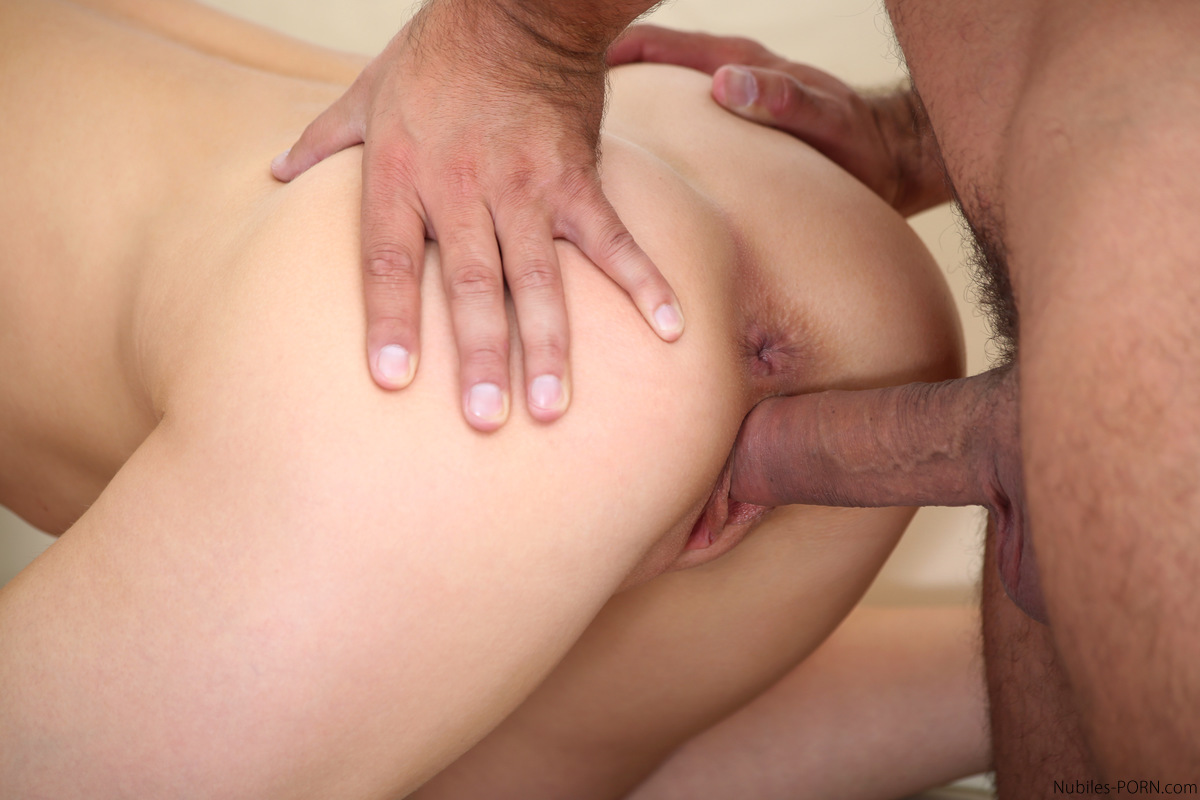 Neeo and Bree Haze are watching some porn to get in the mood, and soon they decide to try out some of their new ideas. Bree starts by whipping out Neeo''s stiffie so that she can seduce him with soft licks and lusty nibbles. Peeling off her clothes, she settles back onto her knees before her man to give him a full-on blowjob.Neeo loves the taste of Bree''s pussy nectar, so it''s no surprise when he urges her onto the top of the couch where she can sit on his face. The position allows Bree to lean forward and continue sucking Neeo off while he feasts on her juicy twat. Only when Bree slides down to impale herself on Neeo''s fuck stick does the 69 end. Once the couple kicks off their fuck fest, they won''t quit until they''ve explored many horny positions. From cowgirl to doggy style, they keep screwing until Bree is screaming her pleasure. Dropping back onto her knees, she sucks Neeo off for the last push he needs to fill her mouth with jizz. There''s no question that this hot blonde is going to swallow every last drop she can!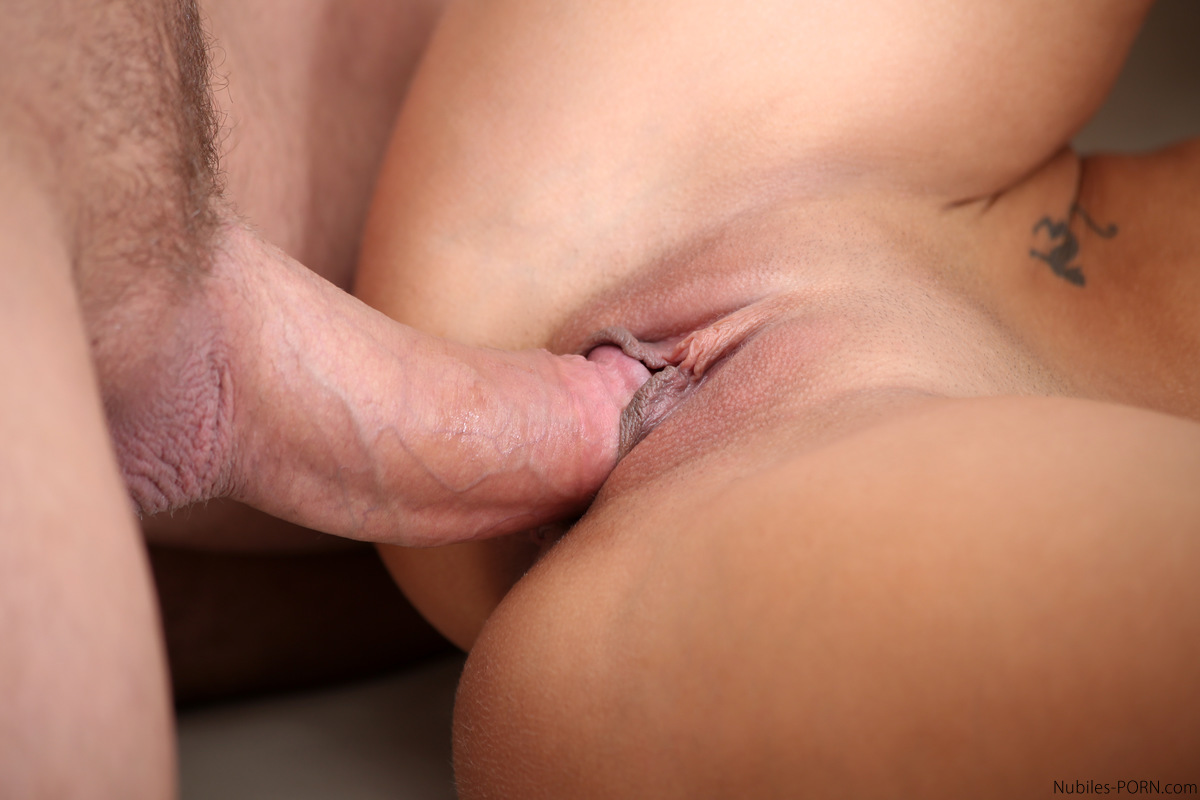 Naughty coed Quenna finishes her jog and gives Tomas Richards a long kiss when she finds him waiting for her. Bringing him inside, she lets Tomas peel off her bra and shirt, and once she''s down to her thong she drops to her knees to suck him off. Her soft lips work his stiffie as Tomas continues to undress her, and eventually they relocate to the couch so that Quenna can really get down on Tomas''s fuck stick.Swinging one leg around Tomas''s lap, Quenna seats herself on his fuck stick and slides down slowly. Her pussy cream lubes up the way as she rides with long slow strokes of her hips. When she climbs down and positions herself on her hands and knees, Tomas just needs to slip his hand between her thighs to feel how wet she is before he knows she''s ready for him to take her doggy style.When Quenna flips onto her back, her rock hard nipples let Tomas know how close she is to cumming. Her moans fill the room as he brings her bald pussy off, and then she knows it''s up to her to bring Tomas the same pleasure. Using her hands and mouth, she blows her lover until he explodes everywhere for a hot sticky cum facial.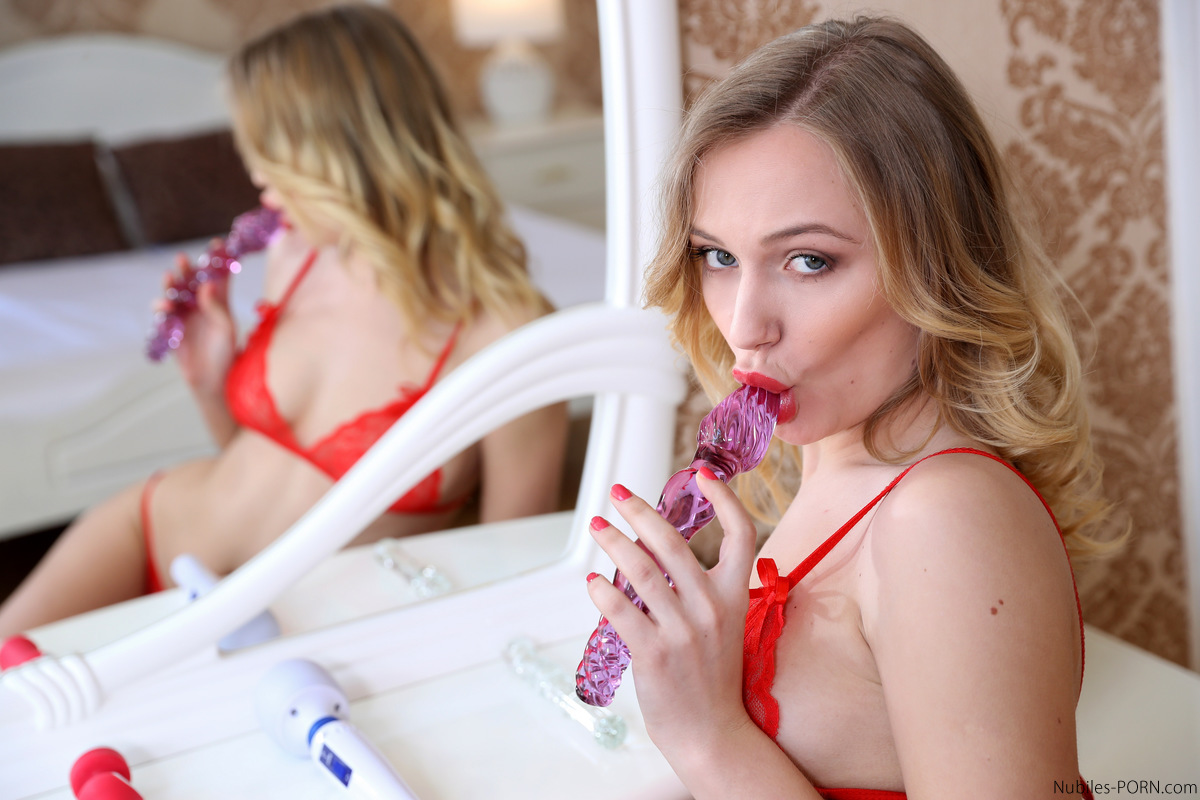 Aislin loves admiring herself in the mirror as she struts her stuff in a sheer bra and matching crotchless thong that show off her tan lines. Even better than her lingerie underthings is her magic wand vibrator. After playing the tip over her tits, Aislin relocates to the bed so she can press the toy to her greedy clit. That''s how Gina Gerson finds her.Taking a moment to admire the lovely sight that Aislin presets while staring in the mirror at her tight naked body, Gina climbs into bed with her girlfriend and takes the vibrator away. Leaning forward, she replaces the toy with her tongue. Aislin can''t contain her moans as Gina takes her pussy feast a step further, pressing a dildo deep into Aislin''s twat while tantalizing her anus.Turning the tables on Gina, Aislin presses her lover to the bed and goes to work with her soft tongue, warm lips, and hard dildo. Gina loves Aislin''s ministrations, but she''s much more interested in working both of their creamy snatches with toys at the same time. They finish their lovemaking with a horny 69 that leaves both girls totally satisfied and sated.
Perky tit coed Lily Adams isn''t shy about putting her sexuality on display. She is constantly snapping selfies as she puts herself in compromising positions. When Jason is with his girlfriend outside, Lily flaunts her medium boobs and hard nipples. Later in bed, she gets naked and starts stroking her slit to entice Jason into fucking her.Before Jason can do more than get hard, Lily is on her knees with her hand around the base of his stiffie. She starts stroking as she sucks the tip. Soon her head has bobbed forward so much that Lily is deep throating Jason''s hardon for both of their pleasure.Falling onto her back, Lily takes a proper pussy pounding in her bald fuck hole. She keeps her hands free to rub her own clit, then flips onto her back so that she can keep having her snatch banged from behind. As Jason gets her off, he pulls out to cover her back in a stream of hot jizz.
Want some more? Check the site.
| | | |
| --- | --- | --- |
| | Older | Newer | |