[Click on the picture to see all the samples]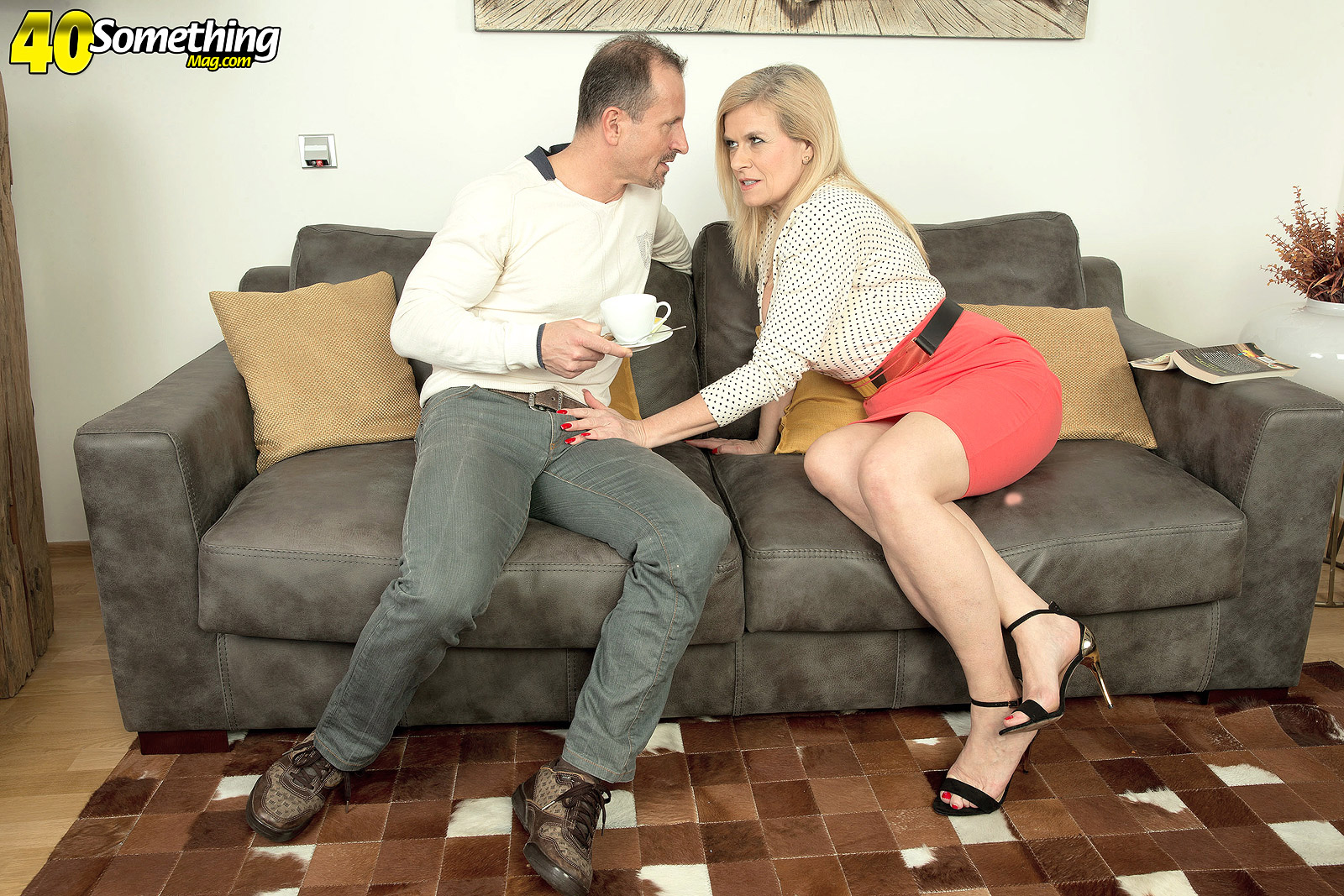 Marina Rene - Marina Rene Returns To Fuck: When Marina Rene debuted at 40SomethingMag.com all the way back in 2008, we said, "One of these days, she''s gonna fuck on-camera. We just know it. But for now, watching this sleazy sexpot by herself is enough." We were right. Marina went on to do porn in her native Germany, some really nasty stuff, and we''re happy to report that some things about her haven''t changed. She still has big, natural tits with pierced nipples. She still has several large rings on her labia. "I''m trying to stretch out my pussy lips," Marina told us back in 2008. "But don''t worry. Even with all my jewelry, you would have no trouble getting your cock in my pussy." As her stud proves here in Marina''s first XXX scene for us. Marina is now 49 years old (she turns 50 in July 2016).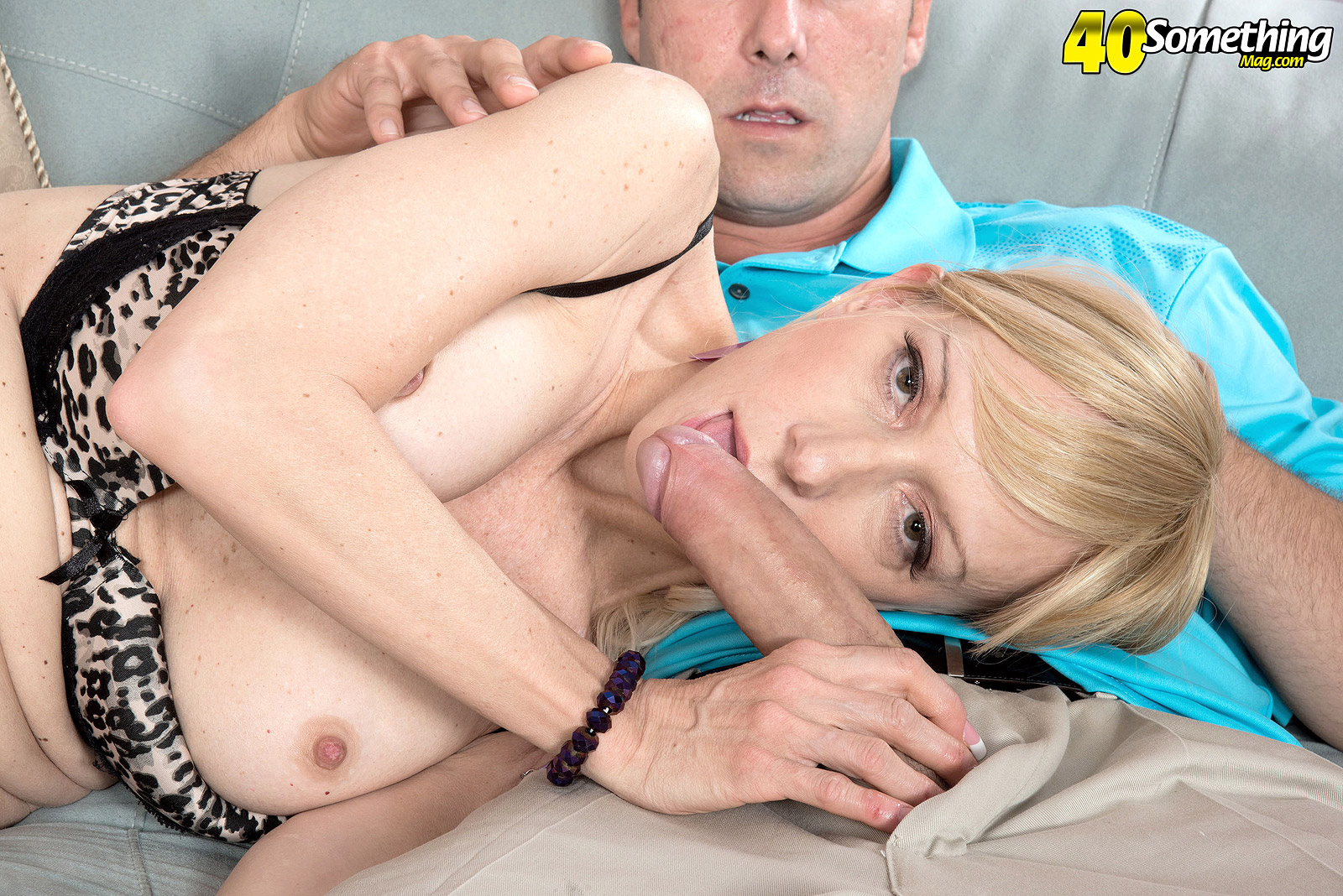 Mirabella Amore - Mirabellas First Time. Mirabella, who''s 43 years old and looks like she was made to do pictures like these for guys like us, makes her worldwide XXX debut by showing off her throating and fucking skills. Mirabella is a skinny blonde with big tits, long legs and a nice little ass. She looks like a fuck toy. She is a fuck toy, as you''re about to see. Mirabella is from a small town in Georgia, where people just don''t do this kind of thing for all the world to see. "It''s very conservative," she said. "They would be surprised to see me here." One person who won''t be surprised to see her here: the guy she works for. Mirabella is a caregiver. She gives him care. This guy also happens to be an agent.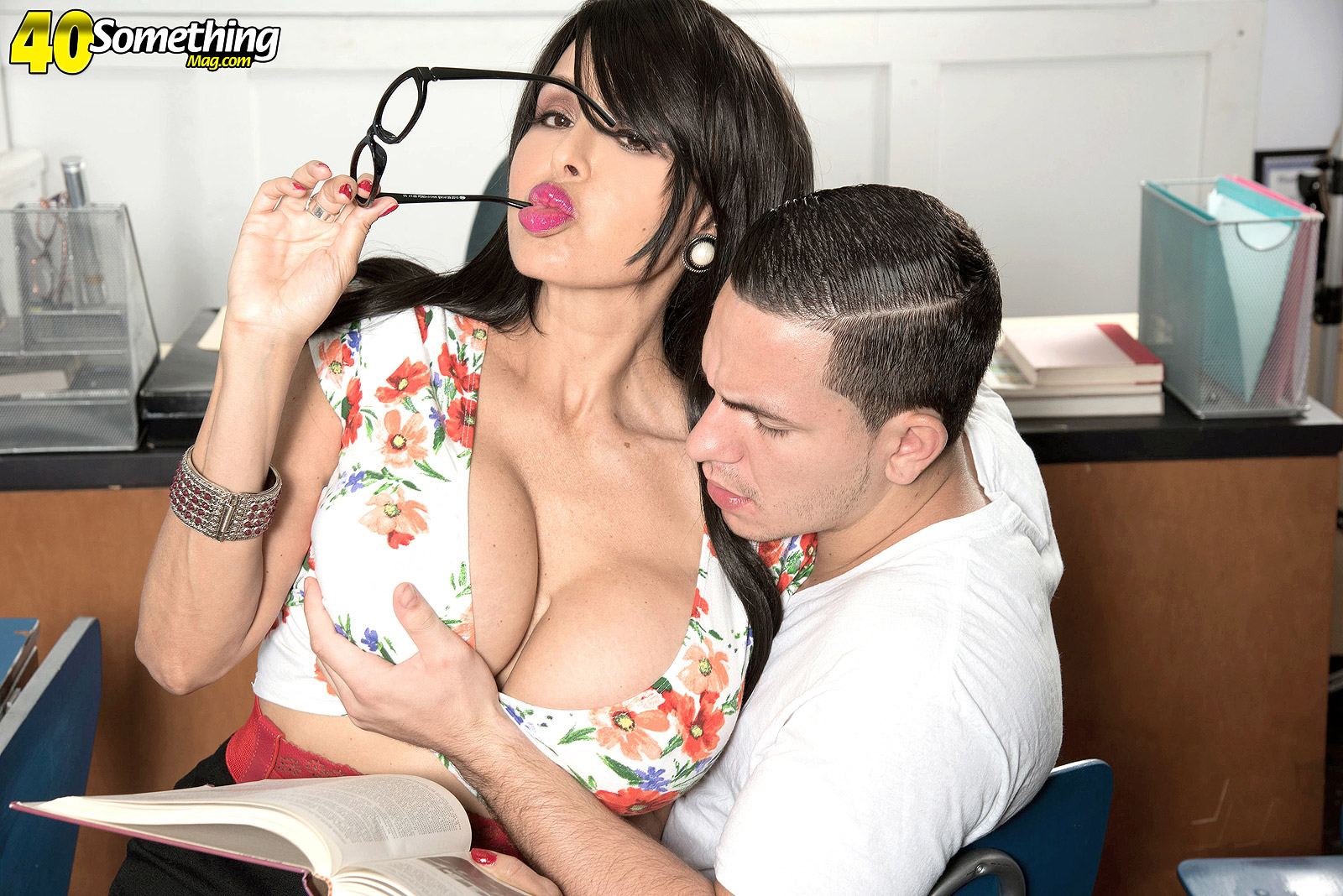 Claudia KeAloha - Fuck The Teacher! Her name is Claudia Kealoha, she''s a big star in the big-tit world (and one of the most-popular models in SCORE magazine and at SCORELAND), and she''s making her 40SomethingMag.com debut by her consent. By that we mean that for a long time, Claudia didn''t want to be featured at 40SomethingMag.com. She didn''t want to be known as a MILF or a mature woman, even though we told her that MILFs are in and she should be proud of how spectacular she looks (and we don''t just mean for her age; for any age). Then, finally, Claudia told us it was okay to put her on 40SomethingMag.com as long as we didn''t mention her age. So we''re not going to mention her age. We''re just going to tell you that she''s over 40 and measures an incredible 42-26-36 with DDD-cups, although they look even bigger to us. "I hear that women like romantic fantasies. I''m not one of them," said Claudia, who was born in Hawaii and was a dancer in South Florida for a long time. "I don''t know how I even get there but all of a sudden I see myself sometimes with two guys, sometimes two women and a guy or sometimes my last lover. Anything to cum.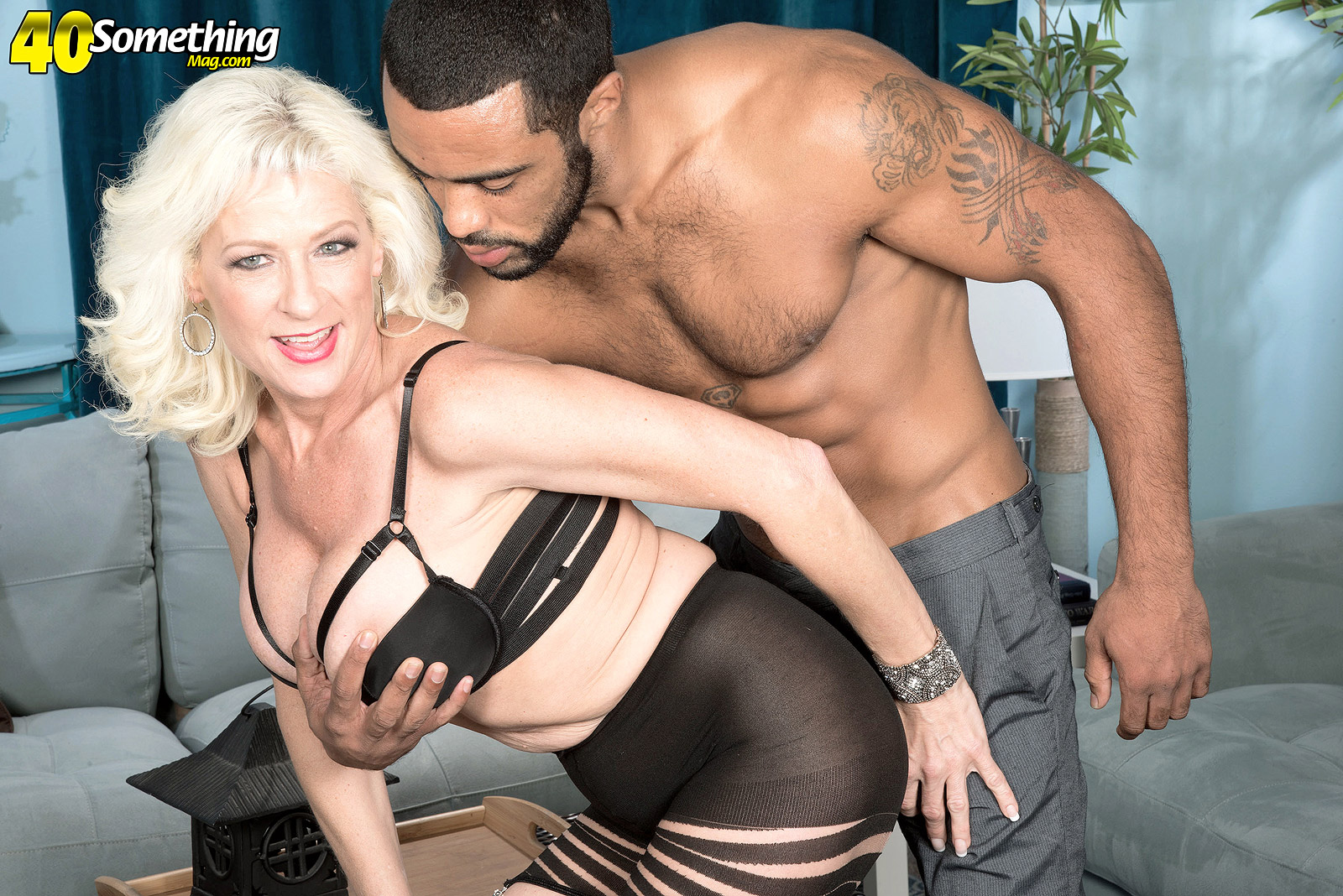 Madison Paige - A Big, Black Cock Up Her Tight Old Ass. When 46-year-old first-timer Madison Paige debuted at 40SomethingMag.com, we told you that she was only supposed to shoot one anal scene but insisted that her stud the first day fuck her ass, too. Why? Because she likes getting ass-fucked, and she thought it would be nice to spend two days having anal sex with pro studs. So, she shot two anal scenes, and this is the one she was supposed to shoot all along, with Stallion and his big black cock. She gets her legs all the way back so he can stick his dick deep inside her tight ass while she tugs on her clit ring for extra stimulation. This is the kind of woman you want to come across and cum on in your everyday life. And you might because Madison is an escort and a stripper. She''s a big fan of Marilyn Monroe, who we''d bet was a big fan of anal sex, too. She played baseball. She was a shortstop, and we''d also bet that Madison got everything that was hit up the hole. She''s divorced.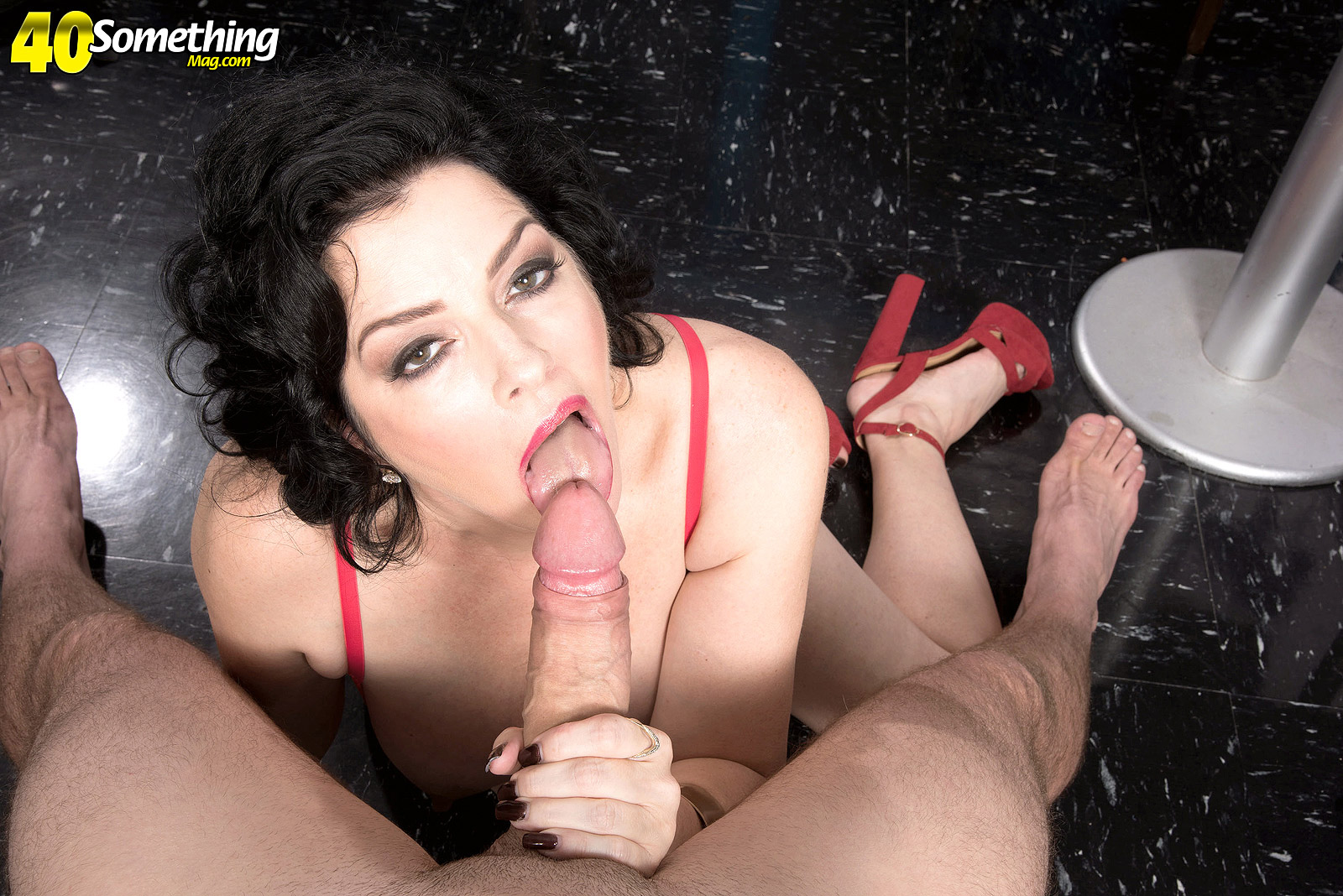 Natalie Lorenz - Raising The Bar On Anal Sex. JMac is having a bad day, and Natalie Lorenz is here to make it better. She''s a 49-year-old bar maid who''s wearing a wide-open halter top and short shorts. She''s sexy as can be. "Let me make you feel better," Natalie says as she rubs his shoulders. He makes her feel better by feeling her tits. Yep, that''s how you make a woman feel better. You grope her tits. "I hope no one comes into the bar," Natalie says. Well, if they don''t, they can look at these pictures and see what they missed. Here''s what they missed: Natalie sucking JMac''s cock then opening up her pussy and asshole for his cock and her mouth for his squirting seed.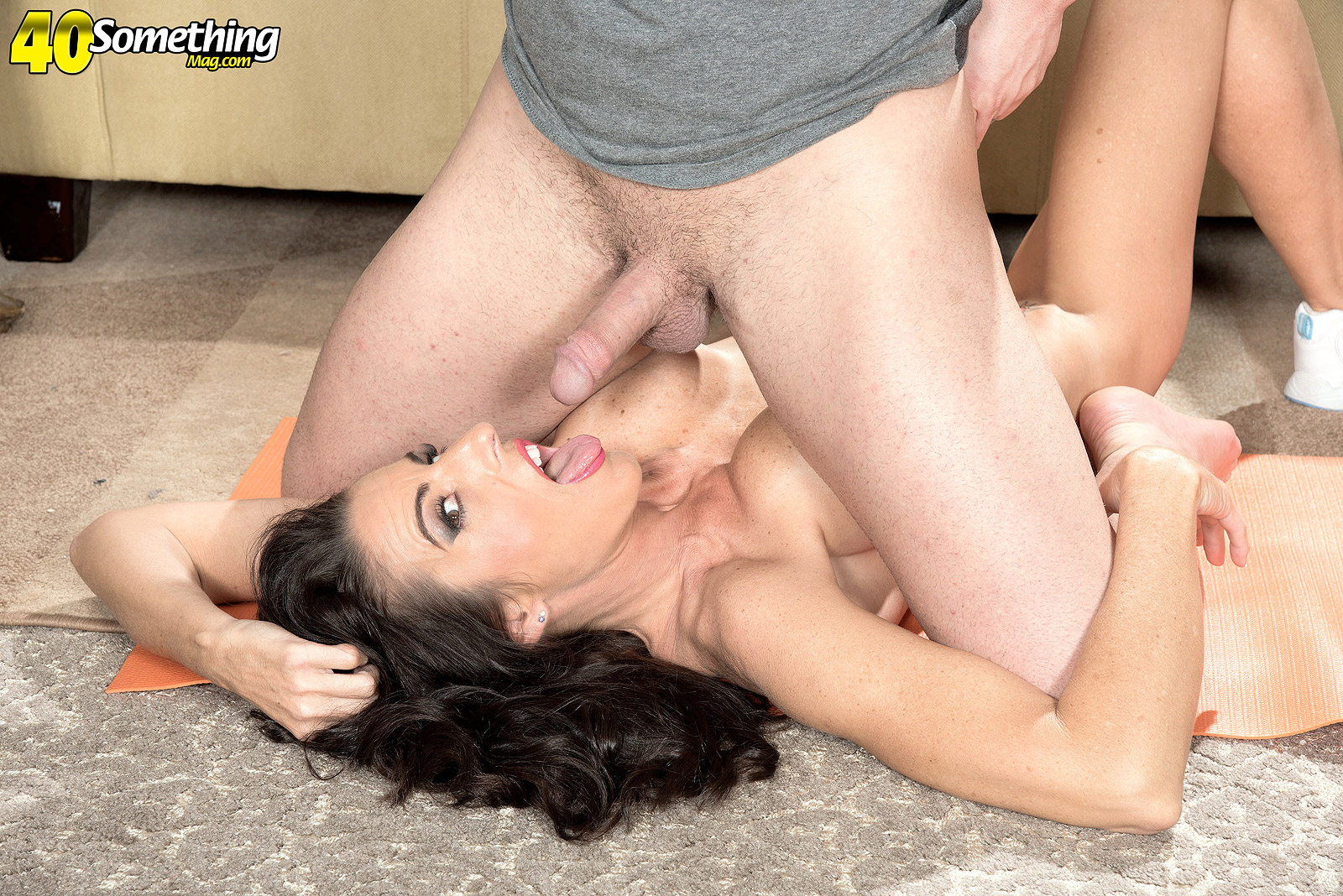 Katrina Kink - Katrinas First Anal Scene. In the opening photos, 46-year-old Katrina is working out. Her body looks tight and right. It''s the perfect mix of soft curves and hard muscles. She''s toned. She''s sexy. She''s the 21st century MILF. Before we know it, Katrina''s skimpy workout clothes come off. We see her firm tits with intriguing tan lines. Then she sucks cock. Then she gets her pussy fucked.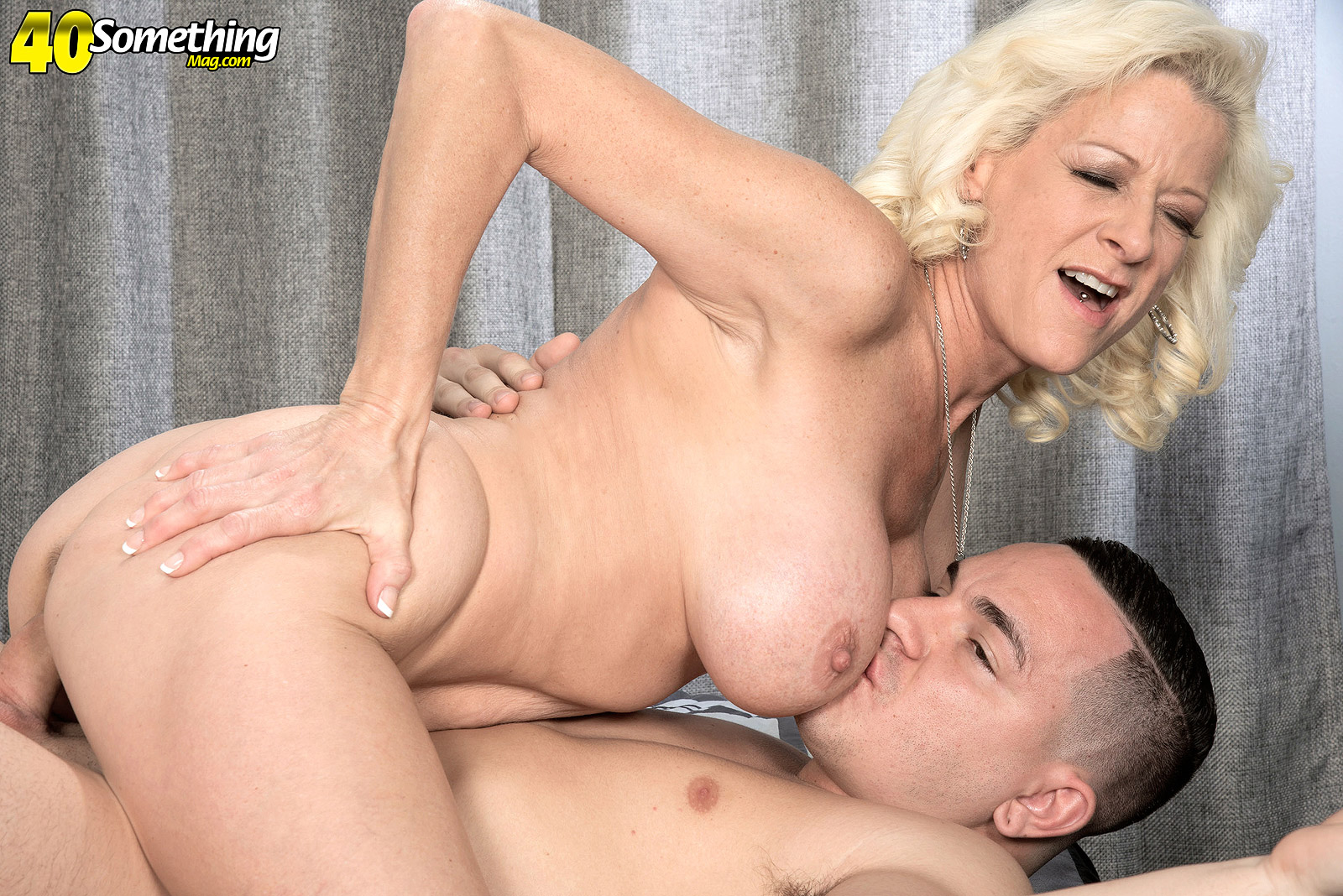 Madison Paige - Ass-fucked For Starters. Usually when a first-timer visits our studio, we try to warm her up a little. Take things slow. We tend to shoot two hardcore scenes with our MILFs, and the first is usually pretty straightforward: blow job, pussy fucking, etc. And if she''s into anal, we''ll shoot that the second day. That''s what we had planned for Madison Paige, a 46-year-old divorcee from Rhode Island who lives in Florida. Straight sex on day one, anal sex on day two. But Madison wasn''t having any of that. She walked into our studio on Day One and proclaimed, "I want to get my ass fucked by one of your porn studs." You see, Madison enjoys anal sex more than pussy sex. And we were more than happy to give her what she wanted. So, here, 22-year-old Peter Green fucks her mouth, pussy and tight ass.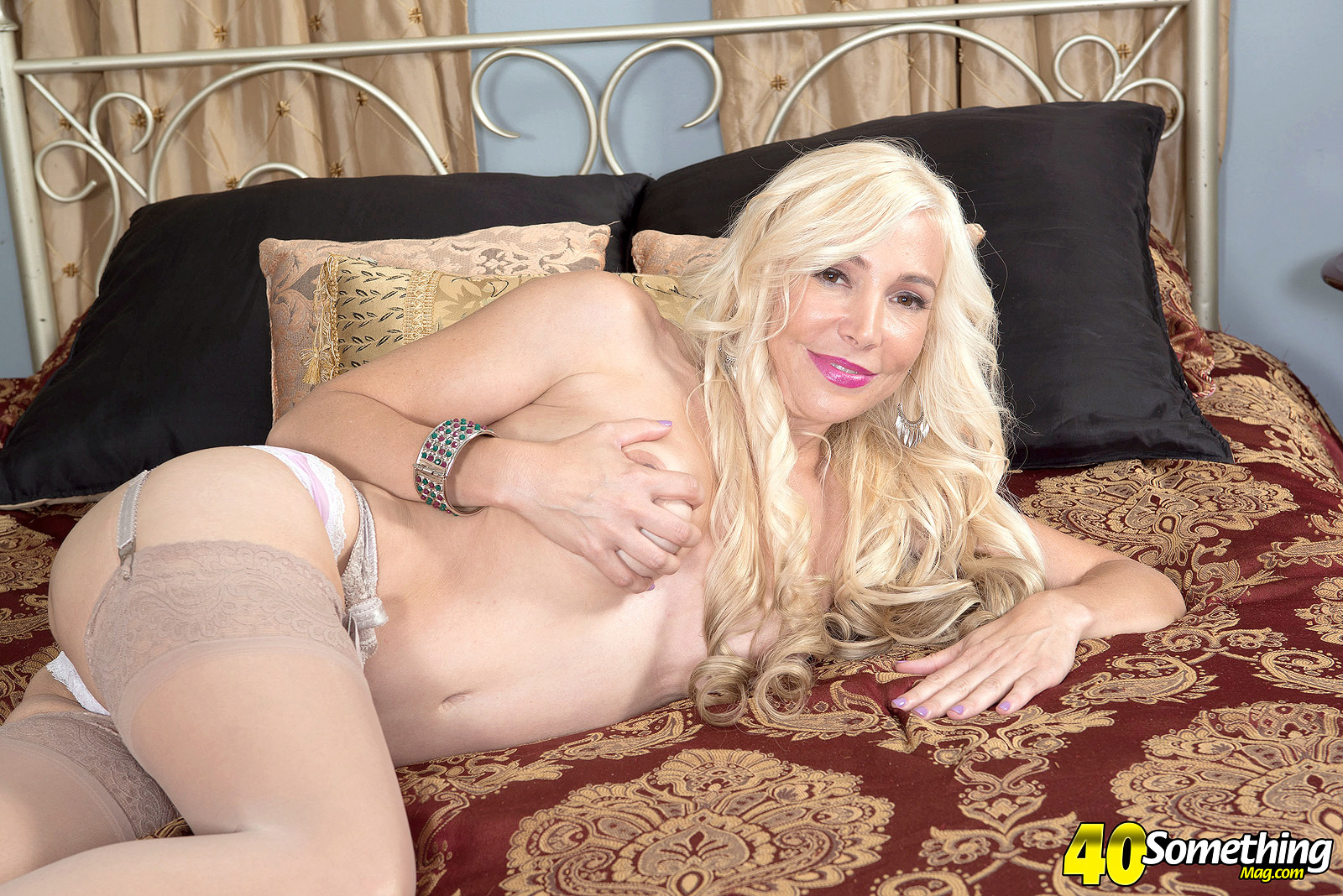 Natalia Chambers - Getting To Know Natalia: Body, Pussy And Soul. Natalia Chambers, who has now fucked in two scenes for 40SomethingMag.com, is divorced and has six children. How''d she end up in our studio? "I was curious, and it seemed like something I would enjoy," she said. And she did enjoy it. 40SOMETHING: Do you feel like you''ve gotten better with age? NATALIA: In some ways. 40SOMETHING: In what ways? NATALIA: I''m more comfortable in my skin and definitely more confident with myself. I''ve learned what works for me and what doesn''t in terms of colors and how to wear my hair. I feel like when you are more experienced you are more knowledgeable about who you are as a person, and that makes you better. 40SOMETHING: Do you think you dress more sexy now than you did in your 20s or 30s? NATALIA: Yeah, I kind of do think I dress sexier. And that comes primarily from being more confident. 40SOMETHING: It doesn''t have to do with the kids being out of the house? NATALIA: Well, that might have something to do with it..not having spit-up and drool on my shoulder.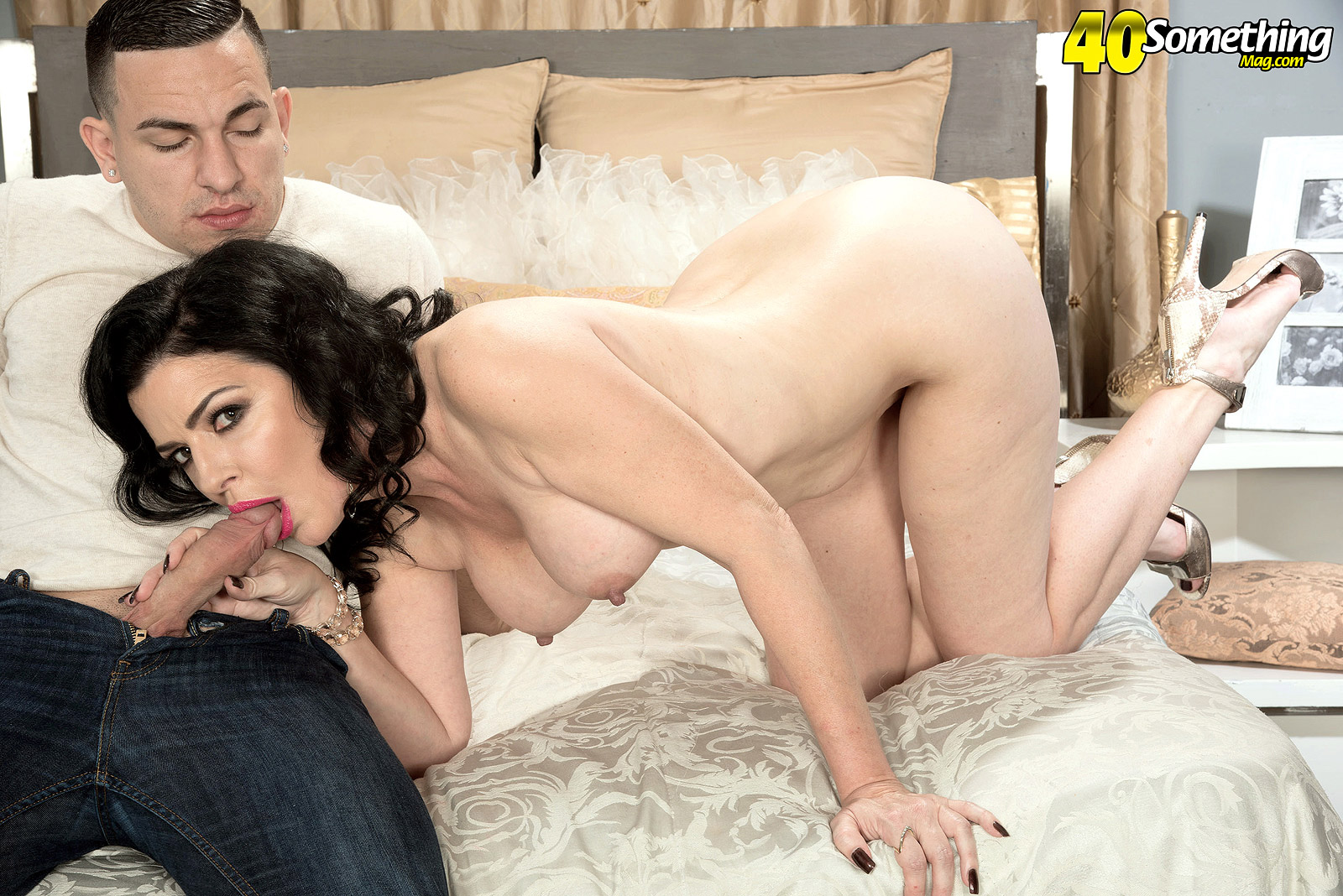 Natalie Lorenz - Natalies First Time. Natalie Lorenz, a beautiful 49-year-old who has lived all over the world (but now lives in California), makes her worldwide fucking on-camera debut. It''s a good one. Natalie is a brunette. She has a really nice body with C-cup tits. She''s kind of living a dream by being here. "The only reason I didn''t get into this earlier was because I was worried about my family, but I''m too old to be worried about what my parents think," Natalie said. "I''m just going to go for it." She goes for it with 22-year-old Peter, who''s about the right age for Natalie. She likes her guys young. "I''ve had some of my best experiences with younger men," she said. Natalie is not a swinger.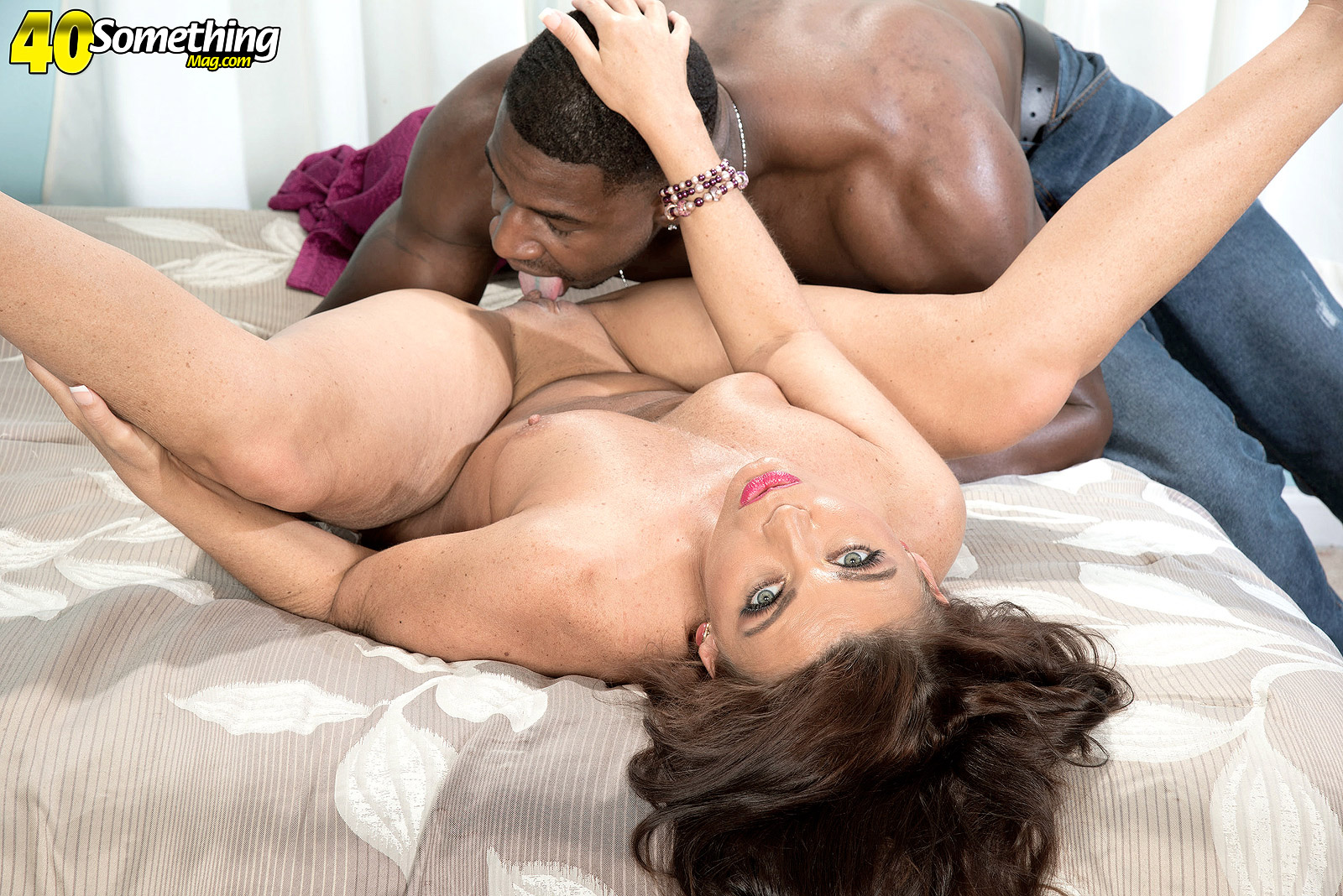 Honey White - Black On White. Honey White, a 41-year-old wife and mom who lives in Las Vegas, enjoys watching football and UFC. She loves cooking and the great outdoors. She wears panties only when she has to; we assume that means when she''s wearing a really short skirt and the wind''s blowing. She''s a casual kind of girl. Here, in her second scene for 40SomethingMag.com, Honey sucks and fucks a big black cock. Jax eats her pussy, too, and she obviously enjoys the experience. Honey is a very sexual woman. "I often say my Magic Wand is my best friend," she said, "I go through two a year." Don''t those things have a 25,000-mile warranty? We asked her how often she has sex, and she said, "Daily, if not with my husband then with a dildo." She came to the right place. .
Lyla Lali - Lyla The Pink-pussied Fuck Doll. "Life is too short. I take advantage of every minute by making all of my fantasies come true," said 46-year-old Lyla Lali, who here makes our fantasies come true by showing off her big tits and ultra-pink pussy, one of the pinkest we''ve ever seen. It''s bright and wet. It wants your cock. Lyla describes herself as assertive, but you would probably guess as much just by looking at her. Who wouldn''t be confident with a body and smile like that? And more importantly, who would deny her? No one, it seems. We asked Lyla how often she has sex and she said, "As often as I see a hot man. I''m not afraid to go up and introduce myself. However, since I am assertive, I do prefer alpha male types. I feel like they can keep up with me.
Jessica Hot - The Busty Divorcee Is Hot. "I like to make men hard by showing off my chest," 52-year-old divorcee Jessica said. "I see them staring and I know exactly what they''re thinking." Jessica may look like the mom-next-door, but she certainly doesn''t act like it. "When I go out, I like to wear things that show off my cleavage. I get a lot of attention for my chest and I like it." Jessica likes to go on wild dates and have threesomes. She''s a hairdresser who decided to do porn to have some fun. "I live in a very small town in the Czech Republic, and there''s not very much to do," she said. "In my free time, I like to go walking in the mountains and to cook, but I wanted some more excitement. I like to watch porn and thought it would be fun to try it since I like to show off my curves. "Everyone who knows me thinks I''m wild and that I don''t act my age. Why should I? Life is too short.".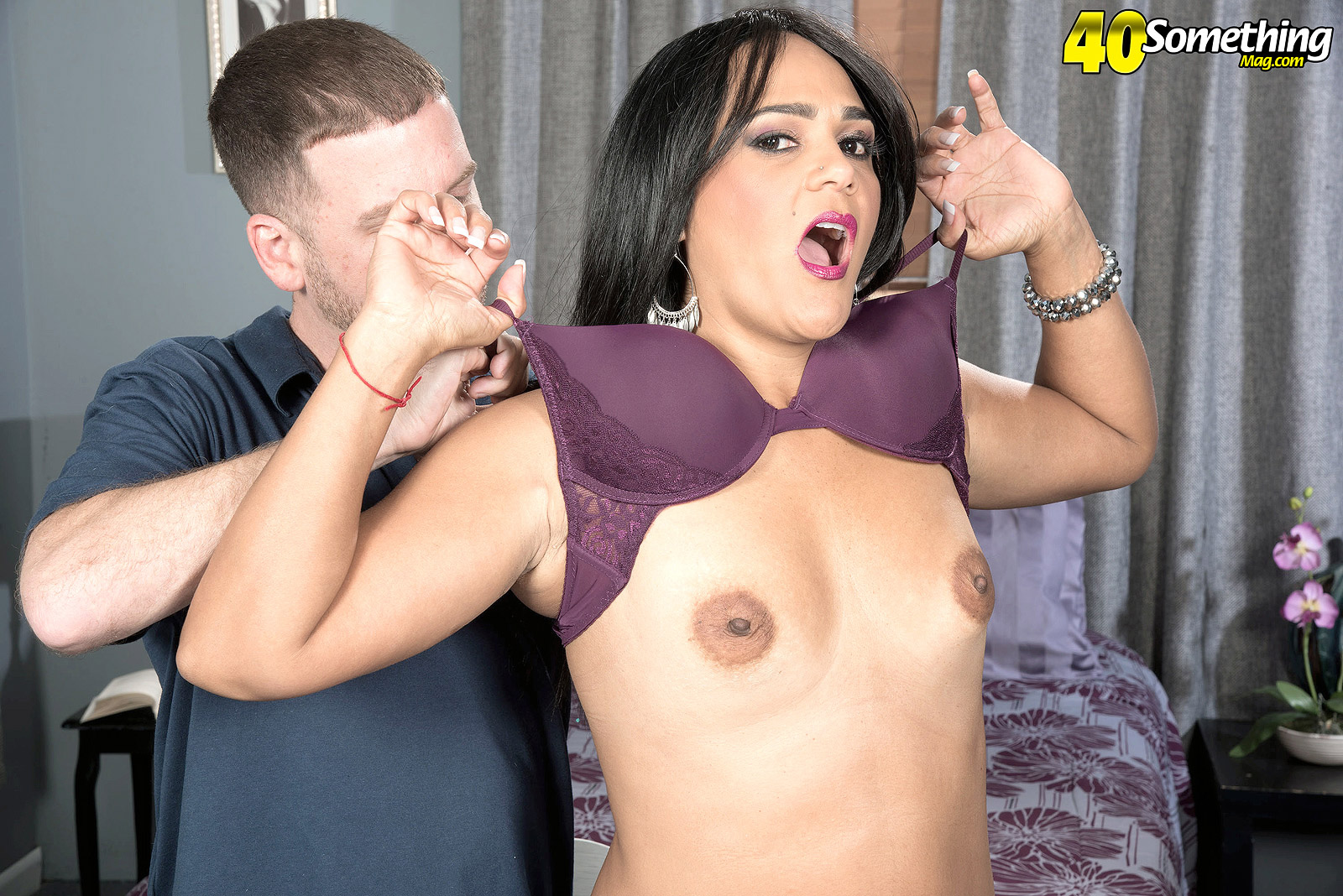 Amber Reiz - Some Fine Puerto Rican Ass. "I come from a very strict and conservative family," 47-year-old divorcee Amber Reiz said. Strict? Conservative? Guess that didn''t rub off on her. In her first-ever scene at 40SomethingMag.com, Amber throated cock and got her pussy fucked. Here, in her second scene, she''s going to do that and more. She''s going to get her Puerto Rican ass filled with porn cock. A big one, too. This might be a good time to tell you that Amber has four children and a grandchild. Hey, your mom''s getting ass-fucked at 40SomethingMag.com! Good job. Amber likes younger men, so we gave her one. Two, actually, counting her first scene.
Katrina Kink - Katrina Gets Kinky With Jmac. "I like hard, fast sex," said 46-year-old mom Katrina. "I like to be manhandled." Katrina gets all she can handle in her 40SomethingMag.com encore, a hard, deep fucking by big-dicked JMac. She gets as much of JMac into her mouth as she can. An "A" for effort! She gets on top of JMac''s cock, and he puts her in the lockdown. That''s what he calls it when he uses his arms to get a girl''s legs all the way back. The cock stays inside. Mostly. It''s a position for experienced fuckers only, and Katrina definitely is that. "I''m open about the things I enjoy," she said. "My friends all know me as open-minded, adventurous and risque, so the fact that I''m doing this wouldn''t be much of a surprise to them.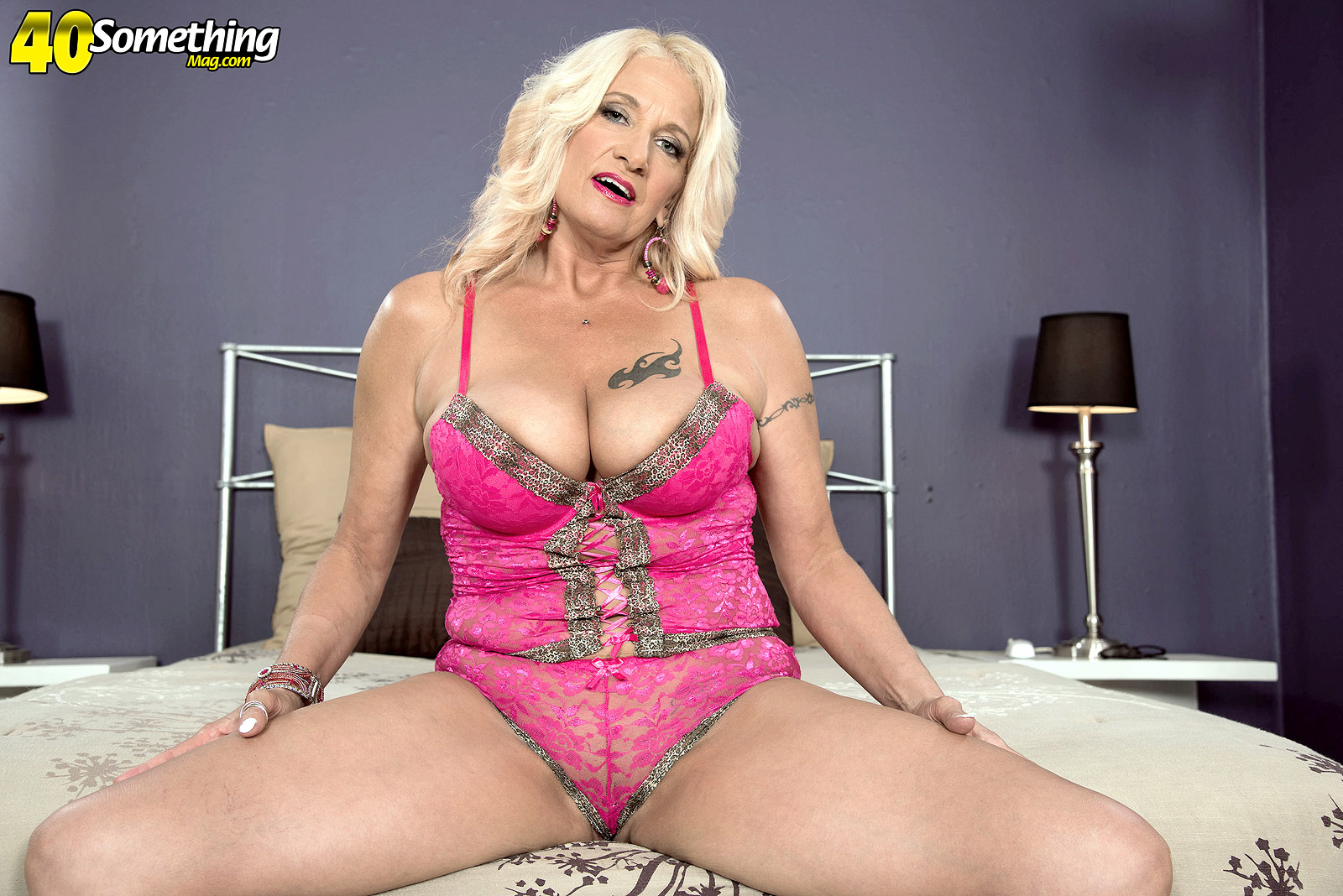 Brooklynn Rayne - The Slutty Side Of Brooklynn. Brooklynn Rayne, 48, has lots of piercings and a few tattoos. She''s blonde and has big tits. She looks like a slutty MILF, but she''s one of the rare models who is not a swinger or a nudist. She''s just a regular married mom of four. The only man she fucks is her husband. Sometimes they have three-ways with another woman. Despite being mostly monogamous with her husband (until she came to our studio), Brooklynn and her hubby are very sexually open. "We like some kinky stuff," she said. Her husband is the one who convinced her to pierce her clit. "It hurt, but now I love it." Brooklynn used to be an assistant in a medical office.
Nancy Jay - Nancy Gets Ass-fucked While Her Husband Watches. Nancy Jay, a 43-year-old mother of five, returns to get ass-fucked for her second scene at 40SomethingMag.com, but there''s more to this than that. Nancy''s going to suck a stranger''s cock and have him fuck her pussy and asshole while her real-life husband watches. Yeah, the guy came along for the trip, anyway, so Nancy figured she might as well have someone to balance herself on while a porn stud had his way with her fuck holes. "It''s not the first time," Nancy said. Would it be the fifth, tenth, hundredth? "No, no and no." More than a hundred? "Yes." "When this happens, is he having sex, too, or just watching." "Just watching." Don''t worry. The guy gets plenty at home. But this is different. Very different. .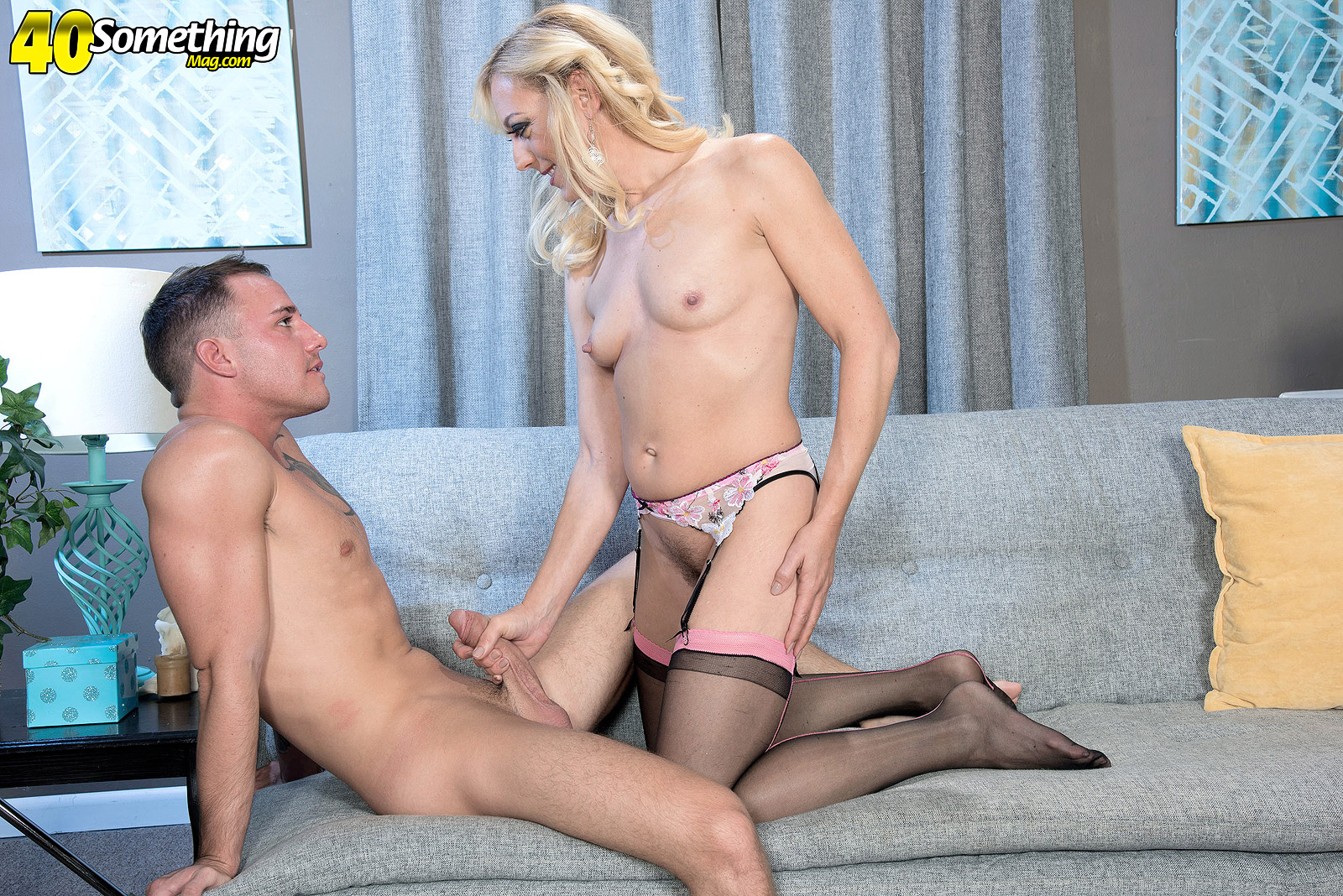 Charli Shay - Shay-hey, Shes Got A Cock In Her Ass! Charli Shay, a 45-year-old mother of two, is wearing nothing but a bra, panties and stockings. "I want you to finger me in my butthole," Charli tells her guy. "Do you think you can do that? I''m going to have you open me up. I''m going to make you want it really bad before I let you put your cock in my butthole. This is gonna be fun." Charli takes off her bra. Her guy comes over. "Do you wanna see my butthole?" Charli asks him. Of course he does. Charli''s guy shoves a finger inside her butthole. Then he eats her pussy.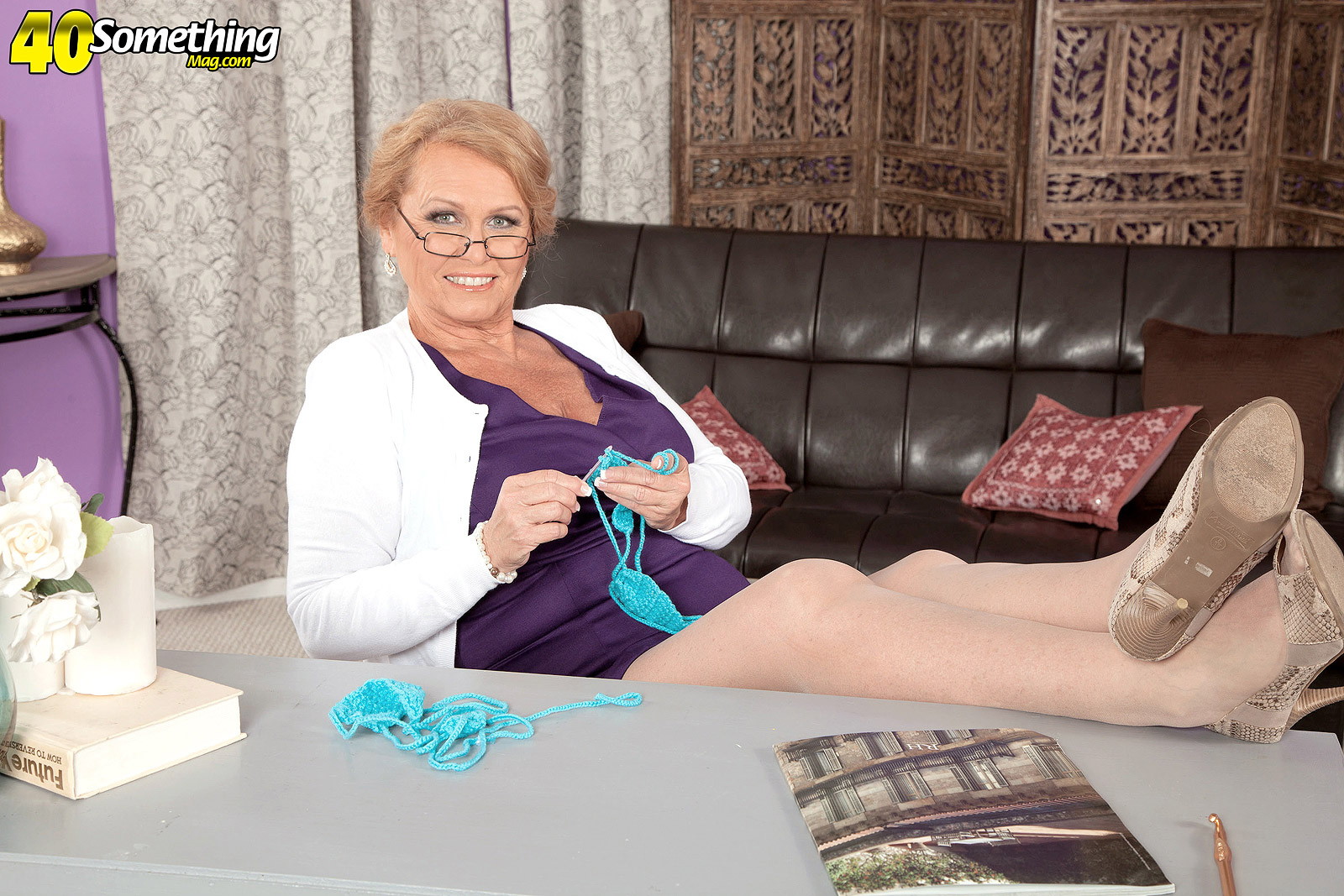 Alice - Horny? Go Ask Alice. "I was very conservative when I was young. Now I''m wilder than most 20- and 30-year-olds!" said Alice, a wife, mother and grandmother who can be seeing sucking and fucking young cocks at 60PlusMILFs.com..and just about anywhere she goes. Alice has some hobbies you would expect of a 65-year-old woman, like knitting and sewing. But being as horny as she is, there''s a naughty spin to everything she does. "Yes, I sew and knit. But a lot of the time I''m making myself skimpy outfits. Living in Las Vegas, I don''t have much of a need for scarves or mitts." She doesn''t have much of a need for clothing in general. She likes to be naked as often as possible, including in Key West during Fantasy Fest. "I love being naked in public," she said. Alice has been happily married to the love of her life for 40 years, the man who took her virginity at the age of 21.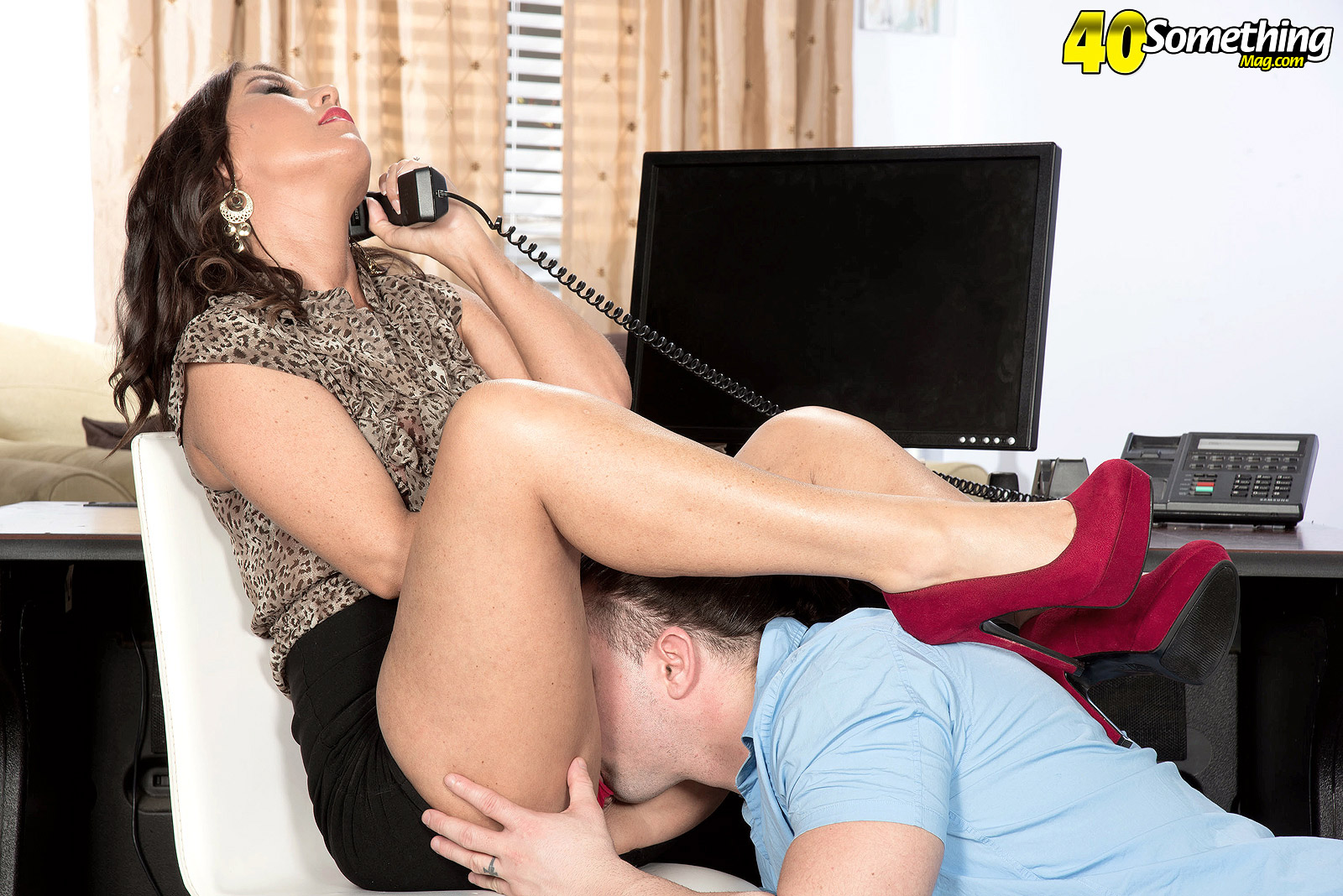 Honey White - From Amateur To Porn Milf. Back in 2007, Honey White was a 32-year-old amateur who posed a few times for NaughtyMag.com and then went back to her regular life. She didn''t fuck on-camera. But she''s back, she''s 41 years old and, this time, she''s fucking. "I love being watched," Honey said. "Knowing I''m being watched brings out the wild side in me." Honey is married with one grown child who''s out of the house. "No grandchildren, but I''m ready," Honey said. "I''d make a hot granny." She already makes a hot mom. She became an nudist when her kid moved. She''s a swinger. She''s 40something and sowing her wild oats.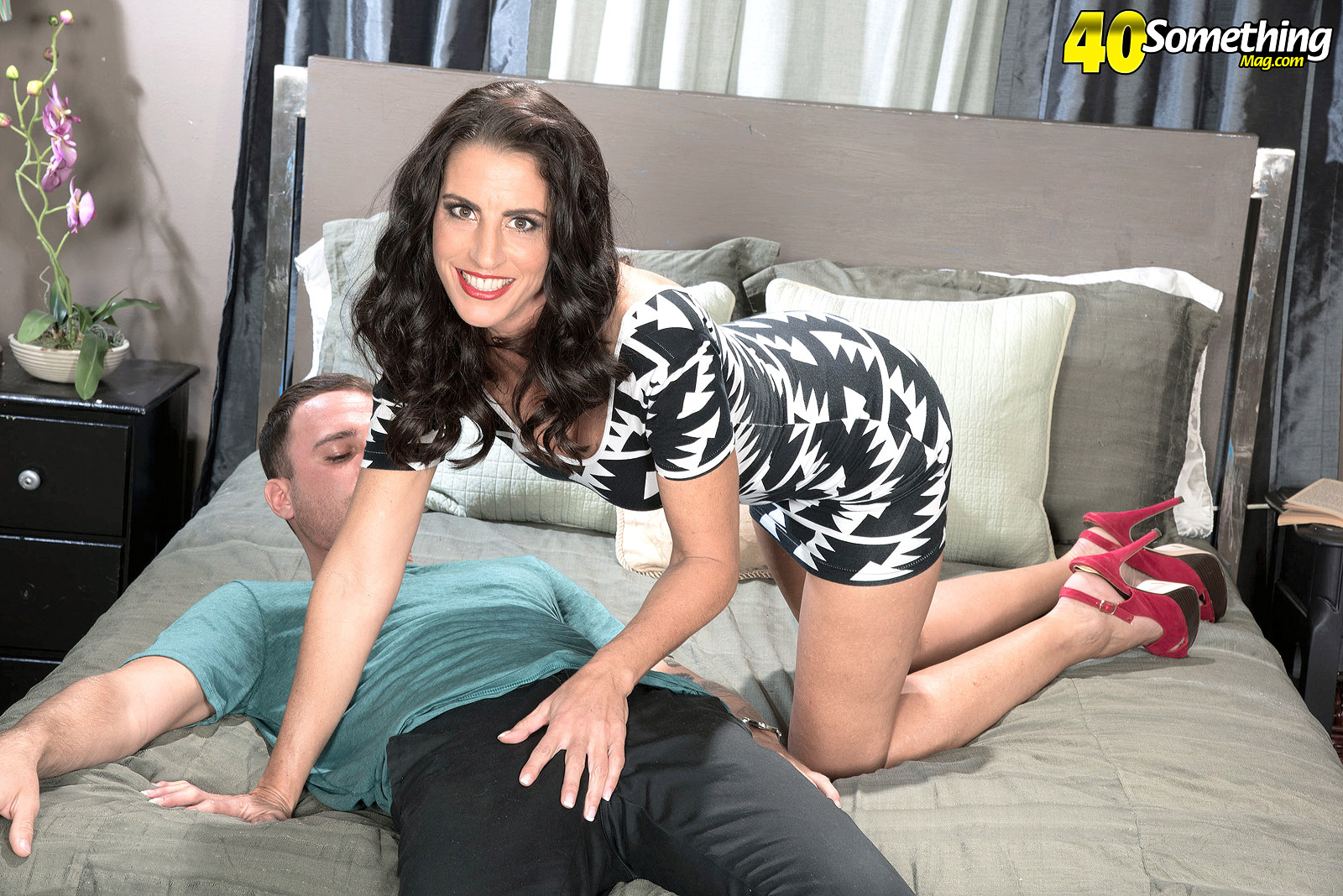 Katrina Kink - How Kinky Can Katrina Get? "I''m a MILF for sure, say all the high school boys," says Katrina, a 46-year-old newbie who was born in San Francisco, California and now lives down south in San Diego. You could say that by doing this--meaning sucking and fucking a 24-year-old dude''s cock on-camera--that Katrina is exploring new areas of life. And you''d be right. Which is great. That''s what we''re here for. Katrina is a hot little brunette. She''s 5''6" and weighs only 120 pounds. That''s tight and right. She has some modeling experience (although not this kind of modeling experience). She thinks the people who know her best would not be surprised to see her here because "they know I am very open-minded, adventurous and risque." That she is.
Want some more? Check the site.
| | | |
| --- | --- | --- |
| | Older | Newer | |