[Click on the picture to see all the samples]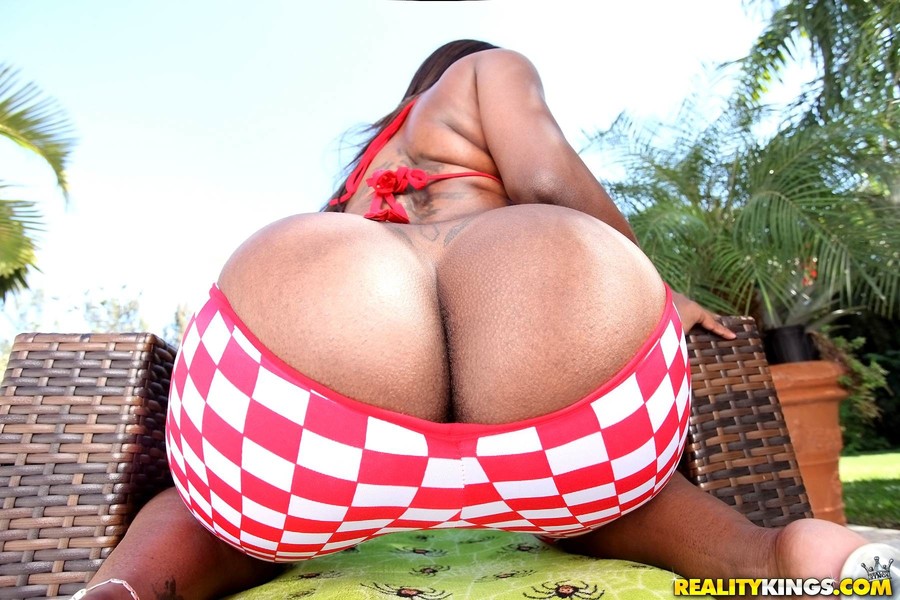 Aries Crush in Round and Brown video: Crush Booty - We'd been on Aries' ass for a couple months now and wanted to get her on camera, but she turned it down because she had a boyfriend. Well, the day finally came. Aries became single, and she set up a date for us almost immediately. She brought her finish line outfit that hugged her body so tightly. Aries was excited to put on a show for us, as her big ass busted out of her pants. She had an ass clap like no other. Aries sure could get that booty moving. We had her working that ass from so many positions because we couldn't get enough of it. Aries wanted some dick after her major booty workout. Tarzan was more than ready to satisfy her urge. She blew him to give her ass a little rest because she needed some energy to bounce that ass on his dick. Her booty looked great bent over, as it got filled with cock. Tarzan did his best to battle that big juicy rump.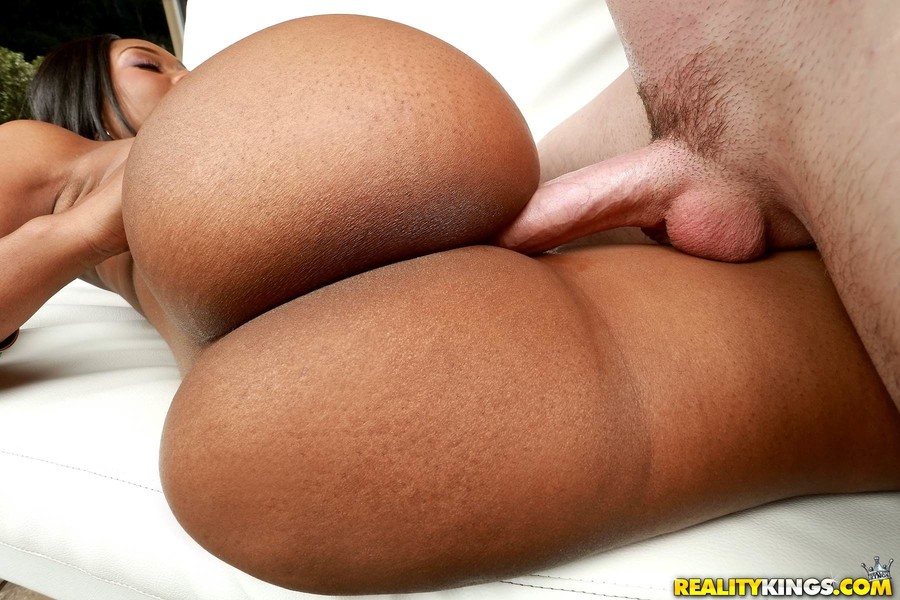 Baby Cakes in Round and Brown video: Thick Cakes - Babycakes was out soaking in the sun with Romeo. As the sun beat down, Romeo oiled her up all her breathtaking curves to clearly be seen. As Babycakes showed off her extraordinary assets in the sunlight, it got her really hot and horny. The two moved to a more intimate setting indoors, where Romeo continued to explore the body of Babycakes. Big luscious tits and ass overwhelmed him, as he got his fill from this Ebony beauty. Babycakes got the full attention she deserved along with a cum coating across her double D's.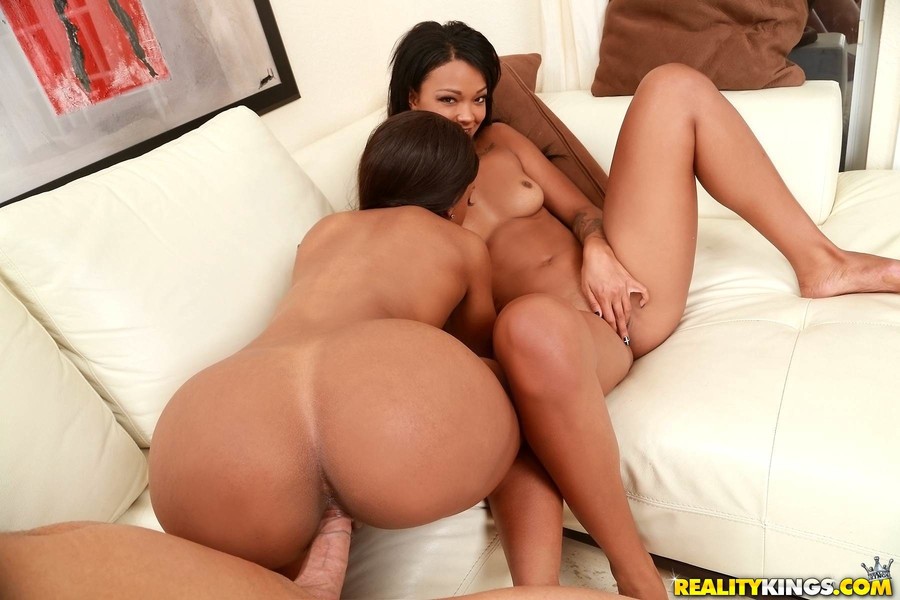 Nina in Round and Brown video: Booty Squad - Nina and Harley took in the view from the beach while we enjoy the beauty their bodies projected. They rubbed on some oil to accentuate their Round and Brown bodies in the sunlight. Once they got all sweaty and sandy, they decided to move the party inside. Nina and Harley were super hot and horny and started shaking their asses for Ills. They both get so worked up, and with time to spare while they waited for Tarzan to swing in, they enjoyed a womanly tongue on each of their pussies. Tarzan got their right on time, before things got too hot, and the girls were still yearning for more. The girls grabbed his cock and started sucking. Once it was good and hard for them, they took turns riding it and getting their pussies pounded. As the wild threesome came to a close, Tarzan showered them with cum, and they shared it, as they continued to kiss and caress each other.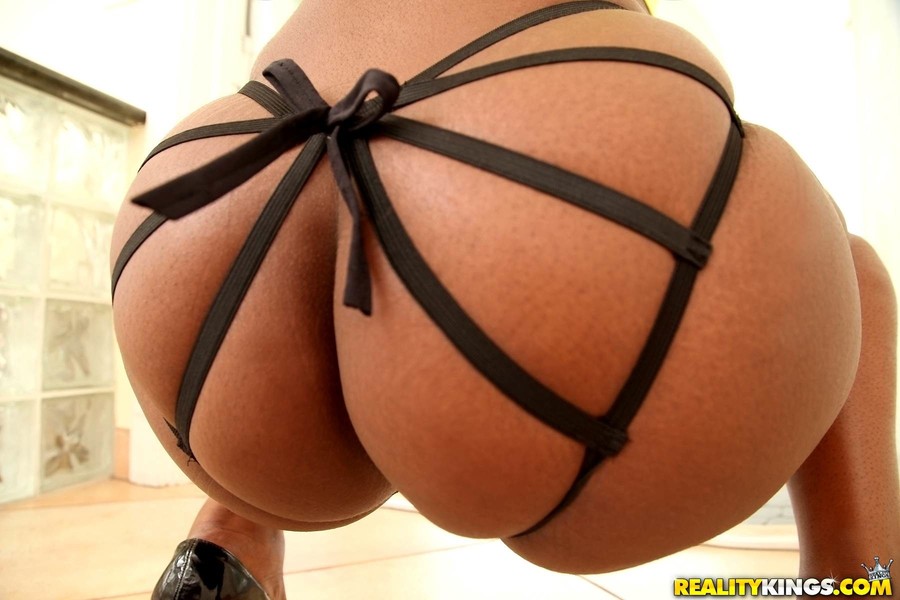 Amber in Round and Brown video: Enticing Charde - The beautiful Charde came to have a good Round and Brown time today. Her gigantic booty could barely fit in those tiny shorts she had on. Charde shook that plump ass around in amazing fashion. She took off those shorts and shook her booty around some more with those sexy panties on. Charde sucked and fucked that cock. Then she rode that dick, as her huge ass bounced all over the place. Charde got her pussy drilled and got finished off with a shot of man juice all over her pretty face and hot tits.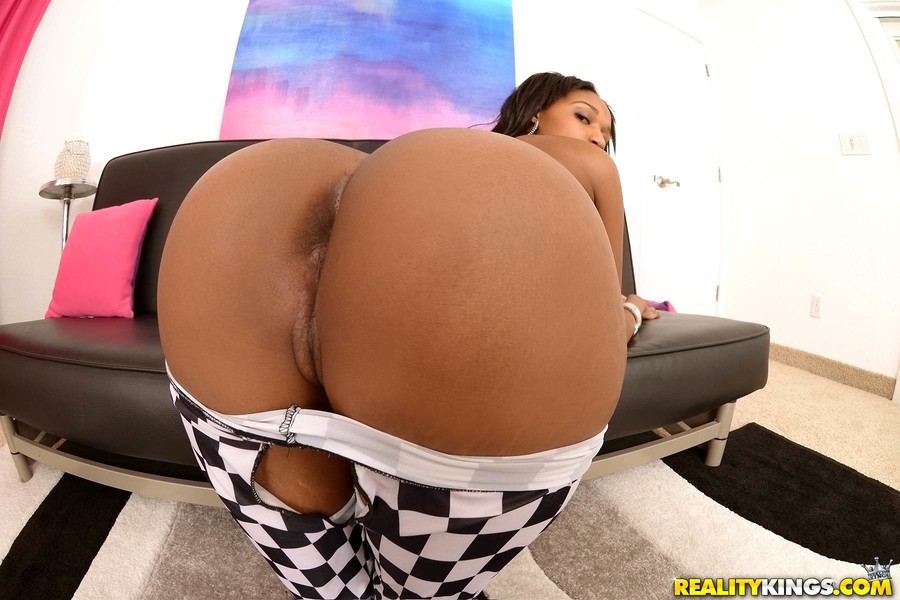 Lola in Round and Brown video: Looking At Lola - Lola came to have a good time. She was looking sexy in those tight crotchless pants. Lola bent over and displayed that big juicy ass in all its glory. Tyler joined the party and that big juicy ass was unleashed. She sucked and fucked that cock like a true Ebony vet. Then Lola rode that dick, as her round rump bounced all over. She really got her pussy pounded and man juice shot all over her.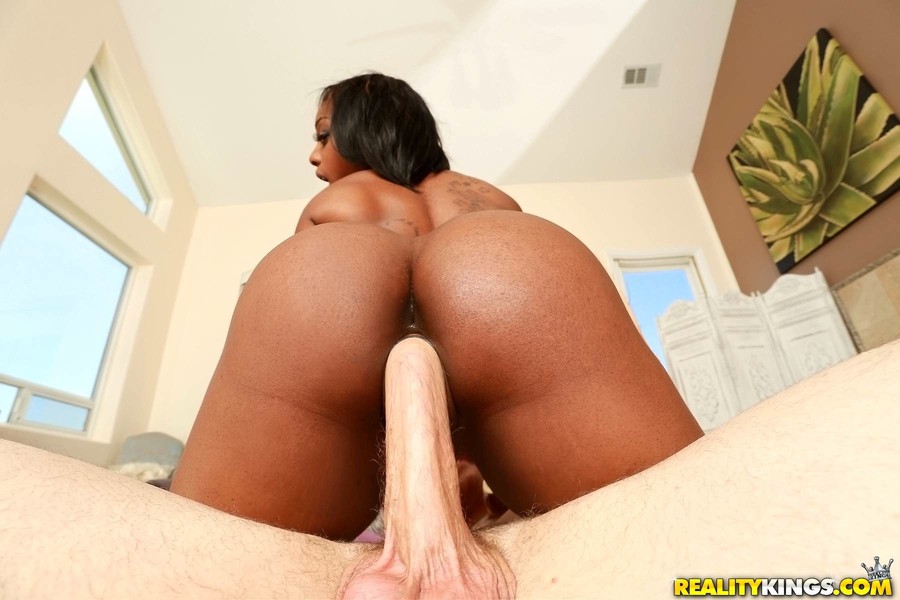 Tamra Millan in Round and Brown video: Touching Tamra - Tamra was a spunky little firecracker. At 4'11" and 105 pounds, she was one tight package. Measuring 34-24-31, you know this girl was a nice thick round and brown beauty. After an introducing her newly pierced nipples, Tamra went on to take some sweet selfies with Gavin's phone. The camera and Gavin explored every curve and crevice of her remarkable body. Gavin oiled that sexy ass up, so it could shine for all to cherish. Tamra then proceeded to suck and fuck Gavin with immense energy that dazzled the mind. Gavin enjoyed her super tight pussy so much, he covered her from neck to pussy in cum.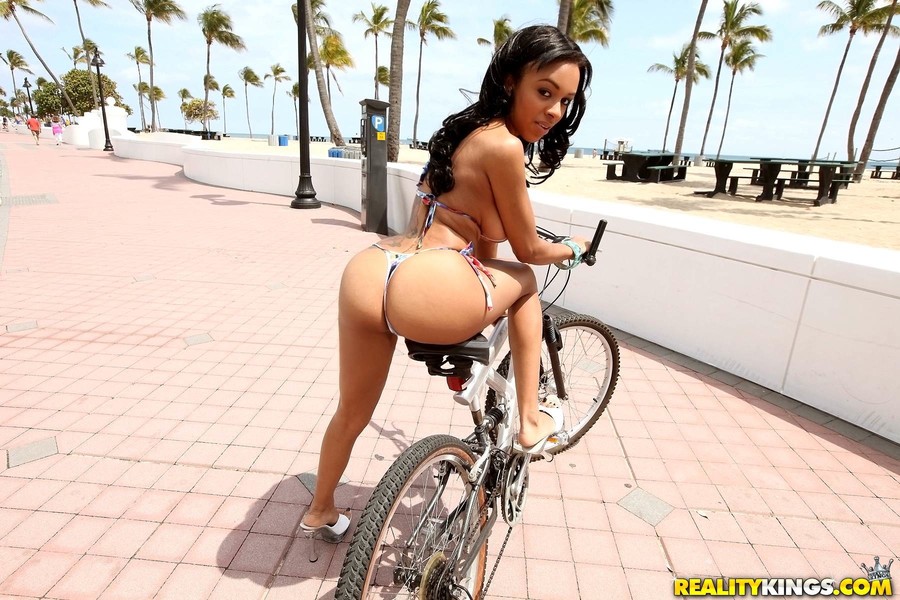 Anya Ivy in Round and Brown video: All Anya - This week, Anya the Georgia peach was basking in the Florida sun. She had an amazing body and knew it. We joined her at the beach with Tony and Mirko to break in her sand and video cherries. Tony chased behind her making sure to get some good shots of her beautiful round booty while she rode a bike. They made their way to the beach bringing wandering eyes from the passersby with them, but who can blame them. The tiny bikini holding her D-cups and sexy ass were just crying to be removed. Anya bored of the sand and told Mirko, "Fuck the beach, lets go fuck each other," and that's exactly what they did. Back at the house, Anya continued to tease us, as she bounced around the room shaking that ass. Mirko could only watch for so long before he jumped in. Anya fucked and sucked like a girl on spring break and made sure she took every inch of Mirko's cock. Anya's pussy was as spectacular as the rest of her body. No longer able to keep up, Mirko unleashed onto Anya's face and dazzling D's.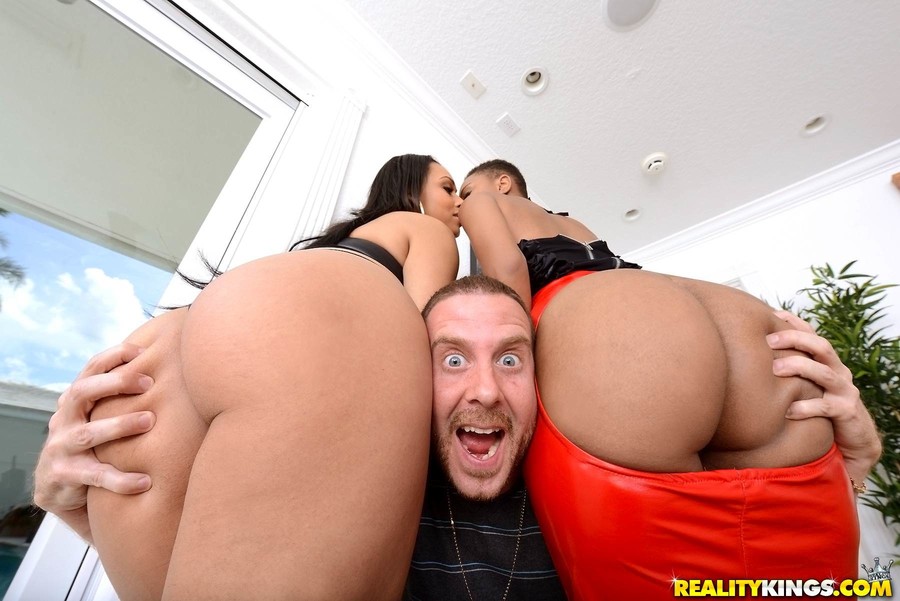 Bria Marie in Round and Brown video: Liquid Love - Before they went on their girls-night-out, Bria and Bethany were hanging-out. They were both wearing stunning outfits for the evening. Bethany's spandex outfit nicely showed off her curves, but it was nothing like Bria's. She was wearing a leather skirt that had a nice big gap in the back big enough to allow her entire huge perfect ass to be exposed. Bethany had to explore this gap before they left to see what treasures it held. The two started to get it on when Tony stopped by. His appearance was a welcome addition to put a dick in the mix. Tony was in ass heaven and did his best to get as much of it as he could.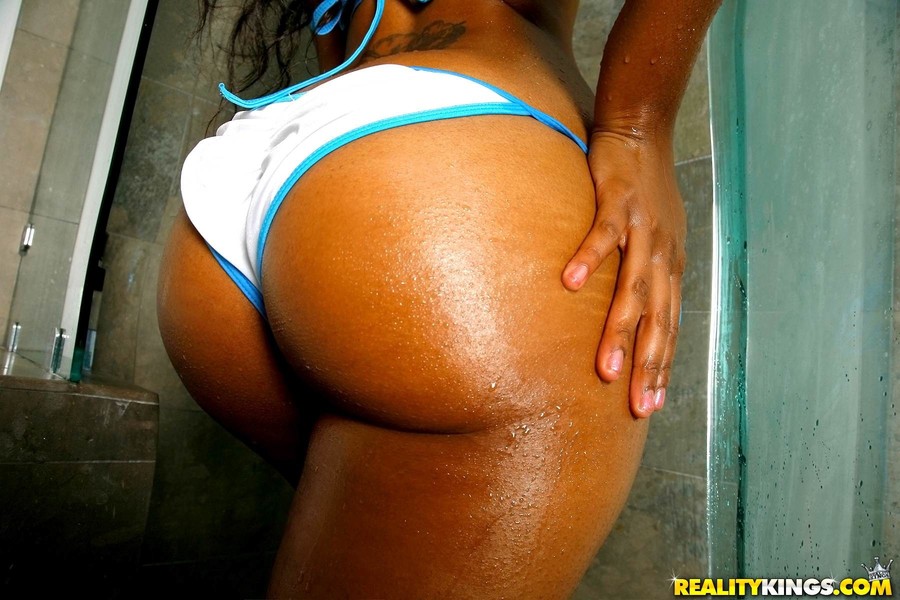 Stacy Cream in Round and Brown video: Ohh Staci - The day we pick to have some pool time in sunny Cali, it rains. Staci looked bummed, but we always have fun no matter what the weather. Marco has always got a smile to share. He put it on and just suggested we stay indoors for a little while. Staci wanted to get in the shower to clean off the oil. We got excited and wanted to join. She agreed enthusiastically. Her ass was looking so good in her bikini. We got her all wet and cleaned up. After her ass shaking Marco couldn't take it and went in for some action. They started in the bathroom, but Staci wanted to get more comfortable. They continued the rainy day action with some more big ass shaking and cock sucking. Staci loved the cock and got more dirty with some man-oil all over her nice shaved pussy.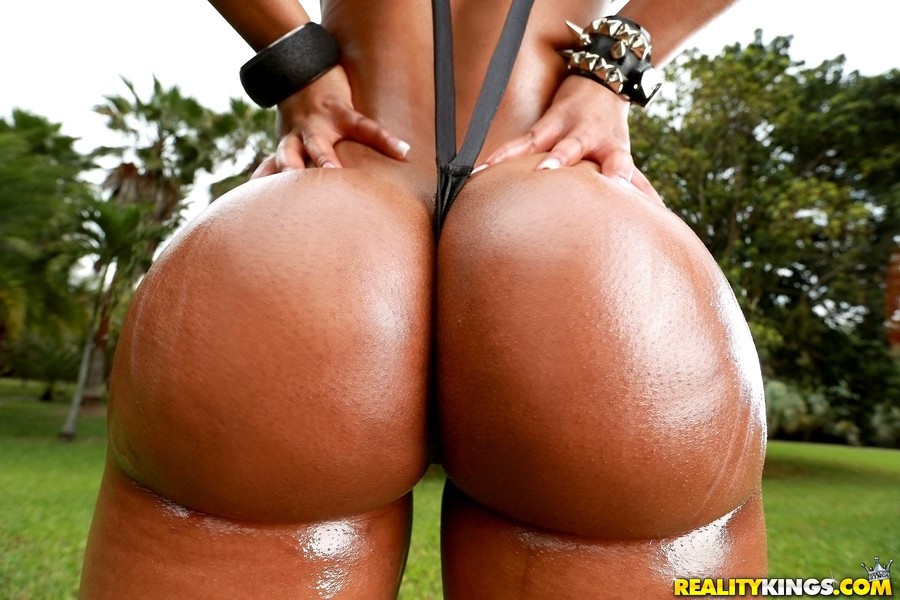 Nina in Round and Brown video: So Naughty - We got some serious ASS for you this week on Round and Brown, as this beauty named Nina was ready for fun. She came over with Brick rocking the tiniest little shorts to show off her huge thick booty. We had to have her shake it for us, and Nina was only too happy to please. We got her inside the house and what little clothes she had on started coming right off. This little fire cracker even showed us how she pleases herself and her big clit. Nina was finally satisfied when she got to work with some dick. Don't miss one moment of this beautiful ass waving and bouncing as she gets plowed with cock, super hot!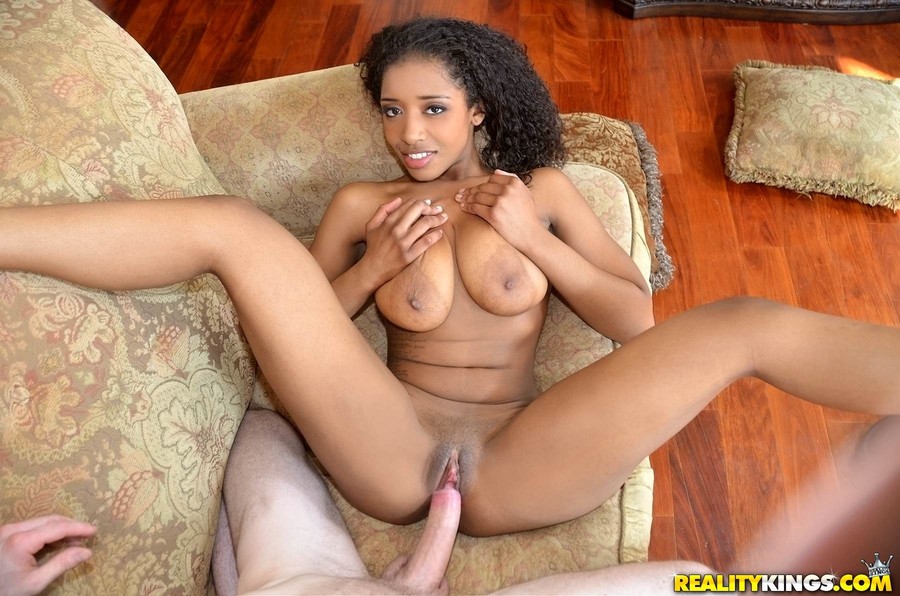 Jamie Sullivan in Round and Brown video: Golden Booty - Jamie came to have a good time. This black beauty was looking super hot in that skin-tight gold outfit. Her round ass and huge tits were popping out and look amazing. Jamie shook those big knockers and that juicy booty all over for us. She even got on all fours to shake that round rump even more. Already in position, Jamie sucked that cock like a true ebony pro. The she got her hot pussy pounded and even got a load of man juice all over her pretty face and amazing melons.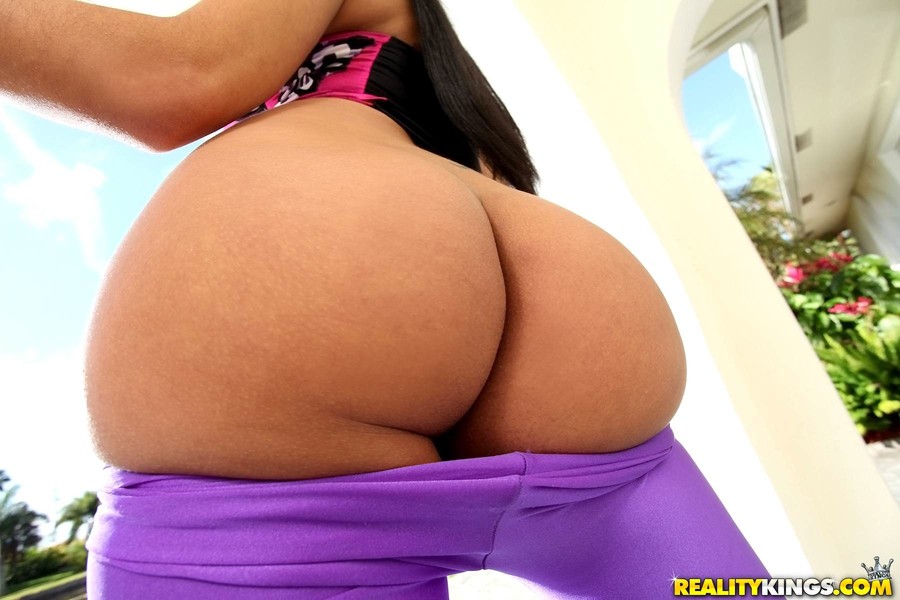 Bethany Benz in Round and Brown video: Booty On Benz - Bethany came by to share her round and brown greatness with us. Wearing spandex that showed off all her curves, she teased us for a while without even removing a layer. Slowly Bethany revealed her huge, juicy ass and double D's, as she continued to gyrate seductively. In time, Bethany was tired of showing off and knew what she really wanted was a good fucking. Tarzan came to Bethany's rescue and saved the day by pounding that pussy proper until she came, and he glazed her tits.
Rashae in Round and Brown video: Sexy Spreadz - Shae came to have a good time. She was looking super hot in those stockings and mini skirt. Soon after, the skirt was taken off, and she was shaking that juicy ass all over the place. Shae sat on a chair and shook that round rump some more. She sucked and stroked that cock good. Then Shae got her pussy pounded, as her juicy ass bounced around. She got her pussy drilled and got man juice all over her pretty face.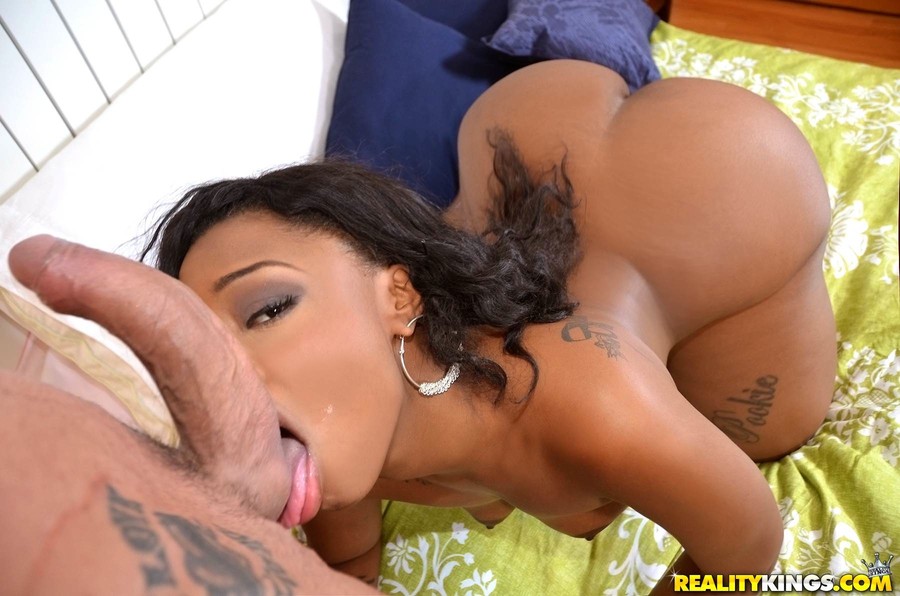 Cherise Roze in Round and Brown video: Heart Shaped Booty - Marco and Cherise were hanging out and flirting around. Marco was all over her ass. She had that thing wrapped up in some yoga pants that looked like they were going to burst at any moment. Cherise said she wanted to put on a dress, so we left Marco in the living room. She showed off her voluptuous body, as she took off her clothes. Cherise bounced her ass, as she laid on the bed. Marco came in and buried his face in between her buns. Needless to say, the dress wasn't going to be put on. Marco continued to worship her ass, as he smacked it around and slid his cock in between her cheeks. Cherise turned and slobbered on his cock to get in rock-hard and soaking wet. She bounced her ass all over his cock and the bed. Cherise had some serious roundness moving. There wasn't enough cum on the planet to cover her ass, so Marco blasted a stream on her face.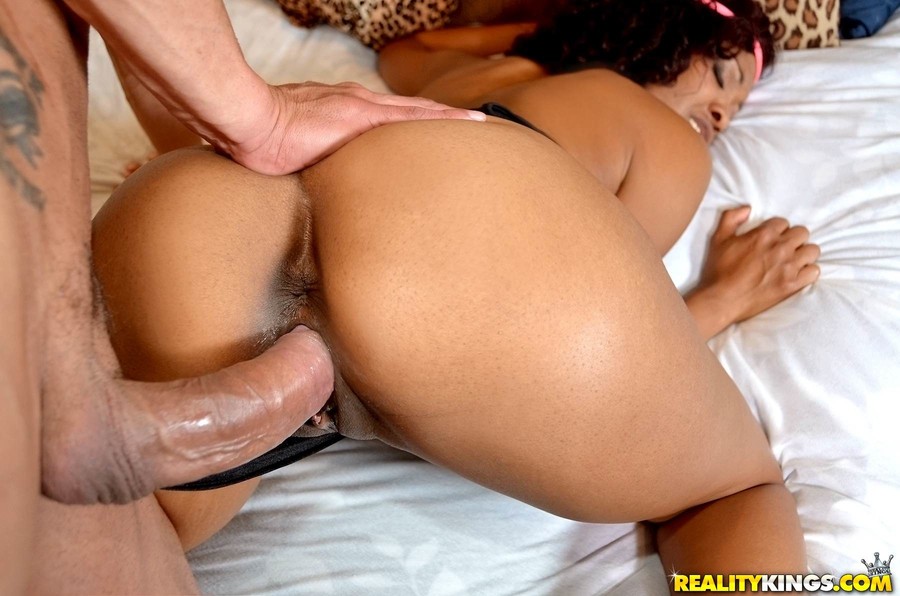 Lotus Lain in Round and Brown video: Lusty Lotus - Lotus arrived at our place in a flashdance esque outfit the accentuated her nice round booty. Marco admired Lotus' sexy physique before grabbing a handful of ass. He worshipped the booty then he took her into the bedroom for a closer inspection. Soon after smacking, squezzing and caressing Lotus' donk, Marco stuffed her pretty mouth with his schlong. She gave him a masterful sloppy blow job and then took his hard cock for an unforgettable ride.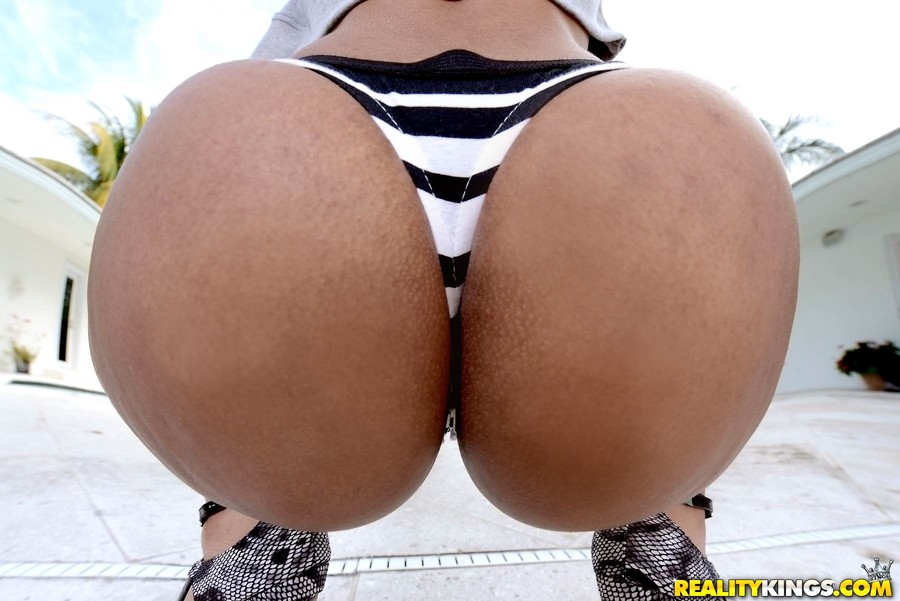 Bria Marie in Round and Brown video: Bouncy Booty - Few come close, but none can match Bria's natural booty. Aside from being an extremely intelligent woman with a beautiful face and perky tits, Bria can take any man to the hoop. She completely obliterated Tony during a one-on-one basketball game. He was no match for her jumpshot. Tony claimed he was distracted by Bria's nice firm ass, and we seriously think anyone with a pulse would be too. After a humiliating loss, Tony picked up his cam, and we got to see Bria transform from B-ball phenom to sexy vixen. She made love to the camera with her booty. Bria bounced, squeezed and dropped her donk, and it was a spectacular sight. When she was done teasing, Bria went indoors where Levi was waiting for her with his hard cock in hand. Levi oiled up her booty and went in balls deep. He stroked her tight bald beaver in multiple positions and angles. He then blasted his load all over Bria's pretty face.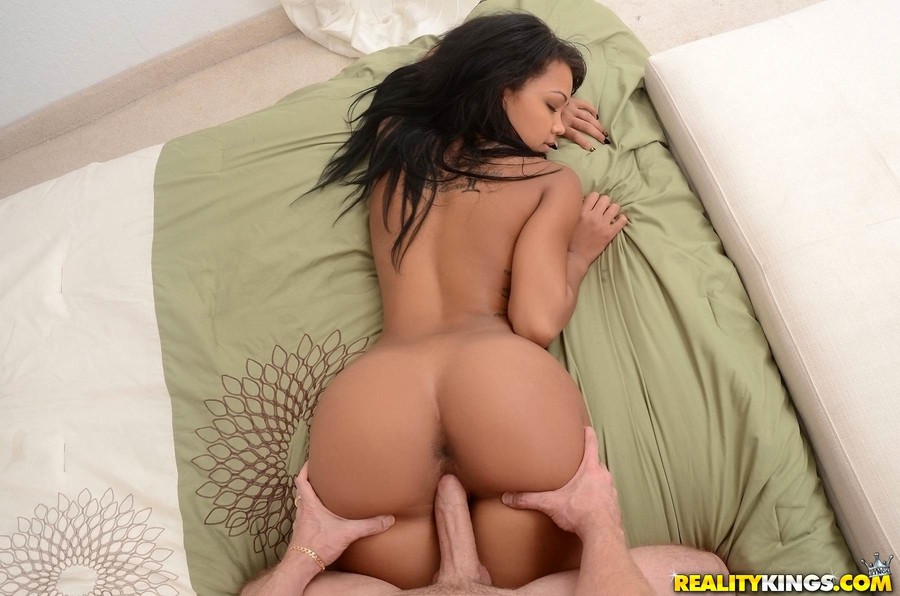 Harley Dean in Round and Brown video: Sweet Harley - It took some time, but Tony was finally able to get the sweet and sexy Harley to do a shoot with him. After promising a big dick, and lots of cash, how could a girl say no? The two were taking some pictures on the beaches of Ft Lauderdale when the other Tony finally showed up to get the party started. Harley had a tight, fit body and an amazingly plump ass she shook for us. Tony took it all in, making sure to catch everything on camera, as she showed off her hip-hop moves and even played out a fantasy scenario for Tony of her running on the beach. Harley was ready to fuck, so they took the party indoors. Tony and her got right to it and converged into the 69 position. This was followed by plenty of sucking and stroking, as Harley got the big cock she came for. Harley's big beautiful ass eventually overwhelmed Tony, and he covered that booty in cum.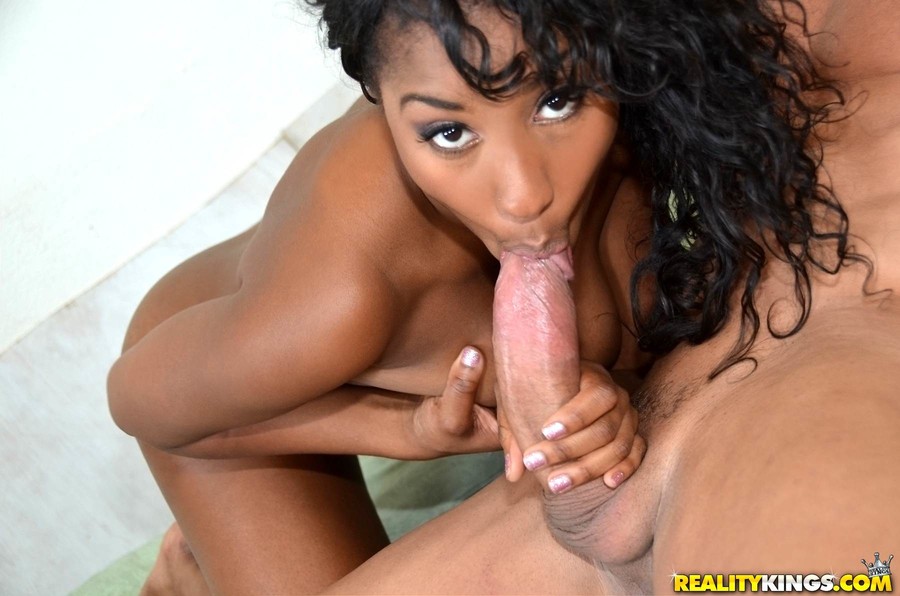 Marri Coxz in Round and Brown video: Twerking Ass - Marri met up with Marco, and they instantly hit it off. Kat showed up just in time, as the two of them were getting comfortable with each other. Before Marco took her clothes off, Kat got Marri to pose and show how she works her ass for the camera. Marri's big and round, beautiful ass was mesmerizing, as she shook and bounced it. Then Marco got his chance and buried his face between those sweet butt cheeks. Marri showed us the rest of her beautiful body then sucked and rode Marco's cock until he could no longer contain himself and exploded all over her sexy ass.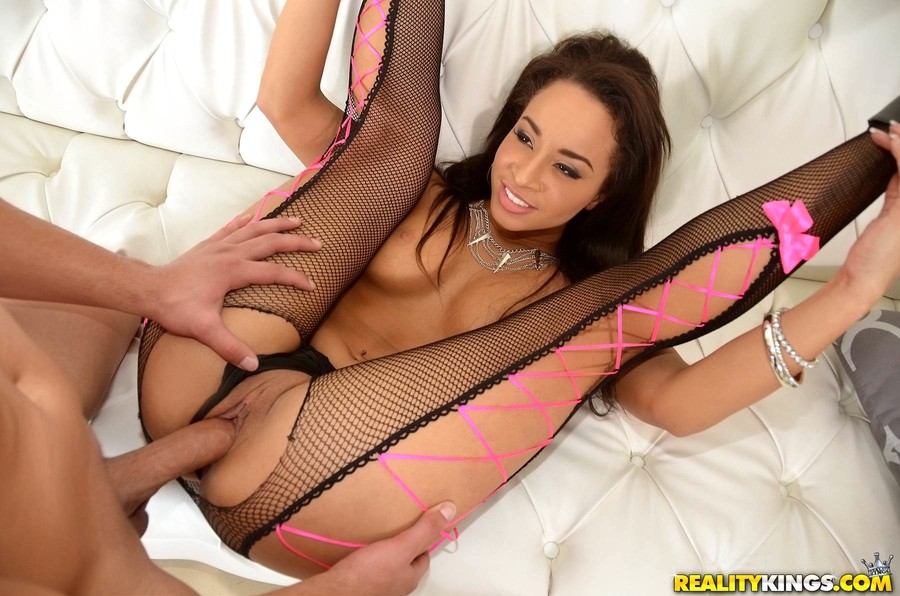 Teanna Trump in Round and Brown video: Black Lace - This week we had the beautiful Teanna Trump for you on Round and Brown. When Tony showed up, she answered the door looking super sexy in that see-through lingerie and high heels. Teanna turned around and showed off that unbelievable juicy ass. She was a very pretty, eighteen-year-old ebony babe ready to get busy. Teanna jumped on the couch and shook her sweet ass to only make Tony more horny. She got her pussy licked from behind and sucked that cock nicely. Then Teanna rode that dick, as her round rump bounced around. She got her pussy pounded and got a nice cream pie in her wet pussy.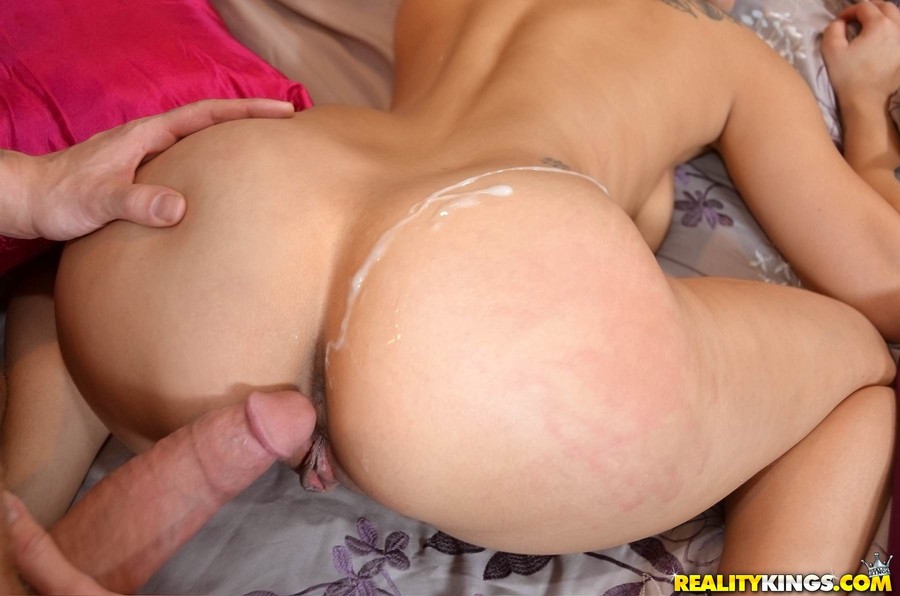 Mia Austin in Round and Brown video: Butt Lover - Mia was relaxing at home when Kat stopped over. She gave Kat a little show in the foyer, showing off her Round and Brown booty, and then then they moved into the bathroom for an even better show. Mia soaked in a tub full of bubbles while showing off her sexy perky tits and tight little pussy. But the show didn't stop there. Cody came over and was happy to see Mia's glistening body emerge from the tub. A little grinding on her sweet ass got him ready to go. Mia proceeded to give him an incredible blow job. Then Cody stroked her wet pussy deep and hard until he pulled out and covered her ass in hot cum.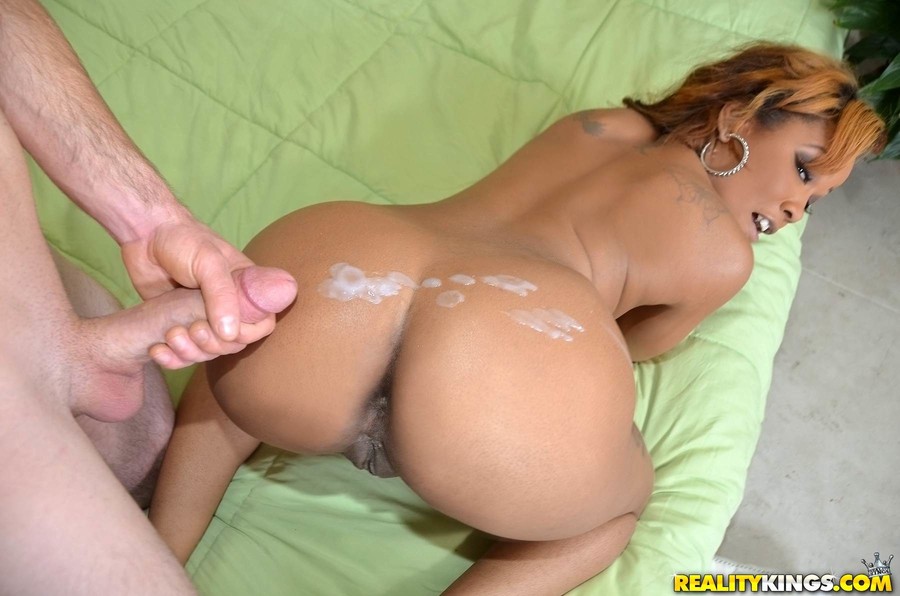 Ayanna Lee in Round and Brown video: Spin The Booty - This week we have the lovely Ayanna for you on Round and Brown. She was looking so damn hot in those tiny shorts and heels. Once those shorts were pulled down, her ass-less panties were revealed. That ass was juicy and just stuck out like a shelf. It was a thing of beauty. Ayanna shook her amazing booty all over, and that Romeo sprung. She only teased him further by bendind over and shaking that incredible ass in his face. Ayanna then gave him an intense BJ. Romeo made sure to stroke that pussy good. Then she took over and rode that dick, as her round rump bounced around. It was too much, so Romeo busted that man juice all over that tremendous ass.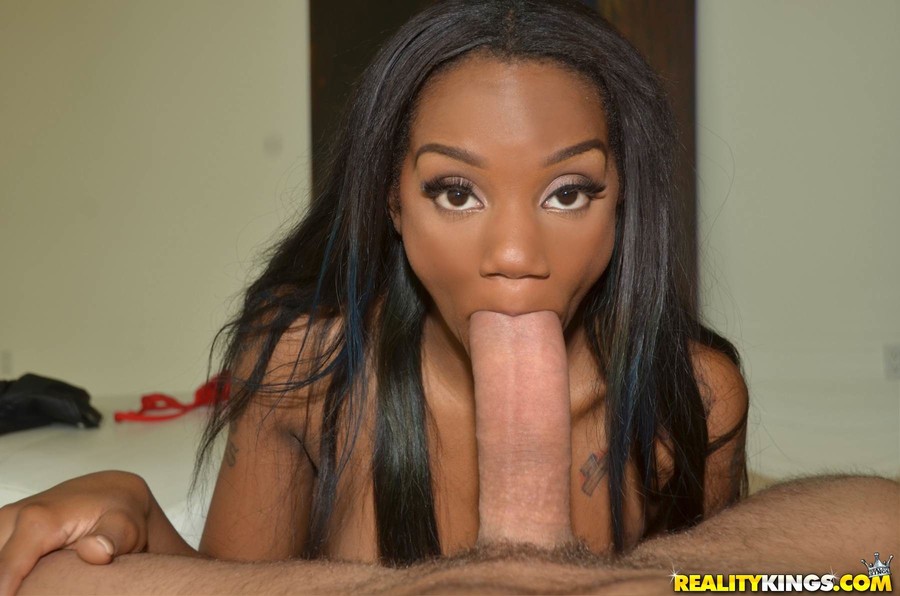 Kili Bangs in Round and Brown video: Riding Cowgirl - Kat invited her sexy friend, Kili, over to show off her round and brown booty. Preston got word and rushed right over. He and Kili were out admiring the view from the patio when Kat cught up with them. Preston shifted his look to a better view, which was that of Kali's body. Seemingly unable to control his hands, he repeatedly tried to undress her. They went inside for more privacy, and Preston quickly pulled Kili's pants down and submerged his face between her big beautiful ass cheeks. As she got nice and wet, Preston couldn't stop himself from spreading those cheeks and hitting it from behind. Kili didn't seem to mind and was happy to finally be satisfied. The two go at it, and we were treated to many more shots of Kili's amazing body. With a pussy and tits just as nice as her ass, Preston was in heaven. He unleashed a fountain of cum covering Kili's entire face in the end.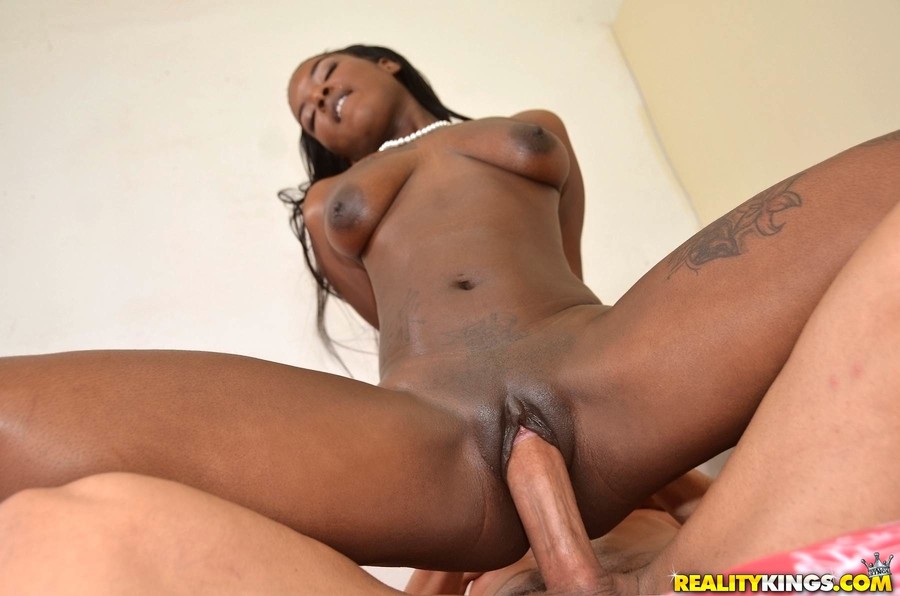 Mocca Angel in Round and Brown video: Mocca Shaker - Mocca wore a tight dress with no panties and had no problem showing off her nice big round booty. She taught Kat how to expertly ass clap and drop the booty. Marco was in awe of Mocca's natural ability. He worshiped her big round donk and then repeatedly smacked and squeezed it. After Mocca's amazing booty shake, she slobbed on Marco's schlong before taking it for a deep unforgettable ride.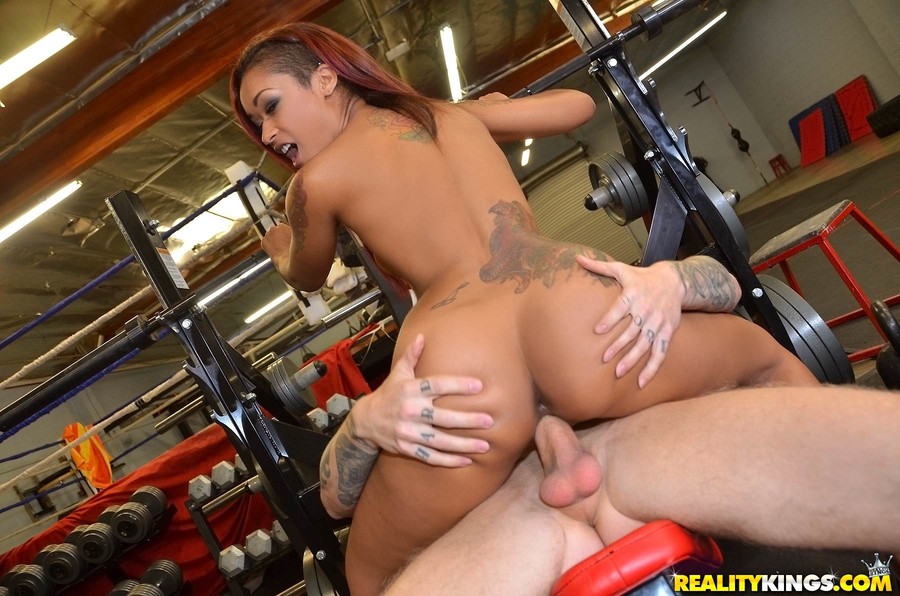 Skin Diamond in Round and Brown video: Skin To Skin - The lovely Skin Diamond was getting some training from Cody while working out. It wasn't very long into the workout that she got bored and wanted to do a different kind of workout that involved sex. Skin D shook her juicy ass in the air and stuck Cody's face in her luscious booty. Soon after, she was sucking his cock. Skin bent over and got her pussy and asshole licked up and down by Cody. Then she got her pussy pounded in doggy style while bent over the workout equipment. Ms Diamond surely got her pussy drilled and even got a healthy serving of man juice all over that succulent ass.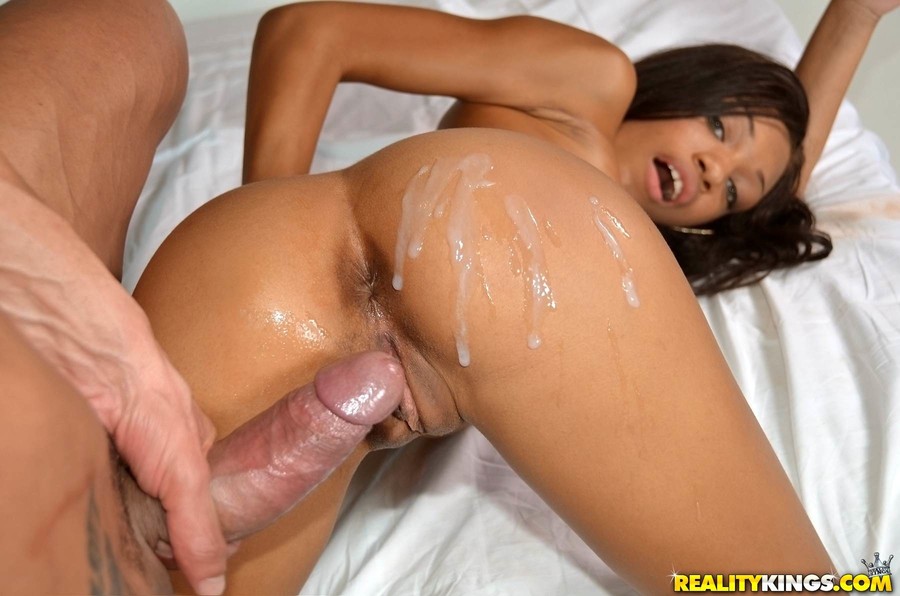 Rhianna Royce in Round and Brown video: Keep It Cumming - We had a super cute round and brown beauty with us this week named Rhianna. This babe had the nicest pair of juicy tits, a round big ass, and gorgeous green eyes. Rhianna was feeling a bit kinky and wanted to get her nice booty oiled up and massaged. Marco was more than willing to oblige and took her upstairs to the room. Once he got her naked and all lubed up, it was only a matter of time before Rhianna was sucking away on his hard rod. Then the she really got going once she felt that hard cock inside her. Come check it out, as this ebony hottie shows off her best!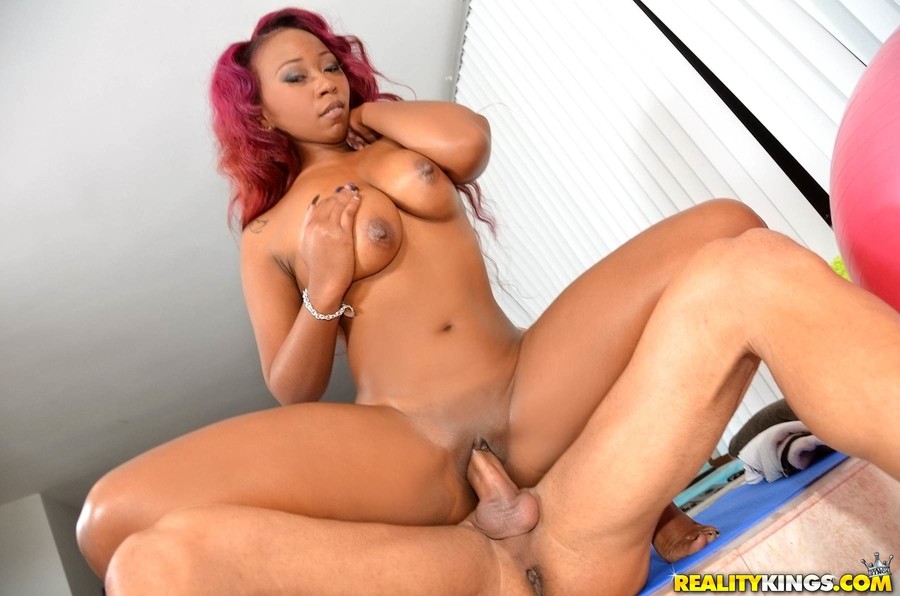 Mocha Menage in Round and Brown video: Pop On The Booty - Mocha Menage was back again, and her big juicy ass was looking good as ever. It was not long until she began undressing and revealed those luscious tits and round rump. Mocha shook that ass all over in the jacuzzi. She then sucked that dick like it was the last one on Earth. And after that, Mocha rode that cock with a fury, as her big ass bounced around. Mocha loved it at the end when she got man juice all over that big sweet ass.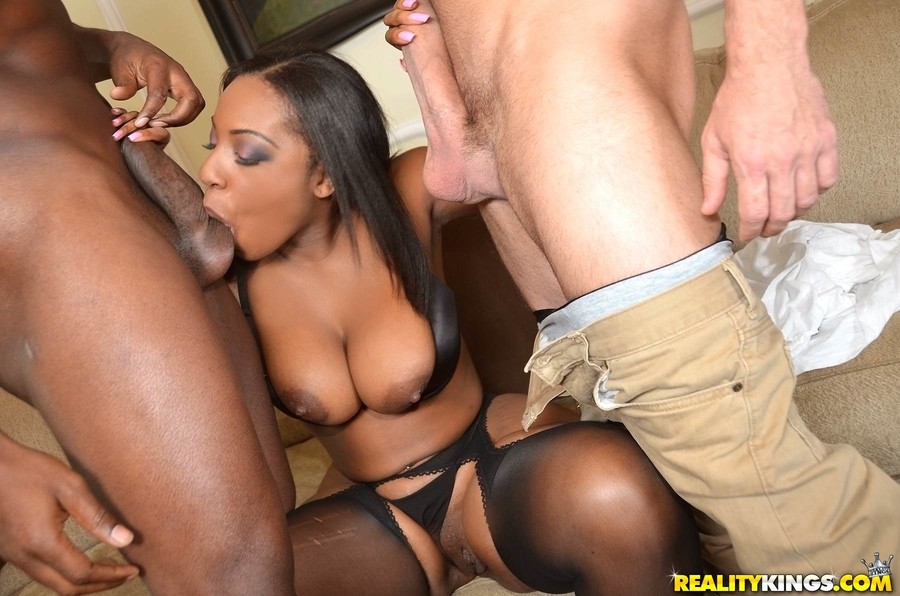 Layla Monroe in Round and Brown video: Double Up Layla - Layla was relaxing outside with Preston and Justin when Kat stopped by. Kat commented on Layla's skimpy, sexy outfit and how it showed off her body. They went back into the house, and Kat followed close behind getting a good look at Lyla's big luscious ass. Once inside, the guys sat comfortably on the couch. Layla got up and did a little striptease revealing her plump juicy tits, and we got a better look at that booty. Kat flipped a coin, and the guys each got heads or tails and took their positions accordingly. Layla started sucking Preston's cock and Justin started eating Layla's pussy. The guys took turns and switch positions while making sure to keep Layla on lock between them. She loved the attention and showed her appreciation by taking a load on her ass and the other in her mouth.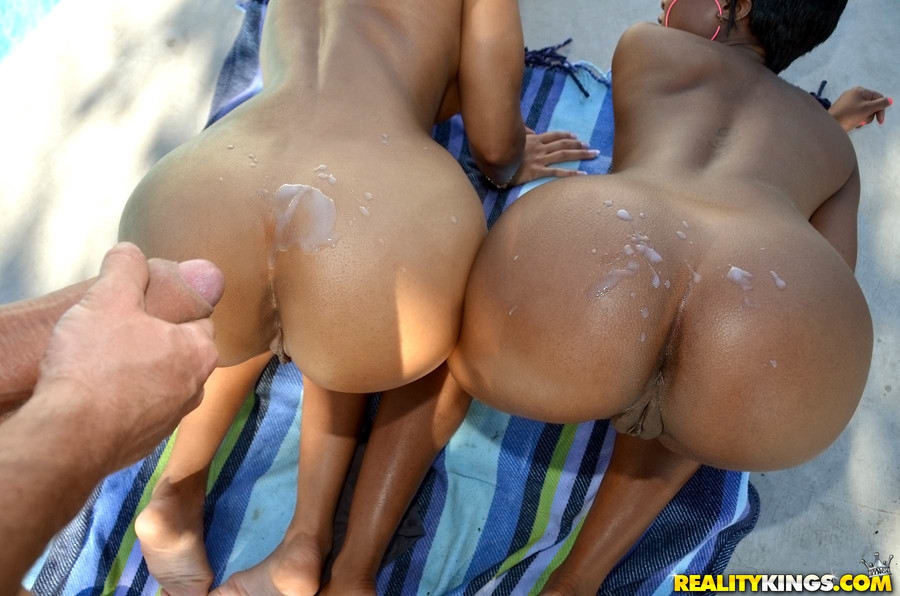 Ericka Liu in Round and Brown video: Lucky Liu - Sophia and Erika were looking super sexy in those tight dresses. They went outside and slowly undressed each other to reveal those big juicy asses. The ladies shook those succulent rumps all over the place. Then Preston joined the party, and he quickly wet those round rears with soapy water. Sophia and Erika's big asses looked amazing all soapy and glimmering in the sun. The girls sucked and fucked his cock nicely. They took turns riding that dick, as their plump bootys bounced around. In the end, these smoking hot ebony babes got man juice all over those big round rumps.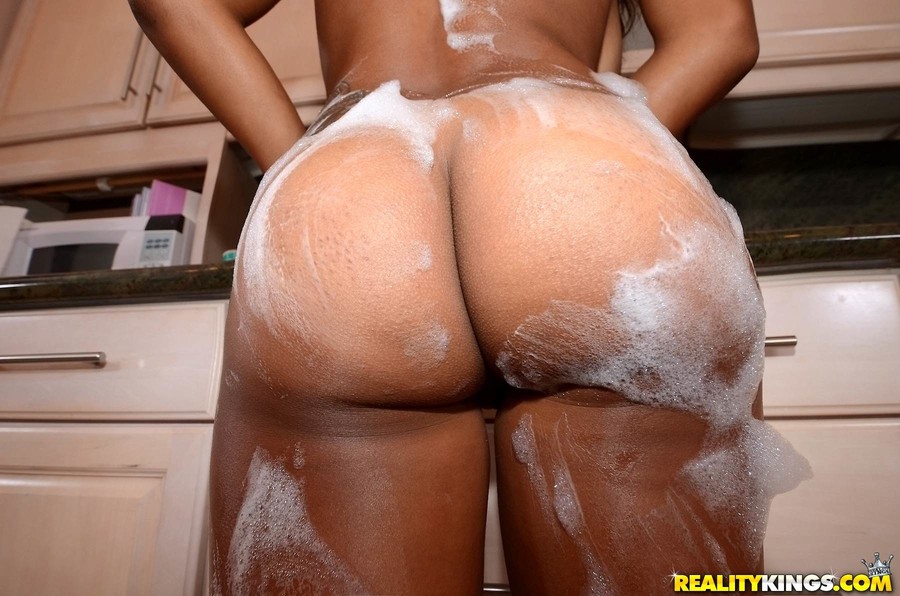 Sierra Santos in Round and Brown video: Soap and Grope - Sierra was cleaning up and chatting with Jmac and Tony after a night of partying. This 18-year-old was a little intimidated about filming at first and wanted to wait until the next day to shoot. Tony wasn't going to argue with this hot, ripe ass babe and her DD's. The cleaning got a little out of control, as Jmac started throwing soap and water everywhere. But the glistening imagery formed on Sierra's ass was well worth it. As the two played around, Sierra got caught staring at Jmac's cock, and everyone knew that it was time to get another party started. Jmac pounded that sweet tight pussy, and her Double D's, while Sierra sucked and rode that cock like a champ. Jmac stroked that ass until he exploded all over that perfect booty.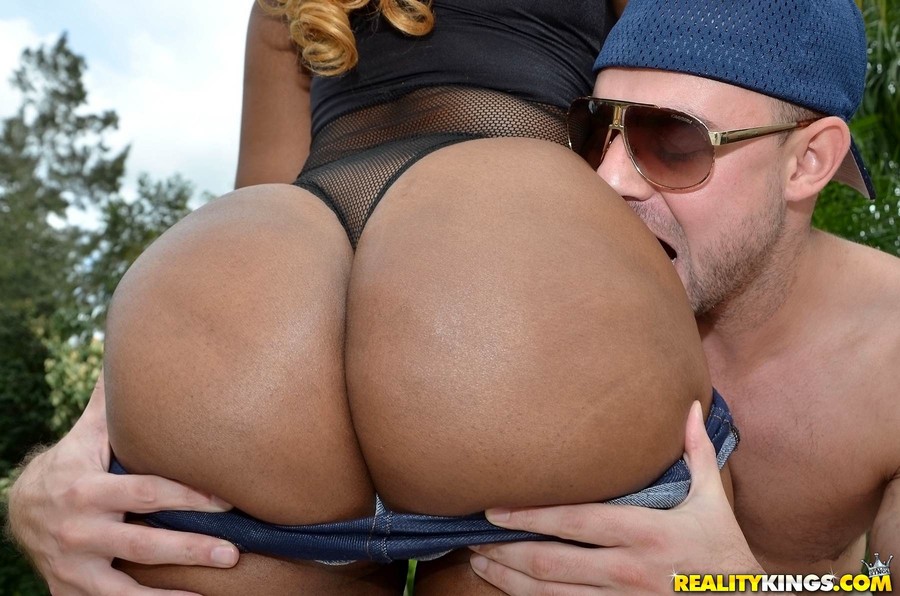 Layla Monroe in Round and Brown video: Sitting Pretty - We have some big surprises for you this week on Round and Brown. Surprises in the form of tits and ass. Layla visited us from Cali and brought a body that was too much for most to handle. Her mesmerizing jiggling enticed and captivated us. Mirko was watching from a distance, until he could no longer resist. He submerged his hands and face into this Layla's god-given goodness of an ass. They then moved inside, and we learned Layla could suck cock and fuck just as well as she shook her ass. Layla worked it hard, and Mirko kept up. Once she seemed satisfied, Mirko delivered a lip smacking facial.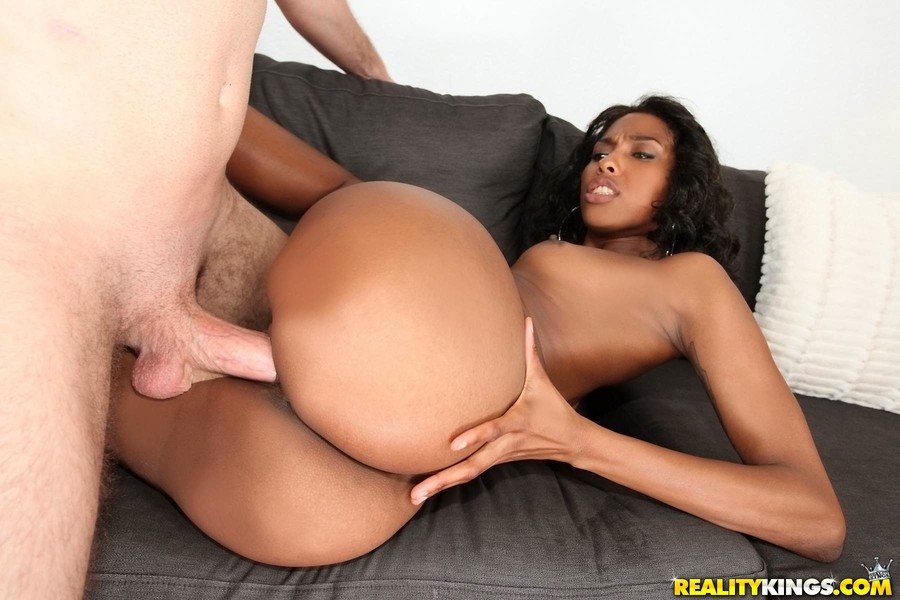 Adriana Malao in Round and Brown video: Back At It - Adriana was getting some yoga practice in and making sure she was stretched out, so she could easily take Brian's cock. Sexy and thin, but still having a sweet round ass, Adriana knew what she was ready for action. She gave us a nice performance bouncing that ass and mesmerizing us, as she rotated and showed off her flexibility. Brian took advantage of all these benefits putting her body to the test, as he stroked her hard from the back. This along with Adriana's cock sucking skills provided quite the show. Trying for an award winning finale, Brian coated Adriana's face and most of her body in cum.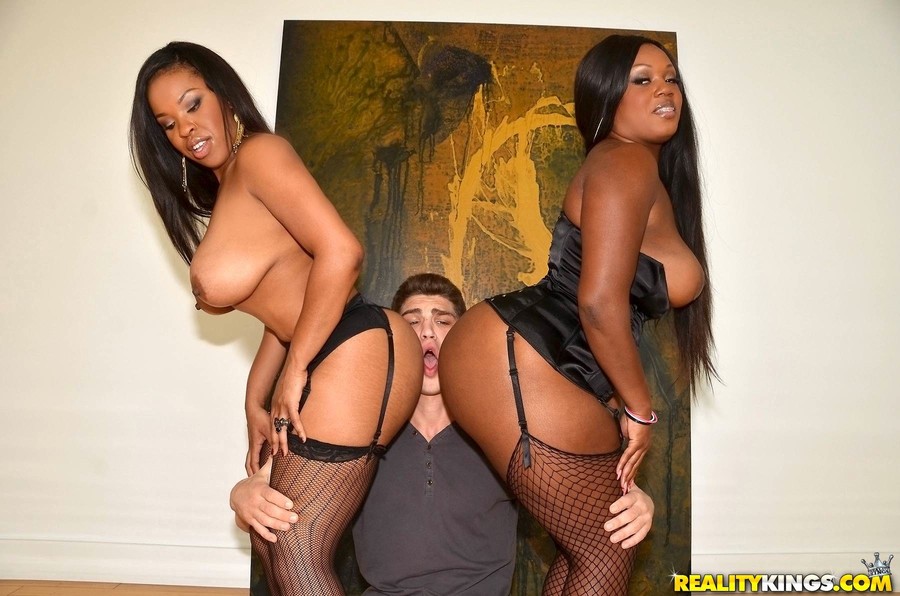 Jayden Starr in Round and Brown video: So Ripe - Aryana and Jaydenstarr came to have a good time. They were looking super sexy in those lingerie outfits and heels. They walked all over the place showing off those hot curves and juicy asses. They shook their asses all over and then Bruce joined the party. It was not long until they were shaking their asses in his face. They sucked and fucked his cock. They got man juice all over their thick asses.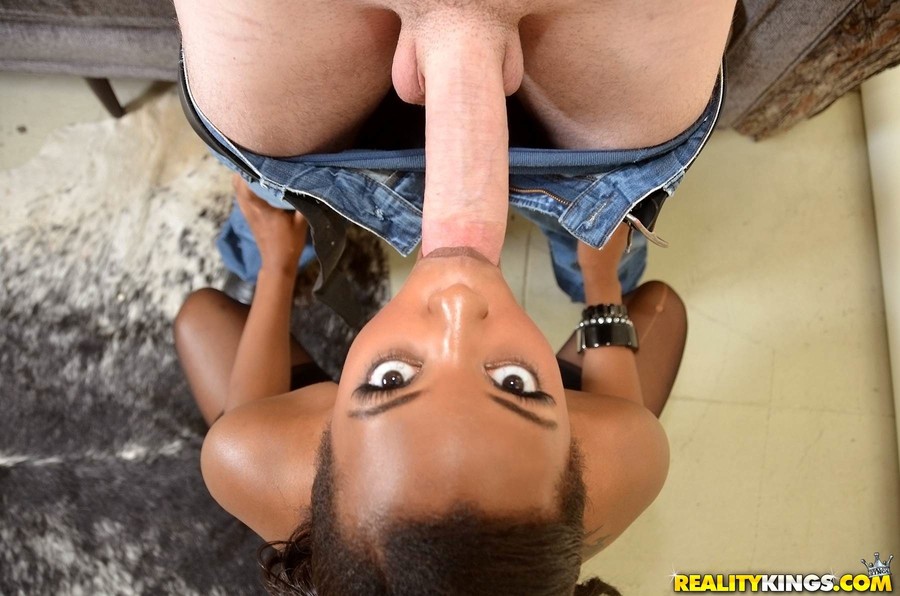 Sonia Roxxx in Round and Brown video: Licking Sonia - Sonia comes over with Romeo to take some pictures with Kat. The white backdrop accents her dark skin tone along with her big, natural tits and firm, round ass. Kat devises a game to make things more interesting. The game itself doesn't go too far but the end result is received. Sonia ends up donning a sexy outfit that shows off a little more when the game finishes. Seeing all her curves exposed in this outfit gets Romeo going and he can't take his eyes, or hands, off of Sonia. After a little showing off for the camera Sonia crawls to Romeo to give him what he wants. The sexual session that follows is filled with fucking from every direction, cock sucking, and pusssy licking. This sexual performance along with the sexy outfit provides quite the show. Romeo gives a huge load that covers Sonia's face and tits making the winning of the game equal for all.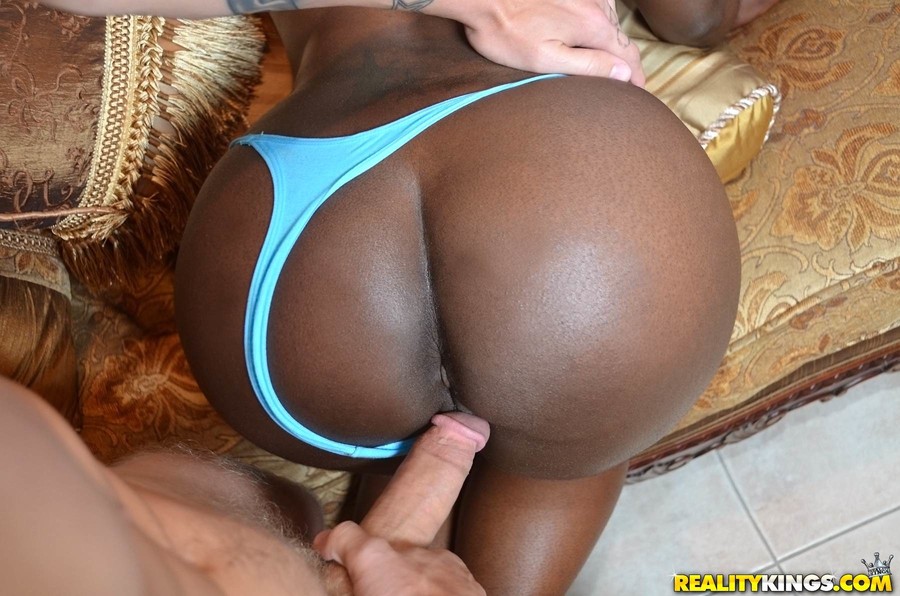 Luxury Amore in Round and Brown video: Lap Of Luxury - We had a super juicy round and brown girl over this week and she was all smiles. She was telling me about her little crush she has on Cody and how she would like to hook up with him. She was ready for him in a small dress that barely held in her massive jugs. She got very giddy once he showed up and started playing with her tits and her ass. It did not take long before Cody was fucking her and loving it.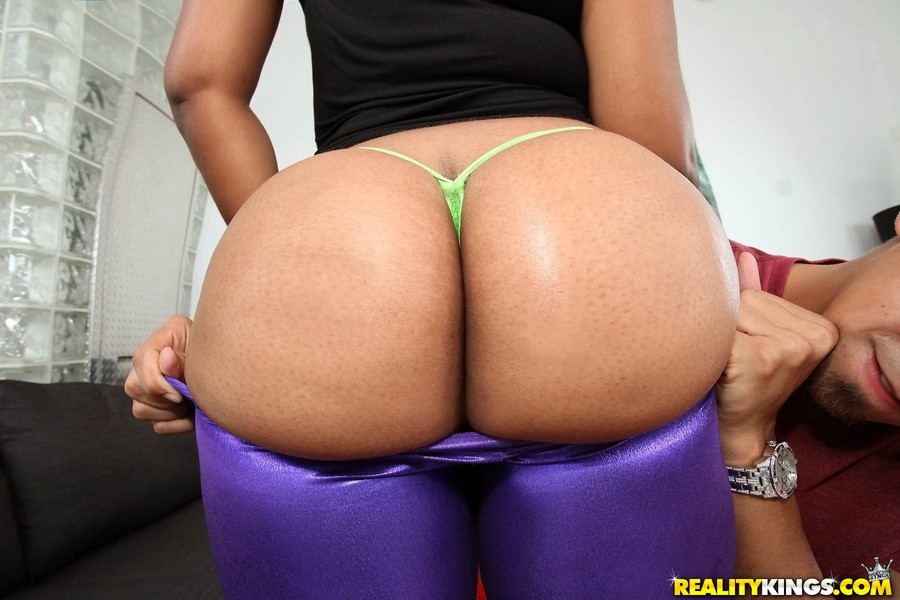 La Reina in Round and Brown video: Purple Shaker - Lareina the undisputed big booty queen returned to grace us with her presence as promised. This time around she wore skin tight purple pants, high heels and a small cutoff top that heightened our expectations of what was to come. During our car ride to our place, Lareina revealed a few personal details about herself which were instantly forgotten as soon as she gave us a glimpse at her DD chocolate titties. After arriving, Juan escorted Lareina out of the car and worshipped her outstanding ass before succuming to his animalistic urges. He grabbed, squeezed, smacked and took multiple bites of her delectable ass. We eventually made it inside were Juan stuffed Lareina's beautiful mouth and then her tight wet pussy. He made waves with her booty while hitting it from the back before glazing her buns with his cum. In my opinion, a three-peat is in order. There's plenty more that could be done with her round and brown mega donk.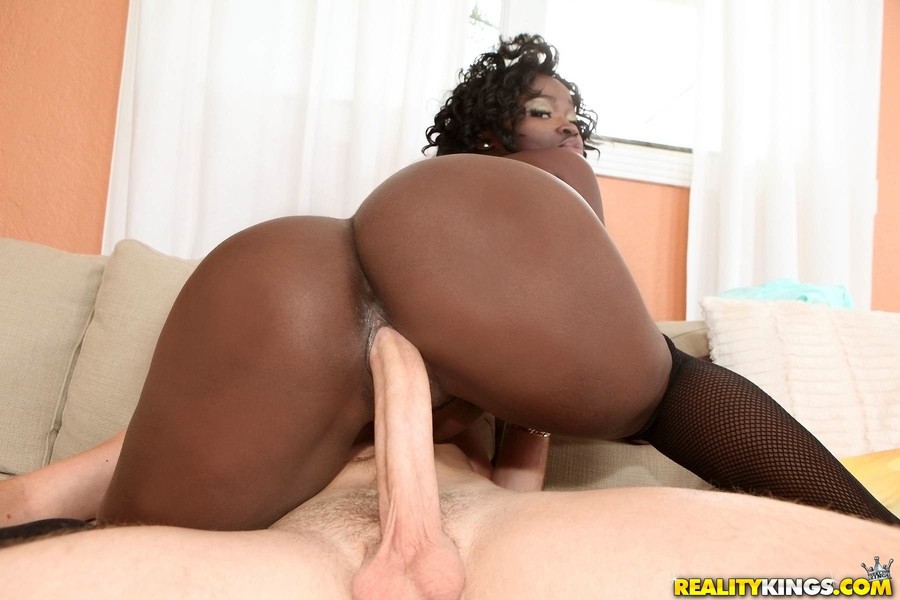 Reeka B in Round and Brown video: Freak Like Reeka - Reeka was in the bathroom attempting to get dressed but Tony was having none of that. Her big round booty was just too irresistible. He massaged, smacked and jiggled her magnificent ass before taking her into the living room. Reeka bounced and dropped her donk before slobbing on Tony's hard schlong. She then took it for an unforgettable ride that eventually resulted in her face getting blasted with jizz.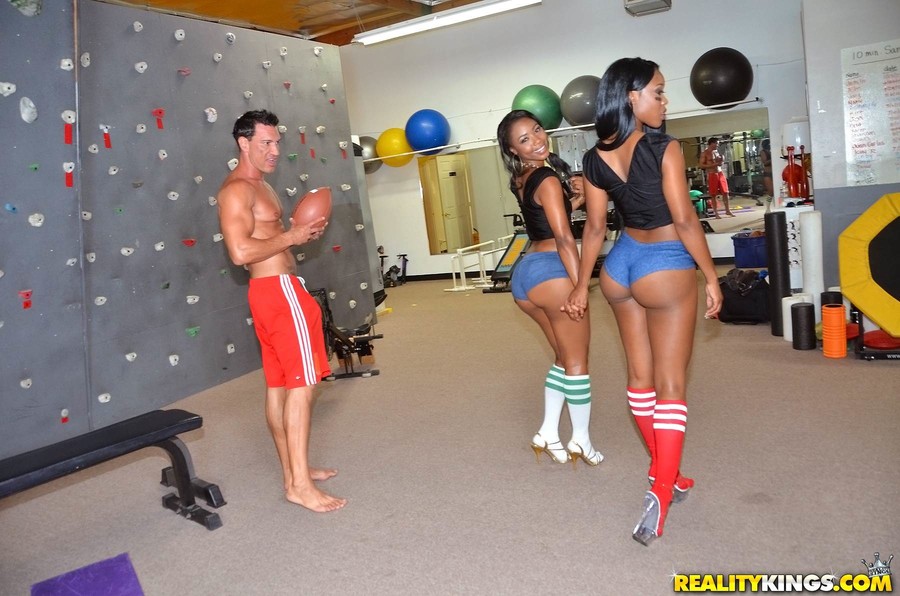 Chanell Heart in Round and Brown video: Booty Crew - Katt made an impromptu visit to Marco's gym while he was working out. She brought along Chanell and Ericka , two of her big booty friends. They wanted a good butt workout so Katt recommend Marco. The girls completely put themselves in his hands and they followed all of his instructions to a tee. Soon after the squats, wall climbing and booty shaking, the girls double teamed Marco's cock. They gave him a magnificent blow job. Marco was able to hang on but not for long, he blasted his first load minutes after pounding Chanell's super tight pussy. Marco was able to regain his composure and he relentlessly fucked both of the girls on the workout bench before blasting another load all over their big round and brown butts.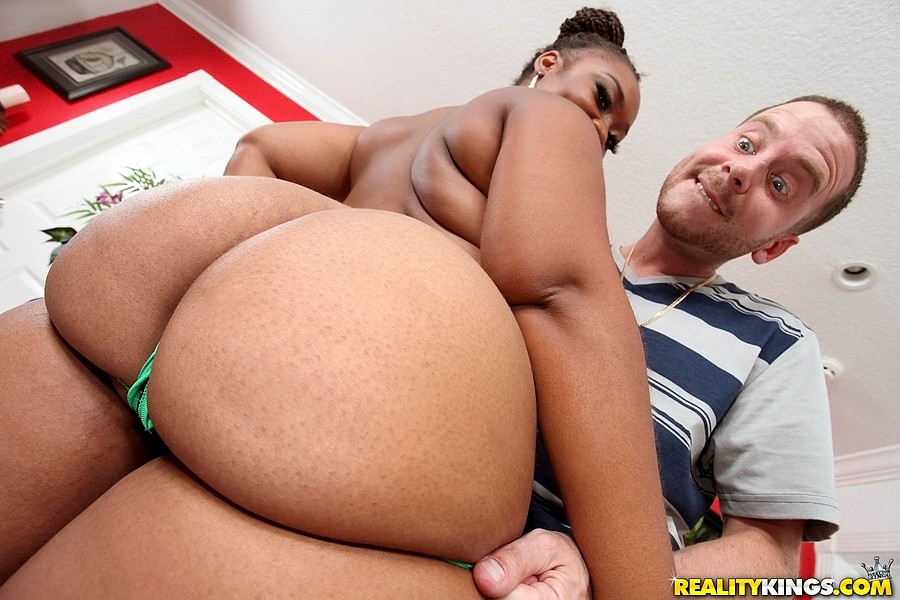 La Reina in Round and Brown video: Queen Bee Hind - Ladies and Gents, we are proud to introduce Lareina, the big booty queen in her first movie. Beside having a beautiful face and nice big boobs, her huge round ass was the center of attention. Lareina claimed that her booty measured about 42", but we suspect that it's much larger than that. She bounced and dropped her donk like a pro. It was an amazing sight. After watching Lareina shake her ass relentlessly, Tony had some fun caressing and smacking it. Soon after the ass worship, Tony became Lareina's first cock on film. He pounded her like no other man has before, and she absolutely loved it. We will definitely see the big booty Queen again soon.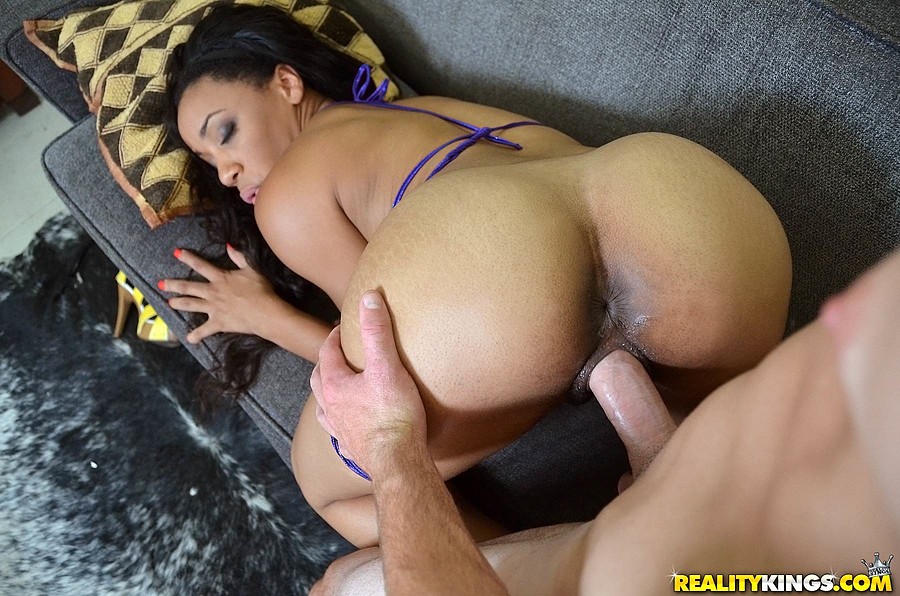 Aubrey Rain in Round and Brown video: Best In Booty - Aubrey brings some English charm to Round and Brown this week. This pretty, young Brit has ass for days and Kat gives a full tour. Aubrey comes over to show Kat her sexy new outfit, a very minimal, glimmering purple suit. Kat loves it, and the two go to the roof to catch some rays and meet up with Romeo. He was awestruck by Aubrey, as she strutted around showing off her beautiful body. They all go in, and Aubrey starts to get dressed, but Romeo has a better idea. He gives her some much needed attention and helps her completely undress. Romeo can't keep his hands off this beautiful, brown ass and soon buries his face between those luscious cheeks. Aubrey gives the proper attention back, as she deepthroats Romeo's cock. Once Aubrey slaps her ass and begs to be fucked Romeo goes wild and hits it from every angle. But Romeo is only human and soon the ass overwhelms him and he covers that ass in cum.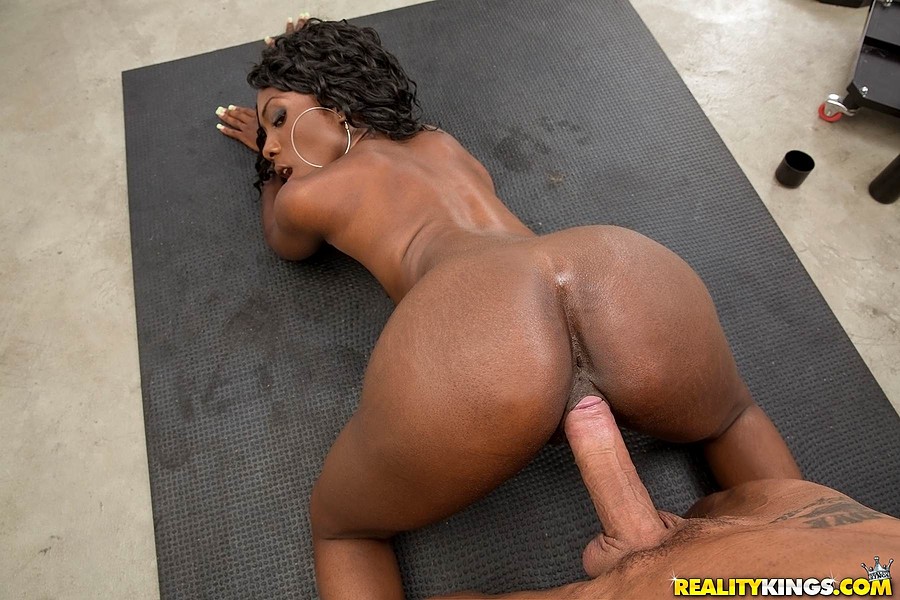 Vicky Vice in Round and Brown video: High Class Ass - We have a nice round and brown work out session for you this week. We went to go hang with Vicky, as she worked on her curves for us. She felt more comfortable stripping down and getting her ass oiled up for her reps, who doesn't? Vicky was very pleased to see Marco was working out too. He was all over her ass, and soon she was downing his cock. Don't miss out on this intense ass pounding work out. This is how we do on R&B.
Want some more? Check the site.
| | | |
| --- | --- | --- |
| | Older | Newer | |