Current location: Site Review > Sexhibition Expo
Adult expo held on Aug. 21st & 22nd, 2015 in Manchester, UK bringing together elements of sex, erotica, burlesque and fetish

| | |
| --- | --- |
| Classification | Adult Merchant |
| Content Rate | Unrated |
| Primary Category | Expo |
| 2nd Categories | European, Fetish |
| 3rd Categories | |
| Mobile Website | Unavailable |
| Keywords | adult expo, exhibition, show, Europe, UK, event, workshop, music, fetish, performance |
| Language | English |
| Content Media | Adult Info |
| Exclusive | Yes |
| Update Period | Unknown |
| Service Since | 1/1/2015 |
Preview of Sexhibition Expo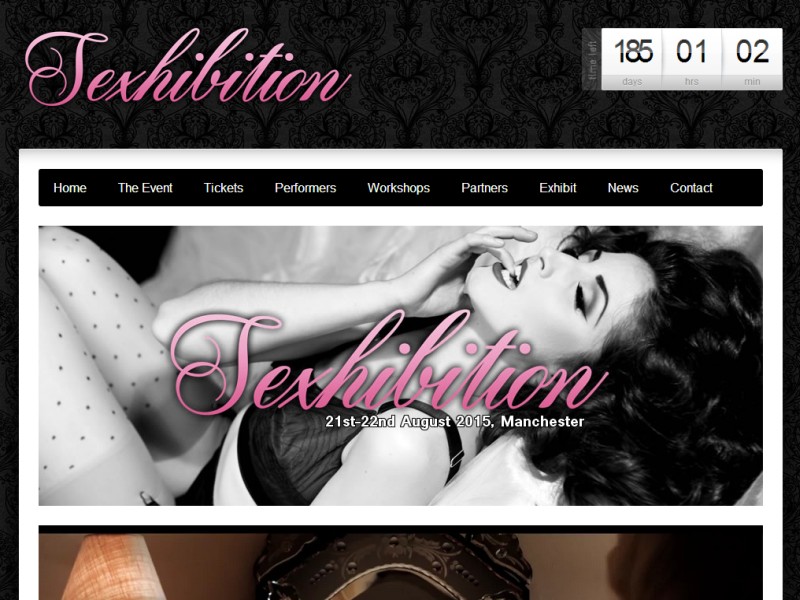 This site is not officially reviewed yet by Adult Site Ranking.
DESIGN
0 /10
(for web design, scripts, graphic, navigation, user interface, etc)
QUALITY
0 /50
(for quality of video & photo, model, props, background, etc)
QUANTITY
0 /30
(for quantity of contents and service)
SERVICE
0 /5
(for update, customer support, FAQ, etc))
PRICE
0 /5
(for comparative price, billing, corss-sale, refund, etc)
Total
0.0
(Design + Quality + Quantity + Service + Price)
What is Sexhibition?
Sexhibition is 2015's Erotic Event of the year. Shows, performances, music, workshops & classes, cocktails & cuisine and a unique shopping experience. It's a feast for all the senses in the opulent surroundings of the North's most prestigious event and exhibition spaces.

Why is Sexhibition Different?
Sexhibition brings together elements of sex, erotica, burlesque and fetish, and combines it with live music, DJ sets, burlesque, cabaret, and performance art in an inclusive and sex positive environment. The ultimate in decadence and debauchery, Sexhibition is a fully immersive experience not to be missed.
Total 0.0
User Review
No registered user reviews.
Members can write 'User Reviews' and their scores will be added on the above.
[Join Member Now]