Current location: Site Review > AcmeJoy
A adult toy website selling good quality dildos and masturbators owned by a French company and shipped from US

| | |
| --- | --- |
| Classification | Adult Merchant |
| Content Rate | Unrated |
| Primary Category | Sextoy shop |
| 2nd Categories | Masturbation, Insertion, Toys, Reviews, Guide, Retail store |
| 3rd Categories | Big Cock, Fetish, BDSM, Machine, Spanking |
| Mobile Website | Available (automatically redirected) |
| Keywords | Sex toys, Adult toys, Adult store, masturbator, dildo, vibrator |
| Language | English |
| Content Media | Shop |
| Exclusive | No |
| Update Period | everyday |
| Service Since | 8/10/2010 |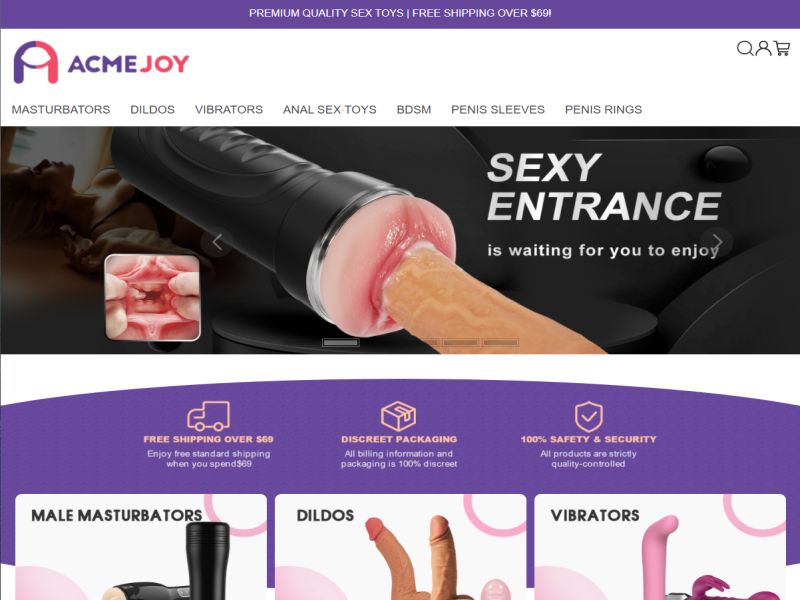 This site is not officially reviewed yet by Adult Site Ranking.
DESIGN
0 /10
(for web design, scripts, graphic, navigation, user interface, etc)
QUALITY
0 /50
(for quality of video & photo, model, props, background, etc)
QUANTITY
0 /30
(for quantity of contents and service)
SERVICE
0 /5
(for update, customer support, FAQ, etc))
PRICE
0 /5
(for comparative price, billing, corss-sale, refund, etc)
Total
0.0
(Design + Quality + Quantity + Service + Price)
This site has a very good design and is a wonderful place to make your adult purchase. All of the toys are broken up into various categories including separate categories for different parts of the body. Meaning you don't have to rut around the site looking for nipple clamps they're right there for you. Also they have search methods that break down toys by insertion length and girth. Talk about knowing how your body works!

AcmeJoy has a registration process for their prospective customers that allows the visitors to use all of the different options for the site. Also many of the toys on the site not only have reviews and descriptions by the staff members but also by users of the site (and presumably users of the toy).

According to the about us page this site was started in 2010 with a woman's and couple's pleasure in mind. This site feels comfortable as you click through the different items and options. Aside from the soft look and feel of the site, AcmeJoy has several other features that will make it an attractive draw for customers. On the front page there is a feature called "BLOG & ADVICE". The blogs are like a "A Primer on Sex toys" or "Can You Be Attracted to Both Sexes?" They're well written and will be reasons why you come to this site even if you're not looking to make purchases. If you're new to the adult toy purchasing world you have got to stop into their first times buyer's guide. This section gives you so much information. Heck, the information letting you know what are the positive and negative reactions to using the different types of lube would be worth the price of admission alone. They also let you know about different toys and different materials that the toys are made up of. Overall this is a wonderful toy site for people to make purchases from. even if you're not going to make a purchase you'll have to read and check out this site.
Total 0.0
User Review
No registered user reviews.
Members can write 'User Reviews' and their scores will be added on the above.
[Join Member Now]